South Bank restaurants
Looking for places to eat along the South Bank? Here's a guide to South Bank restaurants for every occasion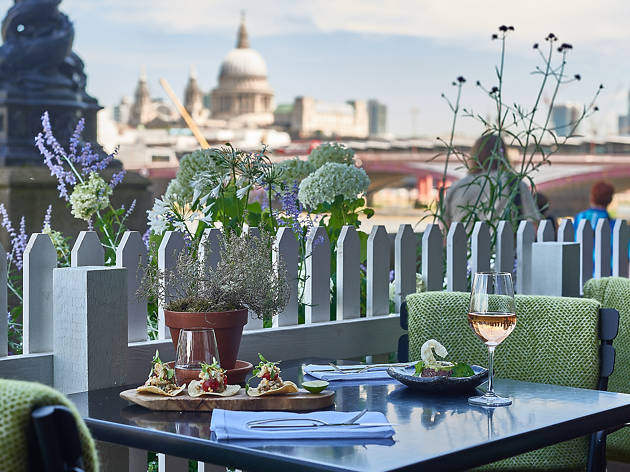 After a lengthy stroll along the riverside, you're going to need a feed. Sadly, the South Bank is a bit of a mixed bag when it comes to dining out. If you don't fancy footing it round the corner to Borough for better fare, you can still find relief with our list of South Bank restaurants. From budget and mid-priced chains to more interesting options at institutions like the Tate Modern and the National Theatre, enjoy dinner with a view in among the action.
Restaurants on the South Bank
Venue says: "Come try our new a la carte menu! Available for both lunch and dinner Monday - Friday, and dinner on Saturday & Sunday."
The Mondrian's flagship restaurant has an open kitchen on one side and riverside views on another. The menu name-checks many trends and diverse dish styles, but renders the dishes well. The cooking makes it worth the stroll from the South Bank, with meals served all day. Securing a table may not be easy though, especially if you want a view of St Paul's across the river.
Book now
Read more
As you'd expect, the food at this third branch of coffee-roasters-turned-fusion-fare hawkers Caravan is sound – with a broad, globally peripatetic menu branching ever wider from the Antipodean fare it first made its name with. Plus, the cavernous room – all lofty height, stripped wood and metal girders – looks marvellous.
Book now
Read more
Serving sustainably sourced fish and regular seasonal menus, Feng Sushi takes its ethical/eco responsibilities seriously. During spawning season they particularly promote vegetarian options, for instance. This branch, at the Royal Festival Hall, is great for everything from a quick bite to a full meal, and a good example of the chain's take on Japanese classics with a modern twist.
Book now
Read more
Venue says: "Bring Your Own Bottle of Wine & enjoy it with your meal. Corkage is £5 Sunday & Monday only."
Gillray's occupies a large site inside the London Marriott Hotel County Hall, facing the London Eye and Houses of Parliament. Get the right seat and you'll be treated to some spectacular views of both, and down the Thames. It takes its name from the eighteenth-century satirist James Gillray, and features some of his works on the walls (though wisely they've omitted 'The Gout', his grotesque take on good-living).
Book now
Read more
Venue says: "Enjoy seasonal modern-British cooking under the direction of our respected executive chef Kim Woodward."
Skylon can't really fail: its setting on the first floor of the Royal Festival Hall, with lofty ceilings and superb Thames views from soaring windows, is always spectacular, by day or night, and adds wow factor to any meal. The chic cocktail bar, amid sofas in the centre of the space, also offers a dose of metropolitan pizazz. Dining areas are split between the brasserie-style Grill on one side of the bar and the Restaurant, with a more fine-dining menu, on the other.
Book now
Read more
Ping Pong makes dim sum for the not-always-initiated – 'little steamed parcels of deliciousness' (in their own words). That means dumplings, and lots of 'em. Expect the full range of beef, chicken, seafood and vegetable options – not just steamed, mind, but fried too – plus soups, buns, rice dishes and desserts.
Book now
Read more
Venue says: "Enjoy the chef's special 3 course set menu with a glass of Champagne for £39, available until 23 May."
The Oxo Tower is a London landmark, and its two restaurants and bar emanate a sense of occasion. A glass frontage makes the most of river views, with St Paul's and City buildings easily visible. Dishes here range from a root veg and pearl barley risotto, lobster tempura with a seashore vegetable broth, and venison terrine with pumpkin chutney and toasted brioche.
Book now
Read more
Attached to the Globe theatre and overlooking the Thames from the second floor, the Swan is guaranteed a substantially tourist clientele. The first floor bar is a casual stop for bar snacks and booze, while the second floor restaurant is an elegant space for breakfast through to lunch and dinner. Afternoon tea is especially popular.
Book now
Read more
The National Theatre's small-plates brasserie is ideal for pre-theatre grazing. Dishes arrive swiftly, just as they should. The menu reads well enough: a mixture of modishly Mediterranean and international dishes. But the 'small plates' really are small, and the bill can add up quickly if you're having a meal and not merely grazing.
Book now
Read more
Show more
Find more restaurant options in the area
Eating out in London Bridge is all about knowing where to look. Magdalen, which is easy to miss on the busy Tooley Street, serves outstanding British food that shows a real attention to detail. Champor-Champor provides Asian fusion cuisine that resists most labels, aside from 'great'. At café and gallery Caphe House, you can pick up a Vietnamese baguette, called bánh mì, along with a painting, if you want.
Read more
Sponsored listing
Briciole
This Marylebone spot is as close to a proper Italian trattoria as you're likely to find in London. Effusive waiting staff greeted us like long-lost relatives as they ushered us past the deli and café-bar area to the airy, informal dining area of this former pub. A wide-ranging selection of small plates, first-class salumi, cheeses, pastas, grills and other mains drawn from all over Italy made ordering fiendishly difficult. We tried to sample some of everything, and soon our table looked pleasingly crowded and varied, as a proper Italian meal should. Some dishes are downright peculiar, some disappointing – a plate of meatballs with peas looked like little mounds smothered in a bright green smoothie, and our cannoli was too thick and unwieldy. But gnocchi with pork cheeks, red onion and peas was spot-on, and a sausage served with polenta flew us straight back to Italy, the fennel singing out from the sausage's dense porky flavours. This is rustic Italian cuisine at its most honest and inviting – the real deal in a crowded, often disappointing market.  
Venue says: "Briciole Italian restaurant close to London Metropole Hotel, short walk to Marylebone, Paddington, Baker St and Edgware Rd. Open all Easter"