16 great day-trips and weekend breaks from London
From wild swimming to retro theme parks, escape the daily grind with our selection of day-trips and weekend breaks close to the capital
1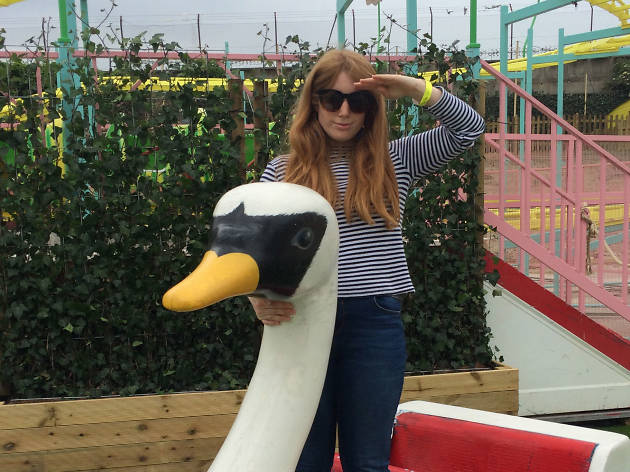 Live the Dreamland in Margate
Recently, 1920s theme park Dreamland has reopened after an 11-year campaign by locals. The UK's answer to New York's hyper-kitsch Coney Island, it boasts a mix of retro rides, seaside sauciness and a Tracey Emin-endorsed rollerdisco. Entry costs £17.95 and covers all rides. Skating is £4.95 Fri-Sun and £4.50 Mon-Thurs. With 'Dreamland' spelled out like the Hollywood sign across the back wall, it's the most Instagrammable pleasure beach I've ever been to.
Margate retains an eccentric seaside spirit though. We paid £3.50 to pop into the Shell Grotto, a series of caves discovered in Victorian times (FYI, there's a shell phallus), then visited the Mad Hatter, a tearoom in the old town, which has been covered floor-to-ceiling in Princess Diana memorabilia for the past 20 years.
And that's the thing – Londoners are always chasing trends, when we could be heading to Margs for some properly old-fashioned fun. A walk on the beach, a ride on the Ferris wheel, maybe even a stick of rock… Exactly the same things your nan enjoyed on holiday.
By Kate Lloyd
Getting there: By train from St Pancras or Victoria to Margate: around one hour 30 minutes.
2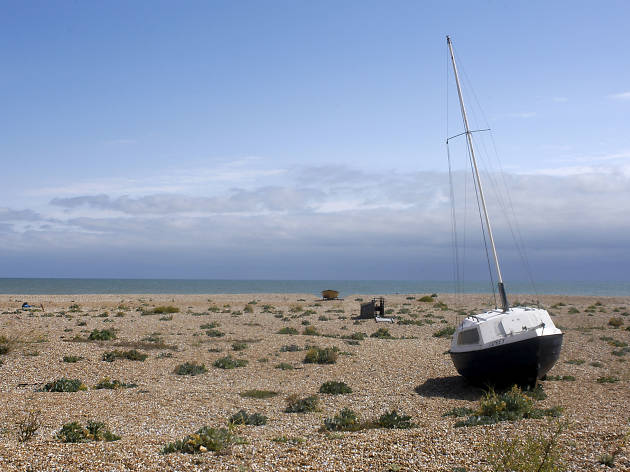 Go post-apocalyptic at Dungeness
Doomsday is upon us, and you are one of the few survivors! At least, that's how it feels visiting this Kent coastal desert. Splintered remains of old boats litter the large shingle expanse, rusty train tracks run to the middle of nowhere, and a nuclear power station looms over you in the middle distance. Bring your camera and watch out for zombies.
Getting there: By train from King's Cross to Appledore (change at Ashford): around one hour 30 minutes. Then taxi.
3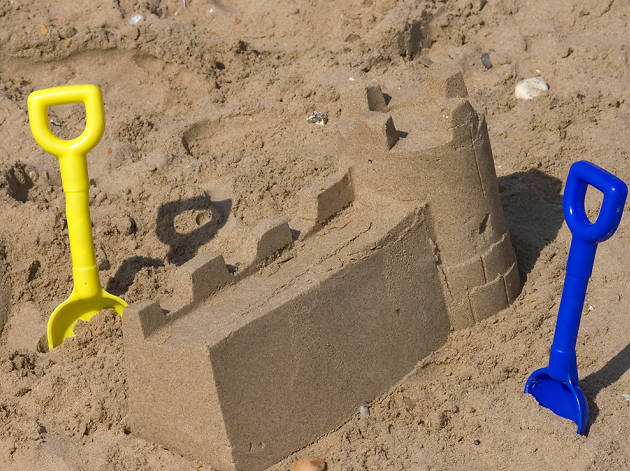 Sculpt a castle at Sunny Sands
One of the few sandy beaches within an hour of London (and a lovely one it is too), Sunny Sands hosts the annual Folkestone Mermaid Festival and Sandcastle Competition, where the Michelangelos and Da Vincis of the sand-crafting world go head to head. You'd best get practising.

www.folkestonefestival.org

Getting there: By train from King's Cross to Folkestone Central: around one hour.
4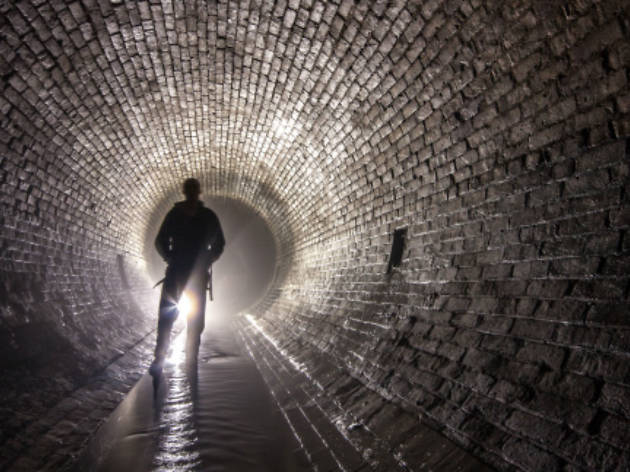 Get down and dirty on a sewer tour in Brighton
You don't really know a city until you've seen its shitty underside. This Southern Water tour (£12 adults, £6 children) will take you beneath the streets of Brighton, through a network of impressive Victorian tunnels that channel waste and water out of the city, before emerging from a manhole into a busy street!

www.southernwater.co.uk/brighton-sewer-tours
Getting there: By train from Victoria to Brighton: around one hour.
5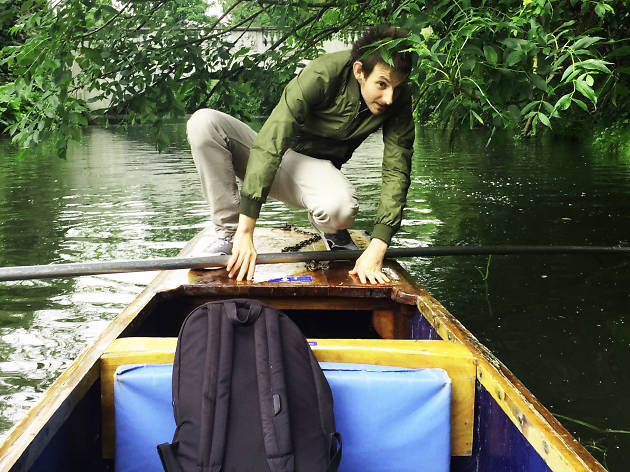 Have a punt in Cambridge
A short train ride away from hordes of sweating sightseers, I find myself setting off on a two-mile punt down the river Cam. Scudamore's punts can be hired at Mill Lane (£100 a day, £25 an hour), from which point you can drift out of town. Go far enough and you'll reach the Orchard Tea Garden in Grantchester, once frequented by Virginia Woolf, John Maynard Keynes, EM Forster and other dead types. As promised, everywhere is pleasantly scented, truly beautiful and – since the students have gone home for summer – nice and empty.
The theory of punting is thus: drop the end of a metal pole to the riverbed, push and it will propel you forwards. The journey's hard going (Scudamore's also runs one-way guided trips up to Grantchester for the pole-shy) but ultimately worth it. We moor up by the tea room; there's a charming, sun-dappled little orchard full of deckchairs and nattering locals. As I bite into a carrot cake, I let the tranquillity wash over me. And I've got the perfect way to hold on to this feeling: on the way back, I'm not doing the punting.
By Alexi Duggins
Getting there: By fast train from King's Cross to Cambridge: around 45 minutes. Then walk (25 minutes) or taxi to Mill Lane.
6
Raise a glass at Denbies in Dorking
As well as sampling award-winning wines produced by England's largest vineyard, you can take indoor and outdoor tours of the estate (£6-£16).
Getting there:
By train from Victoria, Waterloo or London Bridge to Dorking: around one hour. Then walk (15 minutes).
7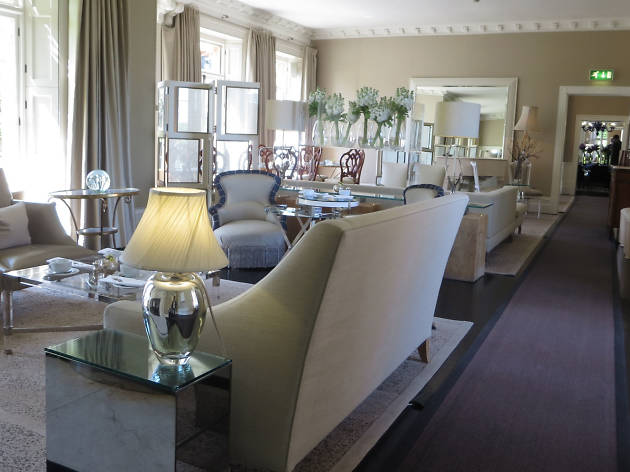 Spoil yourself at The Grove in Hertfordshire
Queen Victoria used to 'weekend' at this country estate, 18 miles from central London. It's now a fancy hotel with luxurious day packages on offer at its spa (£195-£350). Treat yo'self.
Getting there: By train from Euston to Watford Junction: around 20 minutes. Then taxi.


8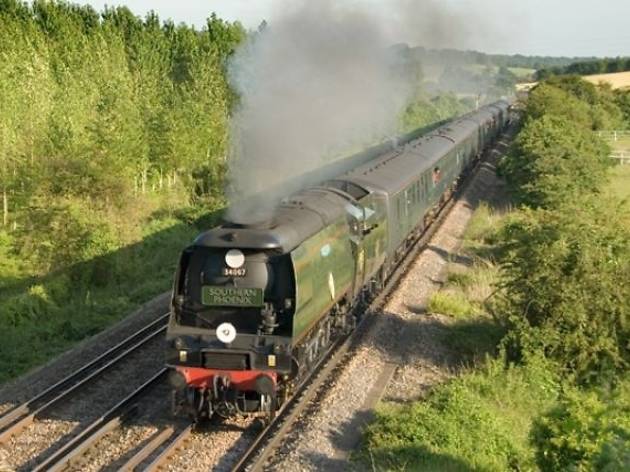 Chug out West on the Dorset Coast Express
Order a G&T and chill out on this vintage steam train, travelling along a heritage railway line (£79-£195). Getting there Departing from Victoria and returning to Waterloo takes 13 hours, including three hours to spend in Weymouth.

www.railwaytouring.net
Getting there: Next train, July 22.
9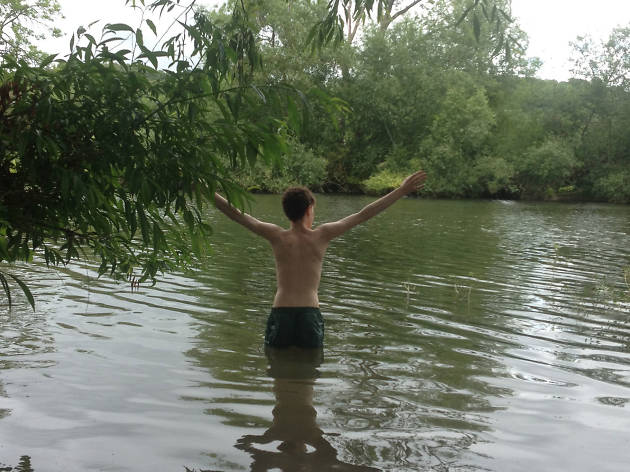 Take the plunge in Pangbourne
Pangbourne is a picturesque village with two or three nice pubs – and some of the best wild swimming within reach of London. We arrived in time for a riverside lunch at The Swan, then strolled down the Thames Path to the water meadows, a prime bathing spot (goose shit notwithstanding) with a slipway providing easy access to the river.
Yes, it was bloody freezing. But only a few minutes in, I was surprised by a genuine feeling of being 'at one with nature'. I was more literally bonded with some squishy mud near the bank, but a few feet out the bottom dropped away. Suddenly I was doggy-paddling in the clean, clear waters of Big Daddy Thames.
It was glorious: enough to make you never want to dip a toe in chlorinated water again. On a sunny day I'd have been there all afternoon; but given the weather, a pint at The Cross Keys was a decent alternative. And we were back at Paddington by half six. Next time I go, I might even check the weather forecast.
By James Manning
Getting there: By train from Paddington to Pangbourne: direct, around one hour 30 minutes; change at Reading for a journey of less than an hour.
10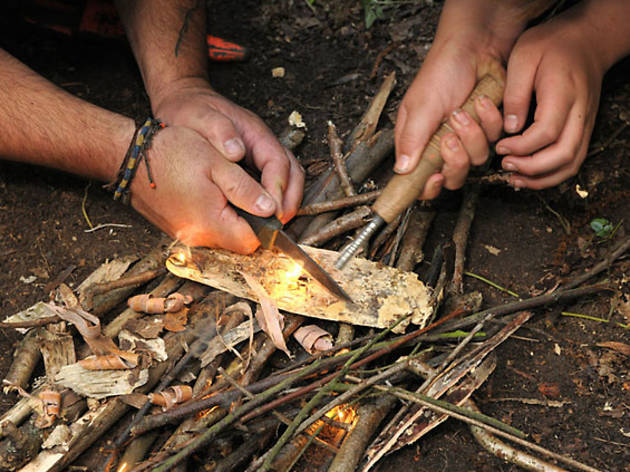 Grin and bear (Grylls) it in the New Forest
Want to be able to survive in the most inhospitable environment? The place to start is… the New Forest. These family-friendly bushcraft courses (£70 adults, £55 12-18s) will teach you the basics of outdoor survival: how to build a shelter, make a fire, find water and wrestle bears to the death (well, the first three at least).

www.newforestactivities.co.uk

Getting there: By fast train from Waterloo to Brockenhurst: around one hour 35 minutes. Then taxi.
11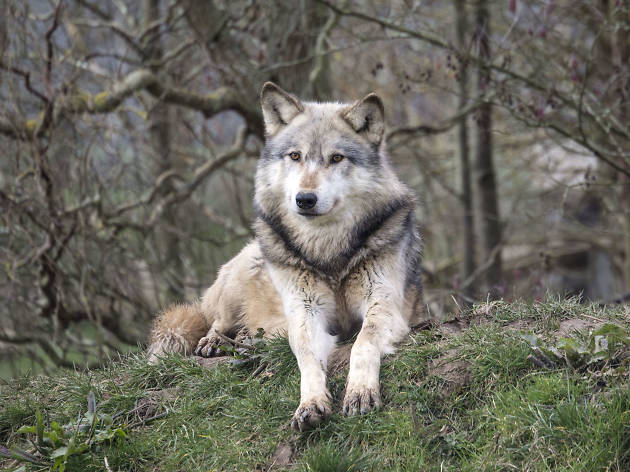 Join the wolf pack in Berkshire
You'll be howling with approval after a visit to the UK Wolf Conservation Trust. Open to the public every Wednesday (£8 adults, £5 children), the centre is home to ten wolves from places including North America and the Arctic. They're all kept in enclosures, but maybe still err on the side of caution and avoid wearing any sheepskin.
Getting there: By train from Paddington to Midgham (change at Reading): around one hour. Then taxi.
12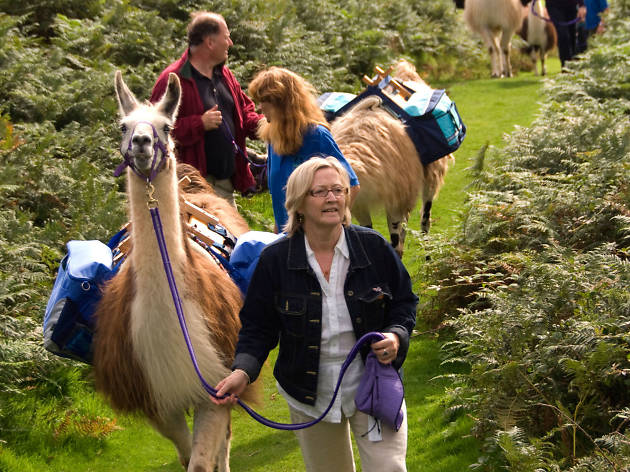 Take a walk on the wool side with llamas in Surrey
Dogs are soooo 2014! When you go for a walk in the countryside these days, you want a freakin' llama by your side. Lead one of the friendly furries through the beautiful Surrey Hills on a day-long trek (£75 adults, £38 nine-15s), stopping for a picnic en route. Just don't piss your llama off or you'll learn the true meaning of 'spitting distance'.
Getting there: By train from Waterloo to Milford: around one hour. Then taxi.
13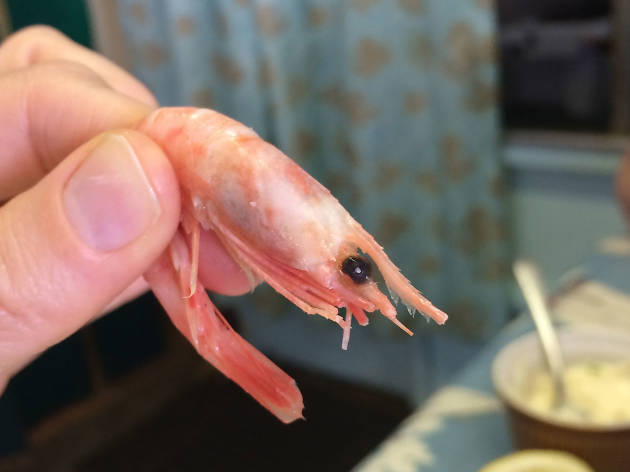 Go to shellfish heaven on Mersea Island
The little island of Mersea (pronounced 'Mersey') is one of those places you don't want to shout about. Let everyone else go to twee-on-sea Whitstable, with its bunting and overpriced oysters. Mersea has crept on to the food map in the past few years, but it's still down-to-earth.
Seafood shack The Company Shed is exactly that – a big shed that grew out of the family oyster-farming business, with cheapo furniture, kitchen rolls plonked on tables and angry lobsters and crabs awaiting their fate in a tank on the back wall.
Order at the counter then sit back like a Roman emperor as ridiculous piles of shellfish are brought to you. We go for the famous Company Shed seafood platter (£15 per person): a monster smorgasbord of crab, locally cured salmon, smoked peppered mackerel, prawns, crevettes and mussels.
There's plenty to do on the island – crabbing, a country park, cycling, boat trips, a tour of Mersea Island Vineyard and its microbrewery. But to be honest, we're really here to feed our faces.
By Cath Clarke
Getting there: By train from Liverpoool Street to Colchester: around 50 minutes. Then taxi (30 minutes), bus or bicycle. You can also pick up a passenger ferry to Mersea from Brightlingsea.
14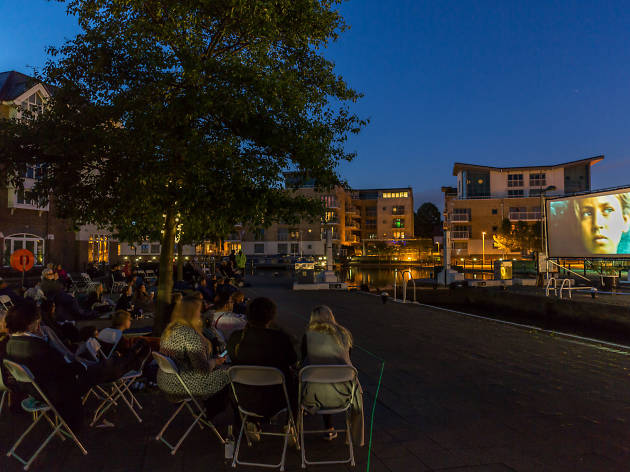 Catch a moving film at the Floating Cinema
London's favourite (and presumably only) canal boat cinema has gone cruising out west this summer, on a tour from Brentford to Bristol, along the Kennet & Avon Canal. You can take easy day trips to any of the places where it's mooring for a range of workshops, talks and free outdoor screenings.

www.floatingcinema.info
Getting there: Transport and timings vary. See the website.
15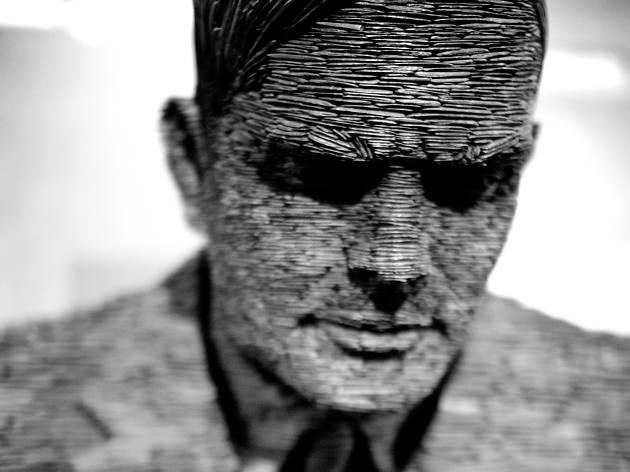 Play the imitation game at Bletchley Park
Follow in the footsteps of Alan Turing (statue pictured) and his legendary team at the very place where brainy Brits cracked the Nazi Enigma code (£16.75 annual adult ticket, £10 12-16s, free under-12s). After taking in the incredible wartime history of the park at its fascinating museum, visit the huts where maths whizzes worked around the clock on German ciphers – work that is estimated to have shortened the war by two years.

www.bletchleypark.org.uk
Getting there: By train from Euston to Bletchley: around 45 minutes.
16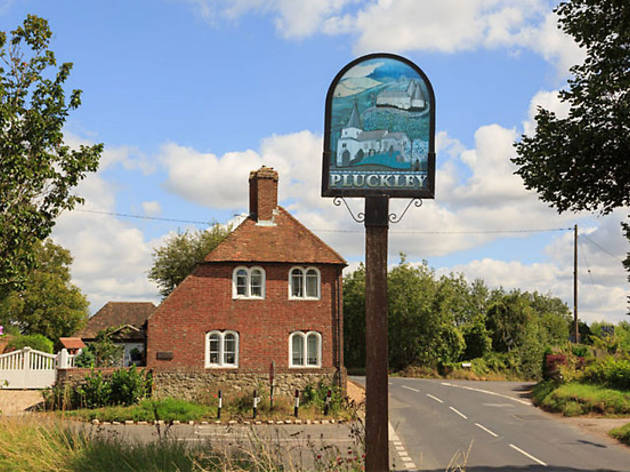 Stand the chance of a ghost in Pluckley
Steel yourself and head for Britain's most haunted village. A screaming man, a suicidal schoolmaster, a burning lady and a murdered highwayman are among the 12 spectres said to hang out in this unassuming corner of the Kent countryside.
Getting there: By train from Charing Cross to Pluckley: around one hour ten minutes.
Gagging for a weekend somewhere that's not London? Try one of these quirksome options, all of which can be reached in no more than two hours
Read more
Sponsored listing
Adventox
An escape game in west London, with two different rooms to choose from. Have a go at escaping from Alcatraz in the '60s or take on Mission X and stop terrorists. Up to six people can play per team and if players are aged 12-17, at least one adult will need to be there (at least two for the Alcatraz room).
Venue says: "Mission X welcomes younger groups. Ages 12-17 only require one adult in the room, whereas Escape from Alcatraz requires at least two adults."