August events in London
Here's what to do and where to do it in London this August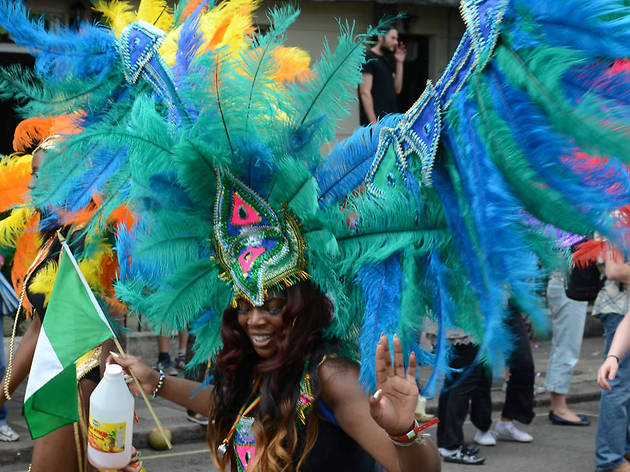 Forget any plans you had for August, unless they involved the many brilliant events, festivals and cutural happenings we've rounded-up below. There's plenty going on to keep you entertained – and the kids too, who'll be making the most of the summer holidays.
Make sure you hit a music festival or two (or more) in August, and take advantage of the sunshine by getting involved in some outdoor events and eating at one of London's best rooftop restaurants. And don't forget that welcome bank holiday at the end of the month, the highlight of which is the immense Notting Hill Carnival.
Here's the very best of London during August.
RECOMMENDED: The definitive London events calendar
Our August highlights
1
This one-day festival comes from the teams behind ace London nightspots Phonox, The Nest and XOYO, plus equally ace Croatian festivals Dimensions and Outlook. There are two parts to Sunfall: a day of raving in Brockwell Park, followed by eight eclectic afterparties across south London with no extra tickets needed.  
Read more
2
The Southbank Centre's having quite the love-in this summer with the return of their Festival of Love – a summery collection of installations, activities, pop-ups and performances that celebrate humankind's most overwhelming emotion. This year, it falls inside the Nordic Matters programme - and very likely the big wedding weekend will be back for the August bank holiday. 
Read more
3
2017 marks the fiftieth anniversary of the decriminalisation of male homosexuality in England. This show charts the preceding century: a hundred years of queer artists either making deeply personal work (about lives led in necessary secrecy) or avowedly political statements. Duncan Grant, John Singer Sargent, Dora Carrington and David Hockney are among those on display. 
Read more
4
Returning for a third year in Trent Park – a country house estate in Cockfosters – this one-day festival organised by the ever-inventive Found crew expands from US house to a more all-embracing dancefest this year, gathering together originators and new acts. Get in quick if you fancy checking out this excellent addition to London's mushrooming dance festival scene.
Read more
5
The mighty SW4 – Clapham Common's bank holiday dance music explosion – returns for another weekend of big drops, club anthems and arms in the air. If you're longing for big beats but can't afford Ibiza and are loath to spend the last days of summer in a dark room, head to SW4 for your fix of big-room house, EDM, electro, techno and trance, as well as other genres creeping in from all angles. The names that SW4 pulls in include some of the biggest DJs and live dance acts on the planet – including a live show from Pendulum –which is probably why it has a marked tendency to sell out well ahead of time.
Read more
6
After three years luxuriating in rural Hertfordshire, premier dance festival Eastern Electrics is setting up home in a new central London venue: but don't worry they plan to retain all ten stages and the line-up is sure to include some suitably huge names from dance music's A-list to delight the party-hungry hordes. And if you want a break from all that dancing, there's an area catering for all your cabaret, fairgound and pillow fight needs.
Read more
7
Wow: based on the title on this exhibition, it sounds like Grayson Perry's feeling mighty full of himself. Or is it meant with a touch of irony? The cross-dressing artist – and one of Britain's most unlikely national treasures – tends to be either denounced as a twee middlebrow populist, or a razor-sharp commentator on the foibles of our society. In any case, this major show of new works promises to look at the idea of the popular: how art can resonate with the average joe, and what it means in these uncertain post-Brexit times. 
Read more
8
The centrepiece of the National Theatre's 2017 programming is this jaw-dropping looking revival of Tony Kushner's two play epic about the Aids epidemic 'Angels in America: A Gay Fantasia on National Themes'. The magnificent Marianne Elliott will make her swansong as NT associate director by tackling both three-and-a-half-hour parts 'Millennium Approaches' and 'Perestroika' with one of the best theatre casts in living memory: Andrew Garfield, Denise Gough, Nathan Lane, Russell Tovey, James McArdle and more.
Read more
10
Will robots enslave the human race? Who knows, but in case they do it's probably a good idea to catch The Science Museum's exhibition so you know what you're up against. There are over 100 of the mechanical critters at the show, which charts the 500-year development of our automated friends. Prepare to meet a sixteenth-century mechanical monk, a giant robot from 1950s Italy and Inkha, a 'mischievous robot receptionist'.
Book now
Read more
11
Part of the Tate's ongoing shift towards showcasing artists from outside the well-trodden West, this is a retrospective of a Turkish artist who lived across 90 years of the twentieth century and travelled extensively across Europe, Asia and America. Zeid's dazzling, jewel-like paintings were influenced by art of the Islamic world and Western avant-garde abstraction.
Read more
12
One of the many contradictions that underpin the life and career of Andrew Lloyd Webber is that his musical about Jesus is about a gazillion times more fun than his musical about cats.
Book now
Read more
13
Forget about work, shift yourself from the sofa and make the most of the long weekend. Plan your August bank holiday to the minute with our round-up of the very best events taking place in the capital during the three day weekend.
Read more
14
Keeping that Bob Marley flame alive in the London suburbs, One Love Festival is a celebration of all things reggae and dub in honour of the great man's famous 1978 One Love concert. This year it takes place over three days at a new site in leafy Tunbridge Wells. Camping and single day tickets are available and good vibes, soulful tunes and low-frequency basslines abound. The 2017 line-up includes King Tubby Sound System, Derrick Morgan, Channel One Sound System.
Read more
15
California: is there any other place in the world as synonymous with hedonistic glamour and effortless cool? But what often gets overlooked among the praises heaped on the Golden State is its rich design history. This show should put paid to that, looking at 50 years of innovation – from LSD in the countercultural '60s to the tech revolution of Silicone Valley.
Read more
16
As the rich get richer and the poor get poorer, Dickens' Victorian novel about social inequality feels as timely as ever. Or at least, that's what Regents Park Open Air Theatre are banking on with Matthew Dunster's contemporary adaptation. Timothy Sheader will direct this fresh take on 'A Tale of Two Cities'. Cast tba.
Book now
Read more
Find out what's happening in September
Art exhibitions this August
Find great things to do all year round
London is a treasure trove of brilliant days out and activities worth boasting about. Find great new ways to fill your free time with this list of our favourite things to do in the capital.
Read more