Unmissable London events this summer
Careful not to scorch your calendar, now – summer in London is looking hot
By

Time Out London Things To Do
|
Don't fight us on this: you know there is nothing better than a summer in London. As soon as things start to heat up, people start panic-booking group holidays abroad, when really all the good stuff is right here. Feeling flustered? Jump into the Hampstead ponds or an outdoor swimming pool. Need a negroni with altitude? Get yourself onto a London rooftop. Desperate for some outdoor green space? Make a beeline for the Walthamstow Wetlands or one of London's hidden parks.
Summer in London means feeling the heat of the Brutalist concrete on the South Bank, it means great art exhibitions, lazy days spent in beer gardens and most importantly: it means the soca sounds and mas bands at Notting Hill Carnival.
Whether you're after the latest new theatre shows, the best gigs, restaurant openings or other great things to do in London, our summer round-up will keep your social life hotter than an August morning on the Bakerloo Line. Here are 24 sizzling summer events you won't want to miss.
RECOMMENDED: Plan a brilliant weekend in London
Sure, the Summer Exhibition is a London institution, but it's kind of the same every year, right? Erm, wrong. Coordinated by Grayson Perry, this year's 250th anniversary exhibition is designed to be the 'biggest, brightest and most colourful yet'. There will be over 1,300 works of art on display, including a 'monumental sculpture' in the courtyard. Plus, the RA is making good on its promise to become more accessible by including more modern events, like an RA Late you can attend in full fancy dress. If you're a Summer Exhibition first-timer, this is a great year to start. Nick Levine. Royal Academy of Arts. Tube: Piccadilly Circus. Tue Jun 12-Aug 19. £18.
Until now, Le Bab has peddled its posh kebabs to Carnaby Street shoppers but from June (exact date tbc) you'll be able to bite into its locally sourced, free range, gourmet babs at Maison Bab in Covent Garden. You'll never look at a dirty post-sesh donna in the same way again. Our tip? Book up the hidden ten-seater fine dining area and order the mezze plates, your pals will love you forever. Kyra Hanson
Museums
Natural History Museum, Brompton
Curious about what creatures get up to after hours? This new Natural History Museum exhibition dishes the dirt on the secretive lives of the animals that come out at night. And no, we don't mean the foxes rummaging through your bins at an ungodly hour. Enter the shadowy world of a bat cave, lock eyes with specimens of anglerfish, vampire squid and other ethereal creatures from the deep and even come face to face with a living Mexican blind cave fish. You might arrive with a fear of the dark and its shady inhabitants but you'll leave with a new found respect for these night crawlers. Kyra Hanson
4
VIVI is a swish new dining spot that will attempt to bring diners all the way back to the 1960s. Launched by the folks behind the Sky Garden's Fenchurch restaurant, the space will channel a retro theme to reflect the era when the Centre Point Brutalist tower was first built. Expect to tuck into a nostalgia-addled menu of chicken kiev, cauliflower cheese croquettes and arctic rolls while surrounded by optical art and dog tooth-patterned furnishings. The restaurant is part of Centre Point's recent makeover which includes 82 flash apartments, but thankfully you don't need to be able to afford a flat here to eat here. Kyra Hanson. VIVI is expected to open on Jul 16.
If you're a girlband fan wondering how to spend your summer downtime, you can stop right now, thank you very much. This incredible-sounding Spice Girls exhibition (which previously ran in Cyprus, they were a global phenom, after all) showcases the epic collection assembled by Spice superfan Alan Smith-Allison. Expect to glimpse hundreds of Baby, Scary, Sporty, Ginger and Posh's stage costumes alongside the weird and wonderful merchandise they put their name to. Like Easy V, it doesn't come for free, but a tenner a ticket seems more than fair to us. Nick Levine. Spice Up London. Business Design Centre. Tube: Angel. July 28-Aug 20. From £10. Find out more here.
A smash at this year's Cannes Film Festival, 'BlacKkKlansman' is being touted as Spike Lee's best film in years. It's based on the remarkable true story of Ron Stallworth (played by Denzel Washington's son John David Washington), an African-American cop who managed to infiltrate the Ku Klux Klan with a little help from white colleague Flip Zimmerman (Adam Driver). Expect plenty of laughs but also some discomfiting moments where Lee draws wrenching parallels with modern-day race relations. Nick Levine
It's nearly that time of year when a usually calm corner of west London becomes a kaleidoscope of colourful outfits, soca music and towering feather plumage. Last year around two million people turned up for the spectacle, which saw the streets around Notting Hill filled with the sight of mas parades, the sound of steel bands and sound systems and the delicious scent of Caribbean grub. Europe's largest street festival is a joyful celebration of Caribbean culture everyone should experience at least once. If you haven't been yet, make 2018 the year you pop your Notting Hill Carnival cherry. Kyra Hanson
Catch these summer movies in an air conditioned cinema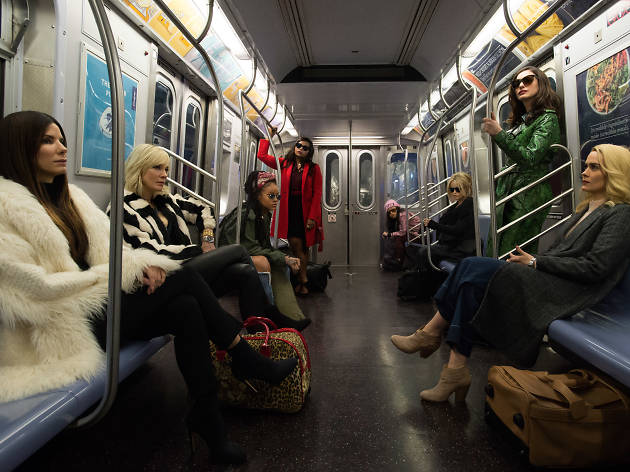 Prepare to welcome back the Incredibles, Spike Lee and those happy-go-lucky 'Sicario' folk