The best places for Tinder dates
Swipe right, eat right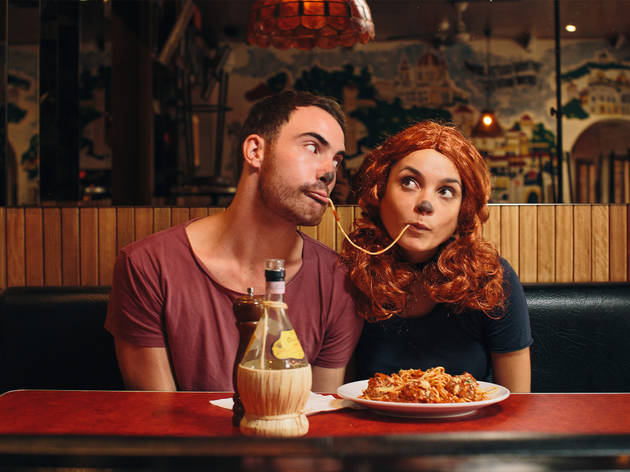 It's probably the top question we get asked at Time Out – where to go on a Tinder date. And fair enough, because fun fact about the Tinder meet up: it's not a date. Not yet, anyway. You don't even know if they're a casual racist or a Nickelback fan yet – why would you tarnish your favourite restaurant with sadness?
First meets have special requirements, so save the romantic restaurant for round two and get the grilling done somewhere fun, and full (safety first, frisky friends). Below, we've laid out our suggestions and the golden rules to help you pick better for yourself. If things are going well, you might want to consider stretching things out to involve a late-night dinner or a glass of something special at one of these cosy wine bars. You're welcome.
Rules for round one: the eat and greet
1. You want options. Meet somewhere you can get one drink and leave if it sucks, but also get dinner if it works.
2. You want somewhere busy for safety's sake and to cover awkward chat, but not so popular you might have to awkwardly stand waiting in a queue (that's a no to Kong and Mamasita).
3. Cover the price and taste rainbow. Even if you're happy to pay for someone else, they shouldn't feel like they owe you.
4. Don't get too personal. That pasta joint where your grandparents fell in love? Save it for round two if there is one. Boundaries.
It's busy, fun, you can commit to as little as a basket of wings and a beer, or stay for a full Southern feast, chased by a $200 bottle of Champagne and oysters at 5am.
Book now
Read more
Allegedly, everyone's conducting their sexual Spanish Inquisitions at this pseudo-nightclub with frozen treats.
Read more
The B.East 
They've usually got some bluegrass playing, and big burgers and sodas, like a good old 1950s knees-up.
Read more
Start with a beer on the roof and then the options are endless: Thai dinner at Cookie or a gig at the Toff.
Read more
Get a sandwich, and if things are going well, proceed through the fridge to Jungle Boy for drinks out the back.
Read more
Round two: the real first date
Congratulations, you've both refrained from being total douchebags at round one. Take another roll of the dice. These are your top three considerations for your second first date.
1. Poor? Get a bottle and go somewhere BYO you love.
2. Both love food? Stick to a great place that's still casual – do you really want to go to the brand new untested place? Maybe (but only if you've got a good sense of humour and you think a lame dining experience will forge a bond through trauma.)
3. Don't overlook your own local restaurant/pub. It's nice to show them what you're about.
The historical Meyer's Lane Italian is a great place to get the measure of a date. Can you love someone who can't love Laminex, simple pasta and plonk in tumblers?
Read more
It's our favourite dumpling house in town, and finally, their liquor license is coming! Quick, low-key and delicious.
Read more
It's a premium experience with interesting wines that still won't tie you down. Get one duck waffle or commit to a 800g steak. We like watching what's going on behind the pass.
Read more
If you both know your wine, the list is unbeatable and the space, filled with Gerald Diffey's carefully curated assortment of tat is perfect.
Read more
Date going well? Kick on here
This one's for all you discerning drinkers who also like to dance your pants off.
Read more