Heads up! We're working hard to be accurate – but these are unusual times, so please always check before heading out.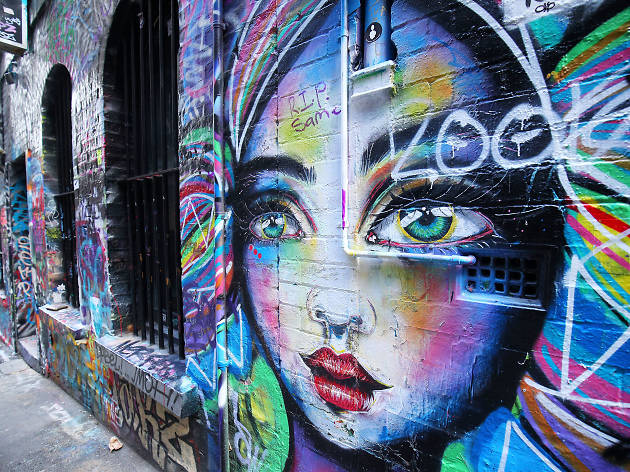 The 10 most Instagrammable places in Melbourne
Take your Instagram followers on a Melbourne adventure
Melbourne is a city with a lot of faces. It's grunge-chic, it's seaside splendour, it's lush rainforest, and it's man-made beauty. From streets lined in aerosol art to buildings straight out of Harry Potter this city has something for everyone, but especially for the Insta-crowd. Charge your phone, check your data and practice the perfect selfie pout because we've rounded up ten of the most Instagrammable places that Melbourne has to offer.
---
Melbourne's busiest street art strip attracts everyone from tourists to wedding parties
This tiny laneway sandwiched between the Forum Theatre and MoVida doesn't have much going for it – apart from being the most popular stretch of street art in Melbourne (even Ed Sheeran has visited it). The walls, roller doors and even the bins get a regular lick of paint here, with the aerosol art and paste-ups changing regularly. It's always filled with people taking snaps, so you'll need to be patient to get the perfect 'gram.
---
From kite surfers to fairy penguins, there's plenty to snap at this beach
With its close proximity to the city, it's no wonder St Kilda is one of the most popular beaches in Melbourne for sun and snaps. On fine days you'll find people playing beach cricket, volleyball or frisbee on the sand while the water is filled with swimmers and watersports enthusiasts. Take a walk down the rustic St Kilda pier and breakwater and you might just spot one of the local fairy penguins (they're most active at dusk).
---
Learning something new has never looked so good
The La Trobe Reading Room at the State Library of Victoria looks like it's straight out of Hogwarts. There's might not be any real wizards here, but the room is still bewitching with its octagonal shape, tall white walls, evenly spaced arches and geometrically spaced reading tables. You'll get the best shot of the room from one of the balconies, and there are plenty of other rooms at the 150-year-old building to snap too.
---
This domed beauty is the prettiest train station Melbourne – nay, Australia
Flinders Street Station is on of the city's busiest commuter hubs, but it also makes for an excellent Instagram thanks to its glorious domed roof and canary-yellow paint job. The building practically screams Melbourne and has been honoured through art, music and countless fridge magnets. Do the crowds of commuters a favour and take your pic from across the street at Federation Square or next to St Paul's Cathedral.
---
Take a photo of Melbourne from the highest public vantage point in the southern hemisphere
At nearly 300 metres in the clouds it's not surprising that the Eureka Tower has one of the best views in the city. Taking a photo this high in the sky isn't for those afflicted with vertigo, especially if you want to go the extra mile and try out the Edge: an all-glass box that extends three metres out from the tower. Don't worry – those cracking noises are recorded.
---
See some of the best art in Australia and then take a picture of it
Want to add a bit more culture to your next selfie? The National Gallery of Victoria is the perfect place to get an arty candid while soaking up an amazing collection of paintings, sculptures, artefacts and more. The gallery hosts some of the best exhibitions in Australia but some of its permanent exhibits are also some of its most Insta-worthy – like Leonard French's colourful stained-glass ceiling in the main hall.
---
Head to the Royal Botanic Gardens for Melbourne's best al fresco 'grams
There's only one location in Melbourne where you can snap serene lakes, lush rainforest and cactus gardens all in the same place. That location is the Royal Botanic Gardens. Open from sunrise to sunset every day of the year the huge expanse of gardens is a favourite lunch spot for city workers. Take a selfie underneath one of the huge, leafy trees, get a close up shot of your favourite plant or take of snap by the lake.
---
You'll find one of Melbourne's more abstract and unique shots 'under the dome'
People visit Melbourne Central for three things: to shop, to catch a train and to take a photo of Coop's Shot Tower. The building was built in 1889 to manufacture bullets – lead bullets dropped from the tower would form perfect spheres by the time they reached the ground. When Melbourne Central was built in the 1980s architects worked around the tower, covering it with a huge glass dome and inadvertently turning it into one of Melbourne's favourite Instagram locations decades later.
---
Head to this grand old arcade to take the perfect glamorous selfie

The most beautiful stretch of Melbourne retail real estate unquestionably belongs to the Block Arcade. Inside the shopping arcade it's all tall, sweeping arches, delicate cornices and fancy pants decorative tiling. And then there are the shops. The delicious window display at Hopetoun Tea Rooms is perfect for foodie 'grammers, as is the chocolately offering at Haigh's. Visit during December for one of the most beautiful Christmas shots in the city.
---

Visit Brighton to snap some rainbow-hued beach huts

The beach boxes (or bathing boxes) at Brighton are postcard perfect. Which, naturally, also makes them ideal for Instagram. You can find the famous beach boxes down at Middle Brighton Beach, where they've been living since the Victorian era, when they were constructed to preserve the modesty of bathers. The buildings are striking for their bright colours and uniform dimensions. Extra points if you take a photo at sunset when the fading sun lights up the rainbow-hued boxes.
Take your Instagram game outside the city
Think you've seen all of Victoria? Take a gander at some of the state's most unfamiliar locations, from ancient caves to European flower farms.