Meet your meaty contenders for Battle of the Burger 2015
It's that time, burger lovers—feast your eyes on the beefy challengers of this year's Battle of the Burger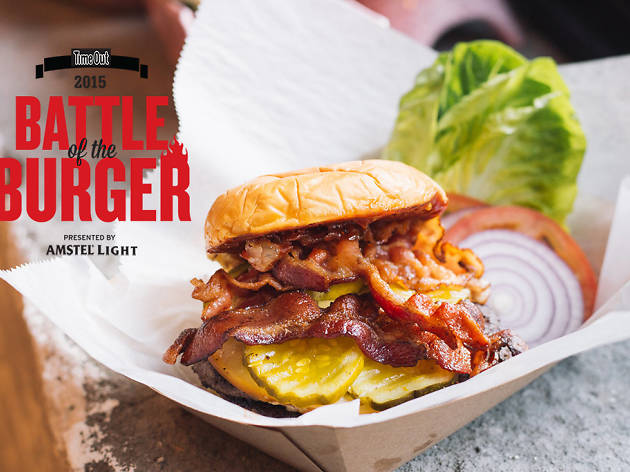 Burgers are inherently egalitarian eats, easy manipulated to humble comfort food or haute heights and enjoyed by all. So when it came time to vote for the best burgers in NYC, it made total sense to leave it up to, well, you! From top-rate cheap burgers to highbrow takes on the American classic, these are your 50 Battle of the Burger 2015 contenders.
RECOMMENDED: See more on the Battle of the Burger
31
Although a slew of Luger copycats have prospered in the last several years, none have captured the elusive charm of this stucco-walled, beer-hall-style eatery, with well-worn wooden floors and tables, and waiters in waist coats and bow ties. Excess is the thing, be it the reasonably health-conscious tomato salad (thick slices of tomato and onion with an odd addition of steak sauce), the famous porterhouse for two, 44 ounces of sliced prime beef or the decent apple strudel, which comes with a bowl full of schlag. Go for it all—it's a singular New York experience that's worth having.
Read more
32
West Coasters love to tout the burger-building prowess of California drive-ins, but this Astoria fast-food spot gives them a run for their money. The addictive "double cheese"—a squishy toasted bun sandwiching two juicy patties cloaked in melted American cheese and brightened by raw onion, iceberg lettuce and tomato—is a gloriously greasy retort to Golden State smugness. A Thousand Island–like special sauce, slightly acidic, with a hint of ketchupy sweetness, drips through the whole messy package.
Read more
33
Irish pubs are a dime a dozen, but very few possess a history as star-studded as this one. The family-owned saloon, among the city's oldest, has been at its present location since 1936 and appeared on classic NYC shows like Seinfeld and Law & Order. Sidle up to the oak bar for a few shots chased with the house's own McManus Ale; if you get lonesome, slip into one of the two old-school telephone booths and drunk-dial.
Read more
34
Former Top Chef contender Dale Talde launched his own dive bar, Pork Slope, not far from his hot Pan-Asian eatery, Talde. The new project, opened with his partners in the first restaurant, was designed as a trashy homage to Patrick Swayze's schlocky classic Road House, complete with a pool table, a PBR sign and taxidermied boars' heads. The menu, a survey of bar-food classics, includes crisp, golden tater tots and better-than-average wispy, sweet onion strings, along with ribs, chili, fried chicken and wings. There's also a too-faithful replica of a McDonald's cheeseburger, right down to the gray patty.
Read more
35
Buzzing with urban-farming fund-raisers, local brewers pouring their ales and food-world luminaries fresh off Heritage Radio interviews, this sprawling hangout has become the unofficial meeting place for Brooklyn's sustainable-food movement. Opened in 2008 by Chris Parachini, Brandon Hoy and Carlo Mirarchi, Roberta's features its own rooftop garden, a food-focused Internet-radio station and a kitchen that turns out excellent, locally sourced dishes, such as delicate bibb lettuce with red-cherry vinaigrette or linguine carbonara made with lamb pancetta. It also doesn't hurt that the pizzas—like the Cheesus Christ, topped with mozzarella, Taleggio, Parmesan, black pepper and cream—are among the borough's best.
Read more
37
Restaurant power couple Francine Stephens and Andrew Feinberg coined a new food genre with their farm-to-table Brooklyn pizza icon Franny's in 2004. Now the trailblazing twosome is taking on the traditional neighborhood bar and grill, refurbishing the former home of their shuttered trattoria Marco's with salvaged school-auditorium seating, an Edison-bulb EAT sign lighting up one striped wall, and a selection of board games and card decks at the ready. Feinberg returns to the kitchen line for the first time since 2008, overseeing a pubby menu of cheese toast, ham-stuffed fried olives and a burger with Gruyère on a butter-toasted sesame-seed bun.
Read more
38
Danny Meyer's wildly popular Madison Square Park concession stand is mobbed with hour-long lines during the summer; in chilly weather, heat lamps provide all the warmth you need. Sirloin and brisket are ground daily for excellent patties, and franks are served Chicago-style on poppy seed buns with a "salad" of toppings and a dash of celery salt. Frozen-custard shakes hit the spot, and there's beer and wine to boot. It's worth waiting in line for, if you ask us, but if you're in a rush, the Upper West Side's wait rarely exceeds 20 minutes. While the first Shack caters mostly to a working clientele, No. 2 is designed with families in mind: There's a playroom and stroller parking.
Read more
39
Burger obsessives have a fresh joint to put on their to-do list: This cultish Denver-based chain delivers its signature smashed specimens at its first New York City location, in Fort Greene. Here, fresh, all-Angus beef patties are flattened and seared on the grill—a technique prized by patty aficionados for producing a crunchy crust—and then stuffed into butter-toasted buns. Pair your smashed sammie with toppings like applewood-smoked bacon, fried eggs or thin crispy onions, and sides including fries spruced up with olive oil, rosemary and garlic. Unique to this location is a specialty Brooklyn Burger, which is crowned with grilled pastrami, Swiss cheese, pickles, onion and yellow mustard, and sandwiched in a toasted pretzel.
Read more
40
Blame talented toque April Bloomfield for the inevitable wait at this still-hopping West Village gastropub—a pioneer in the kind of meaty go-big-or-go-home grub that's proliferated since the spot's 2004 opening. The Pig still serves one of New York City's best burgers, a rare patty heaped with intense Roquefort cheese and served with a tower of rosemary- and garlic-kissed shoestring fries. Equally legendary is the crispy pig ear salad—among the city's first cultish offal dishes—napped in a lemony caper dressing. Bookend this prodigal feast with pints of proprietary cask-drawn bitter ale and a spiced ginger cake with a dollop of whipped cream for dessert.
Read more
Vote for your favorite burger!
Put in your two cents for which primo patty is New York City's best for this year's Battle of the Burger.
Read more
Sponsored listing
Raclette
Raclette is a restaurant located in New York City that specializes in serving French cuisine. The restaurant offers casual, family friendly dining in a French inspired atmosphere. Raclette serves lunch and dinner daily and offers a variety of croques, tartines, raclettes and sides for diners to choose from. Croques are gourmet grilled cheese sandwiches and are available a variety of ways at Racelette, including with citrus roasted pork or with caramelized onion, leek fondue and roasted garlic. Tartines are open faced sandwiches with fine ingredients, including cauliflower, tomato and bufala mozzarella. Raclettes are rack melted Alpine cheeses that are scraped tableside and served with a Arugula salad and a slice of baguette.  
Venue says: "The original specialty Raclette Restaurant in the US."