Meet your meaty contenders for Battle of the Burger 2016
It's that time, burger lovers—feast your eyes on the beefy challengers of this year's Battle of the Burger
Burgers are some of New York's most beloved and democratic eats, rivaling fellow crowd-pleasing comforts like pizza and bagels. So when it came time to vote for the best burgers in NYC, it was only natural that we left the judging up to you burger-loving New Yorkers. From top-rate cheap burgers to old-school classics and upmarket riffs, these are your 69 Battle of the Burger contenders, presented by Budweiser.
RECOMMENDED: See more on the Battle of the Burger
21
Woodside, Queens, bustles on, but this worn Irish pub stays the same. Well-lubricated old-timers line the front bar, while the wood-paneled dining room—made all the more classic with stained-glass adornment—recalls an honest age of prechain family dining. Irish-American pub fare like steak, roast beef and shepherd's pie dominate the menu, but it's the renowned burger that justifies the trek: loosely formed from freshly ground New York strip, broiled to a perfect char and simply decorated with lettuce and tomato—cheese and raw onion optional. In a city lousy with buzzworthy patties, this simple warhorse is still among the best.
22
Settle in at a checker–table-clothed two-top for a pint (or two) and dependable bar bites at this Upper East Side bar, which takes its name from the flag of Northern Ireland. The food menu traipses between across-the-pond classics like cottage pie and fish 'n' chips and stateside favorites like cheeseburgers hooded with bacon-bourbon jam.
23
Copious amounts of Scotch, whiskey and bourbon are the poisons of note at this woodsy, two-floor watering hole—though a frosty mug of beer is an ideal match for Dram's solid griddle-cooked double cheeseburger. Settle in at the 33-foot bar or bring your brew to a spacious booth. Attractions like pool, darts and shuffleboard, favored by the postcollegiate crowd, stand to give the bocce courts at nearby Union Hall a run for its money.
24
The follow-up from the team behind Tribeca sensation Locanda Verde attracts a cross section of the downtown social scene. Right from the get-go the restaurant lived up to its preopening hype, bringing real heat to Soho as Balthazar and Blue Ribbon did in the '90s. The Dutch seems destined to join the ranks of those neighborhood classics. Like the diverse crowd, the food—from virtuoso Andrew Carmellini—is eclectic: His rollicking menu reflects our increasingly free-form eating habits with loving homages to Chinatown, the barrio, Little Italy and all-American comforts like a midday double cheeseburger with secret sauce.
25
Matthew Roff opened this burger joint connected to his Crown Heights bar, Franklin Park. Until 11pm, diners can order from a menu that includes grilled seven-ounce burgers like the Dutch Boy (cheddar, mushrooms, caramelized onions); after the restaurant closes, bargoers can continue to order the full menu at the bar.
26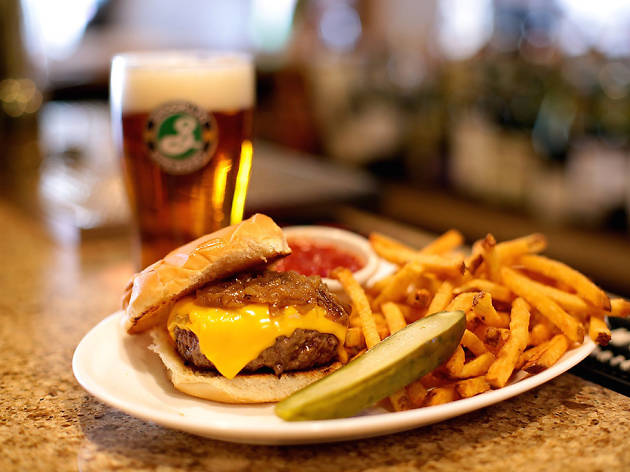 Eats on Lex
This jazzed-up corner pub turns out casual crowd-pleasers like burgers (dry-aged steak, Atlantic salmon), oysters and fruit-flavored martinis (sour cherry, mango).
27
The heat of the wood-fired oven at Clinton Hill's Emily welcomes you into the cozy dining space, indicative of the charred crusts and inventive toppings to come. Though it's a pizza joint, however, much has been said of Emily's burger. Believe the hype and get one: Made with grass-fed, dry-aged beef, Emmy sauce, caramelized onion and Grafton cheddar served on a Tom Cat pretzel bun, it's worth ordering even if you're also having pizza.
28
The red-and-white–tiled burger chain—born in Arlington, VA, in 1986—opened its first NYC branch in College Point, Queens in 2007 and has since expanded with 20-plus locations throughout the five boroughs, earning a cult following with its brown-bagged fries, bottomless shell-on peanuts and local-beef burgers.
29
At the upscale burger chainlet, offbeat offerings like sushi, fish tacos and French onion soup bolster the menu, which also includes the signature ten-ounce patty topped with caramelized onions, Gruyère cheese and rosemary aioli.
30
The grassy, spacious outdoor area of this bumping Williamsburg hangout is an apt setting for a cold Bud and a house burger, finished with pickled onions, American cheese and special sauce. Once you've had your fill, you can challenge your bargoing buds to a match of outdoor Ping-Pong.
Vote for your favorite burger!
Vote for your favorite burger in New York City at Time Out New York's annual Battle of the Burger 2016