A list of all the Michelin-starred restaurants in NYC
For top-notch dining in the city, we've gathered a master list of all the Michelin-starred restaurants in NYC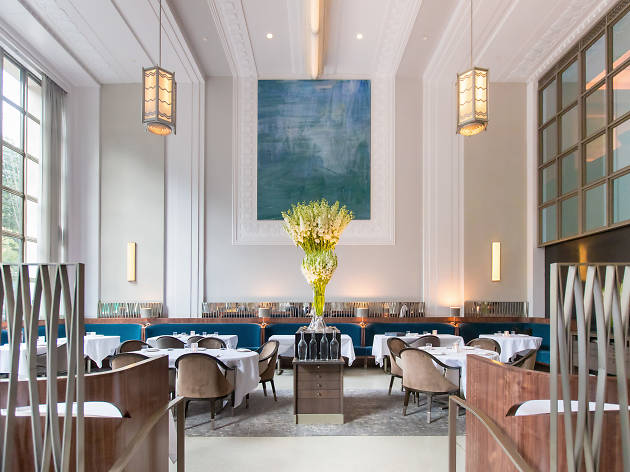 No doubt about it, NYC is a foodie town. Not only do our hole-in-the-walls and bodegas whip up some super satisfying cheap eats, but our fine dining restaurants are some of the best on the planet. And we have the stats to prove it. Currently, 71 restaurants in the city serving Japanese, French and Scandinavian cusines, have been awarded with a total of 109 Michelin stars. Below is the list of those who made the cut for 2018.
RECOMMENDED: Full guide to the best restaurants in NYC
And here are our favorite dishes
From genre-bending pasta to big-money cocktails, here's our annual guide to the 100 best dishes and drinks in NYC
Sponsored listing
This restaurant in the West Village amps up the romance of Italian cuisine with a menu focused on food meant to be shared. Start with a customizable cheese charcuterie board with porchetta, asiago, sopressata, gorgonzola or a whole host of other goodies (one for $7, three for $18 or five for $25). Follow that up with some burrata with grilled tomatoes and pesto ($15), ricotta-stuffed zucchini flowers ($4 per piece) or savory lobster cannoli ($6 per piece). For the pasta course, you might order osso bucco ravioli ($16), risotto with pancetta and peas ($18) or spaghetti pomodoro ($16). There's even a section of the menu dedicated to "aphrodisiacs," like roasted oysters or grilled asparagus topped with quail eggs and slivers of black truffle ($16 each). To add to the romantic mood, Giulietta's also brings in live jazz musicians every Wednesday and hosts a blues brunch every Saturday.
Venue says Outdoor seating is OPEN! ☀️Make sure to check out our Bottomless LIVE Blues Brunch on Saturdays! 🥂🍳🎷