Today, renowned farm-to-table chef Danielle Alvarez has been announced as the new culinary director of the Sydney Opera House event venues, operated by hospitality group Trippas White.
The cookbook author and founding chef of Sydney favourite Fred's has created beautiful menus for all the private soirées to be held in the iconic building's Yallamundi Rooms, the Utzon Room and Northern Foyers – think weddings, intimate cocktail events, corporate networking and gala dinners. So yes, we will now be booking an event at the House.
Alvarez will be joining top chefs already in the House, including Peter Gilmore at Bennelong and Mark Olive at new restaurant Midden by Mark Olive.
Alvarez's passion for using fresh, seasonal produce, as well as working with local producers, will shine through in the menus. Trippas White chief executive officer Kevin Zajax said the partnership is a "perfect match".
"Danielle cares deeply about the connection between food and culture, and I can't think of anywhere better to bring this together than arguably the world's most recognisable cultural destination," he says.
"I feel tremendously honoured to have some impact on the food being served at the Sydney Opera House," adds Alvarez.
"It is a global icon of Australian culture, and my goal is to bring together people, produce and events that will further showcase all the incredible things this diverse country has to offer."
To celebrate Alvarez's next chapter, as well as the release of her second cookbook, Recipes for a Lifetime of Beautiful Cooking, Danielle Alvarez will appear in-conversation with co-author, writer and best friend Libby Travers at the Opera House on Friday, November 10. The best friends will be chatting about everything from the process of writing the book to the importance of females in the hospitality industry. Tickets are on sale now and you can snap them up here.
We spoke to Alvarez ahead of the announcement on why she wanted to say yes to the gig, what she's most excited about and where she likes to eat in Sydney. Enjoy.
It's been a year since you left Fred's – what did you consider when taking on this new challenge, and why did you say yes?
It's been a different sort of year for me with a lot of inward thinking, a lot of recipe writing, and all of these one-off events.
Trippas White approached me about doing some work with them about a year ago, and the timing wasn't right. But they approached me again about this culinary director role for these event spaces in the Opera House. And, you know, I feel like when the Opera House calls, you just say yes [laughs].
I feel like when the Opera House calls, you just say yes
It's really daunting and I feel a lot of pressure for myself because I just want to do it justice. It's such a historical cultural icon of Australia. And I've recently become an Australian citizen! So I just want to do an amazing job. And I feel like it's a huge honour. And it's scary, but that's also why I have to do it.
What are you most excited about?
I've really missed feeding people in a big way. I'm going to be working closely with the team, especially at the beginning, to make sure that everything is done right. To be able to see people enjoying my food again will be such a nice thrill for me. It will be amazing.
What kinds of dishes can we expect to see on the menus?
It's totally my food. So, expect lots of Mediterranean, Italian and French influences, and I have really put a focus on Australian produce using more native Australian ingredients than I might have used before.
As we're going into summer, I'm really focusing a lot on fresh seafood, so you can expect raw oysters, prawns, and octopus, as well as beautiful summer vegetables like tomatoes, eggplant, zucchini, chilli peppers – that kind of thing.
And I am definitely making it a focus to still champion and use a lot of the small producers that I've always used. There's just a few more challenges around an events type of setting versus a restaurant. My priority is to try and really improve the supply chain issues. So that you can still work with small farms even in an event setting. So yeah, lots of challenges to overcome, but I'm not scared of them. I feel excited by it! And I think it'll be good to show that we can do it.
Your new cookbook Recipes for a Lifetime of Beautiful Cooking (with best friend Libby) comes out on Oct 31. You've said that the ingredients for the recipes are accessible and affordable. What else did you want to achieve with this book?
If people are spattering sauce all over the book, and they're using it forever, that would be the greatest achievement for me.
I do think great food should be accessible to us all, so I wanted to write recipes that no matter where you are in your life, or what situation you're in, are achievable.
I think a lot of people know me as someone who champions great produce and small producers and, yes, that can come at a higher price tag – in my own life, I'm not always cooking that way. Although people might think I do. I still shop at Coles and Woolies [laughs]!
I just think if we can get more people cooking nice food at home, that's a win. It doesn't really matter where every single ingredient comes from. I think it's best to start with what you can get, and cook simple, delicious food. When you get more comfortable with it and you want to broaden your horizons, you can go to a farmers market, or try to source something from a small local farm. I just think let's start from a place that's accessible to everyone and go from there.
And it's about more than food. I think when you cook at home and you're with your family or maybe you're by yourself, it's showing a level of care that ordering takeout just will not do for you. I think the best moments in life happen around those dinner or lunch tables, so to me that's the core of why it's so important.
You're passionate about working with seasonal produce. What are some of your favourite affordable ingredients that are currently in season?
At the moment strawberries are so bright and beautiful and sweet and delicious. This moment of strawberries doesn't really last long, so I really encouraged people to lean in! Speaking of Coles and Woolies, I was there this morning and they're very cheap and affordable at the moment. I'm still using lots of lemons. I mean, I'm always getting lemons, but this is the time I've just preserved a bunch of myself so that I can have it for the year. We're in spring so the asparagus right now is incredible, as well as peas, sugar snap peas and the lettuces – so lots of beautiful salads. Everything's nice and sweet.
What's your favourite meal to cook after a long shift in the kitchen?
It used to be pasta, but then I just felt like even that became too much work. It's now a cheese toastie. I like to put a bit of the cheese on the outside as well, so there's a cheesy crust on the outside. Cheddar is my go-to, and I also love it with a few pickles in it and serve it with Dijon mustard to dip in. Delicious.
Where are your favourite places to eat in Sydney?
Ante in Newtown – it's been my favourite for about a year now. I just think Gemma is one of the most talented chefs I've ever met. And I just adore her as a friend, as a person and as a cook. I think she's a great leader. And what her partner Matt is also doing with the beverages, those incredible sakes – it's just such a cool unique place for Sydney. I also love Café Paci, and Lankan Filling Station.
What's your favourite restaurant for a special occasion?
Probably somewhere like Firedoor – Lennox Hastie is just unreal. And, you know, I'm also one for celebrating milestones at casual places, too! When I got my Australian citizenship, we went down to the Bob Hawke Leisure Centre and had a prawn cocktail.
If time/money/space didn't exist, what would your dream day in Sydney look like?
OK, it would have to involve being out on the Harbour on an incredible boat somewhere. And then pulling up to a Harbour Beach and having a picnic – somewhere quiet.
Then a delicious meal in The Rocks, somewhere like Le Foote. I think it's so great to see cool things happening in The Rocks again, because it's such a fantastic place to be.
And if it could finish anywhere it would fittingly be at the Sydney Harbour House with a cocktail. A perfect Sydney day.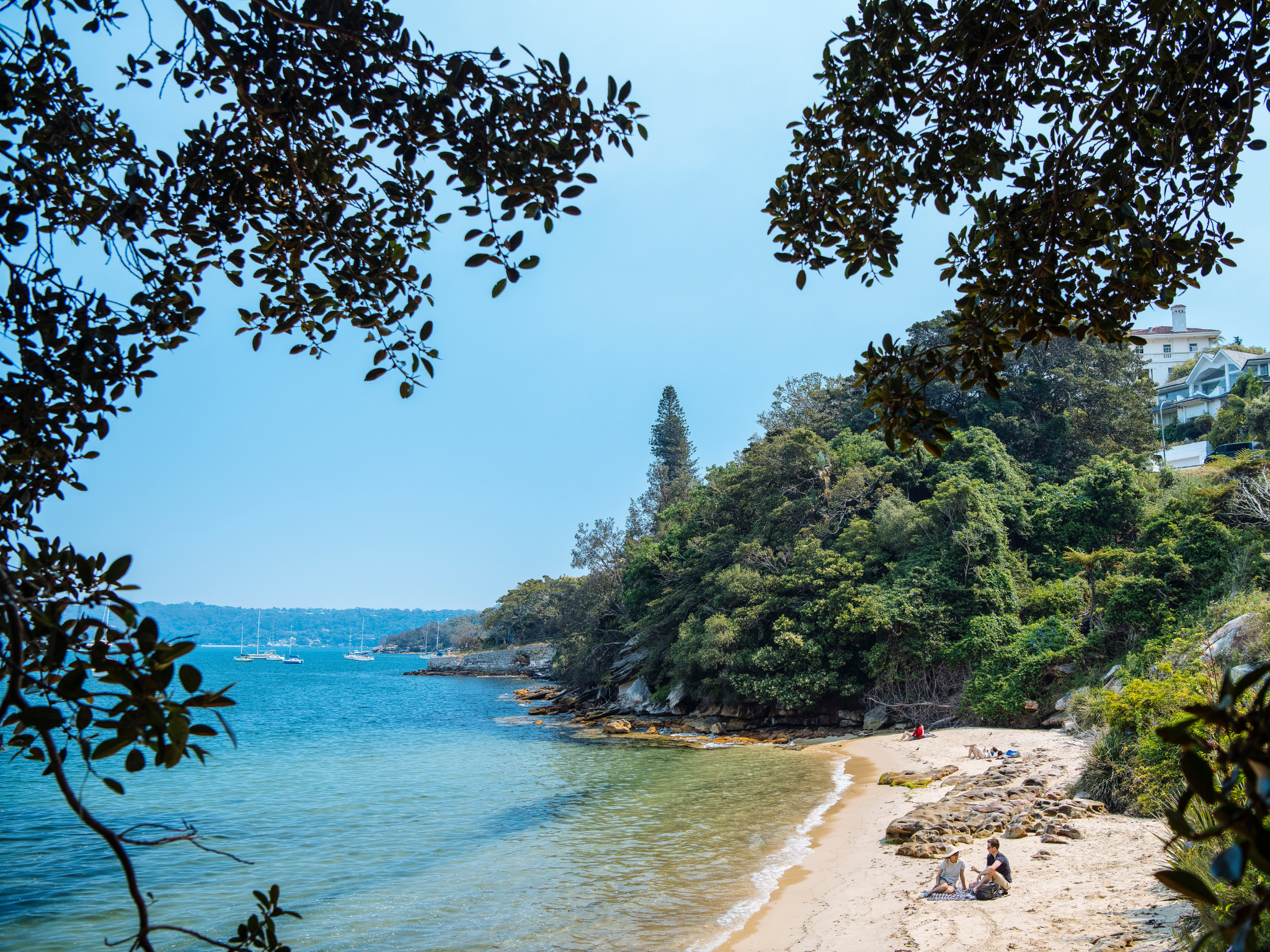 RECOMMENDED: