Heads up! We're working hard to be accurate – but these are unusual times, so please always check before heading out.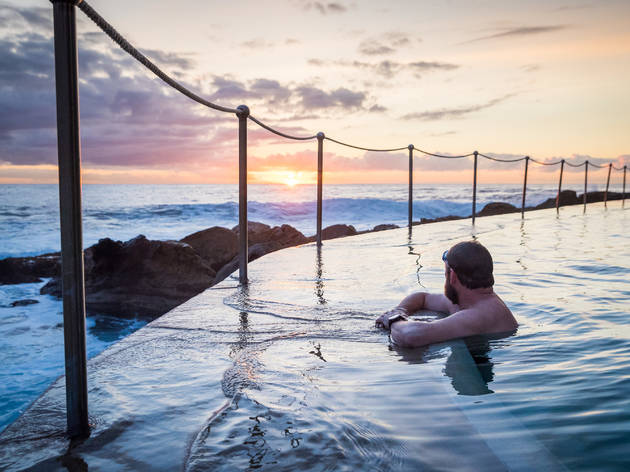 90 things to do in Sydney before 9am
While other folk are still snoring, Sydney's early birds are being their best selves
We're an optimistic bunch – rising at the crack of dawn to snap sunrise pics by the pool or hitting our fitness goals in the park. Set your alarm an hour or two earlier and smash this list of 90 glorious early morning activities.
1. Be one of the first swimmers to wade into the salt water at Bronte Baths and soak in the views of an empty beach as daylight creeps over the horizon.
2. Get in early to feed the animals at Taronga Zoo. You'll need to book in a sleepover at Roar N Snore, but at 6.15am you'll get to feed a seal and sunbake with an echidna. $185-$320.
3. Book in for a surf lesson at Bondi Beach. Let's Go Surfing runs 6.30am sessions for beginners, so you can practice standing up (and falling off) before the beach gets busy. $95.
4. Take photos of the sunrise from one of the tallest towers in Sydney. Nikon runs a Cityscapes Masterclass class that starts at 7am, 266 metres above the city at Sydney Tower Eye. $99. Sat Jan 20.
5. Glebe Rowing Club teaches newcomers how to perfect their scull in a four-week Sunday morning program from 8.30. Get on board for a new cardio workout on the water. $275. Nov 4-12, Jan 21-Feb 9 & Feb 25-Mar 18.
6. Weave your way around working fishermen on the auction floor at Sydney Fish Market and see more than 100 varieties of seafood in the 6.40am Behind the Scenes tours. $35.
7. Start the day drifting 300m above farmyards and pretty country towns with Balloon Aloft on a sunrise tour over Camden Valley. Daily 4am. $299-$339.
8. Slow down with a guided meditation class at W1ll. The studio is beautiful and you can sip on peppermint and cocoa tea afterwards. Tue, Thu 7.15am $22.
9. Cycle through the Alpe d'Huez (without leaving Sydney) at a one of Scenic Cycle's 6.45am or 7.45am classes. $22.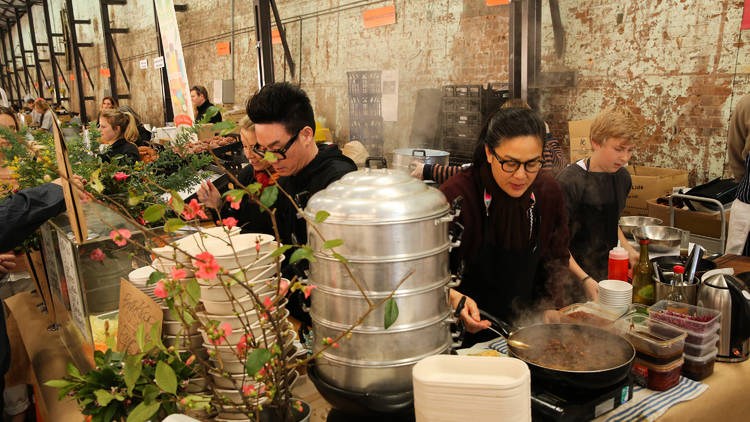 10. Rise and shine for Chinese pancakes cooked and served to you by chef Kylie Kwong at Carriageworks Farmers Market. Sat 8am-1pm.
11. Sydney Opera House Backstage Tours start at 7am every day. Access areas normally reserved for big stars and finish with breakfast in the Green Room. Daily, 7am. $165.
12. Walk to Ben Buckler to watch the sun rise on the ocean's horizon. When the tide's low, carefully walk along the North Bondi rocks then take the stairs to Ray O'Keffe reserve. North Bondi 2026.
13. Centre yourself with a 6am sweaty yoga class at Redfern's Humming Puppy – they're not as busy as lunchtime or after-work classes. $35.
14. Grab an excellent cup of coffee at Single O, one of Surry Hills' most popular cafés. It opens at 6.30am; beat queues before the locals rush in.
15. Stand-up paddle board at Balmoral Beach when the water is calm and the boats are few and far between. $20.
16. Shake it off at Sydney Dance Company. Jazz, ballet, jazz, funk, hip-hop and latin classes kick off at 6.30am. $22.
17. Bake yourself in the Icebergs Pool sauna then cool down with dip after – it can be a sardine tin on weekends, but at 6am on weekdays (6.30am Sat, Sun) it's much more chilled.
18. Head to Fitter House at Bondi Farmers Markets for the breakfast staple piled high with bacon, chicken chipolatas, spiced potatoes, tomatoes, chilli jam and sour cream. Sat 8am.
19. Ride the 7.30am ferry departing Parramatta Wharf, which winds leisurely along the river before ending at Circular Quay just in time for breakfast in the Rocks. $3.67-$8.90.
22. Climb the Harbour Bridge at dawn and see the sun rise over the horizon from the most spectacular vantage point. From 3am. $273-$393.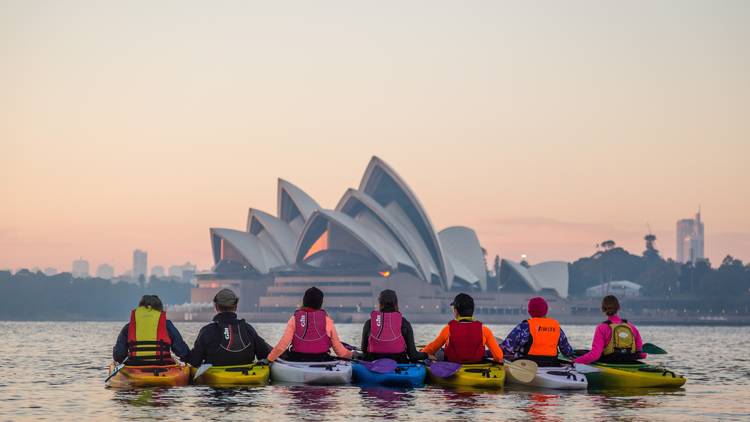 23. Kayak on the velvety smooth water underneath Sydney Harbour Bridge and watch the sunrise as it hits Sydney Opera House. Sun 5-7am. $95pp.
24. Sign your pooch up for six weeks of puppy pre-school at Centennial Park, where they'll learn to sit, stay and answer to their name. Sun 8am. $10-$30.
25. Spend Saturday mornings pruning, planting and weeding as an Easy Care volunteer gardener, helping elderly residents and those with a disability stay in their homes.
26. Take a two-hour guided walk through Taronga Zoo at dawn. Sat, Sun 6.45am. $7.50-$15.
27. Treat yourself to a luxe breakfast at Japanese restaurant Sokyo, where options include white miso roasted salmon udon, wild mushroom rice omelettes and black sesame lattes. Daily 7am.
28. Float into your day with a 7.15am aerial yoga, barre or pilates session at SkyLab, where you're rigged up to hammock so every pose is held mid-air. Mon-Fri 7.15am. $35.
29. Get lost in a book and relish in frosty air-con at Sydney Uni's Fisher library, open 24 hours for students (wink) or from 8am for the public. Mon-Sun 8am. Free.
30. Pick up a loaf of the best sourdough or rye in Sydney at Iggy's Bread – the earlier the better; they always sell out. Tue-Sun 7am.
31. Kick start your day with a rock climbing session at Climb Fit – there's over 200 routes to conquer. Mon-Fri 6am; Sat, Sun 8am. $13-$28.
32. Watch the waves lap up against the weather-worn wooden wharf as you order a bacon and egg roll with enviable early morning views at Celsius Coffee Co. Open weekdays from 7.30am.
33. Hop on a Katoomba-bound train by 6.30am and cop an eyeful of the Blue Mountains scenery just as the sun hits. $5.95-$8.50.
34. Have a buffet breakfast surrounded by koalas followed by a gratuitous selfie session at Wild Life Sydney Zoo. Sat, Sun 7.15am. $55.
35. Pick up a pot plant at Flower Power. Mon-Sun 8am.
36. Strap on a snorkel and gawk at the Gordon's Bay fishies before anyone gets there. BYO snorkelling gear.
37. Get to the Sly Fox by 3am and you can shuffle to their silent disco until 6am. Fri, Sat 2pm-6am.
38. Get up at sparrow's fart and charter a 7am sightseeing flight with Sydney Seaplanes. Mon-Sun 7am. $200pp.
39. Sing your lungs out for an hour of power at Dynasty Karaoke before a brisk morning walk home at 4am. Daily 4am. $8pp.
40. Kick a ball around with some mates before the sun comes up at the Domain (car park is open from 6am). Daily 6am. $4 for 30 mins.
39. Early birds can start their morning with a sunrise stand-up paddleboarding lesson at Watsons Bay's WATSSUP – the hour-long class includes fitness and SUP skills, plus morning coffee. Tue, Thu & Sat 6-7am. $50.
40. Start your day with dessert by scoring a slice of Black Star Pastry's famous watermelon cake. Sun-Wed 7am-5pm; Thu-Sat 7am-5.30am.
41. Eat a famous breakfast from Bills. Not only will you skip the queues that form later in the day, but you'll have extra hours to burn off those ricotta hotcakes with honeycomb butter. Mon-Fri 7am-10pm; Sat, Sun 7.30am-10pm.
42. Join the Sydney Tsunami Dragon Boat Club, who have a training session on Saturday mornings from August until March that kicks off at 8.45am. If you're not sure you want to commit, the first three lessons are free.
43. Get adventure ready with trek training workouts with Wild Women on Top. They run 7am sessions at Balmoral, Middle Harbour, Manly and Sutherland where you work out with a weighted pack. $49.
44. Go on a self-guided sculpture walk with the Sydney Culture Walks App, which will guide your from St Mary's Cathedral down to the Botanic Gardens. Bring a coffee for an arty start to your day.
45. Watch the sunrise from the steps of Hornby Lighthouse right out at Sydney's farthest eastern tip. While you're there pop down to Camp Cove for a morning dip.
46. Beat the queues to one of Sydney's best bacon and egg rolls at the Orange Grove Organic Markets every Saturday from 8am. They cure the bacon with honey and port, the yolk is always runny.
47. Learn to capture a sunrise on camera with this 2.5 hours course for early risers. 5am-7.30am. $95.
48. Every Tuesday and Friday, shoot and dribble at a 7am mixed basketball game at the KGV Recreation Centre. Morning Hoops is taught by not-for-profit organisation Each One Teach One, who are passionate about making exercise accessible to all. $10.
49. The very first ferry of the day to Cockatoo Island – it leaves Circular Quay at 6.15am during the week and at 6.45am on weekends. Explore the storied island before most people wake up. $5.88.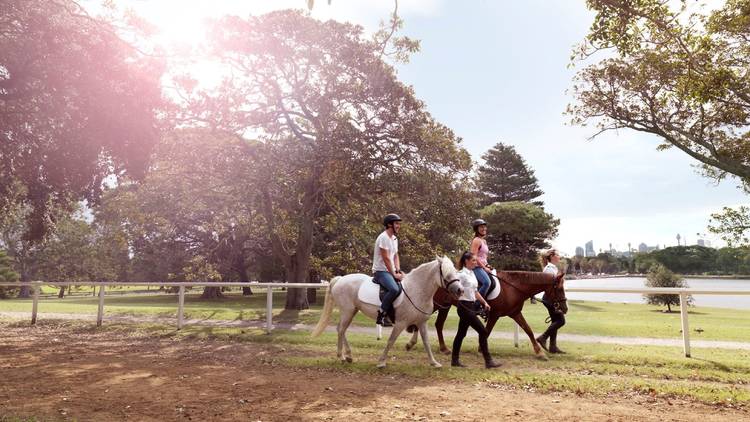 50. Get on your horse at Centennial Park where Sydney Horse offer 30 minute and 60 minute park rides, plus private lessons, from 6am on weekdays and 8am on weekends. $60-$120.
51. Go all out on a business breakfast at the Grounds of the City. The vintage coffee house theme will make the first meal of the day feel as exciting as going out for dinner. Mon-Wed, Fri-Sun 7am-6pm; Thu 7am-late.
52. Ladies: start your day right and hit McIver's Ladies Baths – the only remaining women's-only baths in Australia – from sunrise, when it's fresh-as. Daily from sunrise. $2 entry.
53. Take five – or ten – to browse the comprehensive newspaper offering (and free Wi-Fi) in the ground floor lounge of Customs House. Mon-Fri 8am-midnight.
54. Get your coffee with a shot of greenery; the Royal Botanic Gardens has three places you can get a caffeine hit on your way to work: the Botanic Gardens Café (daily from 8.30am), the Pavilion Kiosk (daily from 8am) and the Blond Café at the Palace Gate (daily from 8am).
55. Conquer a mountain before everyone else has started their day: 9 Degrees bouldering centre is open from 6am on Wednesdays – and they even have good coffee and home-made muffins. $19.80 for a day pass.
56. Creative Mornings is a breakfast gathering that offers food for the mind and pastries for the tummy. It's free to attend the breakfast lecture and events are always held on a Friday morning. Monthly, Fri 8.30am.
57. Rise early on a Friday morning to shop fresh fruit and veg at the Parramatta Farmers' Markets in Centenary Square. Fri 8.30am.
58. Take a snorkelling tour of Fairlight Beach where you'll can see cockatoo fish, sea urchin and teeny tiny pomfrets. Hire mask, snorkel and fins for $25 from Dive Centre Manly. Mon-Fri 8.30am-6pm; Sat, Sun 8am-6pm.
59. Board a fishing charter at D'Albora Marina at the Spit in Mosman and let Fishing Sydney Tours show you where to catch the best snapper. They offer five-hour trips, setting off from 6am. $600pp.
60. Early birds can perfect their birdies at Moore Park Driving Range, where you can tee off at 6am, six days a week. Pick up a bucket of 25 balls for $5.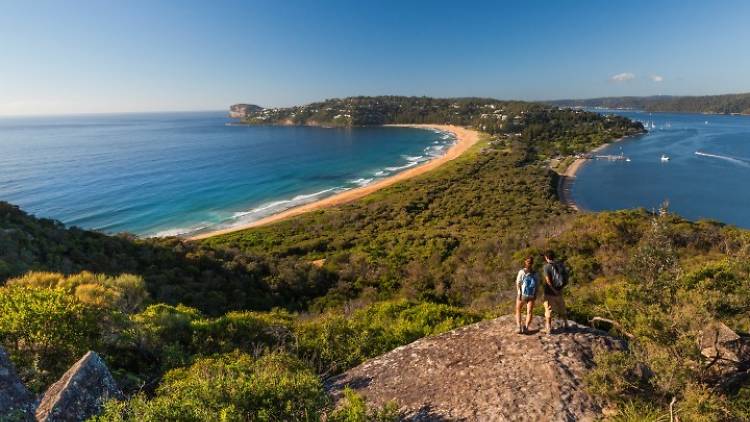 61. Venture up to Sydney's most northerly point and walk to Barrenjoey Lighthouse.
62. Head out for a sunrise paddle with Pittwater Kayak Tours. Departing at 6am, the also includes tour includes a bushwalk and beautiful views.
63. Grab your bike and join a 6.30am road ride every Saturday with the Dulwich Hill Bicycle Club. The 100-year-old club has weekly cycle meets that cater for all levels of fitness.
64. Do sunrise laps at the Andrew Boy Charlton pool; then claim one of the highly coveted deck chairs and remain there all day, eating icy poles. Daily 6am. $5-$6.
65. Start the day with a polish. Cult beauty bar the Nail Lab opens before 9am on Saturdays, and the earlier you go, the easier it is to get an appointment. Sat 8am-5pm.
66. Join a free running group – Parkrun operates across Sydney. At Sydney Park, they do a timed 5km race every Saturday at 8am.
67. Get your weekly veggie shopping out of the way (and pick up a cup of Salvatorian coffee) at the Sydney Sustainable Markets in Taylor Square. Sat 8am-1pm.
68. Have a 5am rave at Club 77's after-after-party, appropriately named Afters. If you haven't been to bed, you can kick on with a Bloody Mary, but they also serve young coconuts.
69. Get a facial and swim under a star-lit roof at the Langham Hotel. The Day Spa opens 6am weekdays, 7am on Saturday and Sundays.
70. Give your furry friend a taste of the ocean close to the city. Dumaresq Reserve allows dog walkers and their pals to visit the beach until 8.30am.
71. Finish a very big night, or set yourself up with a very extreme breakfast of Korean Barbecue at Dae Jang Kum. They're open until 6am on Saturday and Sunday.
72. Set sail on a yacht 40 minutes before dawn, and watch the sunrise over Sydney Opera House with Australian Spirit Sailing Company. The trip is 2.5 hours' long and includes breakfast. $130pp.
73. Hot shot? Get up early to obliterate your opponent on the tennis court. Court hire starts at 6am at Prince Alfred Park – and they're open 365 days a year. $25-$30.60 per hour.
74. Pedal to the beat in a weekly spin class in Bondi at Vicious Cycle. Every Tuesday, Wednesday and Thursday you can join a 45-minute cycle choreographed to music. $25.
75. Do the Hermitage foreshore walk as soon as the sun is up. The 1.8km walk takes you through bushland, past Strickland House and Milk Beach.
76. Feel the burn at Dynamic Pilates, who offer medium-to-high intensity classes from 6am, using undulating machines to pulse, push and stretch it all out.
77. Go to Bunnings and load up on plants and everything you need for your next DIY project (and a sausage sizzle) from 7am on weekends and 6am on weekdays.
78. Donate blood to the Australian Red Cross Blood Service. Appointments are available from 8am.
79. Smash out a game of squash from 7am at Matraville Sports Centre, where you can book into one of six courts. Daily 7am-5pm. $24 per hour.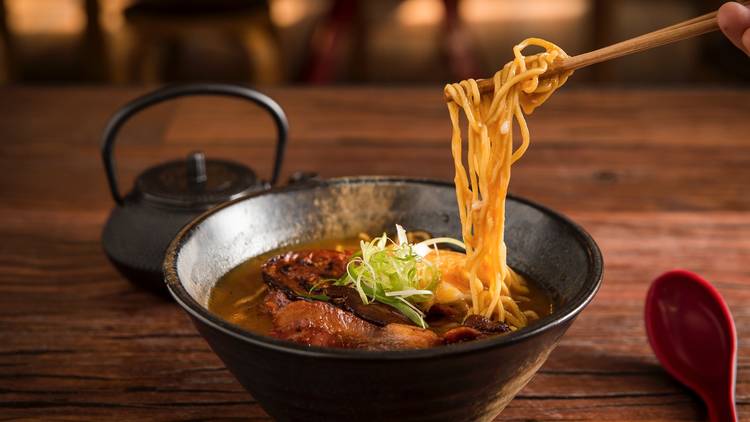 80. Eat breakfast ramen at Rising Sun Workshop. From 8am this bike shop and café pumps out a butter toast imbued broth, topped with a just-cooked onsen egg and shards of crisp bacon.
81. Host a breakfast barbecue at Bronte Park. Beat the crowds and fry up bacon and eggs, before taking an early morning dip.
82. Head to the Boathouse Balmoral at 7am to nab the best seats (right by the boardwalk and overlooking the water).
83. Get down to La Perouse by 7.41am which is a major solunar feeding time – ie, the best time to go fishing.
84. Follow the call to prayer at Auburn Gallipoli Mosque. Morning prayers are at dawn and sunrise. Even if you are not religious, visitors are welcome (take off your shoes!), and you can book a tour for any day except Fridays. It's like being in Istanbul. Tours $5 donation.
85. Every day, Orange Sky Laundry washes and dries clothes for people who are sleeping rough in Sydney. You can volunteer to help out at any time of day – including before 9am, Monday to Sunday.
86. Stinking hangover? Shake it off with a breakfast burger heaped with sausage, bacon, cheese, a hash brown, HP sauce and maple syrup at Mary's CBD. They open at 7am, Monday to Friday.
87. Explore the city on two wheels. Sydney has multiple bike share companies dotted around the city, including Reddy Go, Obike, Ofo and Mobike. Hire starts at $1-$2 for 30 minutes.
88. Stock up on air-freighted Buffalo mozzarella before your morning espresso at Fourth Village Providore – did you know the Mosman deli opens from 7am every day?
89. Jostle with florists as they scan the floor for the freshest blooms at the Sydney Flower Markets. Mon-Sat 5am. $3.67-$8.90.
90. Facing your fears is a challenge best tackled before breakfast. Book in for a 6am tandem drop with Sydney Skydive and you could be jumping out of a plane 4,000 metres over Wollongong Beach, all before your favourite café opens. From $319.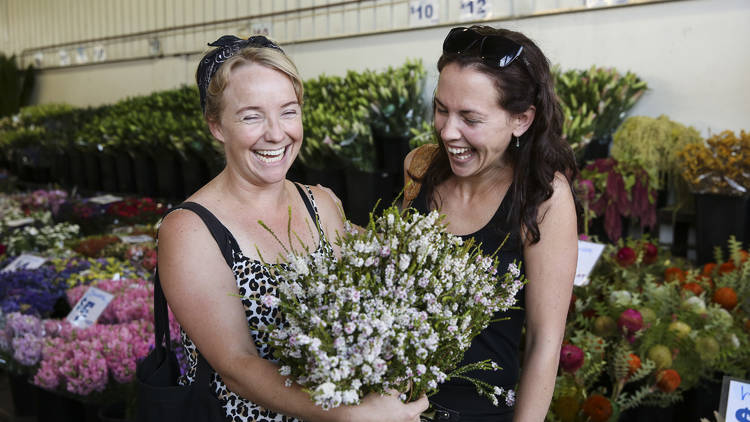 Find your fuel
For those needing their coffee a little earlier than the nine-to-five run, these are seven of the best cafés that'll tap you out a great brew before 7am.
Experience Sydney at sun-up
With our prime spot on the eastern seaboard, we do get great sunrises in Sydney.