The best Lincoln Park restaurants
Lincoln Park restaurants have it all—great sushi, stellar pizza and the best restaurant in Chicago, if not the whole country. Here's where to eat.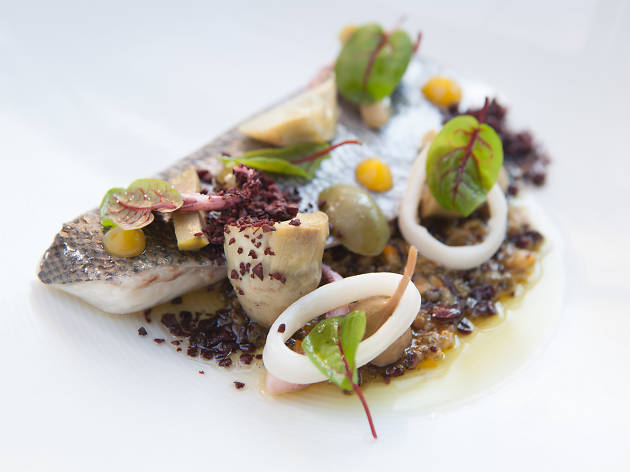 Best Lincoln Park restaurants
Regularly lauded as the best restaurant in Chicago, if not the country, Alinea lives up to the hype. Chef/mastermind Grant Achatz delivers a well-orchestrated ride that plays with textures and temperatures while remaining grounded in season, flavor and flawless execution. The menu is constantly changing, so you never know what dish will steal the show when you're in the audience.
Read more
The theory goes like this: The first time you eat at this unassuming Greek spot, you may try the gyro salad—well-spiced slices of meat sitting atop simple greens—and you'll think: "Not bad." But according to the cultish customer base that swears by this place, it's on your third visit—when you order the juicy chicken kebabs, the vinegary Greek fries or the flaky spanakopita—that the spell is cast.
Read more
Between the warmth of the room and the compelling simplicity of Chris Pandel's Italian food, there is something especially comfortable about Balena. Settle in with a few amaro cocktails (our pick: the Montenegro), share a pizza (mortadella with chili oil), don't miss the smoked mackerel, and wrap things up with the tiramisu (a light and sophisticated take on the staple).
Read more
French cuisine feels fresh at this elegant-yet-unstuffy Lincoln Park restaurant. Chef Jason Paskewitz's menu is packed with traditional dishes like Dover sole, but he makes genius twists, encasing foie gras in a black-truffle crust, for example. Sommelier Anthony Mathieu and bartender Arunas Bruzas pour excellent French wines and classic cocktails, and pastry chef Marjorie Easley ends the meal perfectly with a pistachio bombe.
Book now
Read more
Boka underwent major changes in 2014: The interior was completely revamped (ask to sit in the garden wall room), there's a new bartender (all the drinks are easy and enjoyable), and there's a new chef (Lee Wolen, formerly of the Lobby). The food is impeccable, like a lemon and thyme brioche-stuffed chicken breast.
Book now
Read more
The latest location of Brad Rubin's Eleven City Diner features some dazzling upgrades that cater to the Lincoln Park crowd. This outpost offers the corned beef and pastrami that the South Loop location is famous for, but it also features some new additions destined to become fan favorites.
Read more
With an assortment of breads and sandwiches, this airy bakery-cafe is a great spot for lunch. But Floriole's soul is its French pastry, skillfully executed by owner Sandra Holl. Among our favorite offerings are the canelés—petite, fluted cakes with caramelized exteriors and custardy cores flavored with vanilla and rum.
Read more
Grab a table in the tiny Christmas light–strewn room at this 47-year-old subterranean seafood spot, and start out with the Mulligan stew. For more fried goodness, have the Thirty-Two Pointer for an entrée—a crunchy pile of smelts, perch, frog legs, clam strips and fat shrimp. And if you're looking to crack some crab, splurge on the massive, meaty king legs.
Read more
Okay, so technically you're not eating outside, but when you're only a few feet from a pond in the middle of Lincoln Park, you're as close to nature as it gets in the city. Even more so when you sample chef Bruce Sherman's latest creations, concocted with as much locally grown organic food as he can get his hands on.
Book now
Read more
Show more