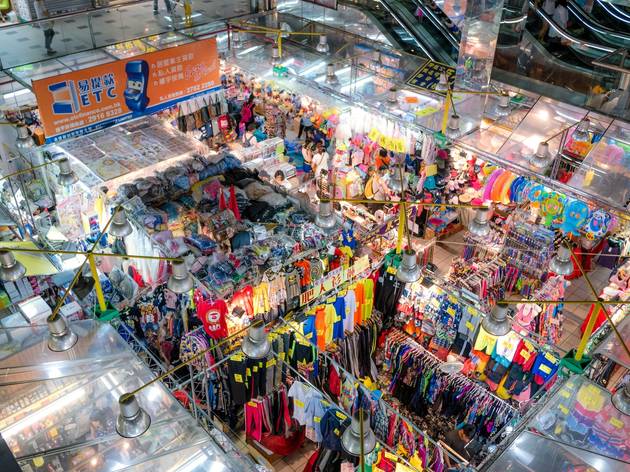 Cheap eats: Kwai Chung Plaza
The best finds in this street food heaven
Hong Kong is home to more than its fair share of Michelin-starred restaurants, casual eateries, and amazing bars, but our street food scene is also internationally renowned. From hole-in-the-wall stores in Mong Kok to food cart vendors, you won't be hard-pressed to find delicious, budget-friendly snacks, whether it be for a midday pick me up, or a late-night treat to try and sober up.
While there is plenty of selection out on the street, you might not know that local plazas are just as good a place to find bang for your buck. Kwai Chung Plaza may not be the first place that comes to mind when it comes to amazing street food, but there is actually a vast selection of stores with cheap food that cover a hectic mix of cuisines, unique desserts, and also the common street food staples. Here are five of the very best. By Yu An Su
RECOMMENDED: If you're looking for something refreshing, check out the best bubble tea shops in Hong Kong.
Kwai Chung Plaza cheap eats guide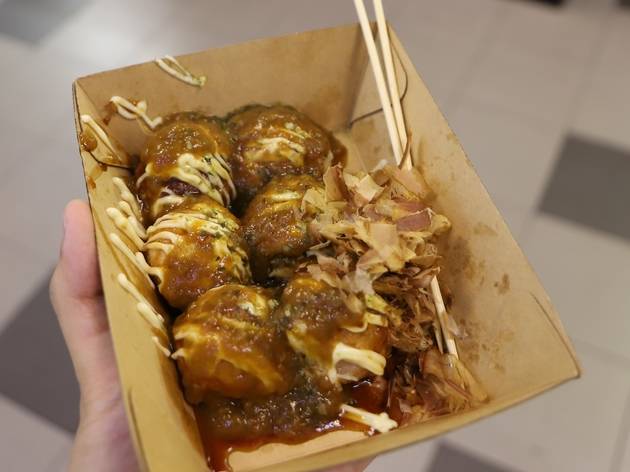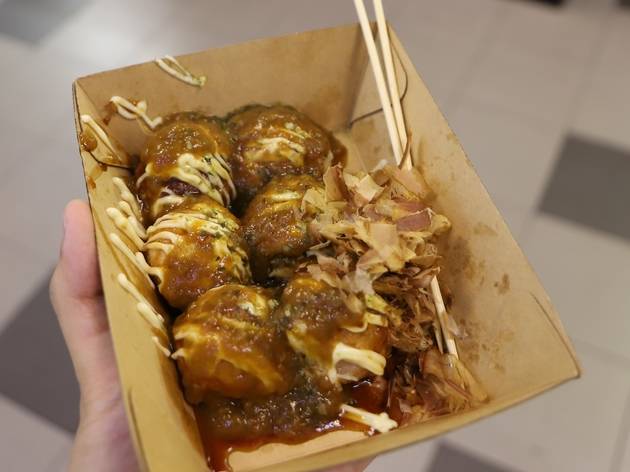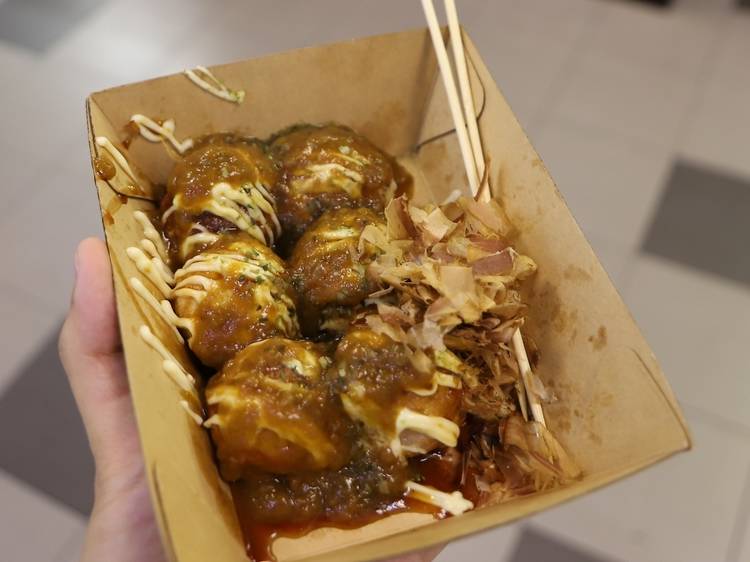 Photograph: Yu An Su
Authentic Takoyaki (真‧章魚無雙)
This stall doesn't have an English name, but you probably won't have too much trouble finding it even if you can't read Chinese- just look for the takoyaki stall that has a long line during peak hours. Serving takoyaki, the trendy Japanese street snack made from chunks of octopus in balls of batter, this stall makes them fresh with a broad selection of available sauces and toppings, such as cheese, pollock roe, and even black truffle.

We recommend the curry sauce takoyaki ($29), where they come out piping hot, topped with fish flakes and dried seaweed. The takoyaki here are soft and filled with multiple pieces of octopus inside, and the curry sauce adds another level of flavour and texture. For those not into curry, the original ($28) is just as good.
Photograph: Yu An Su
Living up to its namesake, this shop sells only one type of food, pudding. Their signature pudding is made with custard, pudding paste, and Japanese cheesecake, and it's baked for an hour then kept warm. The result is a creamy but not overly sweet or heavy dessert, with a satisfying biscuit base. The owner makes fresh batches continuously throughout the day, but they tend to sell out very fast, and many times it's down to luck if you get one that's fresh out the oven.
While the original flavour is great, they also offer a host of equally delicious variations, such as matcha, tiramisu, Earl Grey, and even Bailey's. This is a must-visit spot when at Kwai Chung Plaza, and it makes for a tasty dessert after eating your way through the rest of the offerings.
Shop 3069 T5-T6, Top World, 3/F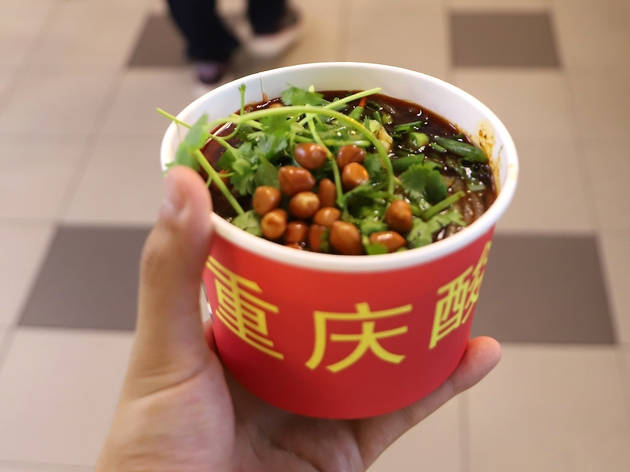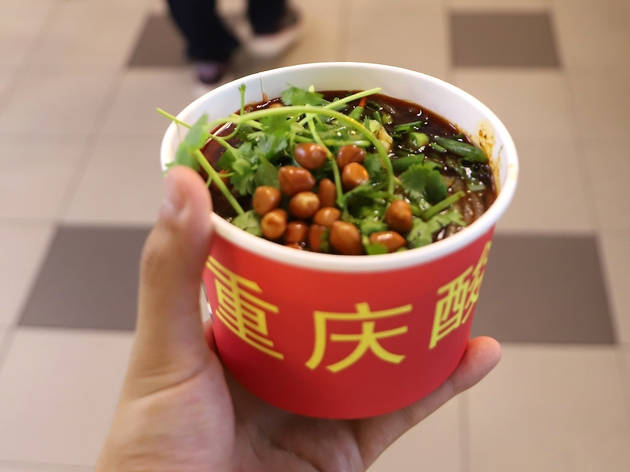 Photograph: Yu An Su
When you walk around Kwai Chung Plaza, you'll find a lot of stalls selling spicy Sichuan food, and one of the best is Tung Min Ding (東門町). Their storefront is always steaming with fresh noodles and a massive pot of boiling broth. Their specialty is hot and sour glass noodles ($25), a delicious bowl of hot soup with noodles that have a satisfying bite, and the dish comes served with peanuts, pickled mustard greens, cilantro, and spring onions.
What's even more appealing is that you can also choose to add more ingredients, such as tofu, pigs blood curd, cuttlefish balls, and many more. Just make sure you pick the right level of spice for you!
Shop 87B, 3/F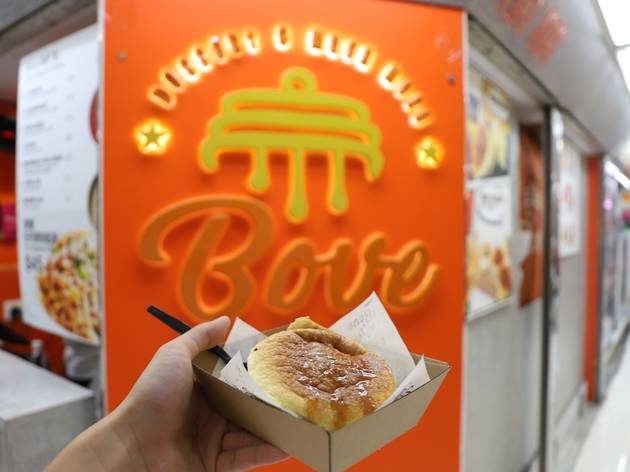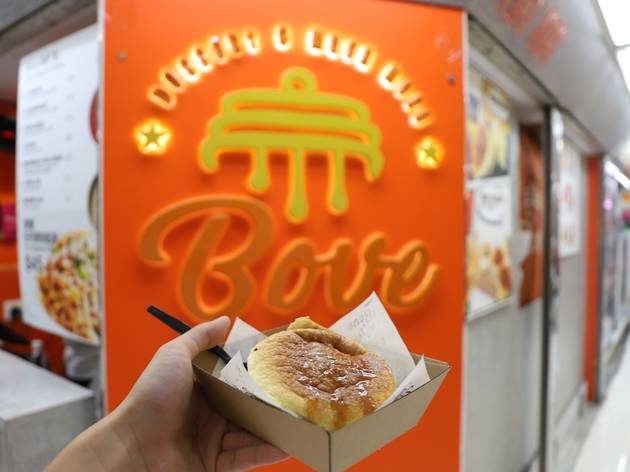 Photograph: Yu An Su
This tucked-away stall is extremely popular and gets extremely crowded, especially with the afterschool crowd. They specialise in fluffy souffle pancakes, as well as fun twists on classic Hong Kong egg waffles. They sell chocolate and matcha flavours, but if you want to keep it simple, the original souffle pancake ($32) is a good bet. The pancakes here are here made fresh every order, which means they are served very hot.
Bove's pancakes are incredibly light, with an almost melt-in-your-mouth texture, and the delicate flavours are great paired with whipped cream and chocolate syrup. Other popular items are their earl grey or honey-filled egg waffles.
Shop 3069-T20, Top World, 3/F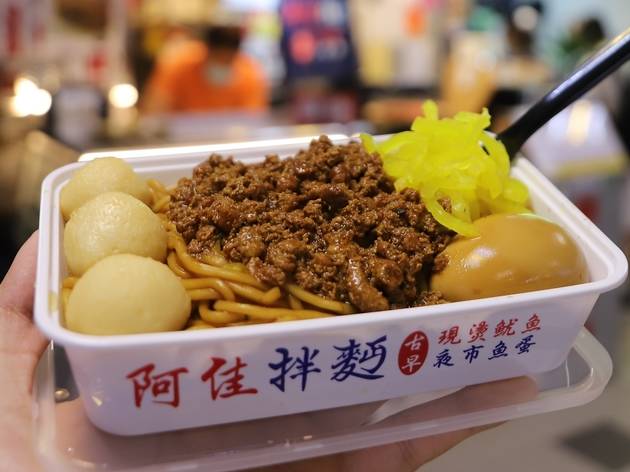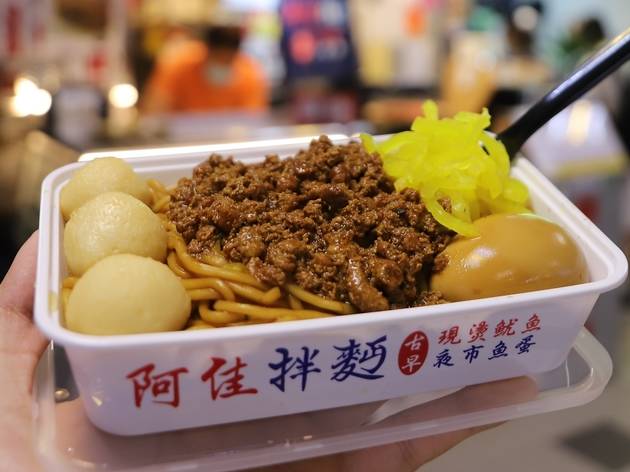 Photograph: Yu An Su
Located on the third floor right next to the escalators, Ah Gai serves up authentic Taiwanese cuisine and night market snacks. The most popular item is their signature tossed noodles with braised pork ($32). The noodles have a great texture, the sauce is well-spiced, and the boiled egg served on the side has an enticing runny centre. Aside from their noodles, Ah Gai sells various popular Taiwanese snacks like chicken rolls, buns, and fresh squid.
Shop 303F, 3/F
Hungry? You may also want to check these out
Succulent, cheesy, melt-in-your mouth, these are the best burgers in town.
Crispy, tender, and finger-licking good.