Heads up! We're working hard to be accurate – but these are unusual times, so please always check before heading out.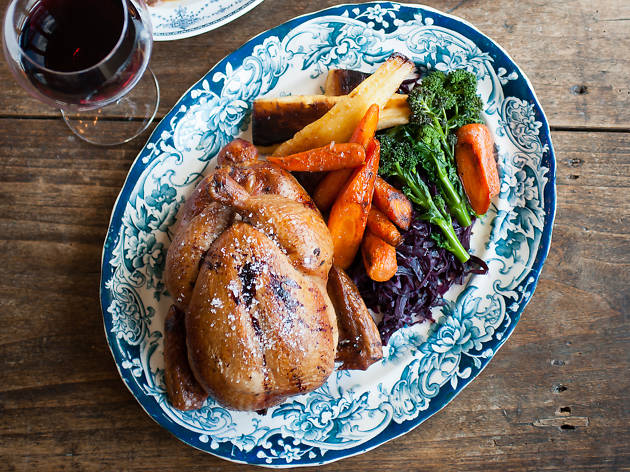 London's best gastropubs
Stuck in a pub that only sells crisps? Make a beeline for one of these special spots
May 2019: We've added Three Cranes in the City, the rebooted gastropub from Francophile chef Henry Harris (who also helped relaunch The Coach in Clerkenwell and The Hero of Maida in W9). And in Soho, the weeny dining room Upstairs at The French House is once again turning heads thanks to the arrival of chef Neil Borthwick (ex-Merchants Tavern in Shoreditch).
London is the gastropub capital of the world and we've eaten our way through the lot and rounded up the very best. These are boozers that can compete with restaurants in the culinary stakes – they just happen to come with cracking Victorian buildings, and fires, and dogs (mostly). So whether you're after fish and chips, or a roast, or an oxtail ragù, you've come to the right place. Because food tastes better with bags of atmos. Fact.
London's best gastropubs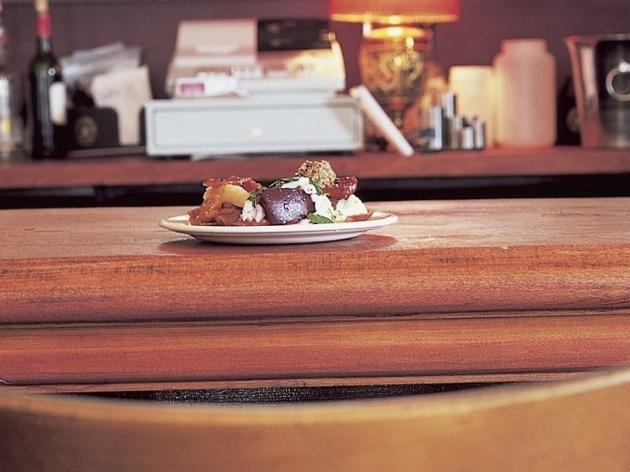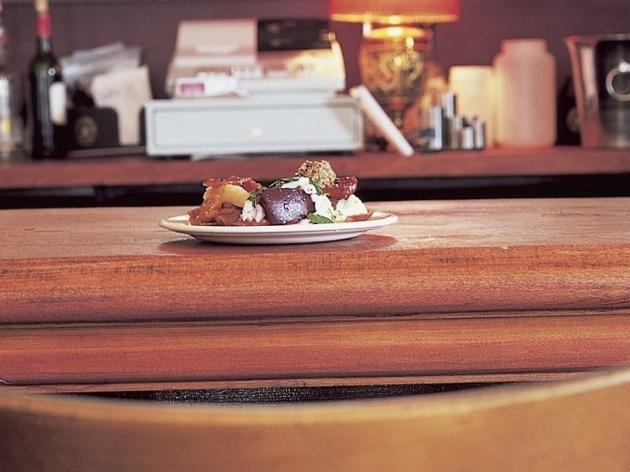 © Tricia de Courcy Ling
Nose-to-tail does it in the kitchen of this rollicking gastropub not far from Waterloo station, where cramped surrounds, jam-packed tables (no bookings), deliberately battered furniture and dressed-down service set the tone for an artful daily menu stuffed with butchers' offcuts, wild pickings and seasonal scoff. Big, bold flavours are a given, whether you're in the mood for snail and bacon kebabs, a pair of grilled Dover soles with chips and wild garlic butter or sautéed lamb's sweetbreads with peas and mint. There are also trencherman joints of seven-hour lamb shoulder for three to share, plus deeply satisfying trad desserts such as flourless chocolate cake or buttermilk pudding with Yorkshire rhubarb too. The no-choice 'workers' lunch is a steal, bookable Sunday lunches are a regular sell-out and there are some perky European wines to wash it all down. Handily placed for the Young and Old Vic theatres.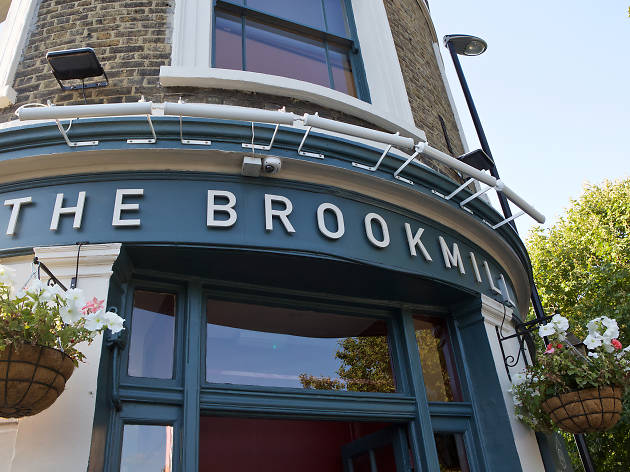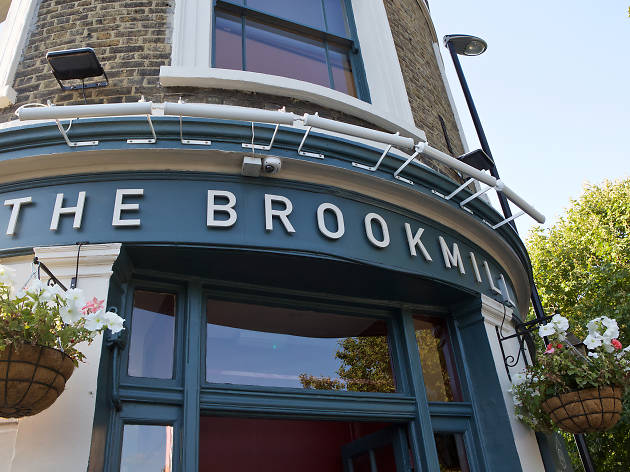 Whether you're after one of Deptford's best scotch eggs or a slap-up dinner for two, this reborn Victorian boozer right next to Brookmill Park is an asset worth knowing about. Fancy food, local booze and a community-minded approach (quizzes, exhibitions, pilates, salsa, gin masterclasses etc) ensure a humming local crowd, so join the throngs for some tempting pub classics – anything from ham hock terrine with tomato chutney to chicken and ham pie with mash and savoy cabbage, Cumberland sausages, burgers, beer-battered haddock or flat iron steaks with all the trimmings. Veggies also get a decent look-in, while puds might include strawberry tart. Wetting your whistle pays dividends too, with creative cocktails, decent wines and real ales from surrounding boroughs – look for names such as Gipsy Hill, Belleville and Brockley on tap. The pub also sports a big beer garden.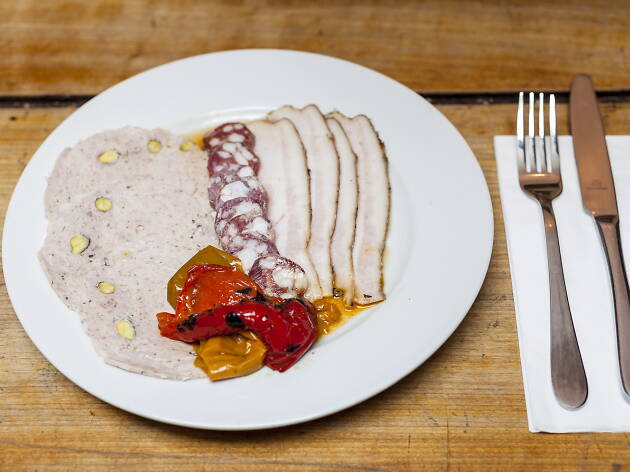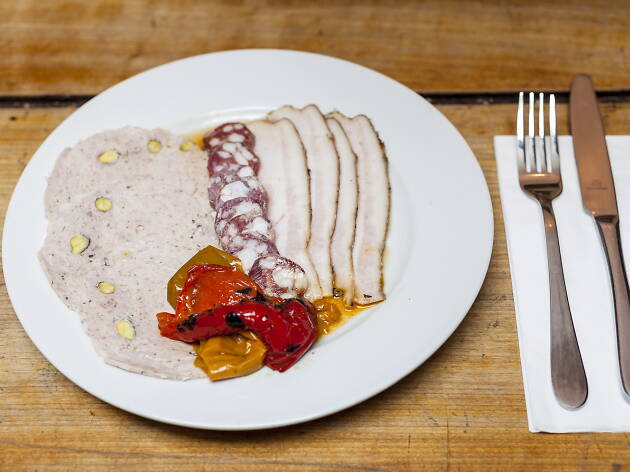 Pedigree counts, and with siblings including Waterloo's Anchor & Hope and Canton Arms in Stockwell, there's no doubting the class of this revamped Victorian boozer on Camberwell Church Street. Small plates, an open kitchen, blackboards and scrubbed tables – all the trademarks are here, and they even do a good line in rustic sharing dishes (Hereford beef, ale and bone-marrow pie, anyone?). Otherwise, we're in 'Britain greets the world' territory, from confit Jerusalem artichokes with pickled walnut mayo or spiced aubergine skewers with peanut sauce to roast skate with tartare sauce and new potatoes or BBQ merguez-spiced lamb with chickpeas, yoghurt and peppers. For afters, spoil yourselves with a Black Forest sundae or rice pudding with marmalade ice cream. Wines, beers and other booze are all up to the mark, and the drinking continues until 2am (by arrangement) in the upstairs bar.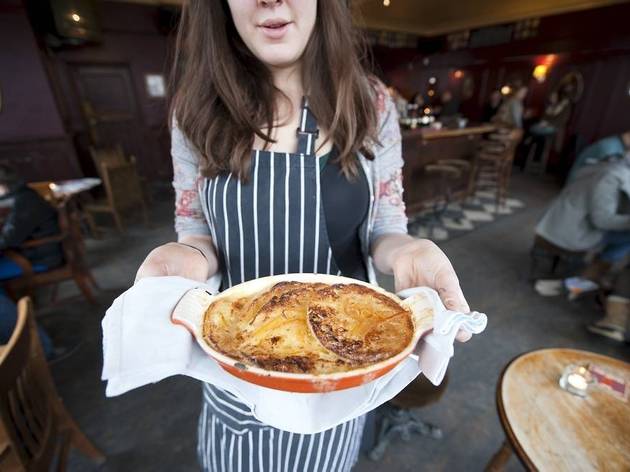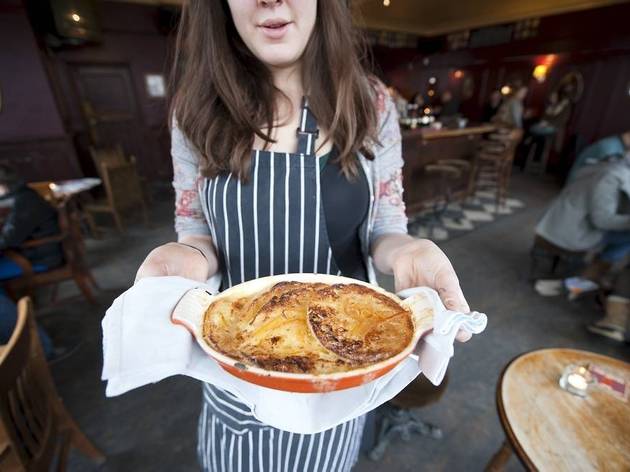 Like its close relations The Anchor & Hope and The Camberwell Arms, this swished-up neighbourhood pub on South Lambeth Road handles the booze-grub balancing act with confidence, keeping its drinkers happy with esoteric ales (Skinners Betty Stogs, say) while feeding gastro-minded locals with a daily hotchpotch of freewheeling gastropub dishes. We're talking haggis and spring onion croquettes or cuttlefish rice with chorizo, saffron and aïoli for starters, ahead of honey-marinated quail, curried lamb pie or East Coast hake partnered by lentils and sauce gribiche. Also look to the blackboard for whopping sharing plates such as soy-braised beef short-ribs or seven-hour salt-marsh lamb shoulder with potato gratin. If you still have room after all that, try your luck with a pud such as blood orange and yoghurt cake or a scoop of rice pudding gelato. No bookings, but the owners run a waiting list for hopefuls.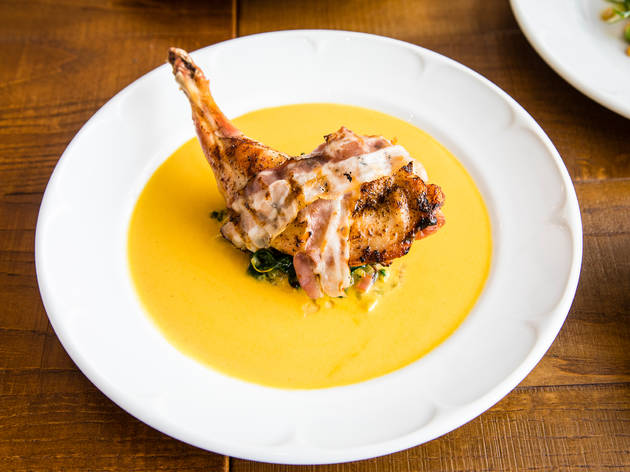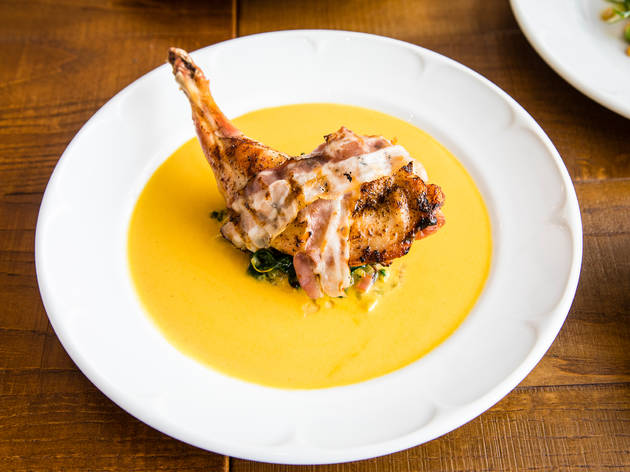 Andy Parsons
Chef Henry Harris made his name at Racine (a much-missed bastion of bourgeois French cooking on Brompton Road), but this venture sees him in pubby mode as boss of the kitchen at The Coach (formerly The Coach & Horses) in Clerkenwell. Thankfully, he's lost none of his Gallic brio, and you can taste the joie de vivre in every dish – fans of Racine will dote over old faves such as rich, unctuous calves' brains with capers and black butter, steak tartare or juicy grilled rabbit served with a wee jug of mustard-spiked sauce. This is timeless food for a chilled-out local crowd, culminating in Anglo-French desserts such as chocolate fondant or apple and ginger crumble with crème anglaise. The renovated interior speaks of the pub's Victorian heritage, with tartan armchairs and framed sketches in the clubby bar, plus a 1920s-style dining room upstairs and an intimate 'back room' opening onto the romantic garden.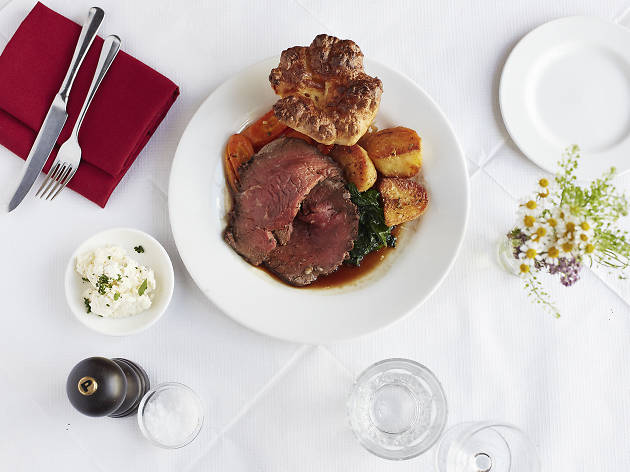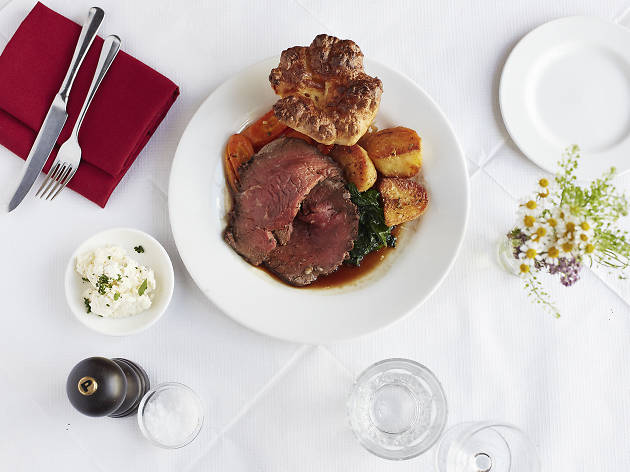 It's more than 20 years since Tom Conran opened The Cow, and the old girl is still mooing away happily in her urban grazing ground on Westbourne Park Road. We've got a soft spot for the delightfully scruffy Irish-themed saloon bar (pints of Guinness and Belgian beers with plates of oysters and other briny nibbles), although the main gastro action takes place in the upstairs dining room, which has been enlarged and colourfully smartened up with red banquettes and zany modern art. Seafood is also the big player here (dressed crabs, mussels in spicy shellfish broth, fish stew), although you can get chicken Kiev, confit pork belly or bangers and mash if that's your bag; also keep a lookout for more ambitious daily specials. For afters, how about spotted dick or banoffee pie, washed down with something suitable from the short, gutsy wine list?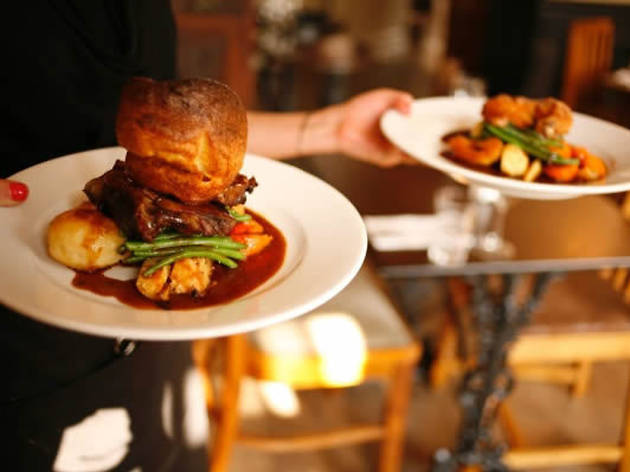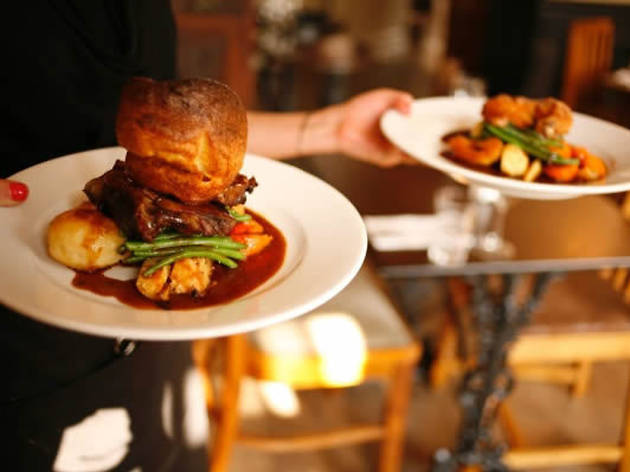 © The Crabtree
Custom-built for riverbank revels, this grandiose, gastro-tastic boozer on a quite stretch of the Thames between Hammersmith and Putney bridges comes complete with a gigantic beer garden and a covetable weeping willow by the water's edge; there's even a bar out here as well as a sizzling summertime 'BarBQ'. If you'd rather be indoors, stake your boozy claim in the high-vaulted lounge bar (pints of regularly changing real ales await) or head to the restaurant for sizzling BBQ classics, pies, finger-lickin' rotisserie plates and more tricksy ideas such as seared tuna with pickled cucumber, teriyaki-glazed aubergine, pumpkin arancini with Taleggio and black-olive crumb or miso-glazed lamb rump with confit belly, vegetable yakitori and smashed soy beans. Desserts, meanwhile, are calorific classics including blueberry, cherry and white chocolate mess. The Crabtree also scores a hit with its comedy club, live music, the 'largest pub quiz in West London' and riotous annual Boat Race Festival.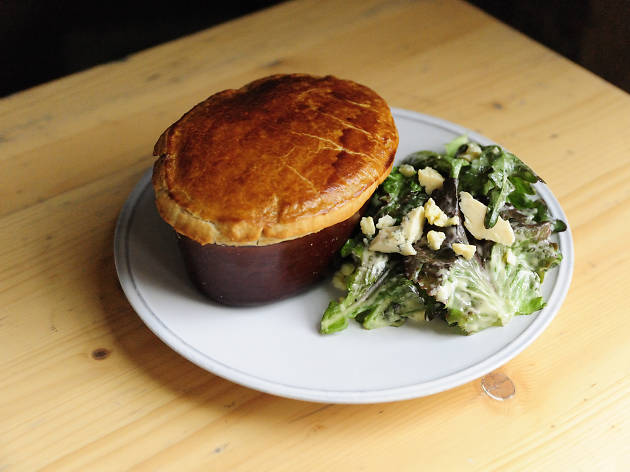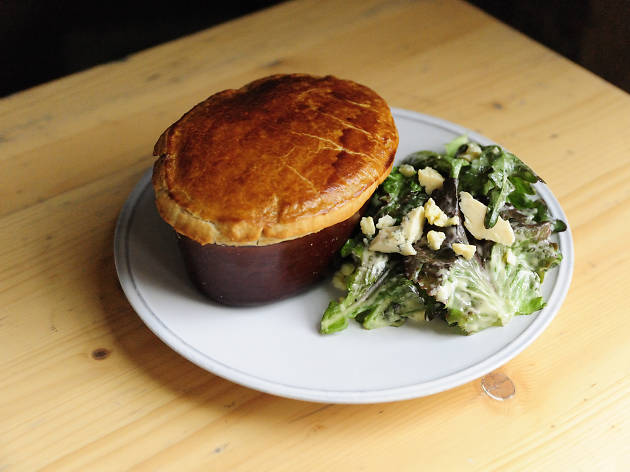 Named after Nicholas Culpeper (the seventeenth-century herbalist who lived nearby), this sprawling venue is a real tonic for the East End crowd with its offer of four floors of fun including a pub, kitchen/restaurant, bedrooms and a rooftop garden that doubles as a growing patch and seasonal pop-up space. Culpeper's menu takes the 'seasonal food, local food' mantra to new heights, and you can taste the results by ordering, say, courgette risotto with goat's curd and mint or crispy egg with celery pesto, confit celeriac and walnut oil. There are also more meaty plates of bavette steak or Welsh lamb with sweetbreads, rösti, watercress and tapenade, ahead of cheeky desserts including rhubarb and almond 'not a tiramisu' or pear compote and peanut butter mille-feuille. Above all, The Culpeper is an easy mix of eating and drinking under one roof, with enough real ales to satisfy the most hard-core CAMRA zealot.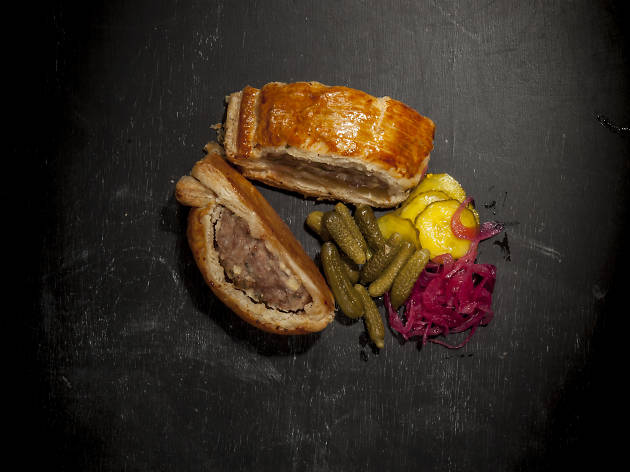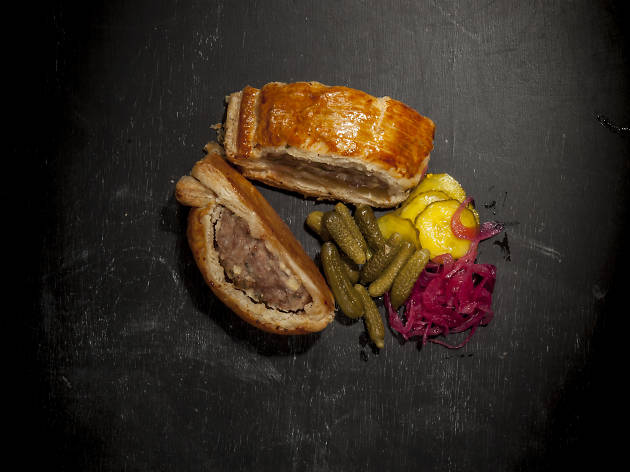 © Rob Greig
Green-hued gastropub delivers exactly what the locals expect – pricey but desirable wines (including loads by the glass and carafe), three real ales on rotation, generously proportioned interiors, neutral decor and thoughtfully seasonal Brit-accented cooking with a few global twists. On a typical day, you might be treated to prawns with spiced mango sauce or lamb's heart with a beef-dripping pancake and pickled red cabbage, ahead of suet-crusted chicken and mushroom pie, pearl barley risotto with courgettes and asparagus or cod with spiced potatoes, spinach and curry butter. After that, perhaps take a punt on pineapple tarte Tatin or rhubarb pannacotta with pistachio crumble. Cheeses come courtesy of Neal's Yard, and Sunday lunch sees some ginormous roasts called into action. There's also a secluded patio garden out back for balmy days and nights.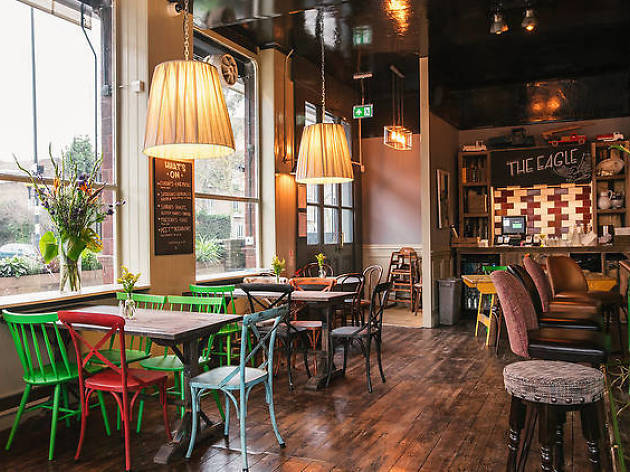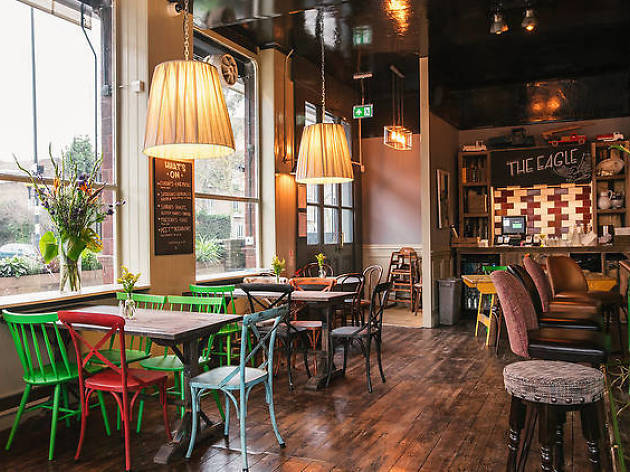 Hailed as the granddaddy of all gastropubs, The Eagle has been showing others how it should be done since 1991. From the off, it got the formula just right, mixing bashed-up furniture with real ales, blackboard menus and a savvy collection of wines by the glass. A glossy wooden ceiling, buttermilk walls and an ash floor set the scene, the kitchen's tiny (room for just two chefs), and you're expected to order at the bar from a short menu that's scrawled up on the blackboard just five minutes before service begins. Everyone knows about the famous 'bife ana' (a Portuguese-style marinated steak sandwich), but the day's choice of earthy Med-accented dishes could take in anything from pan-fried scallops with chorizo, chickpeas, guindilla peppers and chilli jam to grilled napoli sausages with puy lentil, tomato and white cabbage salad. There are usually a few simple tapas plates too, plus a trio of 'afters' including the famous 'pastel de nata' custard tarts.
A lot of time and money was spent renovating this food-focused pub on Bermondsey Street and it shows – take a look at the vintage, up-styled and reclaimed furniture, the green tiling and the hotchpotch of curios including a stuffed antelope's head above the door to the toilets. Everything is shipshape in the kitchen, too, judging by an eclectic menu that promises everything from trendy little plates of mackerel rillettes with blood orange and radish to gut-busting servings of cod with buttered cabbage or hanger steak with puy lentils, bone marrow and red wine sauce. To round things off, expect something simple such as coffee crème brûlée. With breakfast, afternoon snacks, bottomless Saturday brunch and Sunday roasts also on the cards, plus pints of unfiltered lager from the Battersea Brewery on tap and the option of private screenings in the little 'cinema room' downstairs, The Garrison has your social life sorted.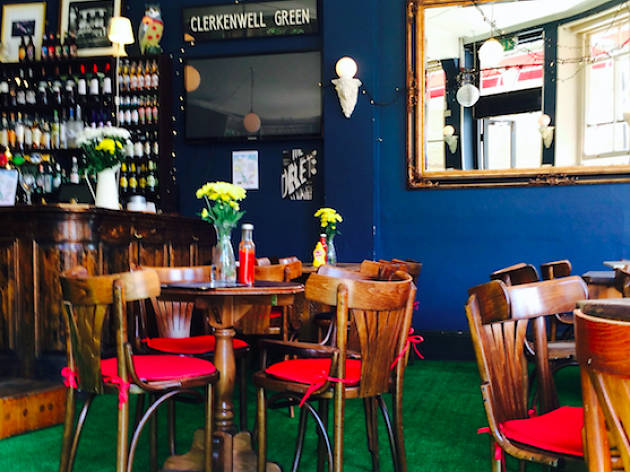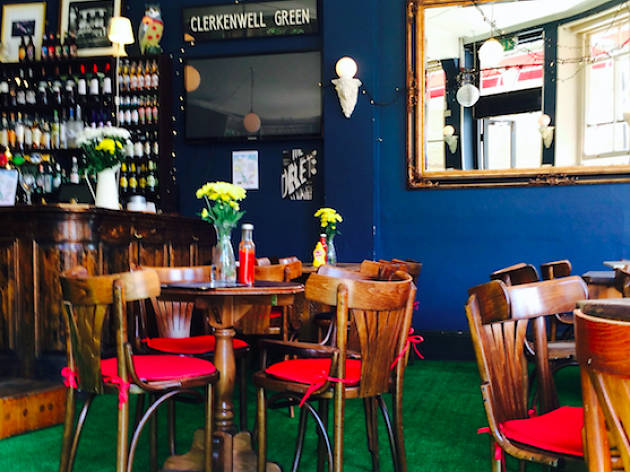 From the folks behind The Culpeper in Aldgate, this attractively airy spot just off Clerkenwell Green deals in the kind of hearty, fad-free seasonal cooking that turns heads and dominates conversations. There are big hits all the way in the upstairs dining room, from duck hearts with black pudding, broad bean purée and mint cress or octopus with chill, fennel and radish salad to pan-fried hake with kohlrabi and shellfish cream sauce or ribeye beef Wellington with creamy wild garlic mash and heritage carrots – a thumping dish that also challenges the roasts come Sunday lunch. Snacks such as Guinness rarebit get the juices flowing, and the kitchen usually knocks up a couple of desserts, perhaps budino with rosemary biscotti or bitter chocolate and blood orange parfait. Meanwhile, locally brewed cask ales and a list of three dozen low-intervention/organic wines get tongues wagging in the jolly ground-floor bar.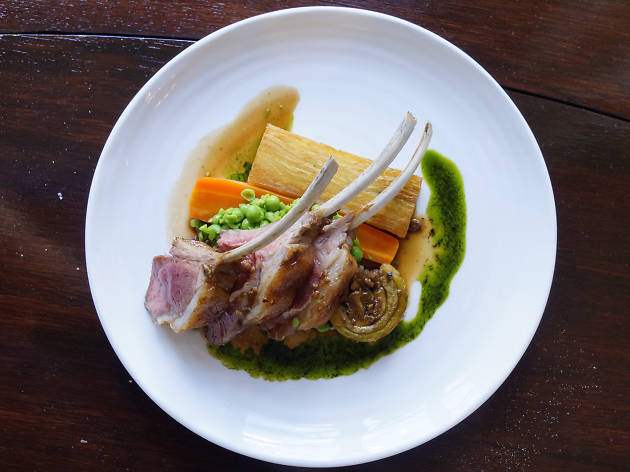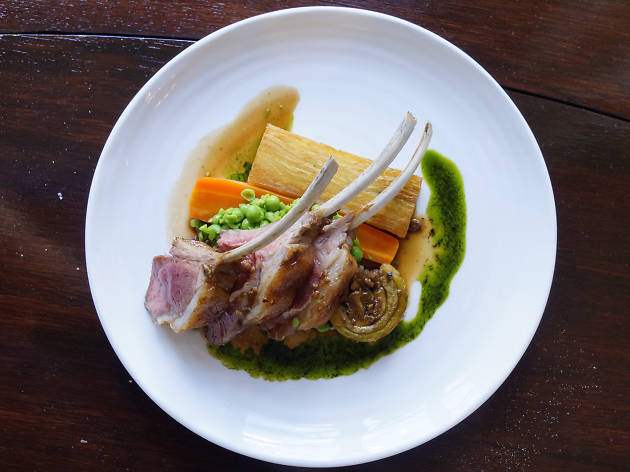 Is it a pub? Is it a restaurant? In truth, this upmarket backstreet boozer just off Fulham Broadway is a bit of both – although with a serious global wine list, a Michelin star to its name and backers including Brett Graham (of The Ledbury), we know where its priorities lie. Prime British produce is the key, with furred and feathered game receiving special attention in season – the venison Scotch eggs are to die for if you're snacking in the bar, although it pays to trade up to masterful dishes such as roast muntjac with celeriac, kale and pickled pear in the chunkily furnished dining room. The menu changes each day, so expect anything from crab royal with peas and lovage to sea trout on toast with mussels cooked in cider or jowl of Tamworth pork braised in pale ale. Desserts such as a marmalade ice-cream sandwich are also designed to thrill.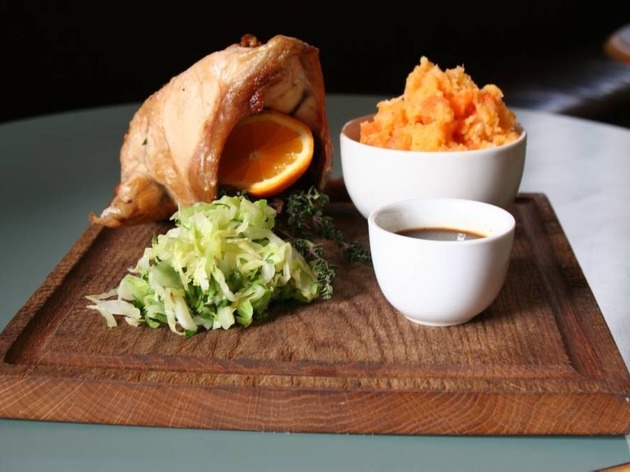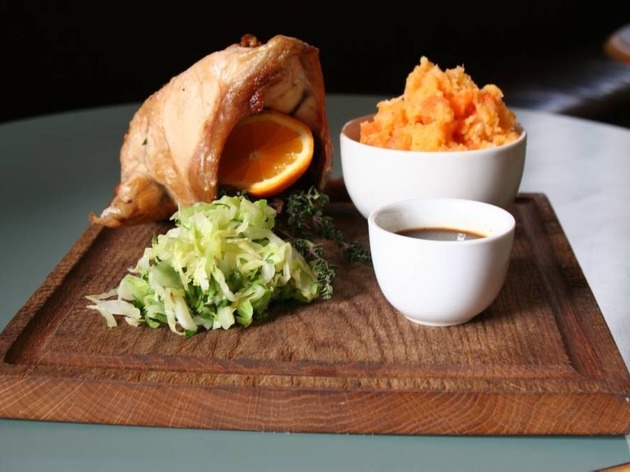 The Camden Town Brewery started out as a makeshift set-up in the cellar of The Horsehoe, before moving to its current premises down the road. You can still sup the full range of eight different Camden brews here (along with guest ales), but that's not the only attraction at this handsome hostelry on Hampstead's Heath Street. There's also regular live music, Saturday brunch and a choice of mighty Sunday roasts, plus some very decent pub grub of the unchallenging gastro variety – from salmon and haddock fishcakes, pies, steaks and burgers slathered with cheese to more enticing, modish ideas including goat prosciutto, cuttlefish and bacon casserole with saffron potatoes or a veggie bonanza involving charred cauliflower, green lentils, dill, capers and black cabbage. They also serve gluten-free brownies for dessert, alongside old family favourites such as lemon treacle tart or cheesecake. Oh, and they welcome dogs and heath-walkers too.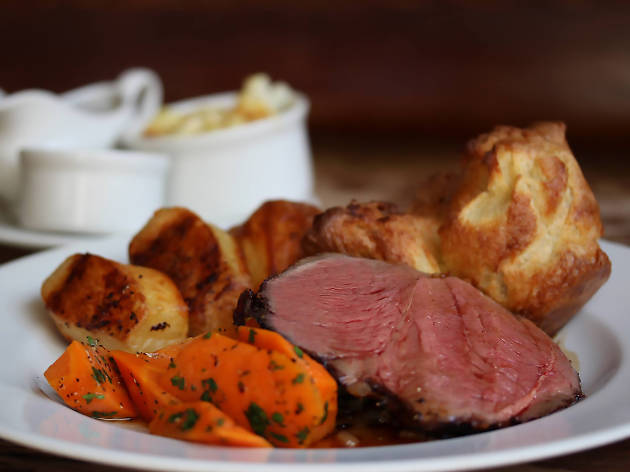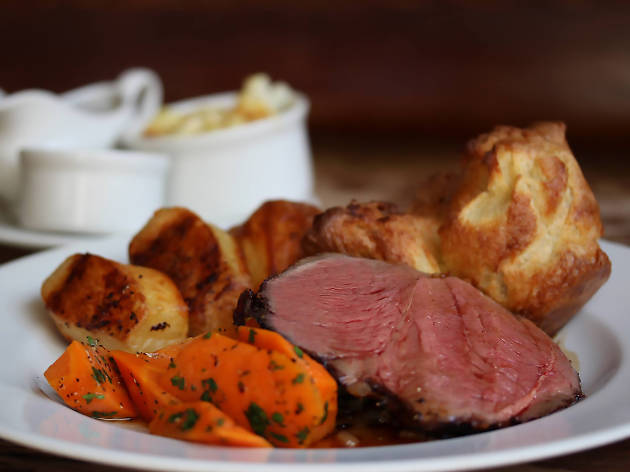 Mounted stag's heads and stuffed birds in glass cases, plus huntin', shootin' and fishin' prints everywhere – yes, this swanky Chiswell Street gastropub from Ed and Tom Martin's ETM group really is 'ahead of the game' (their pun, not ours). You'd expect nothing less from a handsomely remodelled hostelry that names itself after one of Britain's most iconic dishes, although the famous jugged hare is strictly seasonal (beginning of August to end of February). Otherwise, there are rich pickings to be had from a menu that rambles from potted Yorkshire rabbit via savoury pies, long-aged Cumbrian steaks and rotisserie-grilled Suffolk chicken to roast cod with crushed Jerusalem artichokes, sprout tops and mussel chowder. Puds are old school and veggies get short shrift, although ale slurpers and wine buffs are in for a treat – and they also serve a 'go low' menu of alco-free drinks.
The guys behind this offbeat, stripped-back Clapham local do things a bit differently. To start, they hand over their kitchen to street-food outfits who take up residency and also run occasional supper clubs (Zoe's Ghana Kitchen is ruling the roost until the beginning of June 2019, for example). On Sundays, the in-house chefs move in and rustle up an all-day menu featuring a quartet of traditional roasts (slow-cooked pork collar, 28-day beef topside etc) plus burgers and a veggie/vegan option. To start, you might find deep-fried whitebait or mac 'n' cheese bites; to finish, there could be cinnamon and apple crumble or triple chocolate brownie. Hop-loving Clapham hipsters also have a field day here, with a dozen craft beers from London's microbreweries and beyond – everything from Hopadelic and Giggle Mug from Horns Brewing in Tooting to Czech Pravha Pilsner and Dutch Bavo wheat beer.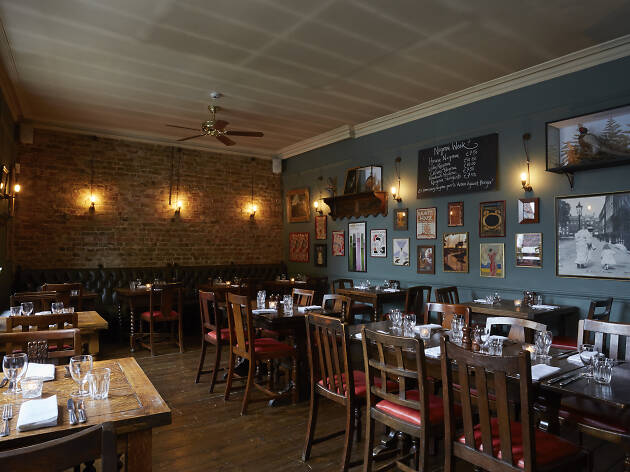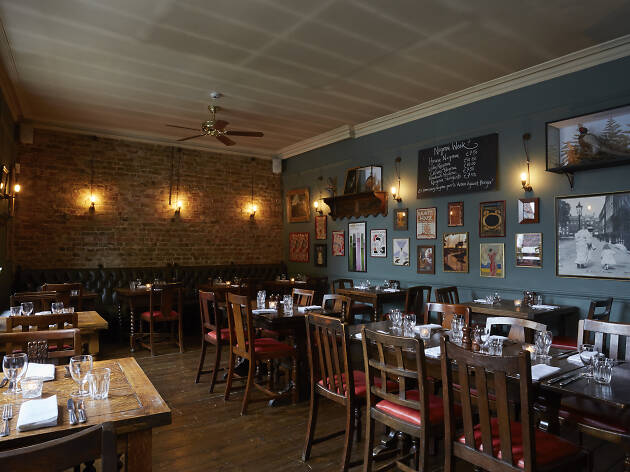 Bright-eyed and bushy-tailed following its latest re-launch, The Lady Ottoline has retained its original Bloomsbury vibe, green walls and elegant old-school dining room while raising its game in the food stakes. The kitchen's focus is on seasonal produce (watch out for consignments of Cotswold kid goat given the 'shawarma' treatment), and the menu covers everything from pub-grub classics (prawn cocktail, beer-battered haddock, steak and ale pie) to more creative ideas for curious palates – think dressed kohlrabi and fennel salad with pomegranate and soy yoghurt, hand-rolled fettuccine with sweet-and-sour radicchio and roasted artichoke or grilled Cornish hake with calçots and bagna cauda. On Sundays, it's all about hearty roasts, while desserts tend to be old faves such as chocolate fondant or sticky toffee pudding. A line-up of craft beers, quaffable wines and more than 40 gins keep the drinkers happy.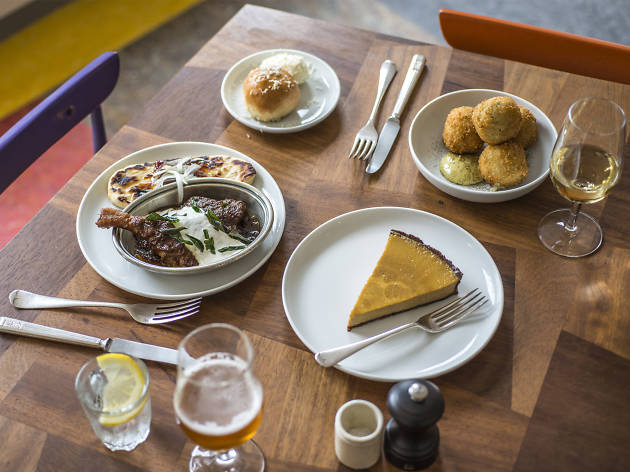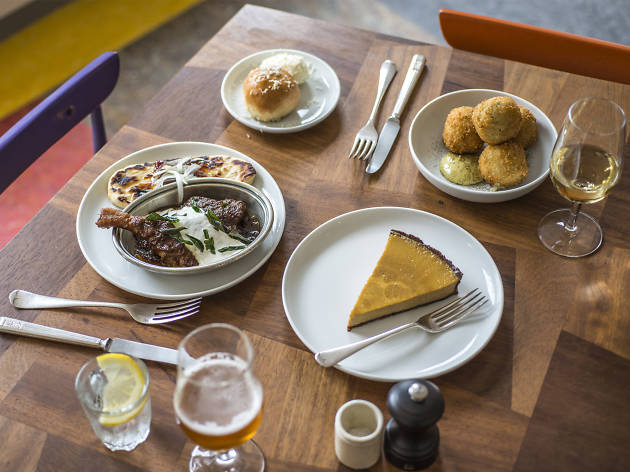 Jamie Lau
If you're torn between boozing and eating out in style on a Saturday night (or any other time, for that matter), fear not – this revamp of Hackney Road's cherished Marksman has all bases covered. Pitch camp in the gently refurbished bar for tip-top bottled brews, must-try on-tap offerings and a decent slate of wines, or head upstairs to the zanily decorated dining room for some high-calibre gastropub cooking. Nibble on curried lamb buns with lime yoghurt, share a massive chicken and chanterelle pie or go upscale with a combo of artichokes, chickpeas and monk's beard followed by hake with white beans and brown crab or Aylesbury duck with mash and pickled prunes. To follow, there are British cheeses, savouries such as Welsh rarebit and jazzed-up British puds including treacle tart with buttermilk. Weekenders crowd onto the outdoor terrace on fine days, and praiseworthy Sunday lunches are on offer too.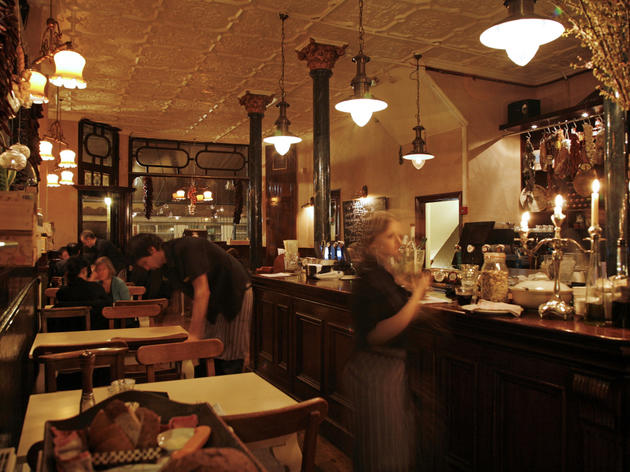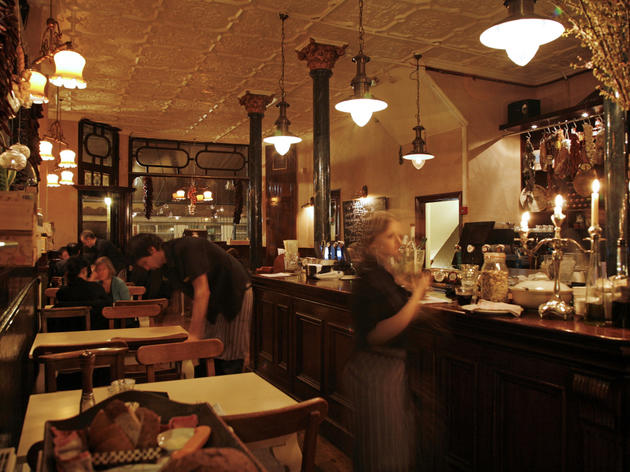 © Ming Tang-Evans
A cosy Bloomsbury boozer with a tiled facade, ornate plastered ceilings and legs of jamón hanging in the window? No, you're not imagining it – this bona fide London pub on a backstreet just off thundering Euston Road has a taste for tapas (they even have a charcuterie slicer on the counter). All the usual suspects are here in abundance (patatas bravas, octopus and chorizo skewers, padrón peppers) but there are plenty of international hits too – from hummus and rollmop herrings to spare ribs and BBQ chicken wings. You can also keep things orthodox by ordering from the daily gastropub menu – vodka-cured salmon with beetroot and celeriac rémoulade followed by homemade tagliatelle with venison ragù, for example. For afters, try the galaktoboureko (a Greek custard pie made with lemony semolina). European wines take preference over beer in the drinks department, although a cold bottle of Sagres always goes down well.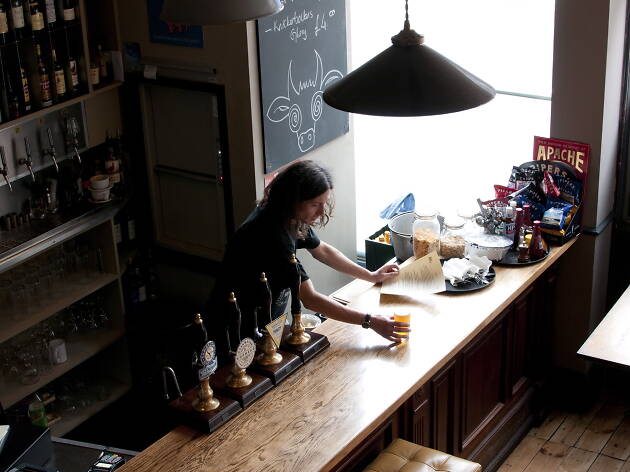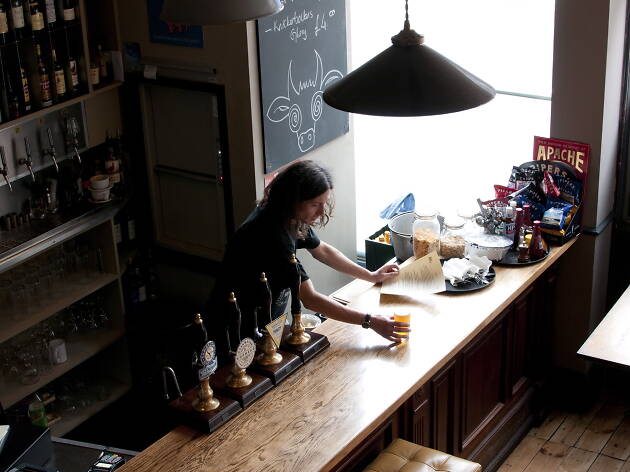 With Smithfield Market on its doorstep, there are no prizes for guessing that the food at this proper City boozer has a serious red-blooded streak – although the kitchen isn't averse to jazzing up its pork ribs, steaks and burgers with trendy additions such as harissa coleslaw. Dip into the menu and you'll also find thin crispy pizzas, full-crust pies and even the odd superfood salad. However, if you're really into all things artisan and carnivorous, book up for the pub's 'bespoke menu' – a meat-fest featuring whole suckling pigs, kid goat, beef sirloins, haunches of wild boar and massive fruit crumbles, all designed to serve 10 hungry souls. Quaffing also goes hand in hand with scoffing at this self-styled 'local beer house', with a vast selection of craft brews on offer – anyone for Beavertown Gamma Ray, Gipsy Hill Beatnik or Mad as Hops from the London Brewing Co?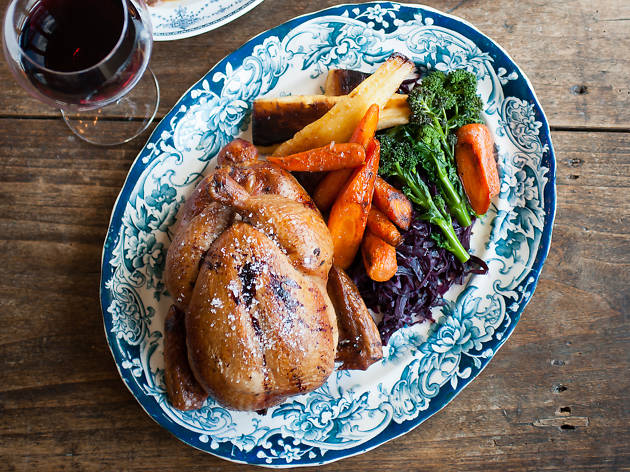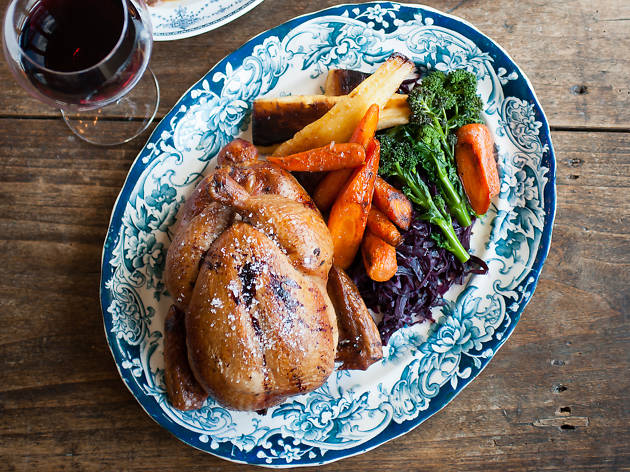 Given its meaty moniker, you'd imagine plenty of visceral blood-and-guts action at this Barnsbury cousin of Islington's Smokehouse and The Princess of Shoreditch – and you wouldn't be far wrong. Rare-breed carcases are butchered on the premises, while the kitchen proves its mettle with homemade black pudding and slabs of home-cured bacon. However, this is a handsomely tricked-out gastropub, not an abattoir, so also expect fine-tuned seasonal cooking – as in braised leg of Ryeland lamb with portobello mushrooms, black kale, heritage potatoes and green sauce or Tamworth pork rump with coffee-roasted celeriac, red onion and spinach. Fish fans and veggies aren't ignored, while sweet-tooths can get their saccharine fix from the likes of carrot and walnut cake with caramelised white chocolate sauce and lemon-curd ice cream. Bottled craft beers also receive the thumbs-up, thanks to names like Siren Squealer, Red Church Paradise Pale and Kernel India Porter.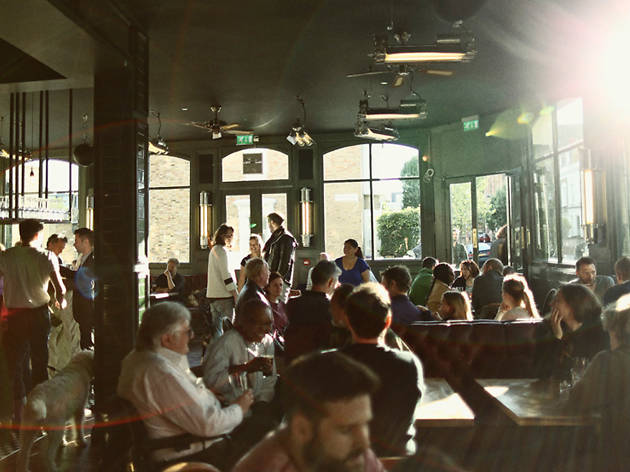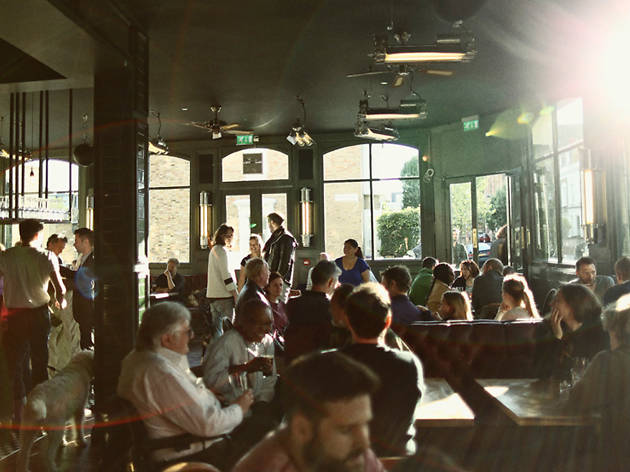 The residents of Stokey's quiet terraces have really taken this neighbourhood hostelry to their hearts following its extensive going-over and re-launch a while back. As an indie free house, it dispenses any beer that takes its fancy – there are 16 keg lines and four casks at the bar, along with bottles and cans galore. Likewise, the kitchen takes a freewheeling approach, offering up a menu of seasonal gastro fodder that's well above the local pubby norm. Trendy small plates such as buttermilk chicken with rosemary salt give way to a surprising line-up of burgers (try the marinated seitan or soft-shell crab with crab mayo and tartare sauce). Pies and roasts also have their moment, and there are also a few more cheffy ideas such as asparagus risotto with pecorino and truffle oil. The nifty wine list includes loads by the glass or carafe.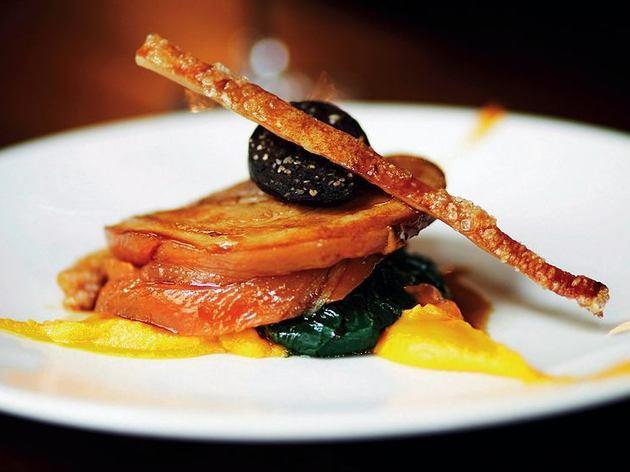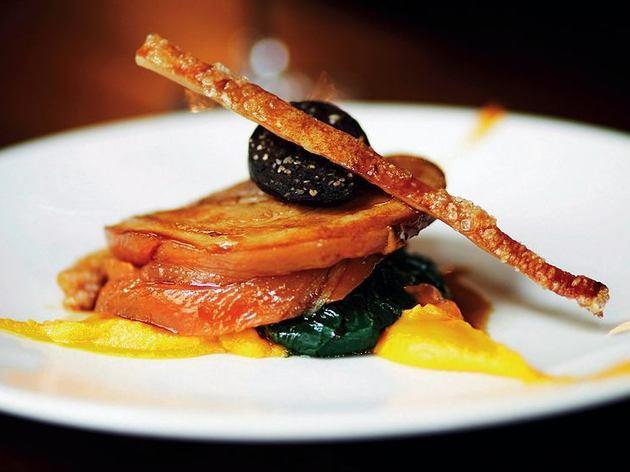 The Princess of Shoreditch
A shoo-in for hipsters and City slickers within staggering distance of Old Street station, this rebooted eighteenth-century watering hole is best known for the food served in its cosy good-looking dining room. Ascend the spiral staircase if you're in the mood for miso chicken Caesar salad, duck breast with celeriac and braised endive or beef shin, Guinness and blue-cheese pie followed by a toffee apple crumble with vanilla ice cream. Otherwise, slake your thirst in the bustling downstairs bar, where bottled world beers and local ales sit alongside some very commendable wines by the glass or carafe. You can also snack or dine here from an extended menu that also includes pubby faves like scotch eggs, mac 'n' cheese, lamb faggots and beer-battered haddock. On Sundays, it's time for traditional roast meats from indie British farms.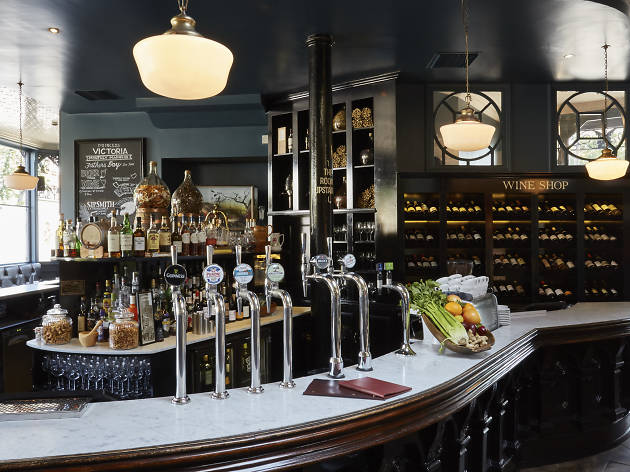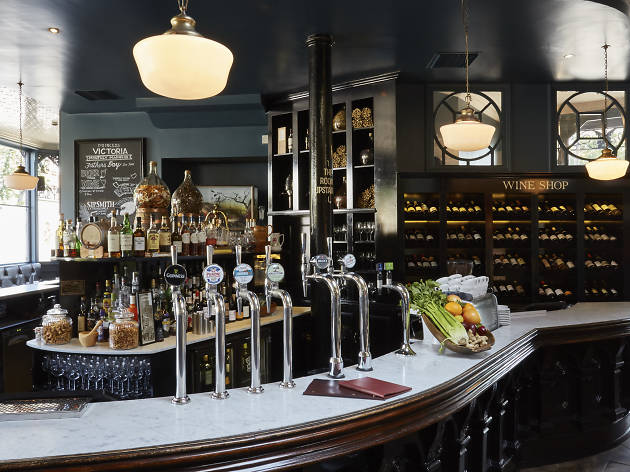 Nigella Lawson wasn't the only fan who shed a tear when this one-time Victorian gin palace on Uxbridge Road suddenly closed its doors in 2017. Now it's back, regally restored to life under new owners, and with all its assets in place – including a well-priced global wine list, 100 gins and cocktails, 40 craft beers and a menu of gussied-up gastro-grub. Glittering chandeliers light up the spectacular dining room, where punters can feast on the likes of plaice fillets with brown shrimp butter, sun-blush tomatoes, samphire and tenderstem broccoli. If that sounds too upmarket, you can always settle for a cracking pizza or fish and chips, with sticky toffee pudding for afters. Saturday brunch, all-day Sunday roasts, a kids' menu and comedy nights also do their bit to pull in the punters – they even do accommodation, with five luxurious bedrooms upstairs.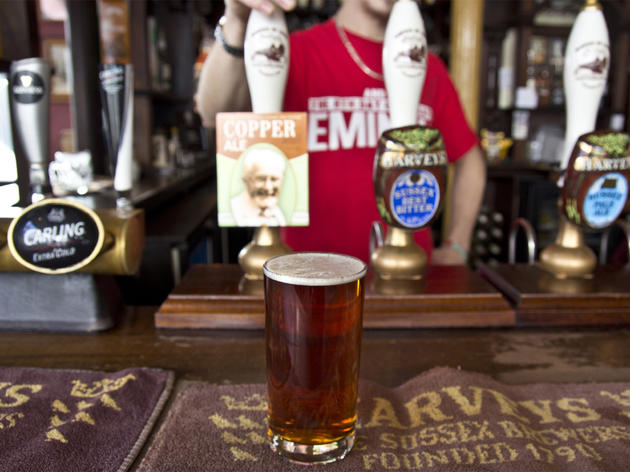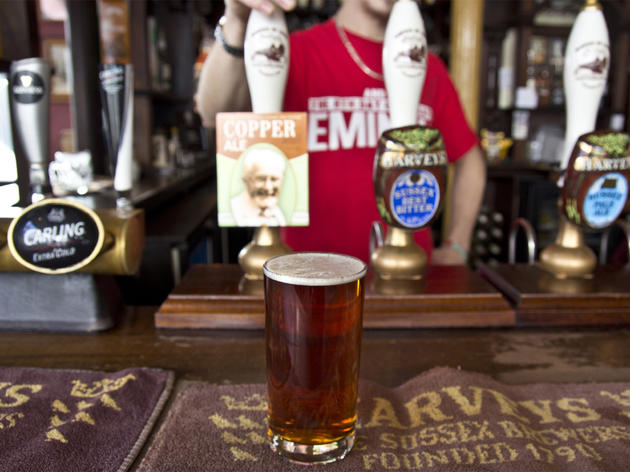 © Charlotte Mayhew
A Bethnal Green boozer of two halves, if ever there was one, The Royal Oak pleases all and sundry with its booze and its grub. Downstairs is a handsome central bar, a hive of activity with bartenders dispensing ales and pricey wines to a motley crew of rowdy creatives and assorted hipsters, while upstairs is all about serious food served in an almost sedate, civilised atmosphere. A seasonal menu of 'small' plates (aka starters) and larger mains runs from pan con tomate or grilled radicchio with labneh, figs and honey to rope-grown Suffolk mussels in cider, roast beef salad with artichokes and watercress or pumpkin and leek risotto, while puds feature Hackney gelati as well as flourless chocolate and hazelnut cake. The Royal Oak is also perfect for a big Sunday lunch after the horticultural shindig that is Columbia Road's famous flower market.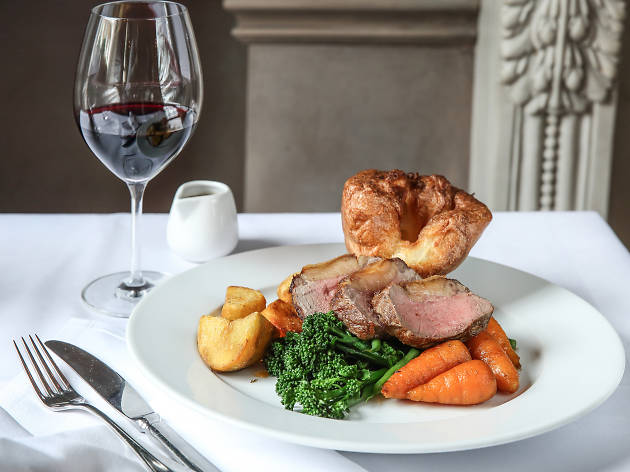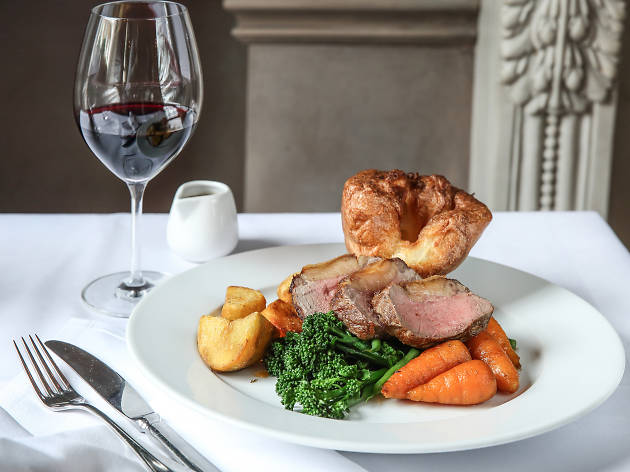 Before venturing inside, take a moment to admire the perfect proportions of this Regency townhouse on Elizabeth Street – the handiwork of Victorian master builder Thomas Cubitt. Now an upmarket fixture of Belgravia's gastro scene, the TC is a smart proposition with a gregarious ground-floor bar for casual eating and drinking, plus an elegantly tricked-out first-floor dining room dedicated to refined modern British food – think black pudding with cognac and apple salad or mackerel with horseradish cream and rhubarb followed by Castlemead chicken accompanied by salt-baked celeriac, ceps and sherry vinegar or pan-fried cod with smoked cauliflower and creamed leeks. Desserts such as treacle and almond tart or pineapple and ginger upside-down cake are in similarly patriotic vein. Boutique wines and cocktails are top-notch, and Thomas Cubitt's whole Sunday roasts (carved family-style at the table) are worthy of a Waitrose TV ad.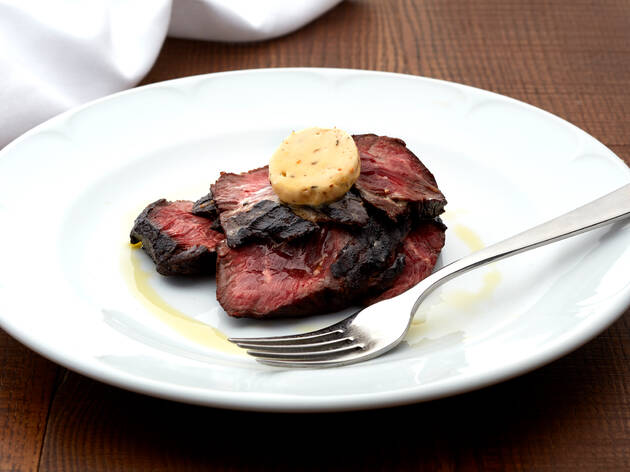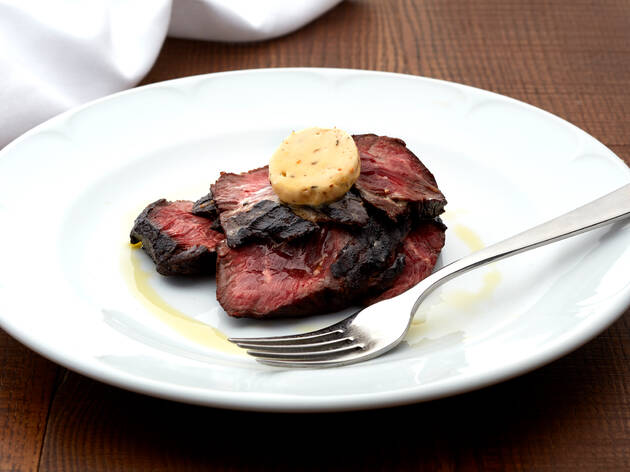 From the team behind The Coach in Clerkenwell and The Hero of Maida in W9, this rebooted backstreet boozer not far from Mansion House tube station is the latest gastropub project from Francophile chef Henry Harris (he of Racine, back in the day). Drinkers assemble in the oak-panelled ground-floor bar, while the foodie action takes place in a small attractively Farrow-&-Ball'd upstairs dining room. On offer is a tiny meat-heavy menu, split squarely between small-plate collages of different ingredients and various dry-aged chops and steaks from the grill with traditional accompaniments– perhaps a strip of onglet brought to full gutsiness by a knob of anchovy and rosemary butter. Their cheeseburger passes the litmus test, while desserts include chocolate mousse, ice creams and a cup of refreshing apple sorbet with a warming shot of Calvados. A brilliant little city bolthole with service that's beyond genial.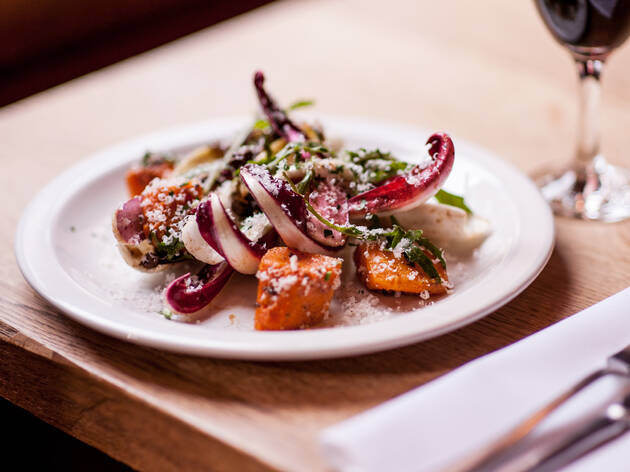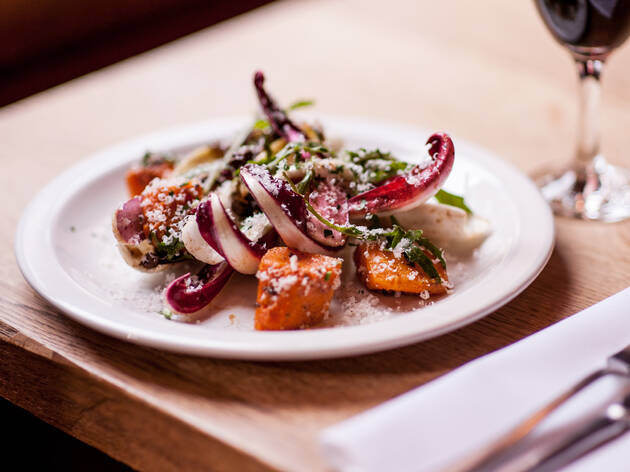 Upstairs at The French House
One of the last vestiges of boozy Old Soho, 'The French' (as it's known) is a die-hard boho watering hole with its own house rules, but graduate to the teeny upstairs dining room and it's a very different story. Once home to Fergus and Margot Henderson (of St John and Rochelle Canteen, respectively), the kitchen is now run with considerable brio by Neil Borthwick (late of Merchants Tavern in Shoreditch). Forget artsy flourishes and Insta-baiting faff, this is seasonal, gutsy, stripped-back stuff with Anglo-French overtones – and all the more marvellous for it. Picking highlights is tough but do try the slick of goat's cheese on toast with melting confit garlic, the lamb chop (a hulking triumph paired with earthy chard and turnip), and the blancmange-smooth calves' brains doused in brown butter with capers. Top it all off with a textbook Paris-Brest and some brilliant French cheeses served by equally brilliant staff.