The 100 best restaurants in London
Feast your eyes on the best restaurants in London, from seasoned stalwarts never falling out of fashion to tasty newcomers doing bold new things in the kitchen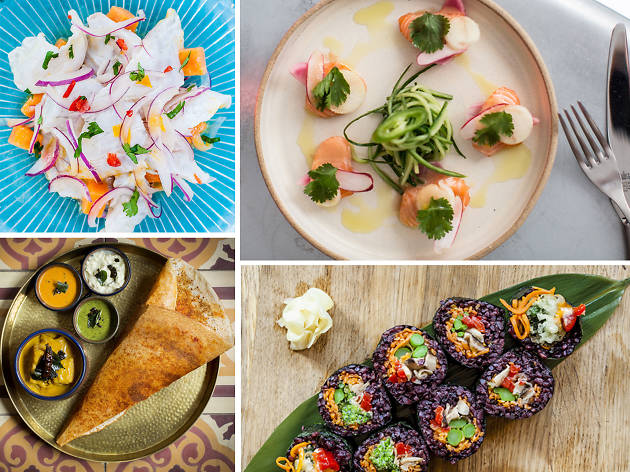 Setting the criteria for our annual list of the 100 best restaurants in London was the easy bit. Anywhere we felt compelled to revisit again and again was instantly in. The Time Out Food & Drink team spend the whole year independently visiting the newest joints in town and revisiting the greats, so our critics know which restaurants truly deserve their place in our annual top 100. Nevertheless, we fretted, we sweated, we chewed on toothpicks while dramatically shortening shortlists with a big red marker. Until, at last, we had London's best restaurants, ranked in order of greatness.
So in the list below – surely the ultimate guide to the best restaurants in London – you'll find it all: zeitgeist-defining celebrity haunts, the best new restaurants in London, glitzy destinations in London's best hotels, Michelin star restaurants with starched linen napkins and restaurants serving down-to-earth cheap eats. What they all have in common is that they serve some of the best dishes in London at fair prices, with service befitting the setting. In short, if you're looking for a great meal, you've come to the right place.
100 best restaurants in London: 100-91
100 best restaurants in London: 90-81
100 best restaurants in London: 80-71
100 best restaurants in London: 70-61
100 best restaurants in London: 60-51
100 best restaurants in London: 50-41
100 best restaurants in London: 40-31
100 best restaurants in London: 30-21
100 best restaurants in London: 20-11
100 best restaurants in London: top ten
How many have you eaten at?
We can all be a bit competitive when it comes to dining out in London. That's why we've assembled a checklist for you to work out just how many of London's best restaurants you've been to. Take the test and share your score to see if you're the king or queen of London's dining scene.
Read more
Get a room?
You've found your dream restaurant. Why not push the boat out and book an overnight stay to match? Whether it's a five-star hotel in Mayfair, a budget option near the Eurostar, a chic cheap hotel in Camberwell or a Bloomsbury-era B&B minutes from the British Museum, you'll find them in our definitive list of the best hotels in London.
Read more
Sponsored listing
Tre Viet
With the welcoming feel of a brasserie, this large, bright, airy and cool dining room – the walls decorated with painted murals of Vietnamese scenes and the ceiling hung with paper lanterns – is a pleasure to visit. This holds true even when the place is crowded, as it often is with a largely western clientele that includes a high percentage of fashionable locals. Service is generally prompt and efficient, and the menu fairly extensive, if a little predictable and short on vegetable dishes. The kitchen prides itself on using fresh ingredients and the food reflects this – but we found ourselves needing to make liberal use of the table sauces provided (something that rarely happens in a Vietnamese restaurant). For example, a stunningly handsome, piled-high platter of sizzling seafood failed to measure up to its looks as, although perfectly cooked and a textural treat, it seemed almost totally devoid of added flavourings. On the plus side, there's an attractive selection of oriental-themed cocktails – such as Vijito, a minted mix of rum, and lime and passionfruit juices – though a fairly limited choice of wines.