The 100 best restaurants in London
Feast your eyes on the best restaurants in London, from seasoned stalwarts never falling out of fashion to tasty newcomers doing bold new things in the kitchen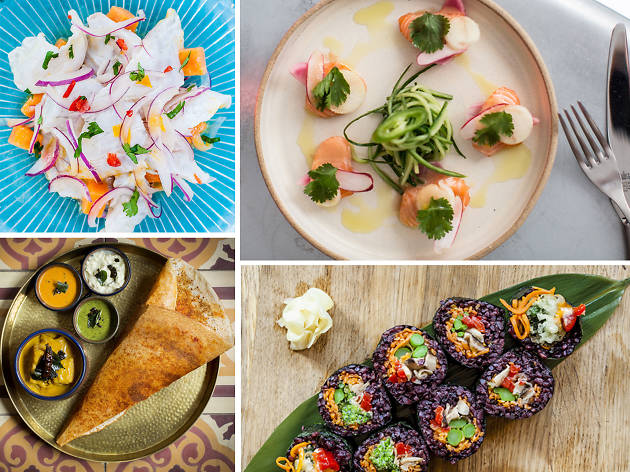 Setting the criteria for our annual list of the 100 best restaurants in London was the easy bit. Anywhere we felt compelled to revisit again and again was instantly in. The Time Out Food & Drink team spend the whole year independently visiting the newest joints in town and revisiting the greats, so our critics know which restaurants truly deserve their place in our annual top 100. Nevertheless, we fretted, we sweated, we chewed on toothpicks while dramatically shortening shortlists with a big red marker. Until, at last, we had London's best restaurants, ranked in order of greatness.
So in the list below – surely the ultimate guide to the best restaurants in London – you'll find it all: zeitgeist-defining celebrity haunts, the best new restaurants in London, glitzy destinations in London's best hotels, Michelin star restaurants with starched linen napkins and restaurants serving down-to-earth cheap eats. What they all have in common is that they serve some of the best dishes in London at fair prices, with service befitting the setting. In short, if you're looking for a great meal, you've come to the right place.
100 best restaurants in London: 100-91
100 best restaurants in London: 90-81
100 best restaurants in London: 80-71
100 best restaurants in London: 70-61
100 best restaurants in London: 60-51
100 best restaurants in London: 50-41
100 best restaurants in London: 40-31
100 best restaurants in London: 30-21
100 best restaurants in London: 20-11
100 best restaurants in London: top ten
How many have you eaten at?
We can all be a bit competitive when it comes to dining out in London. That's why we've assembled a checklist for you to work out just how many of London's best restaurants you've been to. Take the test and share your score to see if you're the king or queen of London's dining scene.
Read more
Get a room?
You've found your dream restaurant. Why not push the boat out and book an overnight stay to match? Whether it's a five-star hotel in Mayfair, a budget option near the Eurostar, a chic cheap hotel in Camberwell or a Bloomsbury-era B&B minutes from the British Museum, you'll find them in our definitive list of the best hotels in London.
Read more
Sponsored listing
Burger & Lobster
Don't be put off by the gimmicky concept or swanky addresses of the nine branches of this Russian-owned chain; this sleek eatery represents remarkably good value for money… if you order the lobster. As you walk through the door in the Mayfair branch (an attractively converted pub), a blackboard tells you all you need to know about the menu: you may order a lobster (boiled, grilled or in a brioche roll with mayonnaise), or you may have a burger, all served with a substantial and tasty salad and french fries, for £16. The simplicity of the pricing – while absurd for what is a fairly average burger – cuts neatly past the usual 'market price' for lobster, which can easily work out to over £30 elsewhere in town. The grilled version got top marks on our visit: the lobster was a fresh, quality specimen, perfectly cooked – and tasted divine dipped in drawn butter. For dessert, there's either an entirely average chocolate brownie or a delicious lime mousse that offers a tart finishing touch to a satisfying meal. If you'd like to make an evening of it, do: the bar has a range of fine cocktails and a decent selection of beers on tap.