Things to do in Melbourne in July
July's best events in one place – it's your social emergency saviour for fun things to do in Melbourne in July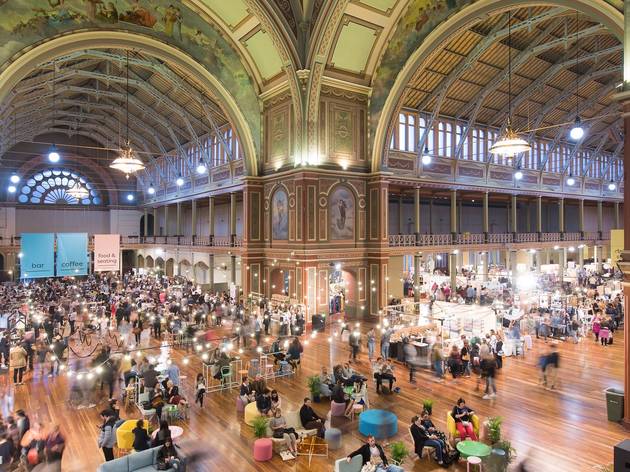 Wondering what to do in Melbourne in July? We can help. Check out our guide to all the fun things to do in Melbourne, from free events to exhibitions, theatre shows, live music and more. For rainy days, consult our guide to Melbourne's best indoor activities instead.
Things to do, Markets
Madame Brussels Lane, Melbourne
Rug up and head to the Madame Brussels Lane European Night Market this winter, where food stalls, lots of mulled wine and entertainment are warming up your night. Every Friday in July, Madame Brussels Lane, located just off Lonsdale Street, transforms into a European winter hotspot. Drawing inspiration from Christmas markets in countries like Switzerland and Germany as well as European discos, the European Night Market includes food and drink stalls to bring on the good times for the after-work crowds. Expect delicious food like Turkish gozleme from Göz City, piping hot mugs of spiced rum, German sausages from Bavarian Bangers and sticky, candied nuts from Chooh La La. Need more drool-worthy reasons to visit? Think Nutella-stuffed doughnuts from Café Babbo, pastries from Eat Cannoli, panzerotti (savoury pastry) from Il Panzerotto and treats from Pop Up Crepe, the Brulee Cart and Degani. You want to know about the gooey, oozy cheese, right? Well, Frencheese will be on hand to serve you melted raclette, perfect for cold winter nights. If you underestimated the wind chill you'll also be able to pick up scarves, beanies and gloves from Spoilt, as well as update your 'do with a discounted cut at Men's Barber Shop. Feeling thirsty? Little Lon Distilling Co, which occupies the CBD's only single-story house, has created a bespoke cocktail for the occasion, called A Lon Winter's Night. It's the distillery's own Ginger Mick Gin, Le Birlou apple and chestnut liqueur, lemon, cloudy
See what's on this weekend in Melbourne
Things to do
NGV International, Southbank
The NGV's Friday Nights series is back for another round, and this time they're pairing a string of gigs alongside the new Terracotta Warriors: Guardians of Immortality exhibition. Few things go hand-in-hand like music and art, and NGV Friday Nights' set-up is the best way to take in the latest NGV exhibition after dark while enjoying the best in local and international acts. Performing in the NGV's Great Hall every Friday night until mid-October, this season's line-up will feature the likes of Ngairre, Rainbow Chan, Husky, Slum Sociable, the Audreys, Young Franco, Sui Zhen and heaps more. See the full line-up on NGV's website. This year, the NGV has teamed up with the dumpling heroes at Hutong Dumpling Bar. A selection of their signature dumplings will be available to purchase at NGV Friday Nights at the NGV Gallery Kitchen.
See what's on this weekend in Melbourne
Or tick something off the list
The definitive Melbourne bucket list: knock off these 50 activities and you'll really, properly know our great city.