NYC events in February 2018
Here are the best NYC events in February 2018, and no, it's not all about Valentine's Day, you guys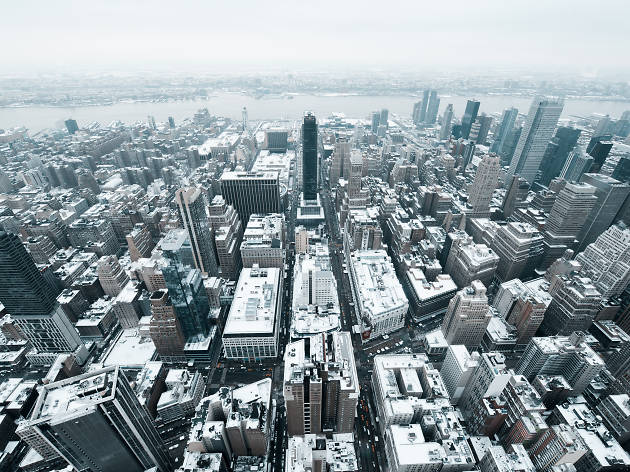 After a monastic January (giving up all your vices and spending nothing since the holidays cleared you out), it's time to cut loose and take advantage of all the NYC events in February. Use our events calendar to guide you to the best things to do in the winter this month. Get a delicious meal during NYC Restaurant Week, re-tox yourself at during New York City Beer Week with some of the best beer crawls and check out romantic things to do during Valentine's Day.
RECOMMENDED: Full NYC events calendar
Featured events in February 2018
Free NYC events in February 2018
Music events in February 2018
Ghanaian artist Jojo Abot proffers a blend of African rhythms, R&B and rap on her two EPs, 2015's Fyfya Woto and 2017's NGIWUNKULUNKULU. Considering Abot's fiercely individual sound, not to mention her inescapable charisma live, we hope there are many more to come. She presents her multi-media show, "Power to the God Within," as part of her residency at National Sawdust.
Enthralling local punk-cabaret chanteuse Shilpa Ray celebrates her recent album, Door Girl, inspired by her stint working the door at Manhattan venue Pianos. Dig into new tunes like "You're Fucking No One" and "Manhattanoid Creepazoids," which hopefully don't hit too close to home.
This Swedish indie-pop band unfortunately spent the majority of its years following 2010's celebrated Clinging to a Scheme embroiled in unsuccessful legal battles with its record label rather than making music. The turmoil, however, inspired a host of darker, matured songs on the crew's long-awaited followup, Running Out Of Love, a self-described "dystopian album" released last year that addresses the many conservative, reactionary threads circulating in the world's current political climate. Catch the lo-fi pop obscurists return to the city or risk waiting another half-decade for their next appearance.
As folk-punk duo Girlpool, high school friends Harmony Tividad and Cleo Tucker weave complex vocal interplay—unison shouts along with lilting harmonies—above spare guitar melodies. Performing now as a larger ensemble, the band adds a fuller sound and the jolt of live percussion to the stark songs of its sophomore album, Powerplant.
Like many producers, avant-dance producer Sophie initial days were shrouded in mystique: hyper-saccharine singles like "Bipp" and live shows veering on veritable performance art—faux soda advertisements included—bespoke not only a keen ear for radio pop sensibilities, but a complex anti-capitalist critique of the form as well. Fast-forward to 2017 and the producer's new music video "It's Okay to Cry" demolishes those barriers—between her visage and her name, synthetic and organic, virtual and real—in a captivating performance of vulnerability, her face front and center, singing behind fantastical, digitally-rendered landscapes. Just like she did in 2013, Sophie is poised to transform contemporary electronic music scene yet again, and she knows it: the upcoming debut is called Whole New World.
George Clinton—the one and only Uncle Jam and author of (deep breath) Brothas Be, Yo Like George, Ain't That Funkin' Kinda Hard on You?—lands the mothership for a night of ass-liberating funk. Here the funk innovator hosts what's become an annual Mardi Gras celebration for a sixth straight year.
Mixing bubblegum-snapping, cheerleader aesthetics and AC/DC hard-rawk brashness, this bombastic noise punk duo sounds like no one else. Expect to hear songs from their most recent release, Jessica Rabbit, which includes standout track, the spacey, subdued synth ballad "Hyper Dark."
Show up for an evening of expansive sounds spanning classical, electronic and rock music at this genre-melding show. Baltimore indie duo Wye Oak teams up with Metropolis Ensemble and Brooklyn-based composer William Brittelle to present orchestral versions of songs from its 2014 effort, Shriek. Also on the program is the world premiere of Brittelle's song cycle, Spiritual America, performed by Wye Oak, Metropolis Ensemble and Brooklyn Youth Chorus.
Cold Cave's dark prince of neo-new-wave, Wesley Eisold, resurrected his storied hardcore outfit in 2015, and this year sees American Nightmare releasing its first album in 15 years. The self-titled effort, which features bassist Josh Holden, guitarist Brian Masek and drummer Alex Garcia-Rivera, sees daylight February 16. You'll hear from it here, when the band shares a bill with rowdy Pennsylvania noise punks Pissed Jeans.
Show more
See more NYC concerts in February
Looking for more things to do?
Discover the best things to do in NYC with the ultimate insider's guide to restaurants, bars, clubs, museums and more