The best vegan and vegetarian restaurants in NYC
New York's best vegan and vegetarian restaurants, cafés and bakeries offer top-quality meat-free dishes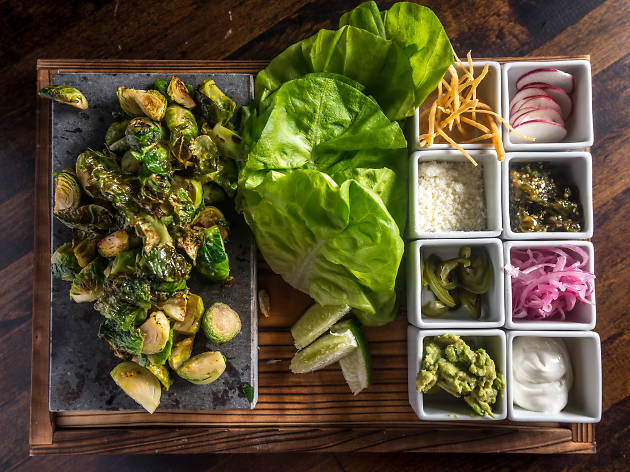 Great vegetarian food isn't hard to come by in New York—just look at the city's best vegan and vegetarian restaurants for proof. And it's more than just veggie burgers, although NYC has plenty of those too—we're talking about falafel joints and tapas bars and some of the city's best Indian restaurants. High-concept cooking to comfort foods, there are the best meat-free restaurants in NYC.
RECOMMENDED: See more of the best restaurants in NYC
Best vegan and vegetarian restaurants
See the best vegetarian restaurants in America
Herbivores, rejoice! The growing ranks of superb vegetarian restaurants across the country means you need never settle for a steamed-vegetable platter again.
Read more
Sponsored listing
Burger Burger
Craving a big, juicy burger but don't feel like going to a greasy drive-thru? Hit up Burger-Burger. Go for the standard cheeseburger ($11), or try one of the deluxe options like the Berta with cheddar, ham and a fried egg ($13.25) or the New Yorker with caramelized onions, mushrooms, swiss cheese and sour cream ($14.50). The health-conscious can opt for a veggie ($12.50), turkey ($12.50) or bison burger ($16) on a whole wheat bun. Of course, they offer fries galore—regular ($5), sweet potato ($6), curly ($7), cheese ($5), chili cheese ($7)—and all kinds of other snacks like mozzarella sticks and jalapeno poppers (both $6). Not into burgers? They also offer New York–style hot dogs ($4.50) and chili cheese dogs ($7). Like any good fast food joint, Burger-Burger also sells milkshakes in vanilla, chocolate, strawberry (each $5) or Reese's peanut butter cup ($5.50) to round out the meal.
Venue says: "So good we named it twice! NY style hot dogs, shakes, malts, healthy burger options & low carb platters to your home or office."