The best restaurants for outdoor dining in NYC
Blooming gardens, gorgeous patios and sidewalk cafes are among New York's best restaurants for outdoor dining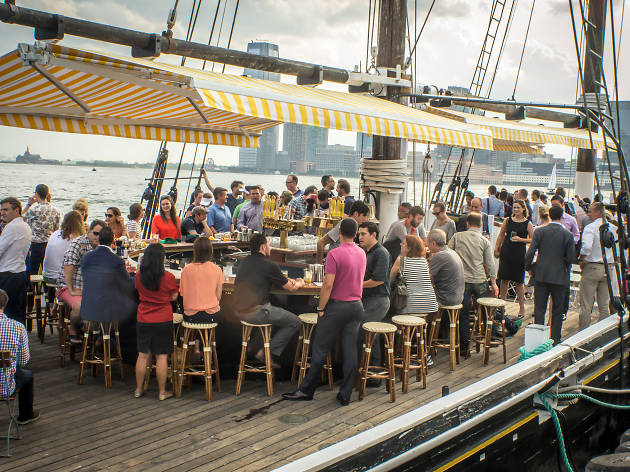 Outdoor dining is on everyone's mind during summer in NYC–when the sun comes out, New Yorkers scramble to occupy every breezy patio and leafy garden in sight. To help you score the most coveted alfresco tables, we've rounded up our favorite New York restaurants with outdoor seating. From waterfront restaurants to open-air rooftop restaurants, we've got your sun-drenched dining needs covered.
RECOMMENDED: Full guide to the best restaurants in NYC
Best restaurants for outdoor dining
Want to spend the day drinking outside?
NYC has plenty of beer gardens, patios and terraces for those boozy afternoons in the city.
Read more
Sponsored listing
Sarge's Delicatessen & Diner
Sarge's is generally believed to be the city's only 24-hour Jewish delicatessen. NYPD Sergeant Abe "Sarge" Katz opened the restaurant in 1964, and the building still has the burgundy vinyl booths, Tiffany's lamps and a wall of celebrity photos to prove it. Sarge's offers all the classic deli sandwiches—corned beef ($15.95), pastrami ($16.95), reuben ($19.95)—plus The Monster. Billed as the city's largest sandwich, it is indeed a towering stack of corned beef, pastrami, roast beef, turkey, salami, tomato, lettuce, cole slaw and Russian dressing on rye ($41.95). The menu is just as gargantuan as that sandwich, offering everything from shrimp salad ($17.95) to matzo ball soup ($6.95) to sliced London broil with mushroom gravy ($30.95). If you still have room, order a slice of the homemade cheesecake ($6.95) and an egg cream to wash it down ($2.95).
Venue says: "Sarge's Deli is the destination for old world food like pastrami, corned beef and matzo ball soup."