May events in Sydney
There are heaps of events to look forward to this month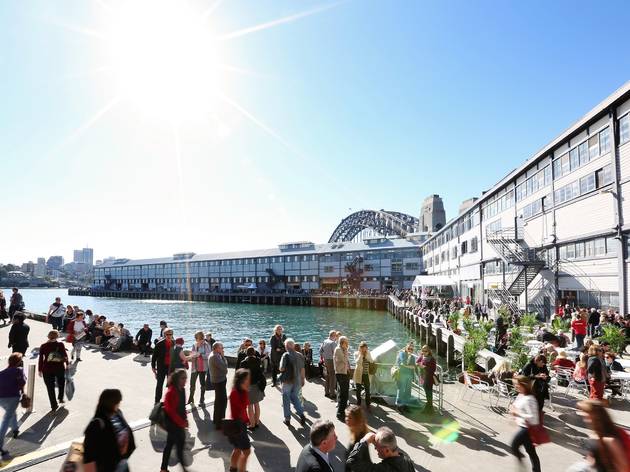 Winter is on the way but that's no reason to stay indoors, Sydneysiders make the most of 'thinking season' with talks and ideas festivals like Sydney Writers' Festival, Vivid Ideas and Semi-Permanent. It's also whale-watching season and the Wildlife Photographer of the Year exhibition. Don't forget Mothers' Day! We've got lists of the best florists in Sydney.
The biggest events in May
More events in May
When The Dog/The Cat opened in Belvoir's Downstairs theatre in June 2015, it felt like a little ray of sunshine after months of programming that left this Belvoir regular feeling underwhelmed (Elektra/Orestes), disappointed (Mother Courage and her Children) and perplexed (The Wizard of Oz). By contrast, The Dog/The Cat, a playful double bill of 40-minute plays penned by Brendan Cowell and Lally Katz, felt like something conceived as a crowd-pleaser and delivered intact – a little love letter to theatregoers at a time when some were starting to think, "It's not me, it's you". The critical reception was universally warm, the season quickly sold out, and extra dates were added – so reviving it for a run in the Upstairs Theatre must have been as close to a no-brainer as you can get in theatre programming, though not entirely without hazard. It's a big stage to fill with a couple of light-hearted three-handers whose charm resided in their low budget production values and physical intimacy as much as the wit of the writing.  Wisely, this re-up doesn't add any additional bells and whistles complexity. It remains an uncomplicated pleasure.  In The Dog, Cowell transports the audience to an off-leash park in Newtown, one frequented by Ben, a slovenly and borderline depressed screenwriter (Xavier Samuel), his contrastingly buttoned-up and optimistic housemate Marcus (Benedict Hardie), their terrier Jerry Seinfeld, and Miracle (Sheridan Harbridge), a dog-owning singleton and economic
Book now
Read more
Have you seen the 2014 Australian comedy The Little Death? No? Pity. Josh Lawson's film is a daring, adult sex comedy exploring what happens when various suburban Aussies start to act on their fetishes. Back then, Time Out wrote that the film "deftly weaves together surreal scenarios into a constantly surprising package". But moviegoers stayed at home – most likely because the words "erotic" and "Australian comedy" just don't sit comfortably in the same sentence together. So it's no shock to us that the movie has been remade, very successfully, in Spain. Director Paco Léon has worked out the kinks, so to speak, of Lawson's film and with Kiki, Love to Love managed to unseat Batman vs Superman from the top of the Spanish box office. The film has garnered comparison to the work of Pedro Almodóvar, and will be the opening night film of the 20th Spanish Film Festival. The film's bombshell star, Natalia de Molina (Living is Easy with Eyes Closed), will be visiting Australia as festival guest. Closing night film, meanwhile, will be The Trip to Spain – the third 'trip' movie, in which Steve Coogan and Rob Bryden play themselves on assignment, driving through Spain, eating at its best restaurants and exchanging improvised banter. Iberian superstar Penélope Cruz stars in The Queen of Spain. The sequel to 1998's The Girl of Your Dreams, it's a comedic drama about a 1950s Hollywood star who returns to her native Spain to shoot a film. Thriller fans will go for The Fury of a Patient Ma
Book now
Read more
Held semi-regularly on Thursday and Saturday nights, these live music gigs are free and skew towards experimental, jazz and folk sounds – in keeping with the small scale stage and venue.  Click through the Dates & Times tab to see details of who is playing when.
Read more
In a week of talks, workshops and performances, the Sydney Writers' Festival brings together more than 400 international and Australian writers from authors of best-selling fiction to TV scriptwriters and spoken word poets. Last year, outspoken poet-rapper-novelist Kate Tempest took the festival by storm after a memorable appearance on Q&A last year. Gloria Steinem gave a rousing keynote address on the progress of feminism at Sydney Town Hall, and author of A Little Life Hanya Yanagihara closed the week by asking: how much can a reader handle? The first speaker for this year's program is Veep and The Thick of It creator Armando Iannucci, who is giving a talk on satire at Sydney Town Hall on May 2. The full program will be available on Thursday April 6. Tickets for the 20th festival are on sale from 9am, Friday April 7.
Book now
Read more
Show more