The best office party venues
Planning an office celebration? Time Out Sydney tells you where to have it, what can go wrong and how to avoid the Monday morning walk of shame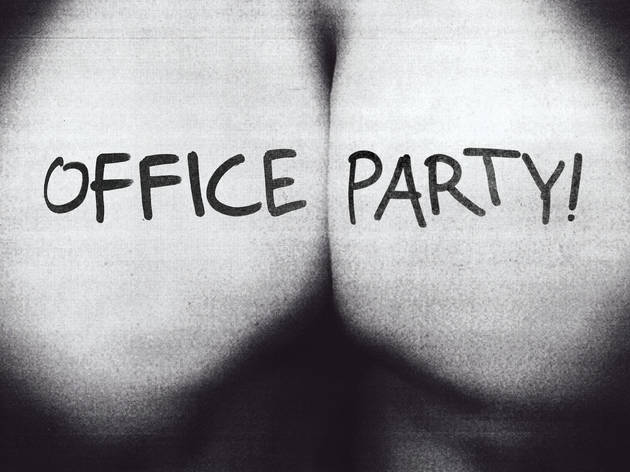 Office Christmas parties: why do we have them? Employees over-indulge, over-share and resent having to socialise with people they might not like. For employers, meanwhile, parties are a legal minefield that can result in anything from photocopied genitals (see above – almost) to fistfights to worker's compensation claims.
Yet the office party is an important opportunity for employers to show their appreciation to their staff for a year of hard work. They're also a chance colleagues might not otherwise have to get to bond and team-build.
If you're on the lookout for a location for this year's company bash, try one of the following great Sydney venues, ideal for intimate gatherings, medium-sized shindigs or large corporate blow-outs.
Around 25 people
Sit back with a slice of pizza or a plate of barbecued prawns and a beer in hand – a very Australian way to celebrate Christmas. Function packages for 30-50 people, at $70-$85pp.
Read more
A private room starts at $800 minimum food spend or you can be out amongst the action with banqut menus starting at $44. Nothing says 'good job' like pippis in XO sauce, crisp-skinned chicken and steamed parrot fish.
Read more
Dip your feet in the pool or enjoy a top drop in the 'secret' outdoor garden terrace. Set menu is $45pp for November and $60pp for December; canapés $31; wine $19-$100 per bottle; cocktails $14-$19.50.
Read more
50-100 people
So many options at the Star's Japanese restaurant – three set menus for dinner ($100-$150), three for lunch ($50-$60), a canapés selection and beverage packages too.
Read more
You can have the whole middle floor of the Taphouse to yourself - it fits 100 people - which means unfettered access to the 20 craft beers on tap and roving pizzas at this excellent local.
Read more
Forget Christmas decorations - nothing beats the Sydney Harbour as a backdrop to a party. You can reserve an outdoor space for 50-200 people or if you want to avoid the hire charge you can always arrive early for an unreserved space. Plus the kitchen is open intil midnight in case things get a little too festive.
Read more
You can either take over the glassed in Conservatory for 100-150 people (it has a retractable roof and its own bar) or the Parlour for up to 80 festive types in a New York style pub. Sit down meals start at $55 per head, or keep people standing for $40 per person.
Read more
Waterfront views is the calorie-free condiment that turns a celebration up to 11. Head out to the eastern tip of the city to the Watsons Bay Hotel where you can hire out the top deck (complete with retractable roof) that seats 120 and fits 200 standing, plus they do barebcue catering
Read more
300+ people
Step into these incredibly beautiful gardens and enjoy a Christmas that's worlds away from sausages and beers. The entire area can hold 300 people. Canapés and beverages. Available Mon-Sun for a 6.5 hour period, 5.30pm-midnight. Entire venue cost is $3,850.
Read more
For big corporate blow-out, the location doesn't get much more spectacular than the lobby at the Darling Hotel at the Star. The artwork's stunning – look up at the suspended swallow, look down at the Akira Isogawa rugs – and the venue can hold 200 people seated, 400 for cocktails.
Read more
The corporate Christmas dream locale. Enjoy the marble! Cost starts at $80pp. Want the ballroom? Note for cocktails it takes 400-pax capacity, for 192 for banquet and 144 for cabaret.
Read more
One of Sydney's landmark locations, it was built in 1819 and can hold up to 500 people. The walled courtyard creates a lovely private space. Catering by Sparkling Catering and Events. For 350-person banquet, 6pm-midnight, $3,990 – the same price as cocktails for 1,200 from 6-10pm.
Read more
You can hire the whole hall that fits 750 people for a cocktail event and then it's a case of finding a caterer who fits your budget. Venue hire is $3,520 for a gala dinner, but for simpler cocktail event with no kitchen usage, price is up to $2,480.
Read more
Work for a corporate giant? Sydney Town Hall can fit up to 2000 people in the glorious Centennial Hall and vestibule. This is not going to be a cheap endeavour, but when your company is that big there's not a lot of indoor spots that can house you.
Read more
This mega-bar in the heart of the Rocks can hold 1,500 guests. Room hire and/or minimum spends apply. Canapés start from $4 each – no set packages.
Read more
If you have 1,000 workmates then check out the epic, pillarless ballroom with zebra-patterned floors and two solid glass walls at ivy. About $100pp. Functions at 6.30-10am, 11am-4pm & 6pm-late.
Read more
Something different
Sunshine, alcohol and a bit of competitive sport all equal sure-fire winner for an office party. Shoes optional. Canapé packages start at $40 per person, you can upgrade to a barbecue pack or order up a whole beast cooked on the spit.
Read more
Bondi's underappreciated little sister? Perhaps. But give Coogee its due. Compact and beautiful with good lookout points at either end, the main strip on Coogee Bay Road has been really upping its game in the café and restaurant stakes as well. Be sure to also check out Coogee Pavilion to see what all the fuss is about.
Read more
Release your frustration at the guy that always changes the air-conditioning settings with a bit of the old laser tag, or on some dodgems. There are party deals here from $25pp.
Read more
Show more
For when you're planning a different kind of party
We love a game of Mr & Mrs – or Mrs & Mrs – but even the most inspired of hens parties tend to follow the same tired routine. Shake up the agenda and do something unexpected. The bride-to-be will thank you.
Read more