59 Chicago restaurants and bars with fireplaces
Hot cocktails alone won't abate the wind chill—we found 59 great fireplaces and fire pits for warming up this winter.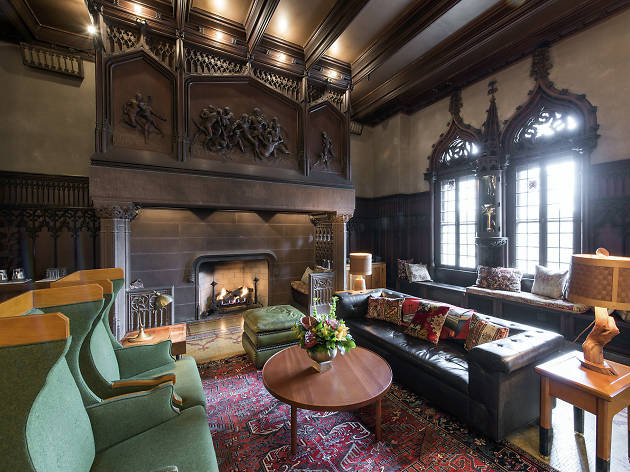 Our long winters have one big upside—getting to cozy up next to a fireplace while eating and drinking at some of the best Chicago restaurants and bars. We found 59 to seek out this winter, ranging from rooftop bars with fire pits and great views of the city to fireplaces at some of the city's best cocktail bars.
Bars and restaurants with fireplaces
Ideal for winter date nights, the snug Bar at Peninsula Hotel has a dark bar, comfortable nooks and well-crafted cocktails.
Read more
Sample the extensive list of Irish beers and whiskeys in the back, which has couches, a fireplace and old-school board games.
Read more
Sidle up to one of the cozy spots near the fireplace and enjoy board game nights and martini nights.
Read more
The River North sports bar features a huge fireplace that resembles an outdoor patio. Grab a bottle of beer and a pizza to share and watch a game.
Book now
Read more
Tucked into the back corner of the Freehand Hotel lobby are two fireplaces ideal for warming up in winter. The cozy lobby has a cabin vibe and dark lighting, plus board games like backgammon for whiling away cold nights over wintry cocktails.
Read more
We don't normally associate fireside cocktails with margaritas, but that's what we're drinking at Cantina Laredo. The River North chain also has guac that's made tableside, so get an order to share.
Book now
Read more
Chief O'Neill's has three fireplaces, live Irish music on Sundays and a long whiskey list.
Read more
Show more