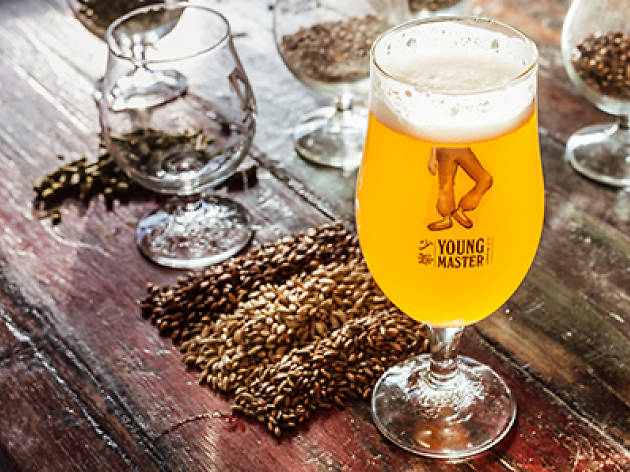 10 of the best local breweries in Hong Kong
There has been an explosion of craft and microbrews in the last two years. In the spirit of Oktoberfest and on the eve of Beertopia, we check out the best local breweries in Hong Kong to find out what fuels their passion.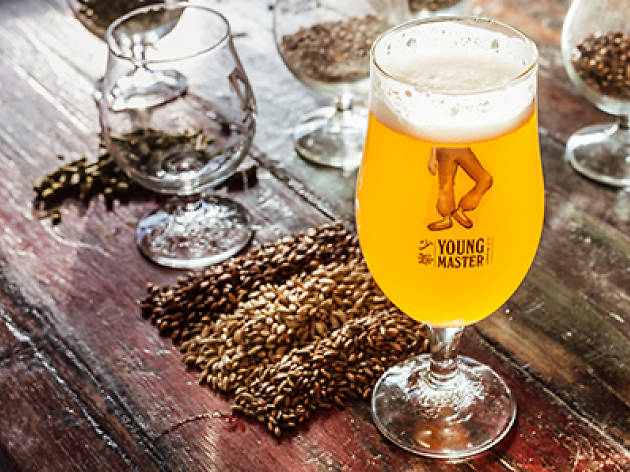 At only three years young, Young Masters is the most established craft brewery in town. Rohit Dugar tells us how this Hong Kong brew is now the house beer at Mandarin Oriental's Captain's Bar…
What were some of the initial challenges you faced?
When I first started, there was literally no beer scene here at all. It was impossible for me to find ingredients, so I had to import everything from the US or Singapore. But things started to quickly change as a homebrew shop opened only six to nine months later.
What capacity are you guys brewing at?
We can brew up to 15,000 litres a month, but we are working on setting up another facility to add to that, so watch this space!
Did anything about local tastes surprise you?
We made a sour and salty beer using a .0salted lime called the Cha Chan Teng. Usually sour beers are an acquired taste and only an interest to beer geeks, but this was embraced among the younger local crowd.
Signature: Rye Mill
Tasting notes: Caramel, Malty
This brewery had a long and rocky history in Hong Kong before Devin Kimble bought the company and turned it into the craft brewery it is today…
Tell us about your history?
Hong Kong Beer Co started as South China Brewing in 1995 and it's one of the oldest craft breweries in Asia. It was started by David Hanes and he had breweries in Ireland and one in Mexico as well. They even IPO'ed in the United States. The tech bubble burst in 1997 and 1998 and the whole thing went bust. It was sold to El Grande Concepts in 2003 and the name changed to Hong Kong Beer Co. It just never hit its stride and we bought it for scraps two years ago.

Was it easy to pick up the business from where it was left?
We moved it from Aberdeen to Chai Wan and we had to repair the boilers, buy a new tank and bottling line. It was actually a pretty substantial investment.
Given the patchy history did you ever want to change the name?
We did. The beer that was made under the brand wasn't very good but we realised we owned a name that had Hong Kong in it, so we stuck to it and made a better product. We make the classic styles with a twist, like our White Pearl for example, which contains honey from the New Territories, three-year-old orange peel and rose buds from the market. It's a wheat beer and it has a nice fruit quality at the moment.
Signature: Amber Ale
Tasting notes: Hoppy, Malty
As the name suggests, Yardley Brothers Beer was started by siblings Luke and Duncan Yardley. According to them, it's a pet project that just grew and grew…
How did you guys start brewing?
We brewed a bit when we were back home in the UK. Duncan moved here about two years ago and we decided to start it up again.
What re-ignited this passion?
Partly because we couldn't find a beer we wanted to drink but mostly because we have a bit of a sibling rivalry going on and we wanted to one-up each other on who could make a great beer. I was previously a chef and really enjoy flavours and tastes, so this brewing actually feeds my passion.
Why would you say Yardley Brothers became popular?
We're known for making strong, flavourful beer. That's probably because we use more ingredients than most of the other producers, we actually spend a lot of money importing whole, fresh hops from America and we insist on using
all natural methods with no preservatives or additives.
Signature: Lamma Island Pale Ale
Tasting notes: Floral, Citrus, Hoppy, Caramel, Malty
Started by good friends Emily and Jo with a passion for beer, Gwei.lo is one of the few artisanal brewers in town who don't own a brewery…
Why doesn't Gwei.lo have its own premises?
We looked at setting up our own brewery but the costs were quite high, and there's a lack of space here as well. We all had full time jobs at the time and it was a weekend and evenings project for us. Then we ran into Devin and Simon from Hong Kong Beer Co, forged a relationship with them and now they brew for us.
Some might think the word gweilo is not exactly politically correct…
I'm not offended if somebody calls me that. The name is trademarked, it's used in many contexts, and the meaning isn't as offensive as it would be if it was said 30 years ago.
What makes Gwei.lo stand out from other local beers?
We take traditional recipes and add something to adapt it for the Hong Kong market. The IPA is heavier and goes with something bolder and spicy, but for classic dim sum I would say the pale ale would go better.
Signature: Pale Ale
Tasting notes: Citrus, Malty, Herbs
A passion project by the guys behind online beer shop BeerHound, we speak to James Dwyer about how they went from retailer to maker of craft brews…
How did you guys start brewing?
Well, as you know, we started off as an online store. In 2013, our dream became a reality with the purchase of brewing equipment. At the end of 2014, after a year of planning, Fat Rooster Brewing Co was born.
What was your biggest challenge?
In Hong Kong it's always real estate and we took a lot of care in taking precise measurements of our premises and the lifts and doorways to make sure our shipment could fit through. But when the equipment arrived it was larger than the specifications on the order – my heart just sank, but luckily, with a little manoeuvring we were able to make it work.
You are only available on tap, is that a help or hindrance?
Well, it's a different kind of operation – and investment – when you bottle. You either have to buy the equipment or just do it in a very labour intensive way and that's actually what a lot of the guys are doing now. But I was at Rockabilly and nearly everyone there was drinking Fat Rooster. I think it hasn't been a disadvantage at this point.
Signature: Red Ale
Tasting notes: Floral, Citrus, Hoppy, Malty
Husband and wife team Michele and Laszio Raphael were home brewers but, when Laszio got made redundant, they decided to take their passion to the
next level…
What were the challenges when you were setting up shop?
Well, there weren't a lot of places selling brewery supplies two years ago. Luckily I'm an oil engineer, so we bought a lot of our stuff in Yau Ma Tei and I wired the stuff myself. I saved a lot of set-up costs this way.
You guys are known for being unconventional, what are your special flavours?
We're really proud of our originality and for Beertopia we're releasing a new beer called the Sichuan Porter, made with Sichuan peppercorns and chilli. It's a good balance between smokiness and spiciness, it's really interesting.
What's your best selling line?
We have a spring seasonal series called the Four Beauties, each of them are made with different flowers such as jasmine and osmanthus.
Signature: Sichuan Porter
Tasting notes: Spicy, Caramel, Malty
Most breweries are inspired by its owners' experiences of craft beers from abroad, but Mak Ho-lun, Mak Po and Lo Tak-chi at Mak's were born and bred in Hong Kong. Just a few local lads who are determined to make a beer that belongs to Hong Kong.
Why did you guys start a craft brewery?
We noticed a lot of craft beers were produced by foreigners and they're making really good products, but we really wanted to make something for locals by locals. As much as the beer scene has taken off, a lot of Hongkongers aren't familiar with the subtle flavours of beer and we wanted to bring them something that's tailor-made for them.
What was the most difficult obstacle you faced?
We're fairly new on the scene. Mak's was established in February and we started producing our first beer in April. We started experimenting with recipes before then but it was very hard to achieve the flavour profile we wanted to come up with for the first beer.
What makes your beers unique?
Our pale ale uses dried longan, dates and goji berries. We also have an ale coming out soon with mint and honey in it. We're different because we always fine tune our recipes according to local tastes, ones that Hongkongers love.
Signature: Salt Farm
Key: Citrus, Malty
A passion project by two friends, Ging and Mike, these guys are set to make a splash at Beertopia this year.
What was your biggest challenge for this project?
Fundraising was the main thing. The brewery we had planned for was a lot larger than what we have now. It took us a long time to gather the funds and since I wanted to get out of bio tech – which was the industry I was in – I quit my job to devote time to this project.
So are you guys located in Kowloon Bay?
No! We wanted to but the traffic around there is horrendous. Our current spot in Tsuen Wan is a lot more convenient for deliveries. But we wanted a name to let people know it's Hong Kong brewed and I really like the Kowloon Bay area so it had the right feel.
For a brand that's just launching you have quite a large line of beers already…
We're quite small but we're pumping about 3,000 litres a month. We're actually going to be the only local brand to offer gluten free beer. It's ironic but I'm gluten intolerant, so we needed to make a beer for me. We have seven core beers and nine seasonal ones. Our first seasonal beer release is going to be a pumpkin ale.
Signature: IPA
Tasting notes: Flora, Citrus, Hoppy
Dan and Dave Gallie started Black Kite when they wanted a career change.
What sparked your passion in brewing?
I went to school at the University of Pennsylvania in Philadelphia and craft beer was a way of life there. I lived next to a pizza place and the walls were just lined with artisanal beer. It was always on the back of me and my brother's minds to do something ourselves, but we were straight out from school, so we worked a few years until we got the funding.
What was the most ridiculous thing you encountered while starting the business?
Well, there isn't exactly a license for breweries in Hong Kong, so it falls under the food factory license. So even though we didn't need it, we had to install a kitchen with a grease trap and extraction hood. A ventilation and a brewery doesn't make sense but we had to do it.
What kind of beer is Black Kite known for?
Our classic styles are made for easy drinking. There's been a trend in the States to make outrageously bitter or alcoholic beer, but the market is so new here we don't want to start this way. We are collaborating with Mrs Pound for a crossover and we're adding lemongrass and kaffir lime to the pale ale, and Thai spices to our IPA.
Signature: Pale Ale
Tasting notes: Citrus, Liquorice
Brewed in Belgium just for us thirsty Hongkongers, The Artist is the brainchild of two long lost Belgian cousins based in the Fragrant Harbour. The beers are brewed on a 14th century Belgian farm, using the purest of spring water and locally producerd barley – it doesn't get fresher than that! In true quirky, hipster fashion there's even an option to personalise your bottle with a selfie stamped on it!