Best 24-hour and late-night restaurants in Hong Kong
Here's where to find delicious grub around the clock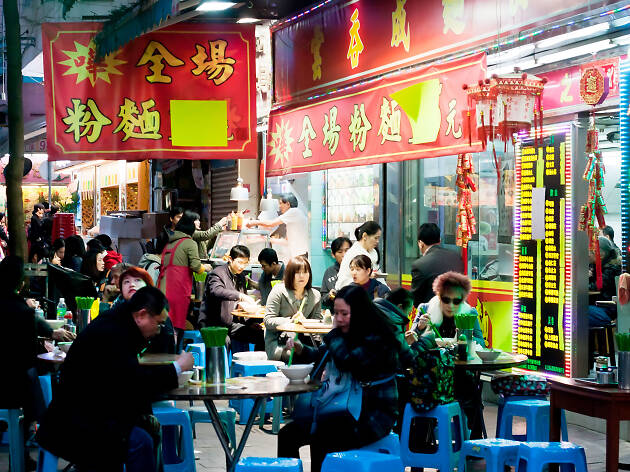 Whether you're stumbling around in search of a post-drinks feast after a drunken night at a Hong Kong bar, or just feeling peckish in the middle of the night, late-night hunger pangs are no laughing matter. Thankfully, our city is home to a host of restaurants that offer seriously delicious grub around the clock. From late-night eggs benedict in Soho at joints like The Flying Pan to early-morning noodles in Tsim Sha Tsui to 3am dim sum at Sun Hing Restaurant Hong Kong, you'll never go hungry again with these tasty options. Read on to discover the best 24-hour and late-night restaurants in Hong Kong.
RECOMMENDED: Prefer to stay out late drinking? Make a beeline for the best late night bars in Hong Kong.
Hong Kong's best late-night food and restaurants
If you've ever been on a drunken rampage in Central or Wan Chai, you're no stranger to The Flying Pan. Frittatas, pancakes, eggs Benedict – this place has more breakfast combos than you can shake your fork at. Opens 24 hours a day, seven days a week, this retro American diner is a definite go-to for tipsy patrons looking to sober up with the help of some good old greasy breakfast food with a milkshake on the side. Daily 24 hours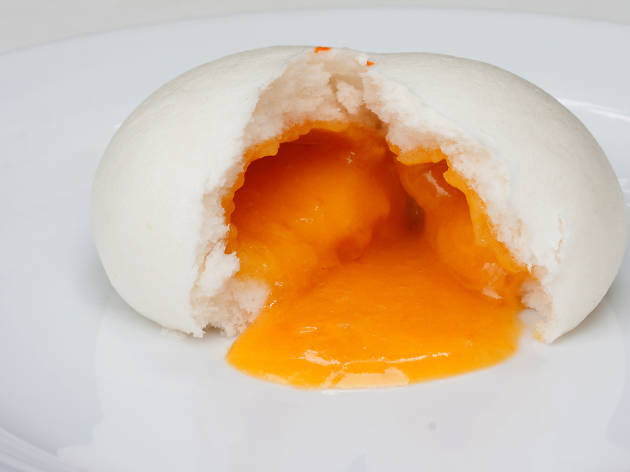 For stomach-filling dim sum that's not only delicious but also dirt cheap, Sun Hing is your answer. This humble little dim sum joint is made for night owls thanks to its 3am opening hours. Unlike most restaurants, customers don't get to just pick and choose off the menu. Instead, the dim sum here comes fresh out of the steamer; servers will go to each table asking if there are any takers once the food's ready. The leftovers are then stacked together on a side table, where customers can later go back to take what they want to eat. Once you've had a taste of Sun Hing's famous custard buns, you'll be going back for more. Daily 3am-4pm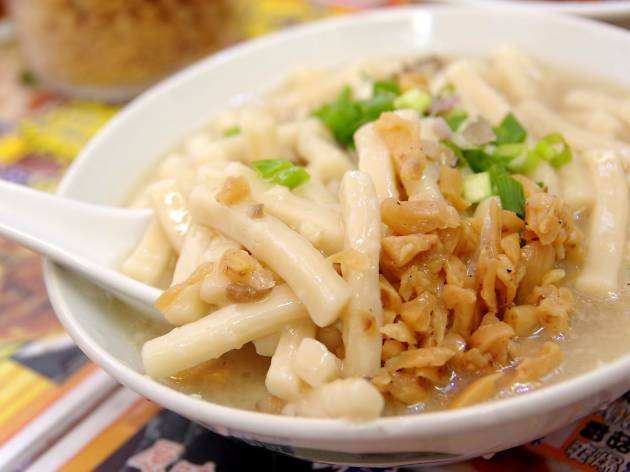 With seven different locations around Hong Kong, Block 18 Doggie's Noodles is well loved by locals. Open 24 hours, the eatery might have a lacklustre shopfront but that does no justice to the amazing food offered inside. The noodles here are the star of the show, served in a rich, flavourful broth made from pork bones and other various ingredients. The glutinous noodles are soft and bouncy in every bite. We highly recommend trying the faux shark fin soup made with shredded duck meat, too. Daily 24 hours
Tucked away in Kowloon City where some of the city's best Thai restaurants can be found, Mini Bangkok is an ever-crowded Thai restaurant that offers a large menu of mouthwatering dishes such as spicy tom yum soup, creamy seafood green curry and a wide variety satay skewers. Once you've fueled up, round off your meal with a gorgeous mango sticky rice pudding, and holy coconuts, your rumbles are healed. Daily 11.30am-1.30am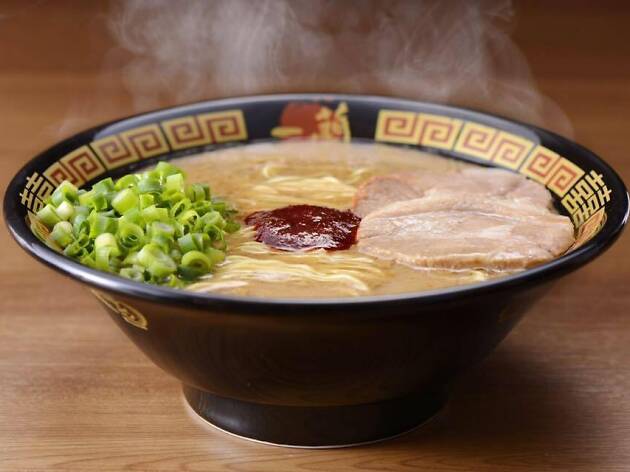 Nothing can sober you up quite like a hot bowl of noodles. Come Friday night (or early Saturday morning), you'll find waves of restless partygoers lining up outside Ichiran waiting for their fix of slurpy ramen goodness. In case you've never been, Ichiran is a Japanese ramen restaurant specialising in tonkotsu ramen. With individual booths for each customer, you can customise and choose everything from noodle texture to additional sides or toppings. Fair warning though, if you do decide to indulge in a midnight feast at Ichiran, be prepared to queue. Daily 24 hours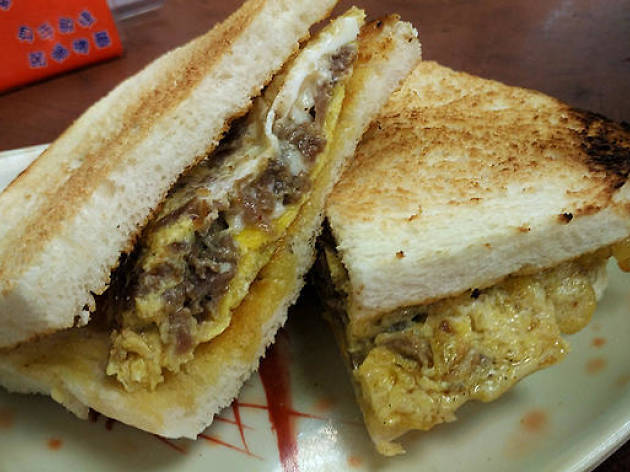 There's nowhere else in Hong Kong that does better egg corned beef sandwiches than Sun Hang Yuen. For only $20, you can devour a deliciously and perfectly salted corned beef sandwich, and another dollar for it to be toasted for that extra crunchiness. This 24-hour cha chaan teng also does a mean cup of Hong Kong milk tea, with sugar-free options and various ratios of milk catering to different tastes.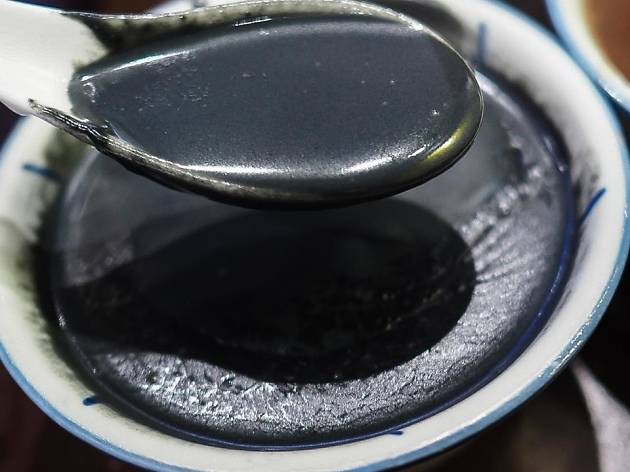 For the perfect winter warmer, nothing beats a helping of some steaming hot, black sesame soup. This thick, charcoal-coloured wonder is a great antidote to winter chills and is the perfect sweet ending to any meal. Kai Kai Dessert, which has been on the Michelin-recommended street food list for four consecutive years, is lauded for its take on sweet soups and it gives you the option to add glutinous rice balls for extra texture. Other desserts also worth ordering here include the gingery sweet potato soup and walnut soup.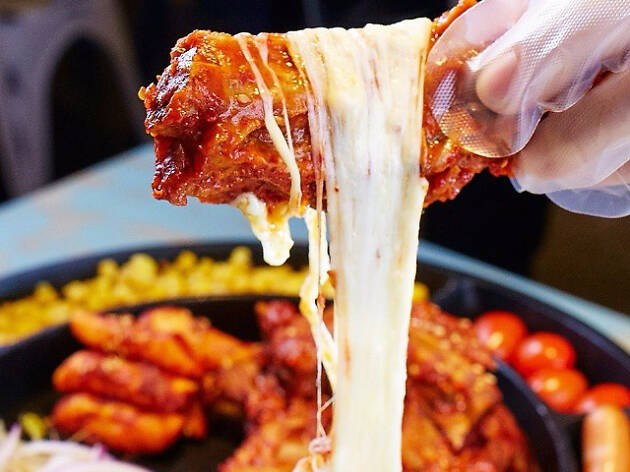 All hail the Korean king of fried chicken! There are fewer things in the world more satisfying than tucking into fried chicken – especially in the middle of the night. Fill your table at Dalin Pocha with generous portions of fried chicken, cheesy grilled ribs, bibimbap and kimchi pancakes. If you're feeling particularly ravenous, look no further than the restaurant's signature dish: the 88cm-tall jumbo yakitori, a giant skewer of various meats and veggies that hangs from the ceiling at your table. Dalin Pocha also has plenty of post-chicken tipples on offer, including beer, rice wine and soju that comes in a literal fruit bowl. Daily 12pm-3am
Instagram: @konimiumiu
新天地美食 (Sun Tin Dei Mei Sik)
Any drunken adventure down in Tsim Sha Tsui cannot end without a visit to this place. Serving up a range of homely Chinese soups – a common cure for any hangover – Sun Tin Dei is a must-visit for any local foodies in the know. Apart from their signature chicken feet soup, hog maw soup with pepper and tomato potato soup, the restaurant also boasts a simple menu of hearty stir-fry dishes and our favourite, pan-fried dumplings. If you're looking to sober up at the end of a long night or simply want to warm during winter, this is the place to be.
What if we told you there's a place where you can fully satisfy your sweet tooth, completely guilt-free? The team at 2DP are experts at whipping up gorgeous dishes that not only taste as good as they look, but are also healthy, too. That includes everything from traditional Chinese desserts to delicious, low-cal sweet treats. Apart from desserts, 2DP has a range of savoury vegetarian dishes that are just as popular. Crowd favourites include the barley risotto served in a hollowed-out pumpkin, orzo with creamy spinach and the cheese fondue with charcoal bread blocks. Sun-Thu 12pm-12am, Fri-Sat 12pm-12.30am
For more late-night options