The best burger joints in Hong Kong
The artisanal burger trend is back! Lisa Cam heads out across Hong Kong in search of the best burger bars that are offering up divine patties
We used to have a thriving artisanal burger scene in Hong Kong. There were plenty of spots across town that focused on the patty-in-a-bap and gave us a far tastier alternative to at least one fast food chain we don't care to mention here. But, in the past few years, we've lost a good handful of our favourites. Joints like Fat Burger have totally withdrawn from Hong Kong and the once-legendary Gourmet Burger Union and Shake-em Buns have been reduced from a whole chain to just one representative store. But, thankfully, the trend has just returned. Artisanal burgers are on the rise once again. Popping up like daisies in the spring, these new venues are focusing on quality ingredients and unique combinations. We've relished the chance to go and check them out, so here are our findings...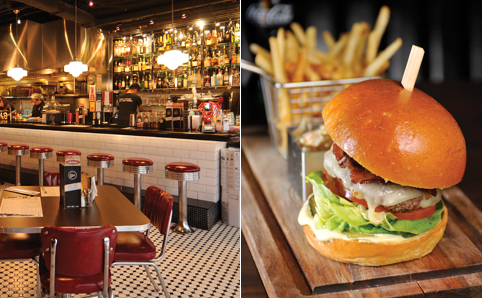 The Diner
Okay, so this place isn't that new. It's been open for almost a year, in fact. But we can't leave this all-American diner out when we're talking about burgers. It even has a Cadillac seat imported straight from the US! There are more than 15 types of buns to choose from. Gasp at the meatiness of the Skyscraper with its impressive four six-ounce patties, bacon, onion and all the trimmings. You might have to see a cardiologist straight after a mac here. But, boy, it's worth the risk. 4-8 Arbuthnot Rd, Central, 2562 3181; thediner.com.hk.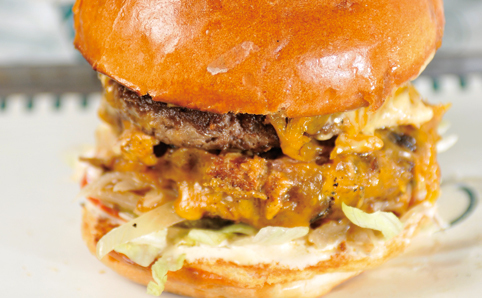 Double D Burger
Standing for 'dirty and decadent' (minds out of the gutter, people!), this new outlet by Maximal Concepts caused quite a stir a few days ago with its provocative billboard and its free burger giveaway that resulted in a queue that almost wrapped around Lan Kwai Fong. Its official opening is at the end of March, so we can't wait to sink our teeth into the namesake burger with two juicy patties of 100 percent natural grass-fed Australian beef, hand-ground in-house daily and basted in the homemade secret Double D Burger sauce. The twice-cooked buttermilk-fried organic chicken burger also looks fab, sandwiched together with smoked bacon, Monterey Jack cheese and garnished in garlic and jalapeño aioli. We might just eat the sign if we have to wait any longer. Shop E, G/F, Duke Wellington House, 22 Wellington St, Central, 2881 1888; doubledburger.com.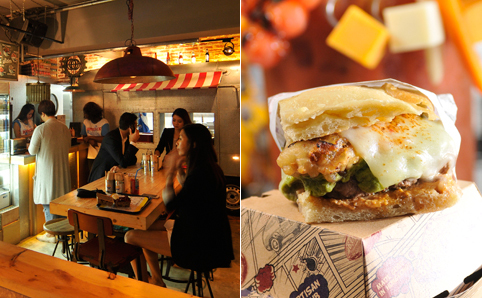 Boomshack
Austin Fry – of Roundhouse and Mavericks fame – has embarked on this new venture to bring the American food truck culture to Hong Kong. Proving there's more to US cuisine than just hamburgers and fries, the chef is offering up alternative American dishes that are hard to come by in our city, like chicken waffles and fish tacos. But, of course, there are burgers – in fact, five innovative types – on the menu. There's the King Kong, featuring a slab of Spam, and the Holy Kimchi, which is made with corned beef, kimchi and cheddar cheese. You won't run out of innovation here. Shop B, G/F, Wo On Bldg, 8-12 Wo On Ln, Central, 2660 5977; boomshack.asia.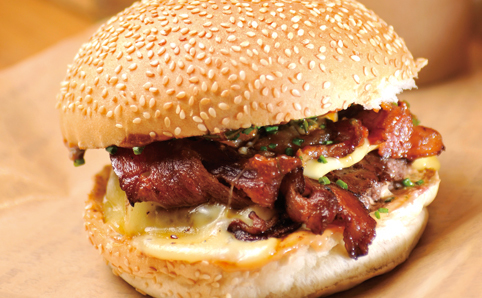 Big Fernand
French burgers? Sounds like a sweet deal. Big Fernand at the IFC brands itself as a 'burger workshop' rather than a restaurant and, apart from its five signatures, diners can build their own creations from a selection of meat, including beef, chicken, lamb and veal, before topping it all off with cheeses like raclette de Savoie, tomme de Savoie and fourme d'Ambert, as well as some homemade sauces. Mmm. They had us us at raclette. Shop 2017, 2/F, IFC mall, 8 Finance St, Central, 6650 0580; bigfernand.hk.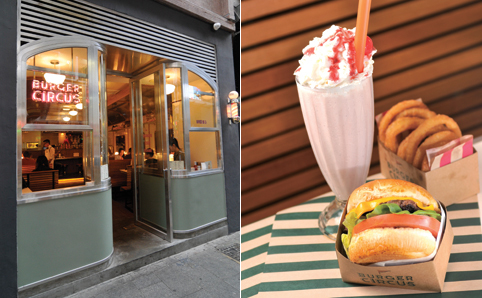 Burger Circus
Black Sheep Restaurants is renowned for iconic eateries around town like Carbone, Ho Lee Fook and La Vache. So the group's new Burger Circus joint already comes with pedigree. Tucked away just under the Soho escalators on Hollywood Road, this little joint offers up a gem of a patty. Burgers like The American Acrobat and The Lion Tamer go great with the secret Circus sauce. They're bite-sized delights that just need a spiked milkshake and some crispy onion rings alongside. 22 Hollywood Rd, Central, 2878 7787; burgercircus.com.hk.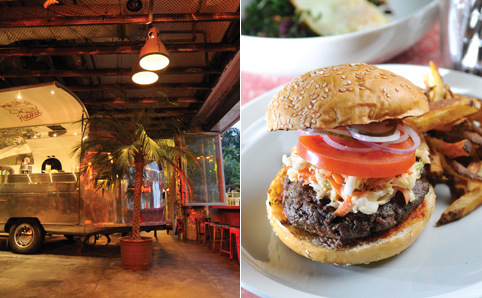 Hotshot
Get set for the trendiest burgers in town. A venture by the boys behind ultra-cool French restaurant Bibo, Hotshot is a surf-themed bar-restaurant that bursts at the seams with high-value artworks by street artists such as Kaws and Invader. Mesmerising art aside, the burgers also make for perfect pictures. They're all that you want from a beachside joint – massive juicy patties, piles of cheese, slaw and pickles, plus fresh fluffy fries. Need we say more? The Pulse, 28 Beach Rd, Repulse Bay, 2515 1661; fb.com/hkhotshot.

Old favourites:
The Butchers Club Burgers
Having received a Michelin recommendation for its street food last year, there's never been more hype about a patty than at Butchers Club Burger. With three branches in Hong Kong, more across Asia, and even more in the pipeline for our city, it's all go, go, go for BCB. And it deserves its success because the creations here are that good. The patties are gorgeously thick and the buns are perfectly tailored to soak up all those rich juices without falling apart. Don't forget to scan the 'secret' specials board when you're here, via a QR code, to see what new surprises there are on the menu. Various locations inc Shop A, G/F, Sunwise Bldg, 112-114 Wellington St, Central,2347 0777; thebutchers.club.
Beef & Liberty
Quality burgers in Hong Kong may come in at more than $100 if you're going the whole hog, but Beef & Liberty provides not only outstanding creations but also a comfortable environment in which to savour your patties. Sink your teeth into the lamb burger, the chilli burger or the fab bacon cheeseburger and wash it down with down with one of the house cocktails or craft beers. 2/F, 23 Wing Fung St, Wan Chai, 2811 3009; beef-liberty.com.