Heads up! We're working hard to be accurate – but these are unusual times, so please always check before heading out.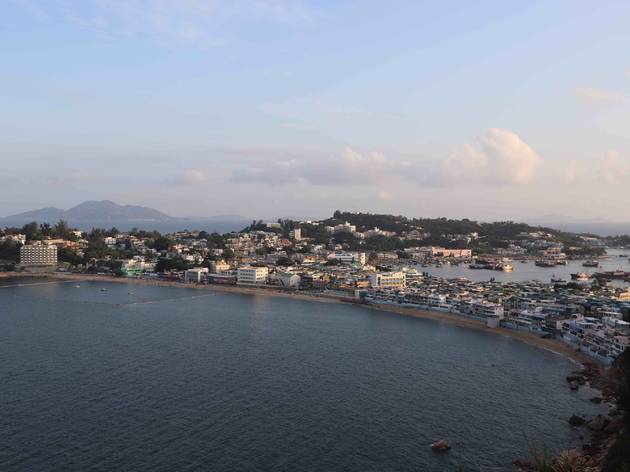 Cheung Chau: Ultimate Guide
There's more to this outlying island than just its famous bun festival
There are more than 250 islands within Hong Kong's territory. But thanks to its famous bun festival – where residents scramble up tall totems for lucky buns – Cheung Chau is one of the most well-known of our outlying islands. The isle offers scenic cycling routes, is a foodie paradise and is home to an increasing number of hipster cafés and hidden shops as well. So hop on a ferry armed with this guide and discover all the best things to do and eat in Cheung Chau.
RECOMMENDED: Fancy exploring a lesser-known, yet still charming island? Check out our ultimate guide to Peng Chau.
Best things to do and eat in Cheung Chau
Doubling up as a Bed and Breakfast and an art jamming workshop, this is a novel place where you can make your own accessories. If you're with your partner, try painting a wooden heart-shaped lock to add to the popular Love Lock Wall – the island's version of the Paris Love Lock Bridge – just across the street. The lady in charge is also the in-house henna artist, who can design fun patterns and body art that lasts for up to 10 days.
This marks the spot where one of the most notorious Chinese pirates, Cheung Po-tsai, who once commanded a fleet of 600 ships and was the inspiration behind Chow Yun-fat's character Sao Feng in Pirates of the Caribbean, used to hide his booty. While there's no cursed gold or fabulous treasures left, alas, it's fun to travel through the dark and narrow underground passages. Just remember to bring a torch and maybe a parrot.
Located not too far from the main streets of Cheung Chau and tucked right next to Tung Wan Beach is Warwick Hotel. Guests can explore the island by day and unwind in the ocean-inspired room by night. Most of the accommodations have a private balcony with a spectacular panorama, a perfect way to enjoy breakfast in the morning.
What's more, guests can access the rooftop that reveals a breathtaking view of the island. Relax as you watch the sun dip in the horizon and enjoy prime views of the night sky.
Time Out Hong Kong in partnership with Warwick Hotel Cheung Chau
Why fly to Beijing when there's a 'great wall' right here on Cheung Chau? Okay, granted, this attraction has nothing on the real deal but its granite railings and its view overlooking the South China Sea make for a gorgeous coastal walk all the same. Part of the Cheung Chau Family Trail, you can also view a number of oddly shaped rocks like the Human Head Rock while on the same path.
View this post on Instagram
This local Cheung Chau hangout is a chilled out bing sutt with a laid-back, classy, home-style feel. They have a great selection of shaved ice options - portions are beautifully presented, piled high with chewy toppings and topped with a round ball of ice cream. Not to mention the generous drizzling of smooth condensed milk. Choose from six delicious options, the signature options being the Baileys shaved ice with red beans and taro balls and the Thai milk tea shaved ice with red beans and taro balls. All their flavour offerings are enticing, and the presentation delightfully colourful. From $55
A thoughtful store selling carefully sourced knickknacks from local and international artists, this hipster spot houses a diverse range of quirky and delightful stationery including patterned adhesive tape and animal-shaped wooden carved pencils, Pinterest-worthy home décor and cute accessories you're unlikely to find anywhere else. It's easy to get lost and kill time among all the products.
There's a giant 11-acre outdoor adventure playground on the island where you can try everything from a treetop canopy walk to archery battles in the jungle. And yeah, there's a goat pen as well. Sai Yuen Farm is also a fantastic glamping site with four themes and camping experiences to choose from: Native American Teepee, African Safari Tent, Star Gazing Geodesic Dome and The Mongolian Ger. All come with folding beds and sleeping bags, lighting and mosquito nets.
Cheung Chau is a longtime street-food paradise, but these days, it's making way for hip cafes. Valor Cheung Chau is a hipster coffee shop offering unique – and incredibly Instagrammable – java creations including coconut ice-dripped coffee served in a whole coconut. With a wall of coffee beans contained in glass filters as well as beautiful latte art, there's plenty of great brews and photo-ops at this outer island cafe.
The Bun Festival is an iconic event of Cheung Chau, so if you are shopping for a Cheung Chau souvenir, the bun keychain at Little Island Little Taste might be just the thing to take home. Little Island also offers a selection of 925 sterling silver accessories. If you prefer something more unique and personalised, Little Island also takes custom orders for various custom made accessories.
Take the gentle 20-minute hike from the pier to the highest point of Cheung Chau around dusk, when the turquoise waters are muttered with hues of gold from the subdued rays of the setting sun. This is a great place to stop for views as part of a romantic, twilight stroll.
What we love most about this noodle shop is the rich broth in each bowl. You can choose the umami clam seafood broth or the ultra-dense tomato broth, as well as a range of toppings which you can mix and match to your liking. We recommend the dried shrimp, cuttlefish roll, and chicken wings paired with udon and served in tomato broth; it's a tasty combination that we never get tired of.
This cheekily named shop will put a smile on Cantonese speakers' faces. Si Dan is a near homophone for 'whatever', but Si Dan's food is anything but average. Specialising in eggs, Si Dan cooks up egg dishes from different countries around the globe. Try the signature onsen egg mashed potatoes, a simple dish with a smooth mouthfeel and the rich aroma of eggs complemented by black truffle.
Island Workbench is a Cheung Chau brand founded by two designers who grew up on the island. Many of the wears sold in Island Workbench are designed by these designers and made by various artisans living on Cheung Chau. Besides their own products, Island Workbench also stocks a selection of products made by other artists across Hong Kong, Taiwan, and Japan. They also have a small cafe by Tung Wan Beach which serves breakfast items such as omelettes, croissants, and desserts.
You can't really beat having a drink with great music playing sitting by Cheung Chau's seaside. Pink Pig offers exactly that, with a variety of spirits, craft beer, and cocktails to sip on, while snacking on their small bites. We recommend the fried squid tentacle with squid ink aioli, which comes in a small portion, but is deliciously savoury.
Cheung Chau Corner has an MTR-inspired decor that makes it a popular Instagram spot for visitors to the island. The real attraction here are the yummy yoghurts that you can drink to your heart's content. We recommend the peachy yoghurt for a refreshingly fruity drink on a hot summer day. The menu changes with the seasons, depending on what fresh fruits are available for use in the yoghurts. Our advice is to go early, as Cheung Chau Corner may close early if the yoghurt is sold out before the official opening hours.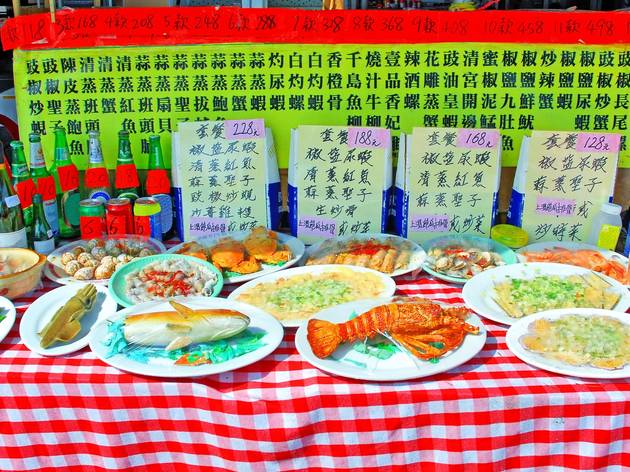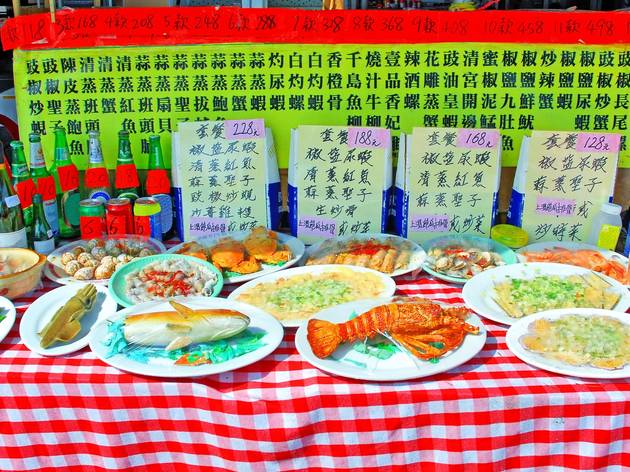 Photograph: Shutterstock
The waterfront around Cheung Chau's main ferry terminal is home to an approximately 1km-long row of waterfront establishments, many of which are seafood restaurants offering delicious seaside eats at great prices compared to elsewhere in Hong Kong. From clams to mussels, and shrimp to catch of the day, we recommend trying it all here, accompanied by a cold beer while perched on one of the restaurant's plastic chairs.