Your ultimate guide to Hong Kong cafes and coffee shops
From hipster spots to hidden gems, this guide will inspire you to visit Hong Kong's ever-growing list of cafes and coffee shops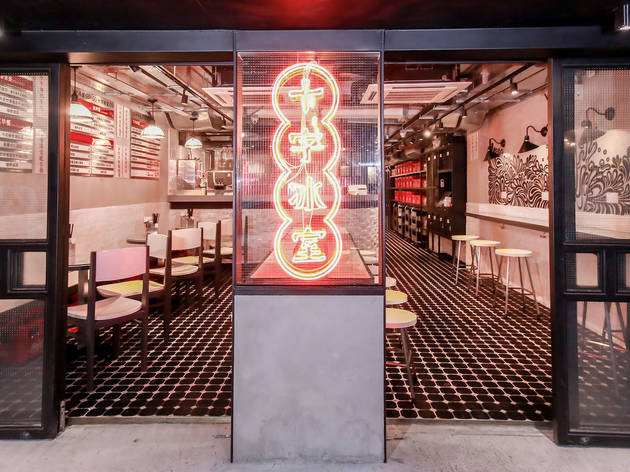 This guide will lead you to all the best cafes and coffee shops in Hong Kong. Whether you are looking for places to get brunch, Instagrammable cafes, quiet Hong Kong cafés with free wifi, or cool coffee shops that serve the best coffee in town, here's a roundup of the best spots you should check out in Hong Kong.
Hong Kong's best cafes and coffee shops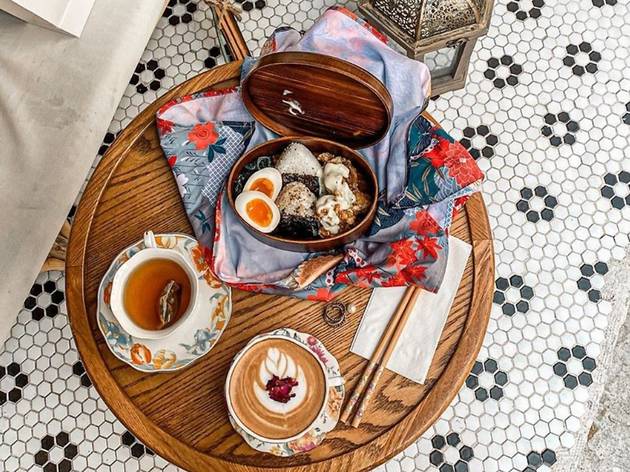 Best new cafes and coffee shops to visit in Hong Kong
We're back with another roundup of the city's newest cafes and coffee shops, and there's something for everyone this month! Whether you're in dire need of some seriously good coffee, want to get some shopping done while you sip, or just hoping for somewhere to relax and escape the daily grind, we've got them all. RECOMMENDED: Satisfy your Kpop, Kdrama, Kbeauty and overall Korea obsession by paying a visit to these Korean themed cafes in Hong Kong.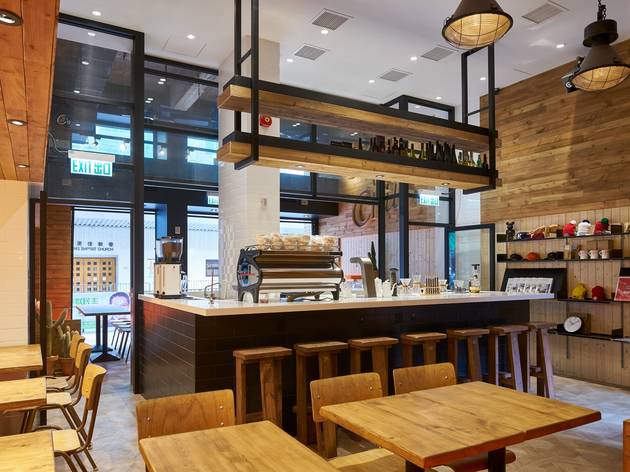 The best cafes in Hong Kong serving delicious food
We're lucky to have a plethora of great cafes in our city that brew up some of the finest cups of joe in Asia if not the world. More than just providing great coffee though, our idea of the perfect cafe is one that does stellar food to go along with the drinks. These are some of the cafes dotted around the city that do just that, and for those that would rather enjoy your coffee and food in the comfort of your own home, for the time being, it will come as good news that more than a few offer takeaway and even delivery. RECOMMENDED: If you're looking to get some love on the 'gram, check out our list of the most Instagrammable cafes in Hong Kong that are great for relaxing.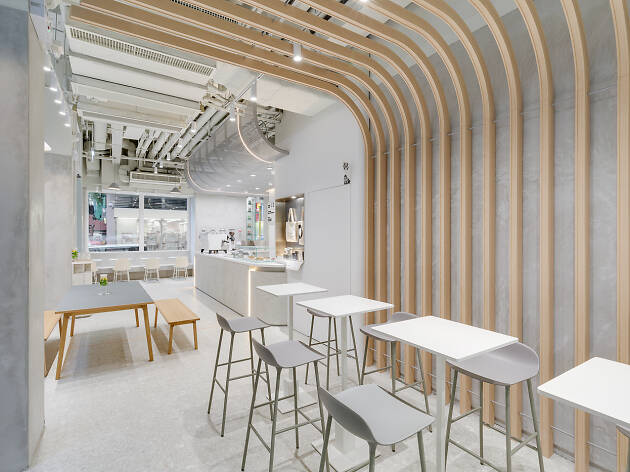 46 best cafes and coffee shops in Hong Kong
Forget the stereotypes, Hong Kong coffee culture is about more than just showing up to work 15 minutes late with a Starbucks' latte. Despite the popularity of traditional Hongkie drinks like lai cha and yin yang, our city is home to an increasing number of coffee connoisseurs. More and more speciality cafés are popping up around town to cater to different taste buds, and not just to cater to demand for espresso and a flat white but nitro coffee and unusual brews, too.This guide will lead you to all the best coffee shops in Hong Kong, all the way from Sheung Wan to hidden gems in Cheung Chau.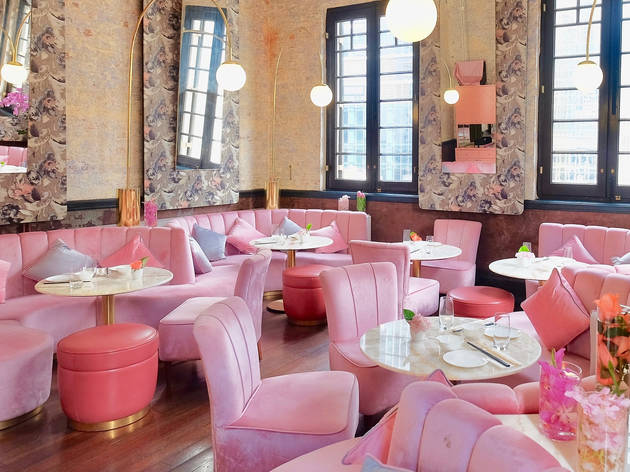 Instagrammable pink cafes and restaurants in Hong Kong
While it may not be the best idea to venture around the city right now, it never hurts to plan ahead, right? From the likes of Sketch Gallery and Peggy Porschen in London, India's Feast India Company, and Stylenanda Pink Pool Cafe in South Korea, pink-themed restaurants and cafes are always a hit on good old Instagram. Luckily, Hong Kong has its own eclectic mix of Instagrammable cafes, and all dressed pretty in pink too! Here are some of the best ones for the next time you're looking to brighten up your social media feed or indulge your inner girliness.  RECOMMENDED: For more beautiful shots, check out these beautiful country parks and epic waterfalls. Or be amazed by stunning places you won't believe exists in Hong Kong.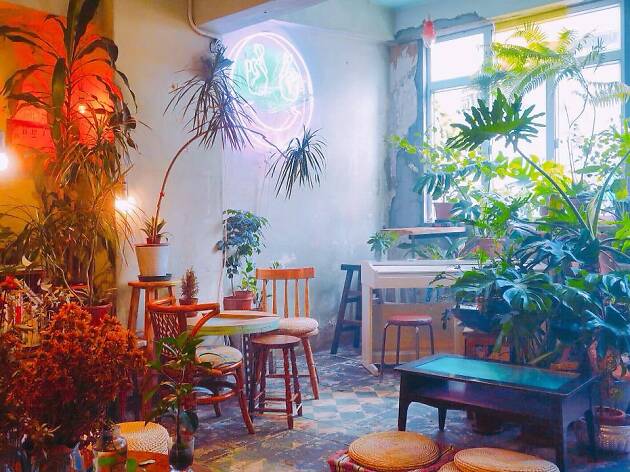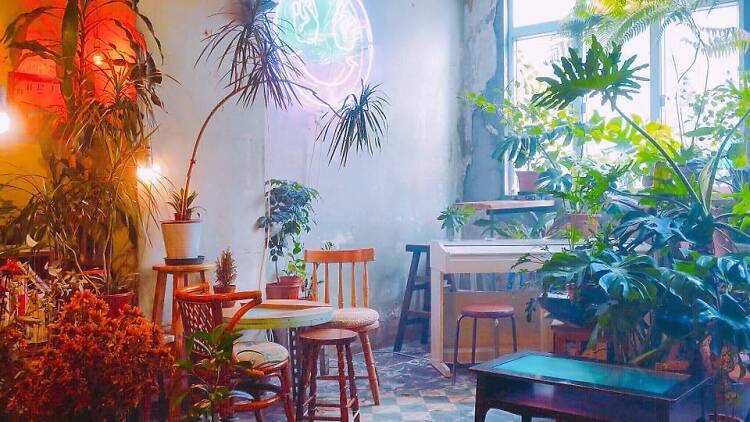 10 best hidden upstairs cafes and coffee shops in Hong Kong
Hong Kong is an expensive city to live in, which means that for cafés and coffee shops in the city, they often have to take things to a new height – literally. Tucked away above ground and away from crowded streets, upstairs cafes provide sanctuary for city dwellers looking to escape the hustle and bustle. From trendy spots that offer seriously Instagrammable dishes and décor to joints like that double up as vintage stores, here are some of the best upstairs cafes our city has to offer.  RECOMMENDED: Prefer a home-cooked meal instead? Then check out these online grocery services in Hong Kong.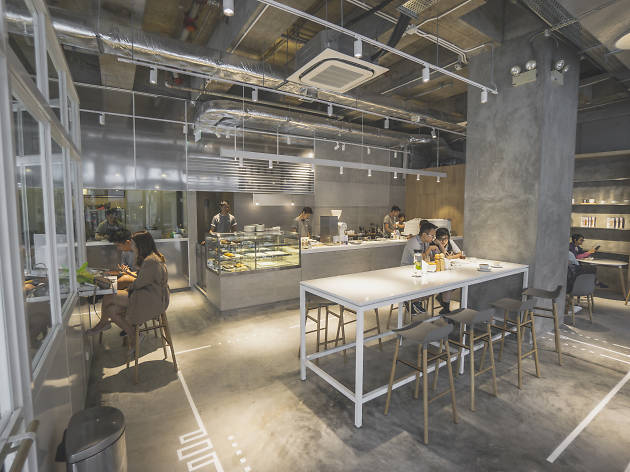 Quiet Hong Kong cafés with free wifi to do work in
Got a case of cabin fever? In need of finding a quiet spot to fit in some quality time to work? Yes, there's always Starbucks or Pacific Coffee Company, but there are actually plenty of other great cafés that can provide a haven for you and your trusty laptop, complete with free internet and excellent coffee brews. Here are some of our favourite coffee shops that are ideal for you to up your productivity game. RECOMMENDED: If you're on the lookout to set up a more permanent workstation or a space to call your own, take a look at our recommendation on the best co-working spaces in Hong Kong.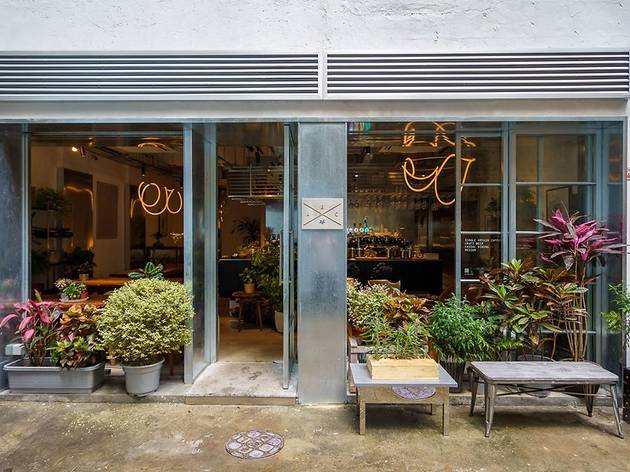 7 of the most Instagrammable cafes for relaxing in Hong Kong
Hong Kong is one of the most photogenic cities on the planet, whether it be in terms of its glistening skyline, its charming neighbourhoods, or even its beautiful nature spots. Considering the rich coffee culture that exists in our city, it should really come as no surprise that Hong Kong is replete with coffee shops that don't just serve up top-quality brews, but are also great places to snap away should you want some love on the 'gram. Ours is a city of constant hustle and bustle, and some of these photogenic cafes are especially good for escaping life for a short while and recharging and energizing. From sleek hipster hangouts to quirky cafes bursting with character, here are some of the most Instagrammable cafes for relaxing in Hong Kong. RECOMMENDED: Want to take your Instagram or photography game to the next level? Check out our list of the best photo and 'gram spots in Hong Kong.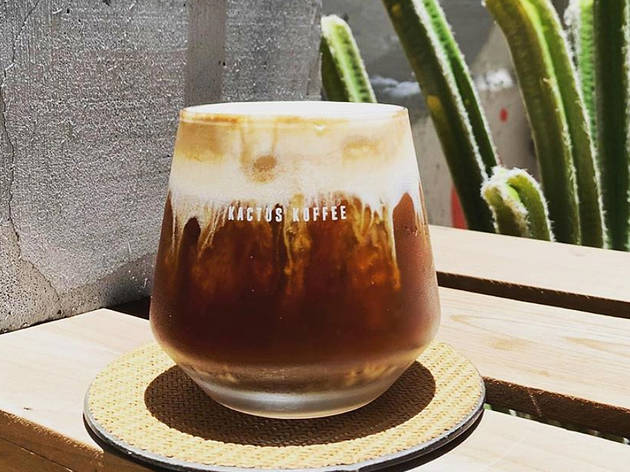 Best Korean cafes in Hong Kong
For many of us, the past few months may have been unbearable without K-dramas Crash Landing on You, or Running Man, and other Korean shows keeping us sane and entertained. Now, with the pandemic slowly simmering down, but cross-country travelling still very much restricted, the best way to cure cravings for Korean food is to go out and eat some fried chicken and beer, right? Well, how about taking time off to chill at a Korean cafe instead? To tempt you, we've rounded up some of Hong Kong's best coffee shops with Korean food, drinks, and desserts that could very well be in the middle of Gangnam, Seoul. By Elaine Wong RECOMMENDED: In the mood for cafe-hopping this weekend, check out these new cafes, along with some of the best coffee shops, and desserts that Hong Kong has to offer.
Show more
All about the coffee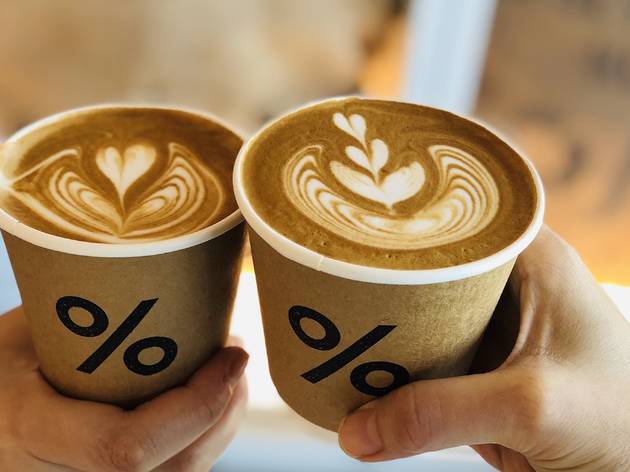 11 cafés that serve locally roasted coffee in Hong Kong
It's no wonder this city never sleeps given the abundance of excellent coffee shops and cafés on seemingly every corner of Hong Kong. With all this choice, the real connoisseurs know that no matter how good the latte art is, it's the freshness of the roast that counts. We thought you might like to know which brew houses care about the flavour and freshness enough to source locally roasted beans, or for full flavour profile control, roast their own. That's why we've put a list together of where to find the best locally roasted beans for a proper cup of joe. By Sam Sinha and Sam Evans RECOMMENDED: If you want food at good prices with your beverage, you might want to consider our list of the best afternoon tea menus in Hong Kong.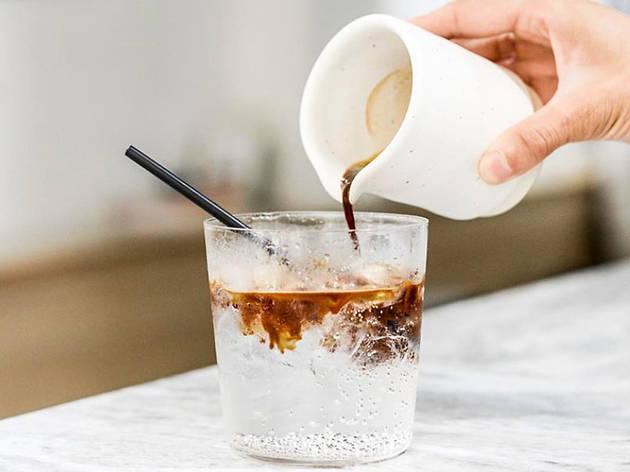 Where to get the best espresso tonics in Hong Kong
It turns out that tonic doesn't only go with gin. You can have it in your coffee for that extra effervescent kick too. Plus, with summer fading away, a refreshing espresso tonic can help combat those sudden heat waves and stuffy days back in the office. While the combo of bubbles and coffee might not sound as striking as, say, the avolatte, a good espresso tonic is more than just putting two and two together. It is about balance and finding the right match for each type of bean and the corresponding tonic. A dark espresso added to tonic will also create that utterly satisfying and Insta-worthy layering effect, making coffee breaks even better. So, without further ado, let's dive into ten hotspots in Hong Kong where you can find the best E&Ts. By Elaine Wong RECOMMENDED: Still prefer an alcoholic edge to your coffee? Try the signature martinis at Doubleshot by Cupping Room, or Winstons Coffee. Also, check out this list of cafes that transform into bars for the best of both worlds.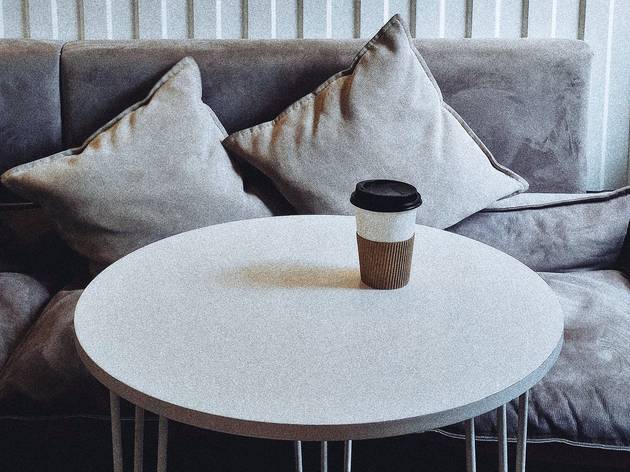 Best coffee delivery in Hong Kong
Coffee holds a lot of importance to a lot of us. Whether as the perfect kick start to wake us up ahead of that morning zoom meeting with the team, or as a mid-afternoon pick me up when the lunch time carbs start catching up with us, this caffeinated beverage is a lifesaver! We are lucky to live in a city with so many great cafes serving the best-quality brews for our enjoyment and indulgence. Just because we're staying in more as of late, this doesn't mean that we can't enjoy our favourite cup of joe, because now many of our favourite coffee shops are delivering right to our doors! RECOMMENDED: If you're compiling your list of must-hit coffee spots, check out these wonderful hidden cafes.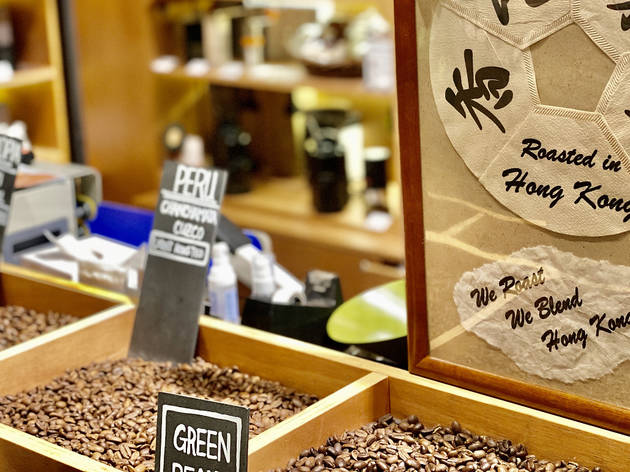 Where to buy freshly roasted coffee beans online in Hong Kong
Brewing your own cup of coffee can be a therapeutic experience, but a good cup of coffee does not come easily. Fresh beans, a proper brewing kit, and of course, a pair of skilful hands are all essential to the art of serving an aromatic experience in a cup. So, to help you become your very own barista at home, here are five online shops where you can take your pick from a wide selection of coffee beans around the world, all roasted locally in Hong Kong. RECOMMENDED: Want to up your coffee game? Here are five ways you can do exactly that. Or, if you're feeling lazy, just get your favourite coffee delivered to your home!
Cafes and coffee shops by district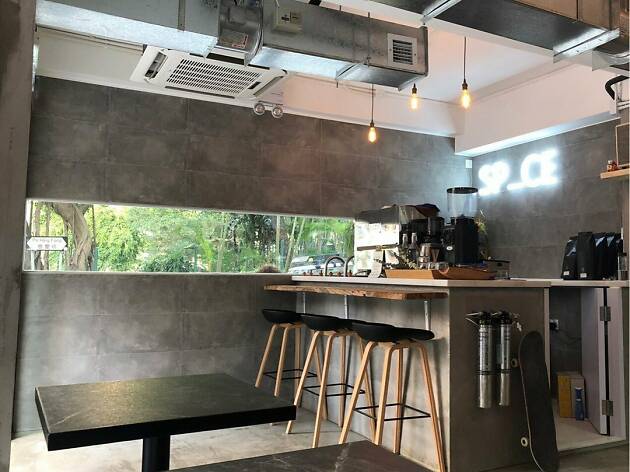 Best cafés and coffee shops in Sheung Wan
Sheung Wan is well known for being HK Island's coffee hub thanks to its ever-increasing community of great cafés. Whether you're looking for cold brews or Melbourne-style javas, this part of town has got 'em all. Follow this guide to discover all the best coffee shops in Sheung Wan and our recommendations on the best brews to order. RECOMMENDED: Looking for great cafés in Kowloon? What about Instagram-worthy coffee?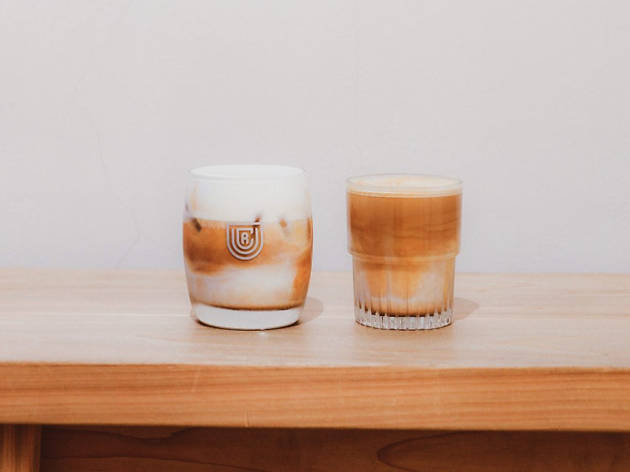 Best cafés and coffeeshops in Kowloon
Who says all the best coffee can only be found in Sheung Wan and Kennedy Town? As Hong Kong's coffee culture grows bigger than ever, we've witnessed more and more cafés joining the ranks of the best coffee shops in the city. But more importantly, more quality brews are making their way to the other side of the harbour. From hipster-baiting – but no less excellent – cafés like Kubrick Bookshop Café and Toolss to antique shops doubling up as coffee joints like Café Golden and Parc Antique & Lifestyle, not to mention hand-drip coffee specialists, there's literally coffee catered for all preferences found in Kowloon. Here are just some of our favourites. RECOMMENDED: Stomach rumbling? Eat your way through town with our roundup of the best cheap eats found in Kowloon.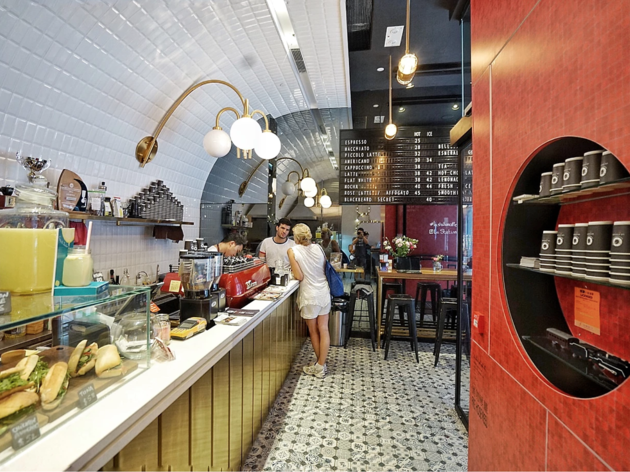 Best cafés and coffeeshops in Wan Chai district
Wan Chai and Causeway Bay might be home to some seriously great bars, but the neighbourhood is following the footsteps of Sheung Wan to become another excellent coffee central on Hong Kong island. From Aussie-inspired coffee spots like Mansons Lot to Japanese-style java like Omotesando Koffee and Favilla Café, Wan Chai and Causeway Bay has got 'em all. RECOMMENDED: Books are also the perfect companion for your coffee. Make a visit to one of Hong Kong's best bookstores to discover your next novel.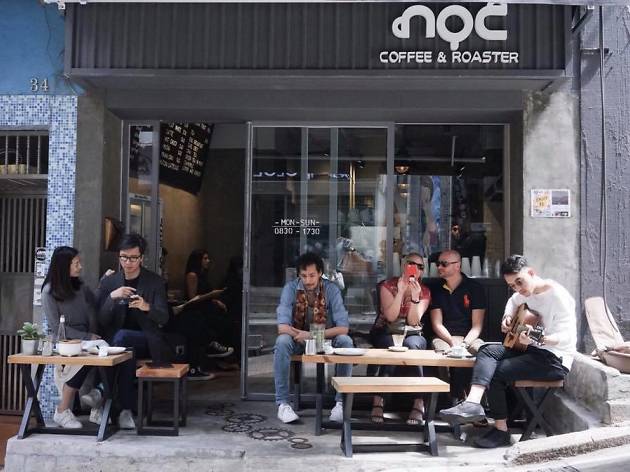 Best cafés and coffeeshops in Central and Sai Wan
Whether you're in need of an escape from your high-powered job or simply looking for a place to chill, a humble café provides a perfect sanctuary for those in need of a caffeine boost. Neighbourhoods like Kennedy Town and Sai Ying Pun have been welcoming great coffeeshops into their midst, from artisanal and minimalist to pour-over coffee offerings, start here to discover the best cafés in Central and Sai Wan.
Best cafés and coffeeshops in Sai Ying Pun
Move over Sheung Wan. The neighbouring district of Sai Ying Pun is slowly climbing its way to the top as the next big coffee hub on Hong Kong island. Known for its many steep slopes and its New York-like grid design, this Western district is also home to an increasing number of boutique cafés and coffee shops. Whether you're looking for popular chain cafés like NOC Coffee Co and Winstons Coffee or indie venues like Coffee by Zion and Jomo Coffee and Cakes, Sai Ying Pun has got it all. Here's the best of the bunch. RECOMMENDED: Prefer to do away with caffeine and go straight for the alcohol? These Hong Kong bars should do the trick.