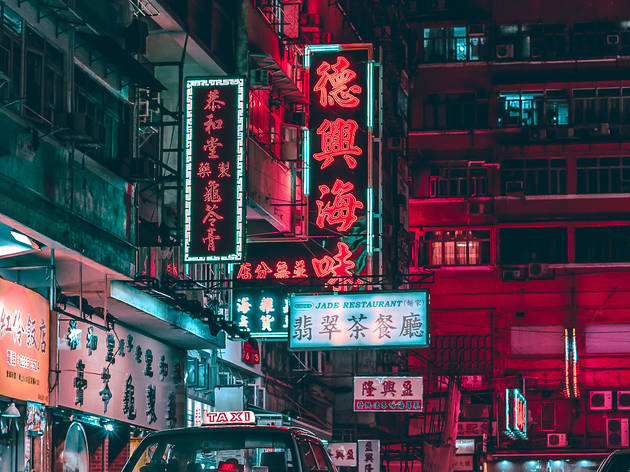 Hong Kong's best spots for neon signs
See them before they disappear forever
Hong Kong's neon signs are as iconic as its skyline. They've inspired the look of our city in films as diverse as Blade Runner and Chungking Express. M+, Hong Kong's museum of visual culture, even has a microsite devoted to the luminous beauties. Sadly, many of them are disappearing now, often being replaced by cheaper LED signs. If you wish to see these remaining glowing icons, here are some of the best places to go. Take a picture and get some likes while you're at it.
RECOMMENDED: Neon signs aren't the only iconic facet of Hong Kong culture in danger of dying out. Read up on our city's oldest restaurants and dying trades.


Hong Kong's best spots for neon signs
Victory Mahjong, Koon Nam Wah Bridal
View this post on Instagram
Big hanging neon signs are hard to find, making this one a true, rare beauty. Located on the corner of Kansu Street and Temple Street, Victory Mahjong has a neon-weaved facade that you simply can't miss. Turn the corner and you'll find yourself standing beneath Koon Nam Wah Bridal's huge neon sign. For the perfect shot, get down to a lower angle and point your camera upwards as you stand a few steps in front of the huge sign. Boom, money shot right there.
View this post on Instagram
At the heart of Hong Kong's bustling city centre sits SpaceX HK, a hidden shisha and cocktail lounge. The playful, modern neon signs serve as the perfect backdrop for your next profile photo. Space out with your bestie and get stylin' and profilin'.
View this post on Instagram
Wan Chai's seedy heart has become a little more salubrious over the past couple of years or so, but pulsating neon still illuminates much of what was once primarily a red light district. To get one of the best views of the many neon signs, get on the overpass leading up from Wan Chai MTR Station exit A2.
View this post on Instagram
What happens when a restaurateur joins forces with the owner of a tattoo parlour? You get something like Holy Eats – an edgy bar and eatery inspired by body art with a touch of counterculture cool. Throw in a couple of neon signs to top it off and you've got the coolest hangout spot on the block.
The tapas-focused menu draws influence from around the globe and includes everything from chorizo mussels to ceviche, Cajun chicken to beef tartare. Also, look out for cocktails that showcase the owners' creativity, they're brilliant.
View this post on Instagram
Pharmacies, pawn shops, restaurants, local 'nightclubs' and saunas – Mong Kok is a chaotic symphony of flashy neon signs. Go on the Tung Choi Street overpass to get a view of some of the area's remaining neon signs, or head to Portland Street where you will find small clusters of glowing neon signs.
View this post on Instagram
65 Peel is so f**king good – we mean it literally because that's what the bar's name sounds like in Cantonese. Located on Peel Street, this old-school gastropub serves up a range of local brews on tap. Apart from its shopfront neon sign, there's also another one inside that says 'gwei lo herbal tea' in Chinese, which is a term Hongkongers use to describe beer.
View this post on Instagram
This local landmark has hardly changed since it opened in the 1960s. From the vintage green window frames and ceiling fans to the mosaic tiled floor, the eatery has an undeniable old-school charm. Tuck into typical cha chaan teng fare like French toast, pork chop rice, and red bean ice. Snap a pic of the diner and neon sign from the outside for that classic shot, or head inside and perch yourself at one of the window-side booths to capture the fluorescent glow from a different perspective.
View this post on Instagram
Behind a small red door with the words 'Ping Pong City' inscribed in Chinese, lies the popular Spanish G&T bar Ping Pong Gintonería. Walk down its nondescript stairwell and Ping Pong opens into a wide space combining high ceilings with design details reminiscent of old Hong Kong. Contemporary art decorates the walls but it's the bright red neon sign hanging above the bar, which reads 'train your body' in Chinese, that's the real attraction. Even if you haven't been to the bar, we're sure you would have seen it on your Insta feed.
View this post on Instagram
Remember when Lin Heung Tea House announced its closure back in early 2019? But then a week or so later said they've renewed their contract with landowners? Well, we're glad they did because this traditional Cantonese restaurant, one of the oldest in the city, has played as a backdrop to many stunning, neon-filled photos of our city. Just take a look at this masterpiece.
Looking to experience more amazing sights in Hong Kong?