Fine dining restaurants in Covent Garden
Discover the stylish and sophisticated cuisine in Covent Garden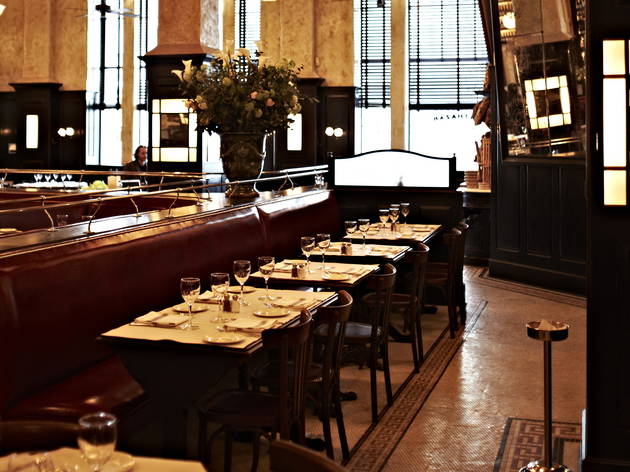 Covent Garden is home to some of the finest restaurants in London. From succulent steaks at Hawksmoor Seven Dials to a superior French affair at Balthazar, spoil yourself and visit one of the top tables in the area. Do you agree with the choices? Use the comments box below or tweet your suggestions.
Venue says: "Weekend brunch six-course set menu £29 and bottomless £44 (two-hour table time). Not to be missed!"
Turning up at a smart destination restaurant with a large suitcase is always going to be awkward. What's more awkward is not being able to find the front door. I'm not sure who was more surprised, us or the kitchen porters, when we marched, suitcase in tow, through the kitchen door of Central, currently the hottest restaurant in Lima, Peru. Central is so discreet it doesn't even bother with a sign. But its dishes are the opposite, with plate after plate dazzling its mixed clientele of tourists and wealthy Lima residents. There's no such problem finding the new London outpost – its sign is clearly visible. And considering the near-impossibility of transposing chef Virgilio Martinez's uniquely Peruvian style of cooking more than 6,000 miles, they've done a pretty good job. This is Martinez's second London restaurant, following on from the success of Lima in Rathbone Place, an elaborate affair that has already bagged him a Michelin star. Lima Floral, on Covent Garden's Floral Street, is not a copy but an extension of this gambit, and showcases more Peruvian classics. This time there's a little less fuss, a more reasonable price tag, and a bar in the basement serving pisco cocktails. Interesting textures and depth of flavour, rather than the high-tech wizardry of Central or Lima, take centre stage here. Sea bream ceviche comes as a sublime starter, teamed with mounds of guacamole-like avocado uchucuta (salsa), speared with dried onion slices and sprinkled with toasted corn. Sea b
Book now
Read more
In early 2013, Keith McNally's much-anticipated NYC import Balthazar finally opened, and London got to see what this Manhattan interpretation of a French brasserie was actually like. The response was positive, and for weeks afterwards it was hard to get a table. Chef Robert Reid has tinkered little with the nostalgic transatlantic menu, and we loved signature dishes such as the onion soup (grilled gruyère lid on thick country bread, immersed in a rich and sweet chicken stock); duck shepherd's pie was another powerfully flavoured treat. More recently, some of the gloss seems to have worn off (though service remains prompt and friendly). The cheeseburger, no bargain at £17, was a chunky patty but had little flavour, and needed more than the limited, bland trimmings to give it an oomph that might have justified the price tag. A pleasant gruyère and herb omelette tasted as though it had lingered a little too long at the pass. Best was pavlova (one of several delightfully retro desserts) – it may not have looked like a classic version (the meringue sat on the fruit, rather than the other way round), but it tasted good. Bread, from master baker Jon Rolfe, is a must-try. Balthazar London mimics the New York original perfectly, with red awnings, red leather banquettes, giant antiqued mirrored walls and mosaic floors, but to British eyes, the decor can look a little too close to any old chain brasserie.
Book now
Read more
This former fruit warehouse is now Carnivore Central in Will Beckett and Huw Gott's confidently expanding empire, and the bar a place of pilgrimage in its own right for cocktail geeks. Winner of Time Out's Best New Restaurant award in 2011, the discreet-fronted basement location is elevated to a high-end destination with a characterful interior of reclaimed materials and the fan-boys' zeal for premium meats and other taste sensations. The bad news is, with a similar appreciation of gustatory pleasures (a couple of cocktails, say, followed by crab or lobster, sirloin and side dishes, wine and pudding), dinner here can easily set you back £100 a head. The good news is the express menu (ideal pre-theatre when tables are easy to snare) proffers two courses for £25 and three courses for £28 – and still allows enjoyment of fine Ginger Pig Longhorn ribeye (a more-than-strictly-needed 250g), and bone marrow with onions. Desserts here, in our experience, don't benefit from the same obsessive attention to detail as the beef dripping chips, kimchi burger, hot dogs or historic anti-fogmatics – still, there's the post-prandial cocktail list to peruse featuring the likes of Climpson's espresso martini.  
Book now
Read more
Opened in 2013, Café Murano in St James's is a marble and dark leather affair. This new Covent Garden branch is a more relaxed version, and well suited to the bustle of the 'Opera Quarter'.  Downstairs brims with lively post-work/pre-theatre conversation; upstairs is airy and calm, offering more opportunities to interact with the friendly, professional staff. This is chef Angela Hartnett's second spin-off of her Michelin-starred Murano in Mayfair.  Hartnett's style of Italian cooking wins hearts for its big flavours and minds for its just-so technique. In her kitchen, peasant classics such as braised lamb shoulder with Tuscan beans and celery reach delicious new heights: the tenderness of the meat a testament to slow-cooking mastery.   There are plenty of winning dishes on the menu here, ranging from small cicchetti to large secondi, and prices allowing for a modest meal or an indulgent feast. Broad bean and rosemary arancini are basically little parmesan bombs, while the melt-in-the-mouth veal tartare – rightly the pride of the house – is lightly dressed in a delicate tuna sauce with caper berries.  Some other suggestions: firmly textured caponata with aubergine and green olives; delicate, fresh tagliatelle Bolognese with minced lamb and veal; or push the boat out with an intensely tender rabbit leg, summer onions, chilli and pecorino (more of that slow cooking). The wine list has picks from small Italian producers starting at £22, with 500ml carafes for £13. House-made
Book now
Read more
Who's to blame for the no-reservations trend, which leaves us queuing for an hour or more to get into a restaurant? Some might point the finger at places such as Polpo in Soho, or Meat Liquor in Marylebone. But the first restaurant that gave a mandatory wait with dinner was Barrafina in Soho, which opened in 2007. And that hour-long queue for proper Spanish tapas is still there. So is this second branch worth the seven-year wait?  Taking no chances, we arrived just before the 5pm opening time and were the first customers seated, allowing us to watch the other tables fill up over the next hour. Much like the original Barrafina, it's a simple room, but beautifully done: a long marble countertop, tall bar stools, plate glass windows letting in lots of light, and smiling Spanish staff in crisp white and maroon uniforms. Barrafina's menu is studded with Mallorcan and Catalan tapas dishes. Ortiguillas are a type of sea anemone eaten around the Balearic Islands. There, they're marinated in vinegar, coated in a tempura-like batter and fried. Here they're served in a paper cone, a crunchy seaside snack with soft centres, like fried oysters.  Escalavida con pan de coca combines a firm Mallorcan bread base (the 'pan de coca' bit, like a flatter, chewy ciabatta) with a topping of chargrilled aubergine, peppers, onion and garlic, the smoke from the grill permeating the vegetables. The grill is still a core part of the Barrafina formula, for example in pintxos morunos, little pork kebabs w
Read more
Once upon a time, if you were a celeb, you went to The Ivy. That was back when Chiltern Firehouse could still send a fire engine if your kitchen was ablaze. In the 1990s and 2000s, pretty much all you had to do to be a celeb was to go to The Ivy, and then be papped as you left. It was exclusive in the wrong sense of the word. But times have changed. The celebs have gone elsewhere. And now – after an expensive five-month refurb – The Ivy is once again open for business. It's ready for you and me, without the three-month wait once endured by us hoi polloi. Getting a table still isn't easy, though I eventually secured seats at the bar. Mind you, it remains a parallel universe. When you arrive, you're made to feel like you've arrived by the charming maitre d', smiling waitresses attentive wine waiters. The room was always a looker, but it's been scrubbed up, and it's now even better than before. The feel's still classic and timeless: dark wood, flattering lighting, well-chosen art, green leather seating, smartly attired staff. A huge new central bar allows good views of the beautiful mullioned stained-glass windows. The new menu combines old Ivy favourites with some recent additions. The famous shepherd's pie is there, with its rich browned-meat flavours, along with old-fashioned seafood dishes such as plaice with earthy brown shrimps, doused in a buttery sauce. The Ivy made its name on this sort of comfort food: it's like what you might get at a top boarding school, only bett
Read more
After well over a century of service, Sheekey's status as a West End institution is assured. With its monochrome photos of stars of stage and screen, wooden panelling and cream crackle walls, and array of silver dishes atop thick white tablecloths, it oozes old-fashioned glamour. The separate booths and secluded tables cry out for romantic trysts – even a simple lunch has the thrill of a secret assignation. The white-aproned, black-waistcoated staff are charm incarnate, if alarmingly numerous – half a dozen greeted us between door and table. The menu, an ode to the bounty of the sea, runs from super-fresh oysters and shellfish via old-fashioned snacks (herring roe on toast) to upmarket classics (dover sole, lobster thermidor). The fish pie – a rich, comforting treat – is deservedly acclaimed, but we feel the shrimp and scallop burger merits similar status. Densely textured and full-flavoured, it came in a lightly toasted sesame seed bun with all the trimmings, including a little silver jug of spicy mayonnaise. Puds include Eton mess, seasonal sorbets and ice-creams (elderflower and gooseberry ripple, on our visit). Amalfi lemon semifreddo with blackcurrants was a winner, each sugar-coated fruit a bomblet of zingy intensity. You can feast on crustacea (and some dishes from Sheekey's main menu) at the Oyster Bar next door – it's also easier to book.  
Book now
Read more
Rules may look as though nothing has changed for 50 years (or more, the restaurant was established in 1798), but this old-stager hasn't made it this far without adapting to the times. Together with the dark wood and red colour scheme, patterned carpet, caricatures and old paintings are modern touches. Witness the Kate Middleton cocktail (Sipsmith gin, Pinky vodka, Lillet aperitif wine and crystallised violets and rose petals).A menu of classics, with an emphasis on game, runs from potted shrimps to saddle of rabbit. Everything is cooked plainly, but with care and using decent ingredients – for example, the sirloin steak with béarnaise and chips, was pretty much perfect– golden chips, crunchy on the outside, hot and yielding on the inside; tender meat, grilled just-so and with real flavour. Guinea fowl caesar salad was an average salad lifted by top-notch bird; grilled plaice topped with artichokes and capers, served with a side of braised red peppers (from the specials list), scored for looks and flavour. Kir royal jelly with blackcurrant sorbet and summer fruits 'salad' made a good summer alternative to the wintery delights of golden syrup sponge pudding with custard.Service is polite and attentive, characteristics much admired by the mainly middle-aged-and-over clientele. Like the menu, the Rhône Valley-oriented wine list holds no bargains, but is carefully constructed.  
Read more
That's right, a branch of that most inimitable restaurant, The Ivy. The time has come at last for the current owners to cash in on one of London's most recognisable and exclusive brands, and roll it out. Yet this is hardly an Ivy sellout – it's no McIvy Burger, Pret-a-Shepherd's-Pie, or Hard Ivy Rock T-shirt of Posh and Becks tucking into rhubarb cheesecake. It's all done in the best possible taste. But rather than being discreetly located in a Covent Garden sidestreet lined with paparazzi, this one's bang on Covent Garden Piazza – where no ordinary Londoners, never mind A-list celebs, ever set foot. The interior's lovely, in a classy, bourgeois brasserie, my-family-own-Dorset sort of way. The service is, for the most part, better polished than a Bentley hub cap. And the menu's a good read, with a pleasingly retro Continental feel to the dishes, but using mainly British ingredients. Much research has been done by psychologists on how setting affects our appreciation of a meal: get the look and circumstances right, and school dinners taste great. Take away the white linen, silver bowls and embossed plates, and the wow factor is reduced. A prawn cocktail looked pretty, but the shellfish were merely okay. Shepherd's pie was rich in butter, but otherwise ordinary. A fried fish sandwich didn't really work, as the toasted bread failed to envelop the contents; butties are better untoasted. A chocolate bombe was a shell that melted on having hot caramel sauce poured over it; the r
Read more
Never get in a rickshaw. Never attempt to walk down Oxford Street on a Saturday. And never, ever go for a steak anywhere within ten paces of a theatre. There are rules for getting along in the West End, and they're there for a reason, which is why it's difficult to approach Sophie's Steakhouse – a giant restaurant in a prime Covent Garden spot – with anything other than low expectations. Sure enough, most of what I tried was underwhelming – under-seasoned, uncrisp calamari and king prawns that bore little evidence of the promised garlic and chilli dressing left a lot riding on the main course. Thankfully, Sophie's hits the mark where it matters. The 10oz ribeye was excellent; charred grill lines on its surface imparting a bitter smokiness to the tender, juicy meat underneath, while the accompanying fries were just right, and ideal for mopping up the bloody aftermath. If only the sides – limp, overcooked broccoli; ridiculously wet creamed spinach – had displayed the same flair. While Sophie's certainly doesn't belong on any Londoner's hit list, hungry visitors in need of a meaty fix before 'The Lion King' could do a lot worse. Just remember to pass on the tricycle-mounted maniacs when you're heading back to your hotel.
Book now
Read more
Best-known for their macarons and other confections, the Paris-based Ladurée has opened a branch in Covent Garden Piazza. This is their third in London, the flagship being a remarkable café inside Harrods. While this latest Ladurée doesn't have the same wow factor, the location is hard to beat, opposite the Apple store and with outdoor tables on the cobbled piazza. Be warned though that you'll be assailed by street performers, as their main stage is right next door.
Read more
Sushi bars come in many shapes and sizes. Sometimes, when you're celebrating a special occasion with a coveted reservation at an always buzzing destination – Zuma, say, or Nobu – a hefty price tag is part and parcel of the experience. But when all you want is a light lunch, a wallet-busting bill is another matter. The problem with Murakami, a shiny new sushi offering in the heart of Covent Garden's theatre district, is that it looks the part of a deeply fashionable modern Japanese restaurant, but beyond this smoke and mirrors lurks very little of substance. The dining room is stylish if unimaginative in a Japanese-restaurant-by-numbers way. Sake bottles as ornaments, a long bar for single diners, modern, minimalist furniture – with one or two oddball conceits thrown in for good measure, such as a long, narrow planter filled with samphire that runs the length of the room. However, that's as good as it gets. The menu is a line-up of the usual suspects – nigiri, sushi rolls, sashimi and tempura – all competently assembled in the open kitchen without threatening a culinary revolution. The grilled skewers of marinated meat, fish and vegetables that are bite-sized snacks in Japan were true miniatures here, the grilled baby octopuses almost embryonic and the chicken hearts surely from the smallest birds in the coop. Meanwhile, three thick slices of tuna sashimi presented on an absurdly large pile of frilly lettuce had the texture of a mealy winter tomato. The best dish was a platt
Read more
The dining room at The Waldorf Hilton is as grand as you should expect, with towering Corinthian columns, high ceilings, sparkling chandeliers and gilded detailing. It's a look apparently inspired by the grand cafés of Europe, with a bit of Louis XVI thrown in for good measure. The food output ranges from full English and continental breakfasts, American-style pancakes and eggs benedict to lunches and dinners taking influence from across Europe. Expect dishes including open ravioli with goat's cheese, a chestnut mushroom risotto, smoked duck breast with a beetroot, orange and balsamic reduction, and hake with wilted red chard, grilled yellow courgette and a mackerel bread sauce.  Afternoon tea proves popular, with finger sandwiches, pastries and freshly baked scones with Devonshire clotted cream and preserves. And if that's not quite classic enough? There's a monthly tea dance too, with traditional ballroom music. 
Book now
Read more
Find mid-priced restaurants in Covent Garden
Sponsored listing
Mazaya Restaurant
A first floor Lebanese and Italian restaurant in Knightsbridge above the old Bugatti store and opposite the Tattersalls Tavern. Look out over the Knightsbridge shoppers while tucking into some beautifully presented mezze, kebab platters, wraps, pastries and more. They also have a takeaway bakery/cafe downstairs.
Venue says: "Brand new to Knightsbridge: we serve English and Italian themed breakfast and snacks in the day, plus fresh Lebanese cuisine for dinner!"