It's no secret that L.A. loves its food halls, so it makes all the sense in the world to offer one at the year's premier music festival—especially when Coachella's take on the food market includes buzzwords like "kombucha bar" and "sommeliers onsite."
The two-weekend festival just announced its food and beverage lineup, and while there are a number of new-to-the-scene pop-ups and concepts to get excited about—some traveling as far as NYC—one of the biggest draws is the debut of Indio Central Market, a 15-plus collection of vendors with seating all under the shade of a large tent.
You'll find Indio Central Market east of the Antarctic Dome, and while there may be more vendors on the way, here's at least a peek at what you can expect: Cassell's Hamburgers, slinging their classic burgers and fries; the all-vegan nacho-boat and burrito wizards of Cena Vegan; Roy Choi's Chego, making pork belly bowls; Fat Dragon serving up orange chicken; David Chang's fried-chicken concept, Fuku, which will also be whirling slushies; Go Get Em Tiger's returning with more coffee and cold brew; Hanjip Korean BBQ is making delicious sustenance in KBBQ bowl form; Christina Tosi's Milk Bar will be serving its signature cereal milk soft serve and so-craveable cookies; nab milk tea and boba from Milkbox; snack on dumplings from Ms Chi; Grand Central Market's own Ramen Hood will be moving its vegan ramen from one food hall to another; chow down on fried avocado tacos from Seabirds; don't skip the massive and umami-packed Japanese-inspired hot dogs of Sumo Dog; stay cool with spicy tuna poke from Sweetfin Poke; stay even cooler with ice cream tacos by way of Sweet Rolled Tacos and Sweet Cup; nostalgia-inspired Top Round will be serving its roast beef sandwiches; and you can try a spin on chicken and waffles at Wingman Kitchen, who'll be offering popcorn chicken in a puffle cone.
Of course, there's more to Coachella's food lineup than these 15 stands—the festival's capacity is 125,000 people per day, after all—and this year the event has even more new tricks up its sleeves to feed and entertain the masses. There's a brand new air-conditioned ice cream parlor, which will feature counter seating and scoops and sundaes by Van Leeuwen. Then throughout the festival, find more ice cream, soft serve and root beer float vendors including McConnell's, Campfire Kettle, Little Damage and Ridges Churro Bar.
A number of new "featured restaurants" will be popping up around the grounds, including the Burger Show (Alvin Cailan of Eggslut's burger podcast turned real burger shack); and the Herbivorous Butcher, which'll be slinging a vegan fried chicken Double Down sandwich.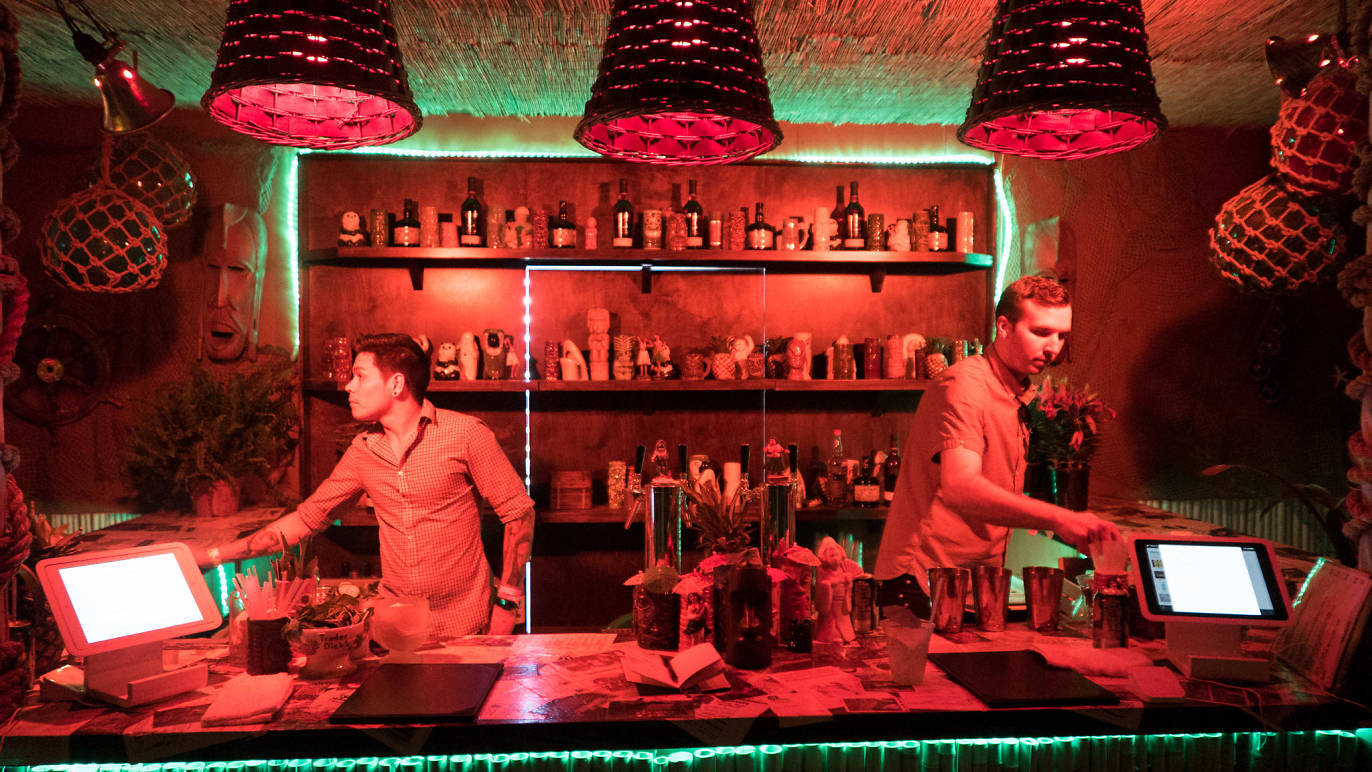 When that desert heat's got you parched, stop by the shaded Craft Beer Barn, making its return with a variety of local, national and international brews, plus the return of Beer Belly's Rare Beer Bar—this is where you'll find limited and rare releases (announced each day) and a bottle cellar. Keep your eyes peeled for the festival's new "refreshment pods," little outposts serving cold-pressed juice, wellness shots, kombucha, sparkling matcha, cold brew, energy drinks and water throughout the grounds. Grab cocktails sans alcohol at Bar Not Bar in Indio Central Market, which is also where you'll spot the new-to-Coachella KombuchaBar serving 20 kinds of kombucha on draft. NYC tiki bar PDT is making a big return, and so is the festival's "Craft on Draft" program—expect thoughtful and fun drinks from both. Find whiskeys and a cozy vibe at the mountain-inspired Cabin bar, and you know the Heineken and Absolut houses are going to get some parties going.
Those looking to splurge a little more should just go ahead and turn their wallets over to the Outstanding in the Field dinner series for $225 per person. This year's lineup includes meals by Kismet's Sara Kramer and Sarah Hymanson, Union's Bruce Kalman and Playa Provisions's Brooke Williamson with Ms Chi's Shirley Chung.
Balling out with VIP status? You've got a number of exclusive food stands, drinks and dinners available to you—namely a bar by Freehand Hotel's Broken Shaker, dinners at pop-up restaurants by Curtis Stone's Gwen and Moby's Little Pine, wine and charcuterie from Hayden Wine Bar, the hyper-creative tacos of Guerrilla Tacos, Italian sandwiches on pizza dough by NYC's Trapizzino, addictive smashed burgers from HiHo Cheeseburger, and soft serve from Magpies.