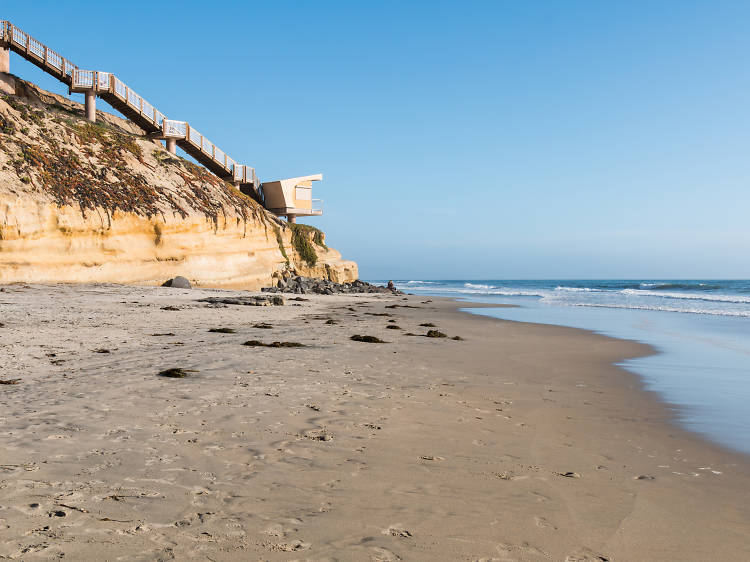 Photograph: Shutterstock/Sherry V Smith
2 hrs by car, or 2 hrs by train

If you want to spend a day in San Diego, you can either try to go big (the San Diego Zoo! Balboa Park! Padres game! All in one day!) or go small-town and spend a chill day in a cool oceanfront neighborhood. The beach towns north of San Diego—no, we're not talking about Pacific Beach—are the stuff of the Beach Boys lyrics.
In Solana Beach, you'll find laid-back vibes and beaches that aren't completely overrun. It's easy to get there from L.A. via Amtrak, and it's a perfect way to day-trip because all the spots you'll want to hit are within walking distance of the station.
Start at Naked Cafe for a beach-y brunch, then, either head down to the beach at Fletcher Cove or cruise along the Cedros Design District for window shopping, brewery hopping and people watching. There's also a mix of cute boutiques, surf shops, restaurants, taco spots and bars along South Coast Highway. If it's racing season, the Del Mar Racetrack isn't far—it would be either a long walk or a short car ride.
Before you catch the train back up to L.A., you have several good options for dinner near the tracks: Station Sushi is a good locals' spot for classic and creative rolls, Bangkok Bay has some of the best Thai food we've ever eaten and Pizza Port is known for being a last-slice-and-beer-before-Amtrak place. It's directly across a pedestrian crosswalk from the train station, and has been slinging pies and pouring pints for more than two decades. —Sara Fay
If the San Diego Zoo caught your eye, book a ticket and spend a day with the animals