The best restaurants in the CBD
Seek out these top notch dining destinations in the heart of Melbourne city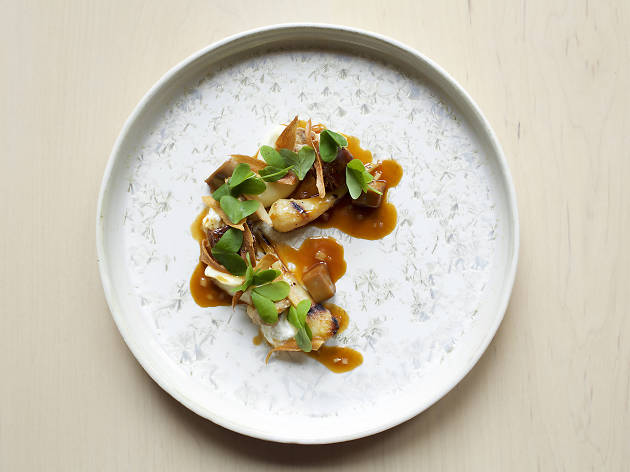 The best restaurants in the CBD
What we have here is not so humble as an osteria. Sure, it has an underlying rustic Italian brief, exemplified by the chargrilled whole octopus brutishly splayed over a sauce made of the fiery Calabrian spreadable salami, `nduja. On the other end of the spectrum, lamb tartare arrives gussied up for the red carpet with a custardy froth of smoked eggplant, purple Congo potato crisps and winks of rosemary oil.
The wine bar used to be such a simple concept. A bar, goddamn it: a bar with plenty of wine, and maybe a communal dish of mixed nuts or some toothpick-speared cheddar to nibble on if you were lucky. But welcome to 2017, where nothing's ever quite so straightforward and the wine bar has nicked off for a makeover. Case in point: Embla, wine bar helmed by a chef with a knack for taking the road less travelled.
It's been some years since gents were expected to keep their jackets on at all times, but it's good to see Grossi Florentino is a restaurant that continues to sweat the small stuff. The grand Mural Room is one of Melbourne's last bastions of lavish European dining charm. Order a bottle of wine from the novel-sized list and, regardless of whether you order a Premier Cru or a $70 vermentino, you'll witness the balletic ritual known as the seasoning of the glasses. And let's not forget the excellent snackage that arrives to mollify the pric
A decade is a long time in restaurant years – especially in Melbourne, land of the fickle diner. So what is it about this high-end Cantonese restaurant that's kept it kicking strong through 38 years, two recessions, the digital age and a plague of screechers decreeing the death of fine dining? There's the unwavering attention to detail to start: service at Flower Drum is a carefully choreographed dance. And then the food. Xiao long bao are perfect pouches of fresh picked mud crab suspended in a rich seafood liquor.
It's high noon, and just like the days of old, the Press Club is filled with a crowd for whom doing lunch is a part of the job. A couple of equine models blouse in and out to smoke and across from us, a group of Amex-toting chunky men are boasting mateship with owner George Calombaris and jocularly baiting the waitress. But this isn't the Press Club of old. It's a smaller, smarter operation with a fresh menu, just ten booths, and zero need to suffer fools to fill them.
Vue De Monde. It's expensive, spectacular and the mod-Oz crowning glory of chef Shannon Bennett's predominantly French empire, but above all, it's a pain in the arse to get into. Here's the deal: they do two sittings at Vue. The early shift is readily available, but you'll only get one hour and forty-five minutes in which to do the four course a la carte menu or attempt a speedy six-course deg. And at $150/$210 we recommend taking your time.
Higher Ground is hot. This new café-restaurant, from the team behind Top Paddock and Kettle Black, is incredibly ambitious. With 130 seats across three levels, 16 chefs who can put Supernormal and Jacques Reymond on their CVs, and a squad of smart, unflappable wait staff, Higher Ground is taking breakfast, lunch and dinner to vertiginous new heights.
If restaurant years could be measured like dog years, Rockpool would have settled into a comfortable if unexciting middle age, more 'nice' than 'knockout'. But not only has Neil Perry's clubbish, masculine steak den seen off so many other restaurants that once glittered on the Crown promenade before fading away, it has maintained – even surpassed – the standards that sent the town a-twitter when it opened in 2007.
A nondescript, dumpster-strewn alley no more, Mornane Place has finally borne fruit with the arrival of a very late night bar with some seriously good eats. A city cannot have too many places like Arlechin. Beneath the sexily arched cork-lined ceiling lurks a place that feels like a subterranean clubhouse. It has long marble bar, seating for 40, clever lighting and a good part of the Grossi cellar stored behind glass. Even if you're planning to be tucked up in bed by 10pm, the midnight spaghetti, a dainty twirl of rigorously al dente spaghetti capturing a flavour burst of sugo, salty giant capers and sweet basil leaves, will play ball with your timetable.
Show more
Want more of Melbourne's best restaurants?
Unless you have the metabolism of a nine-year-old, and the finances of a Kardashian, you never stand a chance against Melbourne's ferocious dining machine. The openings just don't stop and ain't nobody got time to keep on top of what's what. Except us, that is. So behold, our eat-and-destroy list – a guide to Melbourne's 50 best restaurants.