Meet your contenders for Battle of the Burger 2017
From bold rookies to big-name veterans, these are the beefy challengers of Time Out New York's Battle of the Burger 2017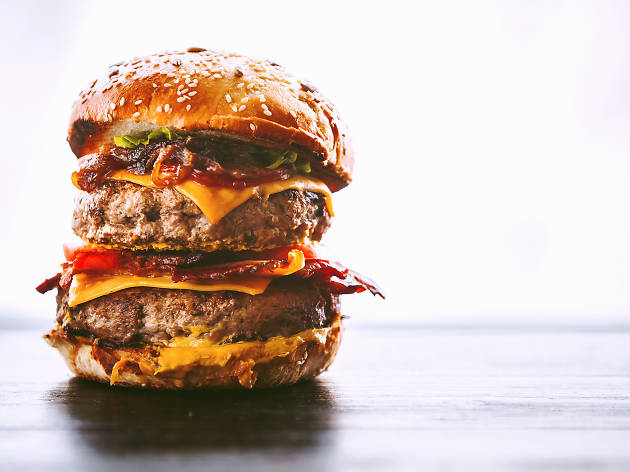 Time Out New York's Battle of the Burger is back and with it comes yet another juicy crop of formidable burgers to choose from. This year's pack ranges from barroom burgers to bistro patties, comforting cheap burgers from diners and luncheonettes to fancy numbers from fine dining restaurants. These are your 40 Battle of the Burger contenders, presented by Budweiser.
RECOMMENDED: See more on the Battle of the Burger
The signature offering is a burger that invites comparisons to the revered Corner Bistro's. Melon's is pricier, at $11.25 for the very basic model, but it's arguably just as tasty. Served austerely with a few slices of red onion and pickle, these handfuls must be eaten quickly, before the juice soaks through the bottom of the bun. Several of the genial bartenders, hosts and servers (in genteel ties and sweater vests) have been greeting patrons by their first names since the pub opened in 1972.
Read more
For three decades Keith McNally's New York restaurants have defined effortless cool, generating the sort of overnight buzz—and long-running exclusivity—institutions are made of. His hot spots have become pop culture touchstones—delivering intangible pleasures that go far beyond food. That's not to say there aren't gastro pleasures to be had: The restaurant's Black Label Burger, with caramelized onions and a mountain of pommes frites, is a modern-day New York legend.
Book now
Read more
As part of his three-prong culinary takeover of the William Vale Hotel, Andrew Carmellini and his Noho Hospitality Group roll out this burger and soft-serve stand operating out of a 1974 Airstream trailer parked on the hotel's elevated promenade. Manned by executive chef Anthony Ricco (Spice Market), the retro RV offers four griddled burgers: a single or double with aged cheddar, a Swiss-topped veggie burger and a rotating special, with the opening option fixed with hatch chilies and Monterey Jack cheese. Beyond the bun, there are waffle fries and "dairy dips," ice-cream cones in flavors like Jacker-Crax (buttered caramel popcorn with salted peanuts).
Read more
For the white-collared wayfarers wandering the streets north of Madison Square Park, NoMad is a depressingly apt name. Sure, the neighborhood has seen a much-welcome rise in upstanding restaurants, but finding an any-day gastropub that doesn't reek of postgrad brewskies is harder to come by. Who better to fill the void than Daniel Humm, Will Guidara and Leo Robitschek, the James Beard Award–winning trio behind neighborhood stunners Eleven Madison Park and the NoMad, who expanded the latter to include this elegant saloon inside the NoMad Hotel.
Read more
This BBQ joint serves far-out Southern fare (elk burgers?) and 45 craft beers in Kings County.
Read more
Opened in 1868 as a dockworkers' chophouse, this clubby establishment draws a laid-back New York crowd (MePa's glamazons need not apply). But even those finicky eaters would be impressed by starters such as a tender-as-sashimi seared yellowfin tuna, and by ever-fresh raw bar selections. Still, folks come here for the beef. Spring for the flavorful strip steak, a well-seasoned prime rib or primo burgers like a 20-ounce Kobe number. Any way you carve it, this place stands the test of time.
Book now
Read more
Although a slew of Luger copycats have prospered in the last several years, none have captured the elusive charm of this stucco walled, beer-hall style eatery, with well-worn wooden floors and tables, and waiters in waist coats and bow ties. Excess is the thing, be it the reasonably health- conscious tomato salad (thick slices of tomato and onion with an odd addition of steak sauce), the famous porterhouse for two, 44 ounces of sliced prime beef, or the decent apple strudel, which comes with a bowl full of schlag (whipped cream). Go for it all—it's a singular New York experience that's worth having.
Read more
The Pig Beach pop-up got a permanent residency in Gowanus in spring 2016, and now the team branches out further with another pork-named project two blocks south of Washington Square Park. The similarly caloric, if slightly more elevated, menu from Del Posto vet Matt Abdoo is filled with comfort-food twists including deviled steak and eggs, smoked-cod fritters with red-pepper jelly and a double-patty burger crowned with secret sauce and house pickles.
Read more
The celebrated saloon is long in the tooth (132 years old), but a modern-day face-lift (augmented menu, nightly specials) revitalized the old boy. The bar up front attracts the after-work pinstriped crowd, while the dining room pulls in a slightly older, blazer-wearing set. The hamburger is still honest and juicy; go ahead, customize it with cheese, bacon, chili or béarnaise sauce.
Read more
Reynard is the new cool kid on the block without ever trying to be, a Balthazar for Brooklyn, urbane and ambitious, mature and low-key. Its kitchen serves casual breakfast and lunch to a drop-in crowd, including a terrifically earthy grass-fed burger (served at the bar between 3–6pm). The menu, which changes often—sometimes daily—becomes much more serious at night. There's no fanfare at any time to the spare list of dishes, no trendy buzzwords, and barely any descriptions at all. Reynard's thoughtful food, portioned to satisfy and priced to move, mostly speaks for itself.
Read more
At Salvation Burger inside the Pod 51 Hotel—the patty analogue to chef April Bloomfield and partner Ken Friedman's midtown Mexican canteen Salvation Taco—the Michelin-starred toque serves a worthy counterpart to the Spotted Pig's starring dish, the Rocky Balboa to its Apollo Creed. It might not better its opponent outright, but boy, what a fight. The strapping house burger clocks in at $25 (sans fries, mind you—you'll have to pay an extra seven bucks for those), but you'll forget about the markup once you get your fangs around an eight-ounce puck of sublimely tender, downright steaky beef, butchered and dry-aged in-house and fired over wood.
Read more
Perennial burger powerhouse Shake Shack continues to be one of the most sought-after pit stops in the city for its nostalgic beef patties, crinkle fries and frozen custard. Thankfully, the usually long queue moves fairly fast.
Read more
Blame talented toque April Bloomfield for the inevitable wait at this still-hopping West Village gastropub—a pioneer in the kind of meaty go-big-or-go-home grub that's proliferated since the spot's 2004 opening. The Pig still serves one of New York City's best burgers, a rare patty heaped with intense Roquefort cheese and served with a tower of rosemary- and garlic-kissed shoestring fries.
Read more
The 75-year-old midwestern chain brings its steakburgers, made with rib eye and New York strip, to New York with this midtown outpost. Get a single or double patty, or opt for a steak frank instead.
Read more
Venue says: "Voted winner in the Time Out Love New York Award 2016! Come enjoy our delicious, made-from-scratch, Authentic American cuisine"
The only New York outpost of the bison-centric restaurant chain is in Midtown, and adventurous meat-eaters flock from all over the city to taste the lean protein. It's not all bison burgers, either—though you could certainly sample one with bacon and cheddar or another with gruyere, blue cheese, caramelized onions and arugula. Sample the bison nachos with pepper jack cheese, dabble in the barbecue bison short ribs or go all out with the aged bison filet.
Book now
Read more
Burger buffs, brace yourselves—Adam Fleischman's L.A. patty sensation has finally come east with this much-hyped Village outpost. A champion of umami—that hard-to-place savory "fifth taste" found in everything from Parmesan to mushrooms—Fleischman spotlights the funky flavor-bomb in sixteen burgers, including the beer-cheese–and-lardon-topped Manly Burger; a mook-baiting truffle-and-roasted-garlic variety; and an NYC-exclusive five-spice duck burger with peach-apple chutney. The meat comes coarse-ground and medium-rare—no substitutions allowed—on Portuguese-style buns branded with the signature "U" logo. Also on offer are truffle fries; "secret menu" Cheesy Tots; and ice-cream sandwiches built with Blue Marble ice cream and Good Batch cookies. The bi-level 128-seat space—decked out with red leather banquettes and a framed portrait of umami-discovering scientist Kikunae Ikeda—features two full bars stocked with eight tap beers (Sixpoint Sweet Action, Allagash White) and 17 location-specific cocktails: The 21-U Club is a tribute to the supposed birthplace of the Bloody Mary, while the Bobcat—a mix of cognac, black-cherry soda and lemonade—is named after NYU's mascot.
Read more
The force is strong with the new incarnation of Union Square Cafe, the beloved flagship of the formidable Danny Meyer empire that stood on East 16th Street since 1985, long before a Shake Shack patty ever sizzled on a griddle top. The most crucial holdover is in the kitchen, where executive chef Carmen Quagliata—who headed the original USC for a decade—can still be found overseeing staples like ricotta gnocchi and the restaurant's beloved burger.
Read more
California cuisine has always been a curious thing. It's local but globally inflected, lean but filling, as driven by its ingredients as by the chef seasoning them. The vague concept is more an aura than anything else—for a homegrown likeness, see the farm-to-table Brooklyn-eatery stereotype—and that Golden State glow radiates throughout Upland, a glossy tribute to chef Justin Smillie's hometown nestled at the foot of the San Gabriel Mountains. Blistered shishito peppers, shellfish-crammed cioppino and a lunchtime burger with peppadew peppers and avocado tout to Smillie's Cali bona fides.
Book now
Read more
Sponsored listing
Dinosaur Bar-B-Que - Harlem
At this famed roadhouse, tykes can enjoy "dino" sliders ($4 each) made with pulled pork or brisket. The eatery scores extra points by offering temporary T. rex tattoos to children.
Venue says: "Harlem Dinosaur has a Happy Hour! Every Mon-Fri from 3pm-7pm at the bar. Check out our website for $2-$6 happy hour specials"