The Bryant Park Winter Village guide
Everything you need to know about the Bryant Park's Winter Village from admission-free ice-skating to shopping the vendors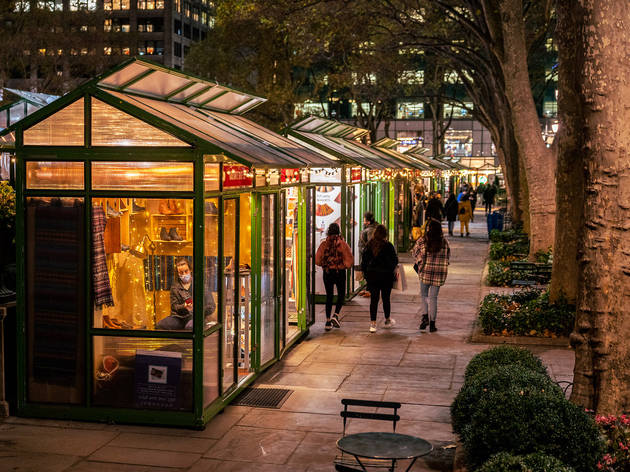 Bryant Park's Winter Village by Bank of America is back in NYC with holiday festivities and shopping and food at its holiday shops.
Its 17,000-square-foot ice-skating rink that's free to use (if you bring your own skates) is always the highlight, but its Winter Village in all its holiday spirit is a close second. This year more than 170 kiosks will be there to peruse—all at one of the best NYC parks
Health and safety protocols will still be around, so this guide contains all the information you need to know, including when the market officially opens (and closes) to the public. Get ready to enjoy the most wonderful time of the year!
RECOMMENDED: Full guide to Christmas in New York
When is the Bryant Park Winter Village 2021?
By the time you choose a costume at a Halloween store and head to your first Halloween party or event in NYC, The Bank of America Winter Village in Bryant Park will already be open for business. The Winter Village is set to open on October 29, 2021 and will be open through March 6, 2022.
What are the hours of operation for the Bryant Park Winter Village?
The holiday shops are open Mondays through Fridays, 11am-8pm, and Saturdays and Sundays, 10am-8pm.
What is there to do at the Winter Village this year?
Not only is there free ice-skating on Bryant Park's 17,000-square-foot outdoor rink (you may bring your own skates or rent them), Urbanspace—the brand that's responsible for Union Square's and Columbus Circle's holiday markets as well as Mad. Sq. Eats—is bringing over 170 holiday shops, including a bunch of new kiosks and eateries for your shopping and eating pleasure through January 2, 2022.
It'll also bring back its Small Business Spotlight that gives four New York City-based minority-owned small businesses, with annual revenues of $1 million or less, an opportunity to showcase their products in a free booth at the Bank of America Winter Village at Bryant Park.
You'll also be able to cozy up at The Lodge by Prime Video, a covered, outdoor après-themed area where visitors can grab a festive cocktail, enjoy delicious food, watch the ice skaters or admire the tree.
What safety precautions will be in place?
This year, reservations and skate rentals must be made in advance online (rental prices change depending the day and time), and fewer skaters will be on the ice at one time. High-touch surfaces and rental equipment will be sanitized throughout the day.
As for shopping, there will be a reconfigured layout with fewer shops that will give people to walk through spacious walkways to avoid congestion.