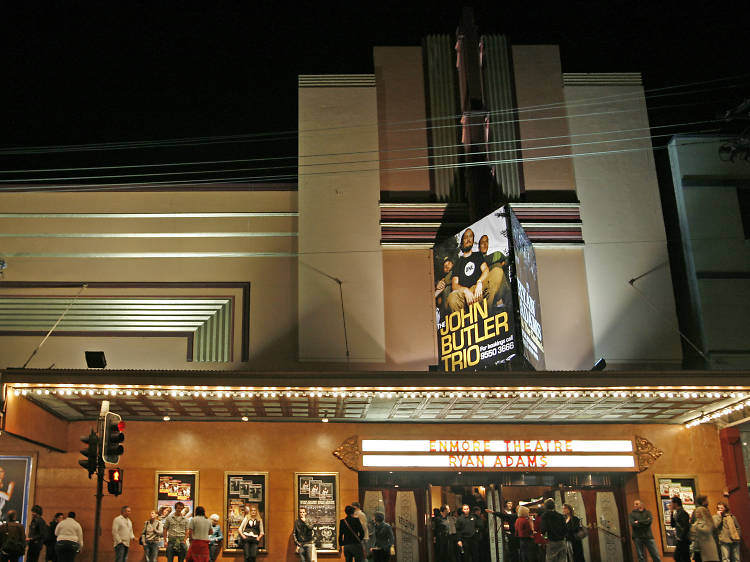 Photograph: Daniel Boud
5.

Enmore Road, Newtown and Enmore
While King Street claims a lot of the glory, the other main artery of Newtown – joining up with Enmore (of course) and Marrickville – is a haven of excellent restaurants, bars and pubs and boutiques with a taste of the local 'weird is welcome' edge. If you could eat your way through every single place to grab a bite on this strip, we'd be impressed. The action centres around the historic Enmore Theatre (118-132 Enmore Rd). The Art Deco landmark is a legendary culture hub with creds in live music and comedy gigs. While some of the portals to the street's old character have succumbed to shiny new fit-outs (RIP, Sly Fox Hotel) there are still remnants of Enmore Road's rough-n-ready, laid-back charm and inclusive spirit.
EAT Behind the beautiful pink and purple, retro curved glass façade of the Marie-Louise Salon you'll find Stanbuli (135 Enmore Rd), a good-time restaurant from the Porteño team serving proper Turkish food. Order up some midya dolma to sate your rumbling tum while you have a pre-dinner drink. They're little mussels stuffed with peppery, allspice-scented rice and they're stupidly delicious. Get at least two apiece.
DRINK Start your drink crawl (or finish your night) at Jacoby's (154 Enmore Rd), a party-starting Tiki bar decked out in glowing fishing floats, dried pufferfish, and flocked banana palm wallpaper. They're also sporting some of the city's most ridiculous cocktails, and a whole lot of Twin Peaks references for die-hard fans.
BUY Get your kicks, and a hit of Wild Western Americana, at Route 66 (2/82-84 Enmore Road). Many a cowboy boot-clad scallywag has entered this boutique on the hunt for a perfectly aged Creedence tee or a frilly rockabilly dress.

Discover the best of the neighborhood: a local's guide to Newtown