Heads up! We're working hard to be accurate – but these are unusual times, so please always check before heading out.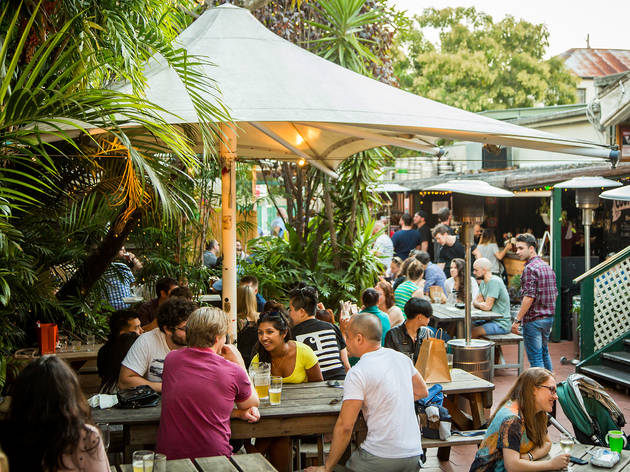 A local's guide to Newtown
Why we love this rainbow melting pot that's a good time all the time, from that first bleary-eyed coffee to last drinks on 'Eat Street'
Newtown may not be the staunchly counter-culture hub it once was, but the indie spirit that defines the area is still proudly displayed in every aspect of this tight-knit village. King Street might be sporting a few more high street brands than it did a decade ago, but for the most part, Newtown's shopping precinct is a mixed bag of boutique hair salons, local designers, record stores, assorted vintage, piercing studios, and book shops. It's the sort of place that has merch, be it the Newtown Jets emblazoned on a trucker cap, or a tee from any number of local bars that inspire full-throated allegiance.
King Street is famous for it's densely clustered offering of bars, restaurants, café and pubs, from cheap student dining offering pad Thai for under a tenner, to high-end restaurants from celebrated chefs.
If Bondi is a morning town, Newtown is where people come after dark. Whether you're after a knees-up, a hot date, a pre-show bevvie or dinner after the credits have rolled, Newtown has a perch for every variety of night owl.

Jump to a section:
EAT DRINK COFFEE THINGS TO DO SHOPPING
What's Newtown known for
The University of Sydney is just up the road from Newtown, and students make up a big part of the area's identity, from the rowdy mid-week pub crawls to the famously cheap lunchtime Thai specials. Newtown is also a proudly left-leaning area – the state member for Newtown is Greens MP Jenny Leong. Newtown is an after hours area: it's all about the nightlife, from killer bars and breweries to restaurants, performance venues and King Street's long roll call of pubs, which have been crucial to Sydney's live music scene.
Why do the locals love it
Pasan Wijesena has lived in the area for 15 years and owns two local bars, Earl's Juke Joint and Jacoby's. He reckons that no matter how popular, and increasingly expensive, Newtown gets, it'll never lose that slightly grungy quality that he loves about it. "I like the no bullshit, laid-back attitude of people here, from students all the way through to the elderly people who have lived here all their lives. There's an artist and muso identity that's part of the character of the place. It has a villagey atmosphere, you run into people you know on the street and being a business owner, I have seen how supportive people are of each other.

How do I get to Newtown? Newtown has a train station on the T2 Leppington Line, or you can get a bus down King Street which is a major thoroughfare serviced by the 422, 423, 426, 428, 370, 355 and 352 routes. If you're driving there's always plenty of parking to be found on the side streets
What's nearby?
Newtown is at the heart of a closely packed hub of Inner West suburbs that pride themselves on their gently counter-culture, arty, rainbow spirit. Erskineville, Darlington, Stanmore, Enmore, and Camperdown border Newtown, and Marrickville, Redfern, Petersham and Chippendale are only a second step away.
Map of Newtown
If you only do one thing
When out of town friends come to visit Wijesena, the first thing he does is grab drinks from PnV Wine Merchants or a local bar and head to Camperdown Memorial Park to sit in the sun and watch the dogs with all the locals. It's a rite of passage for all Newtowners, one which they do most weeks.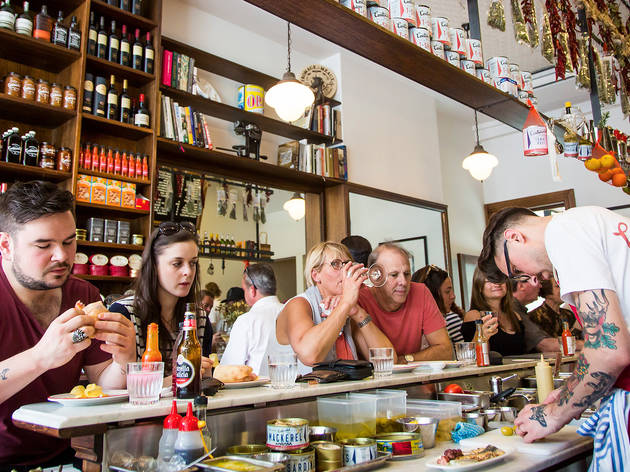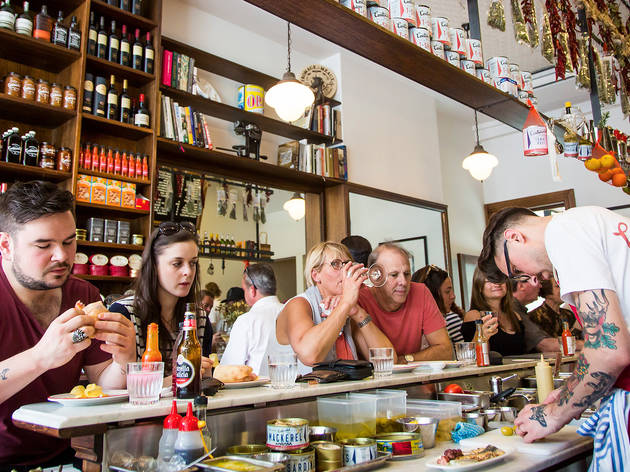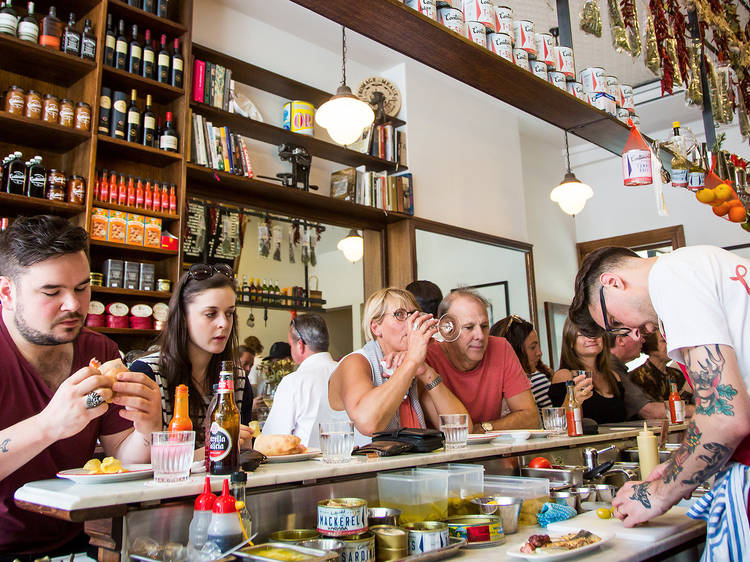 Photograph: Anna Kucera
It's home to the famous tinned cocktails, ace sambos in the day, and some of the finest choose-your-own adventure grazing boards in town. Depending on what your date likes, you can craft the ultimate cheese, meat or tinned seafood plate at Continental Deli Bar Bistro (210 Australia St), and then finish off with Neapolitan ice cream, also in a can, naturally.

The Finnish-Italo-Australian food at Cafe Paci (131 King St) has to be some of the city's most creative cooking and well worth the wait between venues for star chef Pasi Petänen.

They're making no claims to being the most authentic pizza joint in town at Bella Brutta (135 King Street), but their renegade toppings (clams? Mortadella?) are also incredibly delicious and the drinks here are a cut above.

Hartsyard (33 Enmore Rd) walks that fine line between casual diner and fancy night out, but they do it well, from the vegetab;e-forward menu through to the local wine list that is repping natural wine makers.

To outsiders it might be an eternal mystery as to why people queue so reliably for the Italian Bowl (255 King St), but this frantic pasta joint never fails to pull crowds with it's brand of choose-your-own dinners and the promise of cheap movie tickets.
It's vegan pizza, but done in strict adherence to Neapolitan style and spirit at Gigi Pizzeria (379 King St).

Newtown is undeniably Sydney's vegan capital (closely followed by Glebe and Bondi), which is why the meat-free arm of this local ramen empire chose Australia Street for their plant-based venue, Lonely Mouth (275 Australia St).
The falafel at Cairo Takeaway (81 Enmore Rd) are impossibly green, herbaceous snack patties and the garlic sauce chicken makes these pita pockets one of the best hand-held lunches on this popular dining strip. The irony is that most people want to dine-in so they can crack a local beer with their mixed plate and spicy fries.

You no longer need to wait for a friend or relative to graduate or get married to eat Filipino lechon, because Sydney Cebu Lechon (80 Enmore Rd) serves plates of their delicious roast pork and crackling Wednesdays through Sundays, with ube cheesecakes for dessert.
The Darkness ramen at Rising Sun Workshop (1C Whateley St) has achieved cult status on the Sydney dining scene, but they also have a lighter chicken ramen, and their chicken karaage is no slouch.

Everyone can eat the Japanese sourdough doughnuts at Comeco Foods (524 King St), because they are vegan and gluten-free. Everyone should because they are incredibly delicious.

People come to Bloodwood (416 King St) just for the polenta chips and blue cheese sauce, but this local restaurant and bar delivers much more once those golden chippies get you in the door.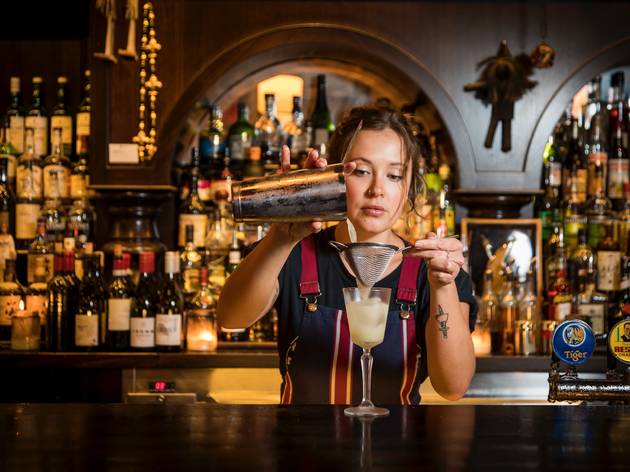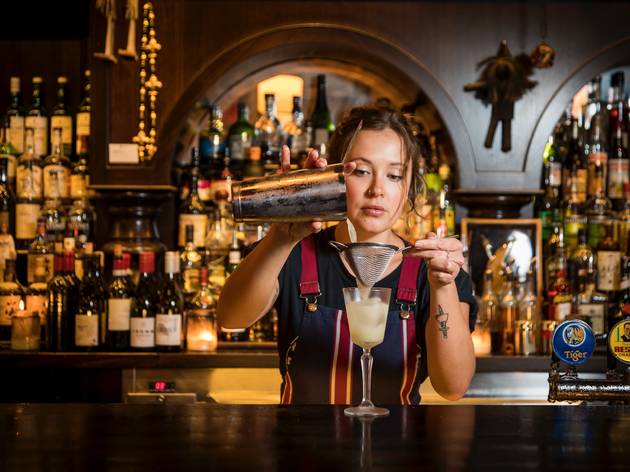 Photograph: Anna Kucera
Earls Juke Joint (407 King St) is one of the longest standing and unerringly excellent cocktail bars in the city, let alone the suburb. Go here for exacting classics and some creative flair to an old school bluesy soundtrack in flatteringly low light.
They were once a little start-up brewery, and now Young Henrys (76 Wilford St) are a household name. Drinking at the source is still one of the best ways to spend an afternoon in Newtown.
Aren't we all the lucky ones now that Fortunate Son (105 Enmore Rd), a straight-shooting cocktail bar, has opened on Enmore Rd.

For some it's a badge of pride to be thrown out of the Townie (326 King St), one of the most storied late night venues in close range and a long-time haunt for hard rockers, gutter punks, fringe dwellers, and indie kids.
You will never regret an afternoon spent in the Courthouse (the Courty to locals) (202 Australia St) beer garden. In fact you won't want to leave so you may as well order up a tip top pub meal and make yourself comfy.
American-style burgers might be everywhere now, but Mary's (6 Mary St) was one of the first, and are still arguably the best at a classic cheeseburger. Their mash and gravy is a siren song to the hungover and hungry, and their fried chicken is the one to beat.
For a little slice of middle Americana in the middle of Newtown, cool your heels at the bar of the Midnight Special (44 Enmore Rd).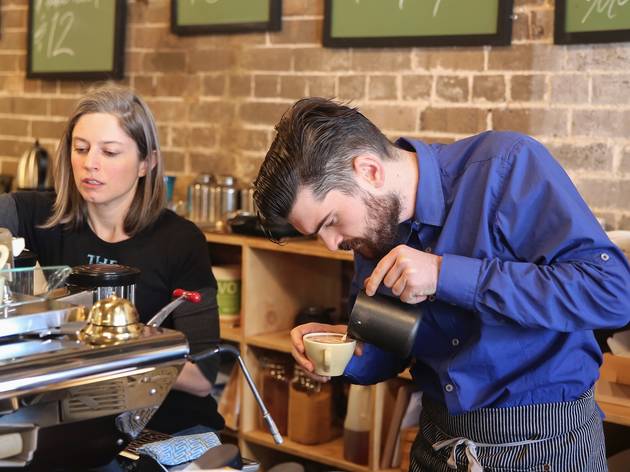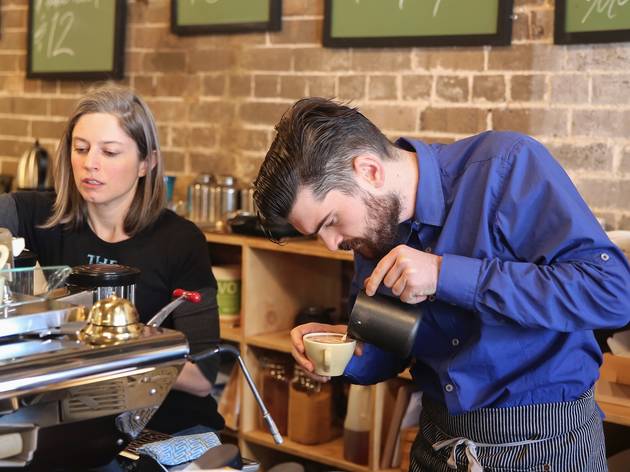 Photograph: Anna Kucera
Those reassuring green signs you see around town promising that the barista inside is brewing up Campos Coffee (193 Missenden Rd) originated right here in Newtown, and the coffee is as good as you'd expect.
There are a few Shenkin outlets scattered across the city, but for sheer convenience of good coffee, coupled with the promise of a warm slice of chocolate babka, you can't beat the littlest espresso bar bang on King Street (238A King St).
Of course this venue is famous for their strawberry and watermelon cake, but Black Star Pastry (277 Australia St) is also many people's destination for their daily coffee fix. Prefer tea? They brew a sticky chai that's super spicy and sweet with honey.
They roast their own beans in-house at Brewtown (6-8 O'Connell St), but they also understand that you want breakfast too – this is a full service café in a beautiful old industrial building on a side street in Newtown.

Handcraft Specialty Coffee (67 King St) is a compact operation on North King Street stocking beans from the who's who of local roasters.

Either Or (512 King St) has that beautiful, pared back look of an expensive perfume store, but the aroma is all about the specialty coffee beans here, and a menu that goes off-piste with congee, adobo bowls and a charcoal bagel.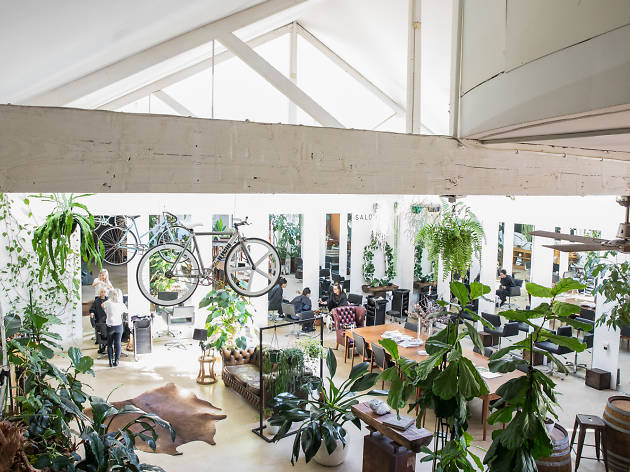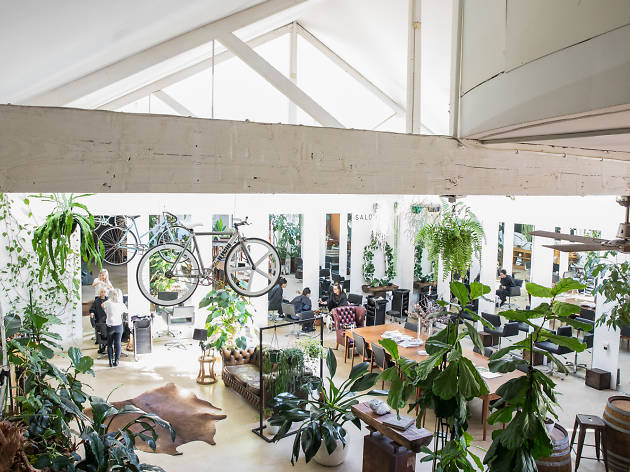 Photograph: Kei Leishman
Grab a longneck, a picnic rug, your mates and set up on the grass at Camperdown Memorial Park (Church and Lennox St) for dog watching in the sunshine. This is where everyone in Newtown comes to unwind in the sun and stretch out on the grass, because we all know terrace houses are the enemy of lush lawn.
There's a whole community of dog walkers who patrol the Camperdown Cemetery (189 Church St), which is an off leash area. People also come in to sit amongst the trees and ancient gravestones and enjoy a little peace and quiet in the inner city. They also run regular tours.

For some good clean fun Dendy Newtown (261-26 King St) screens a happy mix of blockbuster films and more arthouse offerings.
Part hair salon, part airy plant arboreum, and also a café, A Loft Story (36 Lennox St) is one of the most beautiful spaces to get a new do.
Feeling like a change? Just been through a break-up and need a new you? Get something pierced or a tattoo at Industrial Strength Body Piercing Studio (192 King St).
Weekends are crammed at Sleek Nails (10/330 King St), an extremely popular nail salon just near the station.

It might just look like a crystal shop from the street, but out the back of Nature's Energy (173 King St) there is a full day spa complete with treatment rooms and a bathhouse you can book for exclusive use.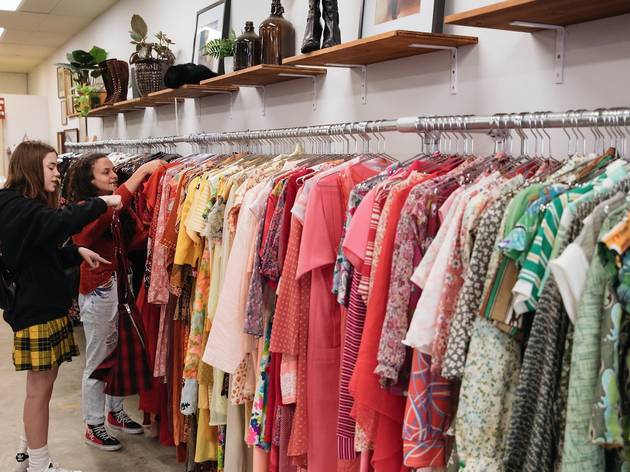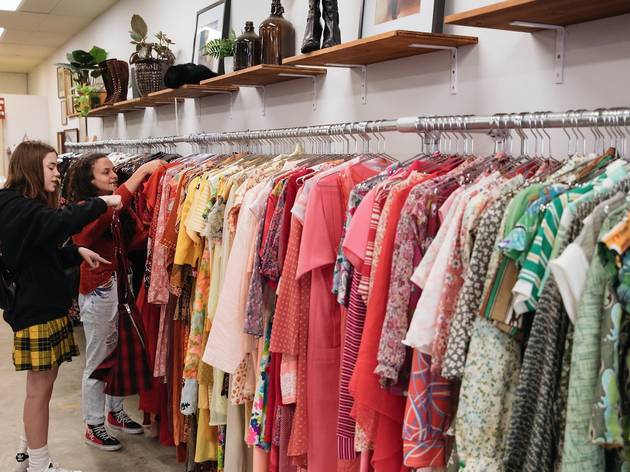 Photograph: Daniel Boud
The Social Outfit (188 King St) provides employment and training in the fashion industry to people from refugee and new migrant communities. They have a clothing and accessories store on King Street, with a sewing and manufacturing workroom upstairs, so you can shop for a new silk T-shirt or linen jumpsuit and know that the person who made it is directly benefiting from your purchase.

They've created the perfect closed loop system for lovers of vintage threads at Swop Shop (112 Enmore Rd). You bring in your clothes, they buy what they like, you get cash or store credit to buy new-to-you clothes. Don't have anything to swap? Don't let that stop you browsing their excellent selection of retro glad rags.
Live out all your Almost Famous fantasies with the vintage Americana garb at Route 66 (2/82-84 Enmore Rd). If you're in the market for authentic cowboy boots, flares, boilersuits and blanket coats, this is where to get them.

You can eat in, but if time is short grab fresh charcuterie, gourmet cheeses, and snacking accoutrement from the Stinking Bishops (5/63-71 Enmore Rd).

Dragstar have been making ethical women's wear in Sydney since 1992 and they're still going strong in their Newtown boutique today.
Music nerds congregate at Repressed Records (413 King St) for limited edition vinyl, CDs, cassettes, zines, t-shirts and totes.
Better Read than Dead (265 King St) is one of those independent book shops that you leave with your arms full and your wallet empty. The staff are enormously helpful and the displays make you long for your own library.

If you want to make someone's day buy them an arrangement from the Flower Room (282 King St). They love an esoteric bouquet here so you might get lotus root, cotton flowers, trailing orchids or fanning greenery amongst your blooms.

Newtown is a great place for some op shop action, and the Red Cross Op Shop Newtown (2/359 King St) does it better than most. Theirs is a highly curated collection that includes new stock from end of seasons and racks of pre-loved designer labels.
Buy yourself a lovely new house friend from the expansive racks of potted greenery at Newtown Garden Market (538 King St).

If you've always dreamed of coming home, putting a record on your turntable and listening to music in vintage style, head to Classic HiFi (550 King St) and browse their collection of classic stereo equipment.
Mapo Newtown (123 King St) makes artisan ice cream with seasonal fruits and nuts, and a lot of it is vegan, including their impressive dark chocolate sorbet.Grab a cone for right now and a take-home pack for later.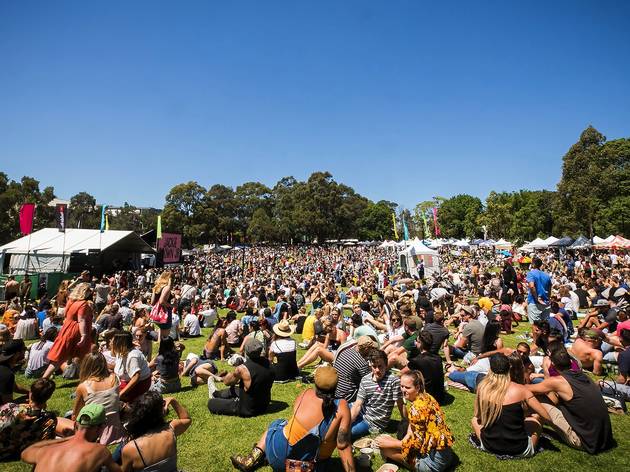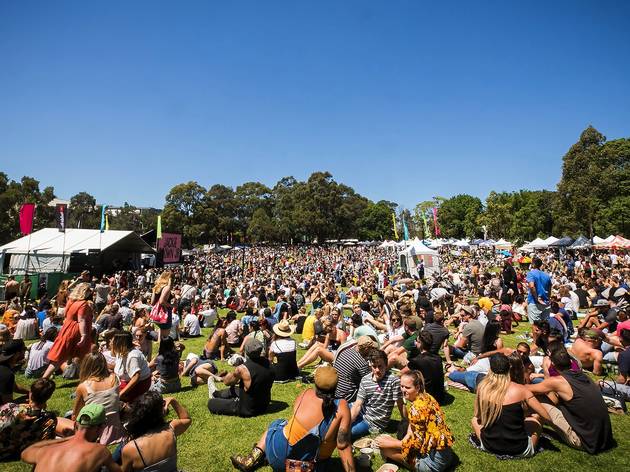 Photograph: Anna Kucera
Newtown Festival
This inclusive Inner West party celebrates Newtown's tight-knit community with a full day of music, art, food, markets and animal friends. Run primarily as a fundraiser for the Newtown Neighbourhood Centre (NNC), the annual event aims to support disadvantaged groups, such as people facing homelessness, living with mental illness or those from diverse linguistic backgrounds. The festival usually sees around 40,000 punters on the grass at Camperdown Memorial Rest Park shopping at the market stalls, watching killer live acts and snacking their way through Newtown's finest local eateries.

Discover more of the city
Get a local's perspective on other areas by clicking on the map. More suburbs are being added each week, so check back to find out which neighbourhoods to explore next.