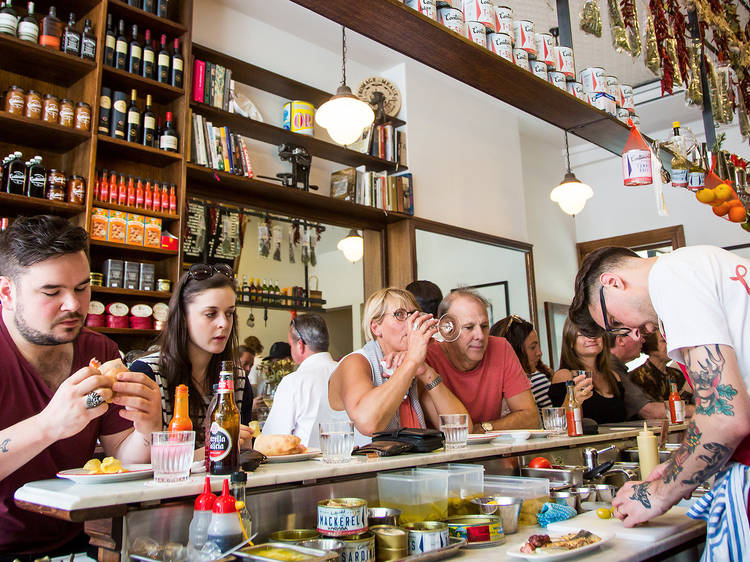 Photograph: Anna Kucera
It's home to the famous tinned cocktails, ace sambos in the day, and some of the finest choose-your-own adventure grazing boards in town. Depending on what your date likes, you can craft the ultimate cheese, meat or tinned seafood plate at Continental Deli Bar Bistro (210 Australia St), and then finish off with Neapolitan ice cream, also in a can, naturally.

The Finnish-Italo-Australian food at Cafe Paci (131 King St) has to be some of the city's most creative cooking and well worth the wait between venues for star chef Pasi Petänen.

They're making no claims to being the most authentic pizza joint in town at Bella Brutta (135 King Street), but their renegade toppings (clams? Mortadella?) are also incredibly delicious and the drinks here are a cut above.

Hartsyard (33 Enmore Rd) walks that fine line between casual diner and fancy night out, but they do it well, from the vegetab;e-forward menu through to the local wine list that is repping natural wine makers.

To outsiders it might be an eternal mystery as to why people queue so reliably for the Italian Bowl (255 King St), but this frantic pasta joint never fails to pull crowds with it's brand of choose-your-own dinners and the promise of cheap movie tickets.
It's vegan pizza, but done in strict adherence to Neapolitan style and spirit at Gigi Pizzeria (379 King St).

Newtown is undeniably Sydney's vegan capital (closely followed by Glebe and Bondi), which is why the meat-free arm of this local ramen empire chose Australia Street for their plant-based venue, Lonely Mouth (275 Australia St).
The falafel at Cairo Takeaway (81 Enmore Rd) are impossibly green, herbaceous snack patties and the garlic sauce chicken makes these pita pockets one of the best hand-held lunches on this popular dining strip. The irony is that most people want to dine-in so they can crack a local beer with their mixed plate and spicy fries.

You no longer need to wait for a friend or relative to graduate or get married to eat Filipino lechon, because Sydney Cebu Lechon (80 Enmore Rd) serves plates of their delicious roast pork and crackling Wednesdays through Sundays, with ube cheesecakes for dessert.
The Darkness ramen at Rising Sun Workshop (1C Whateley St) has achieved cult status on the Sydney dining scene, but they also have a lighter chicken ramen, and their chicken karaage is no slouch.

Everyone can eat the Japanese sourdough doughnuts at Comeco Foods (524 King St), because they are vegan and gluten-free. Everyone should because they are incredibly delicious.

People come to Bloodwood (416 King St) just for the polenta chips and blue cheese sauce, but this local restaurant and bar delivers much more once those golden chippies get you in the door.