The 10 most Instagrammable places in Sydney
Strike a pose at the most picture-perfect locales around Sydney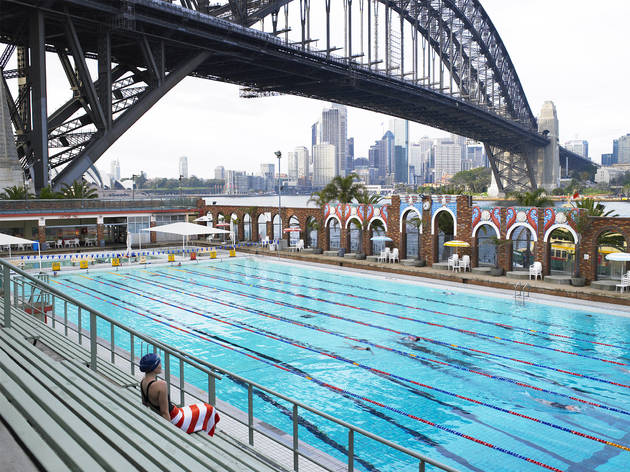 Blue skies, rolling waves, stand-out architecture and epic hikes make Australia's largest city one to immortalise through a lens. Sydney's white sand beaches and crystal clear bays remind everyone in this thriving metropolis not to get caught up in the 9-to-5. We've searched the city to find the most dazzling spots that'll make your Instagram feed sparkle, Sydney style.
Some places require a drive or physical exertion (like reaching glorious heights at the Royal National Park) but others are right in the backyard of the CBD. There's opportunities to get cultured with modern art and architecture while you set up a perfect snap, or to fill up on delicious snacks as you fill your feed with food from Sydney's eateries. So, get geared up and get 'gramming.
---
This epic mountain-meets-sea backdrop is worth the trek out to Ku-ring-gai Chase National Park. Barrenjoey Lighthouse marks Sydney's most northerly point and will give you stellar views across the hourglass peninsula and Palm Beach. The climb is short but steep; a leisurely 20 minutes will get you up the stairs. While the lighthouse is heritage-listed in all its 19th century glory, you might recognise it better from a certain Aussie drama: Home and Away. Fans can also head to nearby Summer Bay Surf Club to bring their soapstar dreams to life.
---
Want a postcard-perfect Sydney pic but can't stand the crowds at the harbour? Head to Mrs Macquarie's Chair for uninterrupted views of the Sydney Harbour Bridge and Sydney Opera House nestled among the city skyline. It'll take you 20 minutes to walk from Circular Quay along the foreshore of the Royal Botanic Gardens to reach this gem. As the name suggests, the seat was carved into a rock ledge for Mrs Macquarie, the wife of 19th century Governor Lachlan Macquarie. The chair faces away from the famous landmarks because they were built long after Mrs Macquarie's death. She was a big a fan of the view facing east, so we're sure she'd approve of the modern day Instagrammer.
---
There's strong debate in the patisserie community over whether this sharp-edged, white layered rock formation really looks anything like a cake, but that doesn't stop them from 'gramming it. This definitely-not-edible Sydney landmark sits precariously on the coast of the Royal National Park, and you'll want steal a few fleeting pics before it's (potentially) too late. Why? Because Wedding Cake Rock is sinking! The vertical fractures in the rock – which give the appearance of expertly molded marzipan – are telltale signs of unstable rock strata. While sitting on the rock for that perfect pose is off the cards, you can still enjoy the hour-long hike from Bundeena and take some snaps from a safe distance.
---
Ah Bondi, the true homeland of any Insta-nut. Tourists and locals come in droves to soak up the sunshine on this suburb's internationally renowned beachfront. The sandy expanse is always a winner, but many are enticed to abandon the sand by the mighty whitewash crashing against these aquamarine pools. The Iceberg Pools are home to the Winter Swimming Club which formed in 1929, but this salt-sprayed photo-op is open to the public year round. For $7, adults can enjoy a swim and time in the sauna from as early as 6am. But don't be caught out: remember that Thursday is cleaning day and to check opening hours before making the trip.
---
No Westfield could ever compete with the Strand Arcade. This Victorian beauty adds a little elegance to the CBD, with delicate ironwork, bold marble columns and richly tiled floors making it so much more than a simple retail centre. Built in the mid 19th century, it now houses some rather posh jewellery stores, Australian designer labels, boutique gift shops and stylish cafés. But the romance is in the building itself. The photographer's test is capturing softly tinted light as is shines through stained glass windows and onto carved cedar balustrades and shopfronts.
---
It starts with the coffee and ends with the inevitable photo-shot in the garden. The Grounds of Alexandria took the remnants of a heritage-listed warehouse in Sydney's Inner West and created a wonderland of greenery, complete with resident farm animals. Visiting the Grounds is almost a rite of passage for Sydneysiders and the consistently packed-out venue speaks to its popularity. Whether you're having lunch at the café, checking out the stalls at the weekend markets or trying your hand at one of their masterclasses (latte art and cake decorating courses) you'll be overwhelmed with Insta-worthy scenes.
---
View this post on Instagram
Sitting on the boardwalk at Darling Harbour, the Museum of Contemporary Art houses some incredible work from Australian and international artists inside a fittingly creative and varied building. Works by Aboriginal and Torres Strait Islander artists recognise the cultural and historical significance of the area to its traditional owners, the Gadigal people of the Eora Nation. While the art is the star of the show, the building itself is striking. It was extensively renovated in 2011, adding a new modern wing to the old sandstone heart. Its new boxy facade is very Grand Designs chic and its uncluttered, airy interiors draw you into the space to experience the work.
---
Soft serve ice cream might not initially ignite your artistic fires, but the iced confections offered at Aqua S are something special. These softly swirled cones are popping up all over Instagram in carnival colours. Their signature aqua blue sea salt flavour features regularly, but there's two new flavours each week to keep your feed fresh. You can top if off with fairy floss or caramelised marshmallows for that extra flourish. This CBD spot doesn't have the most idyllic scenery, but the sweet treats speak for themselves.
---
This is the ultimate pool with a view. You can almost clamber up the Harbour Bridge or leap onto the Ferris wheel at Luna Park from the North Sydney Olympic Pool. It's slap bang in the middle of the city's most recognisable landmarks and with Art Deco design and playful plasterwork, it couldn't get more aesthetically pleasing. If the 50-metre heated pool, gymnasium, sauna, indoor pool and café don't keep visitors occupied, perhaps the impressive history of the complex will. The pools have seen 86 world records and apparences by Aussie champions like Shane Gould and Lorraine Crapp.
---
Forgotten Songs
If you find yourself wandering around Angel Place, listen out and look up: the laneway connecting Pitt Street and George Street is alive with birdsong and rests beneath a canopy of 50 birdcages. It's an art installation with an important message: the calls you hear are recordings of birds who once populated the inner Sydney area but were forced out by urbanisation. The work was strung up in 2012 and quickly became one of the city's most photographed urban artworks. It's free and open day and night, with appropriate nocturnal sounds after dark.
---
Sure, you could join the tourist crush to bag that quintessential Sydney snap of the Harbour Bridge. You could brave the selfie-sticks and street performers and the over-priced ice cream of Circular Quay to get up close and personal with the city's most photographed structures. But we suggest you up your Insta-game by working smarter, not harder. A wander through the cobbled streets of the Rocks (also a highly Insta-worthy area) leads you to Observatory Hill, a lesser-known vantage point on the Harbour's architectural wonders that won't be crawling with people.
---
A trip to Taronga is a nose-to-tail insta-adventure. First, there's the ferry ride from Circular Quay, with its highly photogenic views of the Harbour. Next, there's the vehicular lift, which reveals the stunning Sydney skyline as it ascends from the wharf to the zoo's entrance. And then there're the animal attractions, from red pandas (awwwww) to capybaras (also awwww) to koalas (mega awwww) and our personal fave, the meerkats (all the awwwww). Once you've binged on all that cute, you can get your Attenborough on with arty shots of gorillas, Sumatran tigers, Asian elephants and chimpanzees.
---
It may sound strange, recommending a billboard as a must-snap destination. But Kings Cross' famous Coke sign has been a treasured part of the Sydney skyline since the mid-1970s. In 2015, the original electricity-guzzling neon lights were replaced with a more energy efficient LED sign that's capable of some pretty nifty and colourful displays. But, should the Coke sign's charms wear thin, simply do a 180 at the top of Williams Street for some damn impressive views of the city. Pro tip: the skyline is especially Insta-ready at sunset.
---
Sydney's ANZAC Memorial isn't just a poignant tribute to Australia's fallen soldiers, it's also a prime piece of Art Deco architecture. This beautiful structure has recently undergone major refurbishments, both inside and out. This has included the installation of cascading water features on its southern side, making it even more photogenic, if that's possible. A word to the wise: this is a place of solemn remembrance and should be respected as such. We recommend keeping photography outside, where you can also take in shots of the leafy boughs of Hyde Park.
Live like a tourist for the day
Just because they're popular doesn't make them tacky... These tried-and-tested tourist attractions around Sydney range from thrill seeking adventures to scenic tours of our city's peaceful gardens and parks.
Find the best places to stay in Sydney