Heads up! We're working hard to be accurate – but these are unusual times, so please always check before heading out.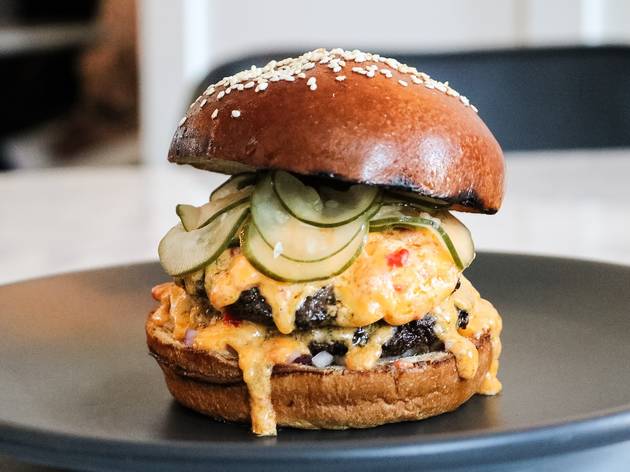 Meet your contenders for Battle of the Burger 2017
From thin griddle burgers to towering stacks of meat, we're honored to introduce Chicago's top 50 burgers
Chicago knows a thing or two about burgers. Whether you like 'em with the classic fixings or piled high with outrageous ingredients, there's a burger here for everyone. This year, we're leaving it up to you to pick the very best. Here are the 50 beefy contenders for Time Out Chicago's Battle of the Burger.
RECOMMENDED: Our guide to Battle of the Burger
Chef Pete Coenen pairs two thin char-griddled patties—and trust me, you'll taste the char—with bread and butter pickles, smoked gouda, caramelized onion and horseradish mustard aioli to create this monster of a cheeseburger. The lettuce and tomato give it height, making this one a mouthful any way you cut it. $16. —EA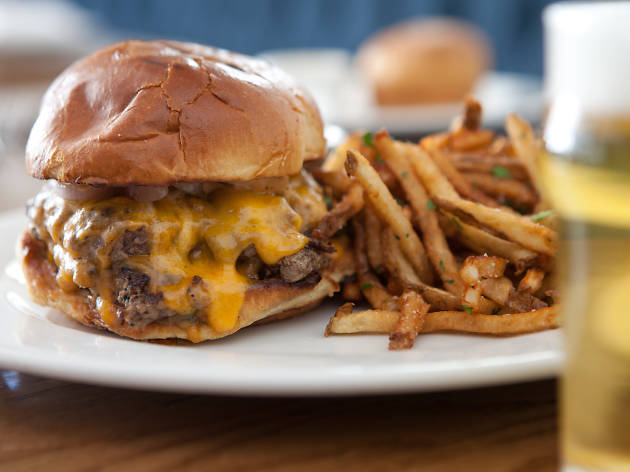 There are two burgers on the menu at Community Tavern, the bacon cheeseburger on the bar menu and the double cheeseburger on the dinner menu. Order the double cheeseburger, because while it (appropriately) doubles in price, it's leaps and bounds above the bar burger. With two beef patties, Hooks cheddar, pickles, carmelized onions and a side of house frites, it's bigger and well worth the extra scratch. $16. —EA
Providing the perfect example of how to top a burger, Dixie serves their double-decker with pimiento cheese, chow chow and red onion. Upon first bite, the pimento sinks into the meat and overflows, making the whole thing deliciously melty and cheesy. The chow chow and red onion add a nice zing just when things get too indulgent. A side of seasoned fries provides a vehicle for any pimento cheese that may have fallen on your plate. $13. —EA
Creative (but never overdone) toppings make the smashed-patty burgers at DMK sing. Try the No. 4, with roasted hatch green chili, Sonoma Jack cheese, smoked bacon and a fried egg. For $3, make it a double. The fries aren't to be overlooked either, and since they're available in two sizes, you'll be able to try two of the toppings without overdoing it. $10.50 single, $14.50 double.
Dove's applies its winning Southern-Mexican theme to a diner burger, which is only available on weekdays starting at 11am until it's gone. The result is a spin on a patty melt, with white cheddar, green chili mustard, caramelized sweet onions and mayo on a toasted cemita bun. It doesn't come with a side, so split an order of the fried potato and shishito pepper hash with your date. Just don't split the burger—you want this whole thing to yourself. $10.
The burger at DryHop remains one of the best: The brisket and sirloin patty is spread with ancho chile–tomato jam and creamy raw milk cheddar, with pickled onions to cut through the fat and arugula to lighten things up a bit. This is one balanced, beautiful burger. $13. —Amy Cavanaugh
Invented in Minneapolis, the Juicy Lucy is a burger for anyone who prefers their cheese encased in beef instead of melted on top. The Dusek's version stuffs American cheese into a Slagel Farm patty and tops it with butter lettuce and preserved tomatoes. The best addition to the burger is a red onion and bacon marmalade, which gives each bite a smoky-yet-sweet flavor. It's served with a heaping portion of duck fat fries you can dig into while you wait for the burger's molten cheese core to cool. $15. ​—Zach Long
Uncommonly thick Nutella shakes, fries with truffle salt—where does the low-brow end and high-end begin at Eddie Lakin's burger shop? The answer is that it's intertwined, because the most crucial, highfalutin things Lakin does—grinding his own meat and hand-cutting the potatoes for his fries—pervade almost every dish. The 8-ounce burger is a textbook example of beefy perfection and arrives topped with "everything" (a.k.a. ketchup, mustard, pickle, onion, lettuce and tomato). $9.
Photograph: Jessica Lynn Capron
Burger Au Poivre at Ella Elli
Expertly plated, the burger at Ella Elli is both decadent and gorgeous—you might even have a hard time taking the first bite. But when you do, you won't regret it. The juicy patty is topped with St. Andre triple cream cheese, watercress and slices of cornichons. The plate is accompanied by a pan sauce for dipping, which only solidifies how over the top this burger really is. $14. —EA
There are five burgers on the menu at this Midwestern spot—the Classic, the Barnyard, Three Sisters, Harvest and Trippel. They range from the weird (the Three Sisters has popcorn on it, giving it a crunch not normally associated with burgers) to the expected (the Classic boasts lettuce, tomato, onion and cheddar). Regardless of which one you pick, the burger will be cooked nicely, and you'll leave pleased. $13-$16. —EA
Show more
When DC Top Chef alum Spike Mendelsohn opened the first Chicago outpost of his casual burger joint, he airlifted the menu straight from DC. That explains the name of the Prez Obama burger, which made its Chicago debut last fall when it won the Hamburger Hop contest at Chicago Gourmet. And this is a winning burger—it hits all the right notes and textures, from sweet onion marmalade to salty bacon to sharp Roquefort and pungent horseradish mayo. $7.25. —AC
Sarah Jordan (Johnny's Grill) does it again at Revival Food Hall's Graze Kitchenette. Not quite the same as its Logan Square counterpart, this burger can be ordered as a single or a double with grass-fed beef, cheddar, pickles, onion and dijionnaise. You can even dress it up with Swiss or blue cheese, mushrooms, avocado, a farm egg, bacon or jalapeños. If you're craving a burger for lunch, book it to this Loop food hall to hit the spot. $8–$10. —EA
Cooking the meat correctly is crucial to constructing a good burger, and GreenRiver puts together a mean one. It sports two thin patties, with just the right amount of pinkness in the middle, melting cheddar cheese, briny pickles and a house sauce to tie the whole thing together. $16. —EA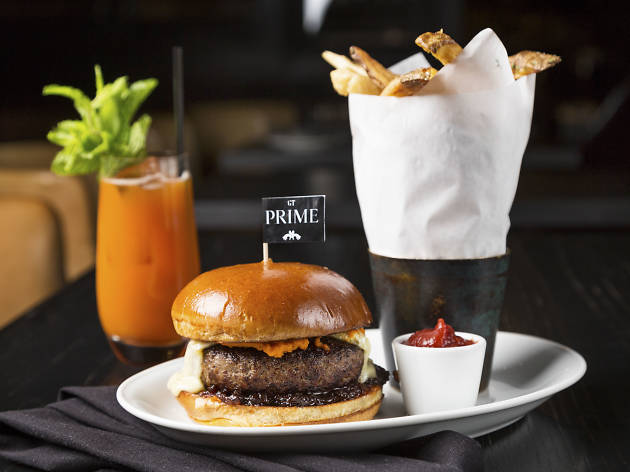 Photograph: Jessica Lynn Capron
For a true umami bomb, GT Prime's burger is the way to go (no surprise, as the chic spot specializes in all things meat). If you're not afraid of getting a little messy, saddle up to the bar and sink your teeth into the hunk of beef topped with cheddar, sun dried tomatoes, onion marmalade and porcini dust. It's a hefty handful, which somehow still feels elegant, if not totally over the top. $16. —EA
Haywood Tavern's double cheeseburger isn't exactly groundbreaking (what burger is?), but it's an extremely solid rendition of the venerable dish, boasting two Slagel Farm beef patties, a tangy dijon aioli and just the right amount of crisp pickles. Served with fries, it's the right size for a not-overly-hearty meal or a late-night snack, leaving you with enough room for a beer or cocktail at the Humboldt Park bar. $14. —ZL
Cultures collide to make this burger great: Kimchi (Korean) provides the acidic bite, pickle aioli (French) offers creaminess, Gouda (Dutch) lends it a gooey, smoky flavor and the patty (we're gonna go with American) is perfectly cooked. Hooray for globalization. $16. —LB
Double patties are a constant throughout this list, but the cheeseburger at Johnny's Grill departs from thin patties and instead stacks two medium patties with cheddar cheese dijonnaise, pickles and onion. It's a traditional diner burger, but with a bright saltiness that brings out the best in those huge hunks of meat. $9. —EA
The servers here sport more ink than a Bic factory, and the metal is cranked up so loud you can't hear yourself talking, but therein lies the charm. Squeeze through the ass-to-elbows crowds and up to the long bar, where you might be in for a lengthy wait. What's the draw? Well, the Famous Kuma burger, for one. Topped with Applewood smoked bacon, cheddar, a fried egg, lettuce, tomato and onion, this stacked masterpiece is a work of art—and taste. $13.
Our current favorite on M Burger's lineup has to be the Chicago Double. It's a simple combination, with two juicy patties covered in American cheese, grilled onions, pickles and mustard. Are we in heaven? M Burger just put all of our favorite things on a single bun and now we don't know what else to eat for lunch. Seriously. $5.99 —EA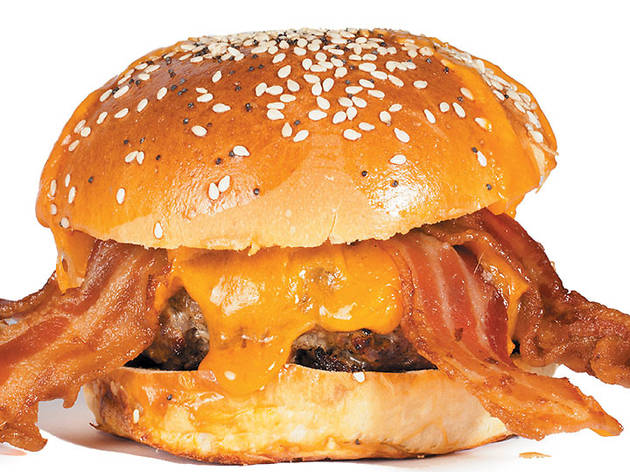 The house-ground Slagel beef burger arrives expertly cooked, christened with a cross of crispy bacon and a melting slice of aged cheddar tucked under a toasted, house-made sesame bun. Give it a few squirts of house-made ketchup and mustard, then layer on the in-house pickles. $14. —Lauren Viera
Show more