The best bars in Wan Chai
No longer a hive of scum and villainy, Wan Chai is now home to some seriously good bars. We count down the best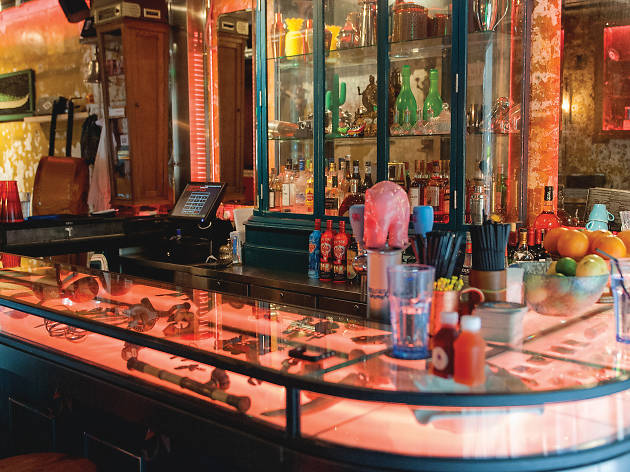 Once infamous for being the seedy heart of Hong Kong Island, Wan Chai has shed much of its sleazy reputation in recent years. Sure, the western end of Lockhart Road is still less than salubrious but the wider neighbourhood is now home to an increasing number of top tier bars – which come with some of the best cocktails and amazing rooftop views – as well as some awesome cheap eats, too.

We count down the top 20 bars in Wan Chai and guarantee no solicitation, just celebrations.
The best bars in Wan Chai
20
It's true, The Wanch is much more famous as a home of live music than a quality drinking den. Nonetheless, it's a local institution for good reason. And if it's a reasonably priced drop of booze you're after in an unpretentious setting that comes with live music, you can't do much better than here.
Read more
18
Tucked away at the end of Moon Street, TED's is the ideal place for a quiet drink away from Wan Chai's almost inescapable hustle and bustle. Focusing on Prohibition-era, Latin-inspired cocktails the bar offers solid cocktails but even better bar food.
Read more
17
This Cajun- and Creole-themed bar and restaurant is another winner in the Star Street precinct. The seedy kind of Southern gothic charm is something Hong Kong could do with more of and the cocktails – now the opening kinks have been ironed out – are appealing takes on the classics.
Read more
15
'Tai lung fung', in modern-day slang, refers to the showy and ostentatious. It's an ironic name for this laid back establishment that serves reasonable cocktails, beer, wine and food. Our suggestion is to gather your friends, order a round and to grab Cards Against Humanity from the back of the bar.
Read more
12
The famous $1 happy hour may be no more but Stone Nullah Tavern is still worth checking out even when the drinks are full price. The USP these days is the wide variety of bourbon available – supposedly the largest selection in Hong Kong.
Read more
11
A neat little spot tucked down an unassuming back-alley on Landale Street, Djiboutii is one of Wan Chai's hidden gems (though its fame has grown since its unassuming opening in 2015). The drinks lean towards the tiki, so expect a lot of juice with your spirits. Don't think they lack a punch, though.
Read more
The best bars in Wan Chai
10
Le Quinze Vins offers patrons a long list of French labels as well as serving traditional cheese and cold cut platters and other wine-enhanced nibbles. A cosy space, LQV is an authentic slice of Paris come to Wan Chai.
Read more
8
China's 'fire water' doesn't have a great reputation outside of the Mainland but Deng G is doing stirling PR to soften the often brutal spirit's rep. The strong collection on offer here results in cocktails with surprising fruity notes and original flavour combinations.
Read more
6
Despite the city's plethora of high-end Japanese restaurants, a good saké bar is hard to find. Saké Beya Masu is one of the best and certainly one of the most welcoming. The location is like something straight outta Kyoto and both the range of saké and small bites are top notch.
Read more
The best bars in Wan Chai
Looking for drinks in Central?
The only trouble with all the bars in Central is knowing where to start. Let us solve that problem for you with our guide to the very best in the neighbourhood.
Read more