The best cheap eats in Hong Kong
Fuel up with our guide to the best dishes and snacks in Hong Kong for $50 or less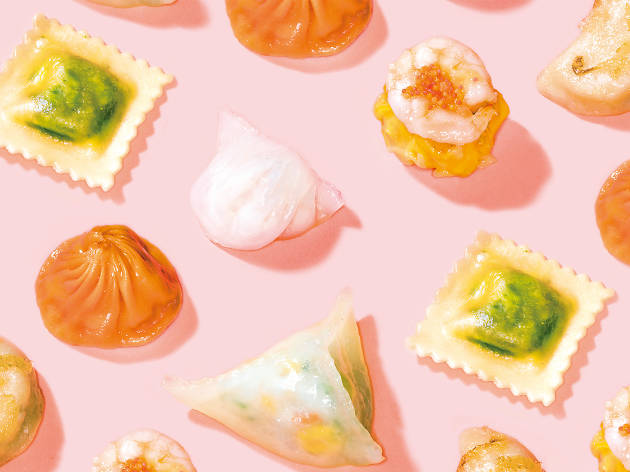 Food is more than a passion in Hong Kong. It's a way of life. From some of the best brunches, to our awesome street food and humble dim sum, our food scene is tops. But many meals come with a hefty price tag, so we've picked 50 of the best cheap eats in Hong Kong under $50 so you can treat your stomach like royalty, without the royal price tag.
The best cheap eats in Central & Western
Spam and egg rice with drink at 孖沙茶餐廳 (Ma Sa Restaurant)
This authentic cha chaan teng in Sheung Wan can turn a simple dish into something special. Plus, it serves generous portions for really, really low prices. The spam and egg rice is our fave. The pork arrives with three perfectly runny eggs on a bed of fluffy steamed rice. The yolk and soy sauce soak beautifully into the rice and create a taste sensation with the spam. Cheap on price, rich on flavours.
Taiwanese pancake at 艾• 蜜思 (I Miss You)
Tucked away in an old building in Sai Wan Ho – a district known for its excellent range of cheap food offerings – I Miss U is a paradise for those on a budget. Try the wildly popular savoury Taiwanese pancakes which come in a variety of flavours such as purple potato or original. Similar to naan bread, the delicious dough is crispy on the outside and chewy on the inside. Best thing about them? You can customise your own filling with ingredients like cheese, sausages and octopus.
Looking for an energy boost? This breakfast-friendly pudding contains healthy ingredients like chia seeds, granola and mixed fruits. They're blended with coconut and almond milk for a sweet, creamy kick. What better way to kickstart the day than the vegan way?
Read more
This joint on the slopes of Sai Ying Pun is quickly becoming an Indian cuisine destination favourite. Apart from serving satisfying and flavourful curries and tandooris, the samosas are large in size and packed with veggie goodness. One of the best ways to start a curry extravaganza is to indulge in one of these meaty giants.
Read more
Emack & Bolio's gets creative with its wide selection of cones and ice cream combinations. Go for the sweet selection of ice cream flavours like Cookie Monster and Trippin On' Espresso and, for a little extra, add some flair to your order with cones crowned with Rice Krispies or Froot Loops covered in melted marshmallow. Cheap, chilled and awesome.
Read more
While most people only go for the signature delectable pho in the contemporary Vietnamese Pho Bar, you should try the appetising house special fries. Dip the fresh, hot and richly-seasoned chips into the mentaiko mayonnaise for a cheap and joyful savoury experience. This is golden-fried goodness, the Pho Bar way.
Read more
Bringing a contemporary twist to traditional French pastries, L'Eclair de Génie tells customers to 'feast their eyes and delight their tastebuds'. The raspberry éclair is a best-seller here but we adore the N°117 chocolat grand cru creation, which uses the most delicate Guanaja 80 percent chocolate cream as well as dark chocolate glazing. For all you choccy lovers out there, head down to your nearest L'Eclair de Génie store and treat yourself. Now!
Read more
This Victorian-style shop, reminiscent of a scene from Harry Potter, brings you the best in traditional British confectionery. A 100g bag of sweeties costs you 20 quid. Sorry, dollars. And the shoppe has a vast selection of retro treats to choose from, including cola bottles, wine-gums, gobstoppers and Wham Bars, as well as plenty of chocolates, toffees and fudge. Are you feeling that sugar rush yet?
Read more
Think crunchy, gooey, fireworks-in-your-mouth goodness – yes, we're talking about Beer & Fish's stout-battered junk food. Choose guilty pleasures like Oreos or a Mars Bar which have been deep-fried in stout-batter. Eat this like it's your last meal on Earth because you might need to make it to a hospital after the instantaneous heart attack...
Read more
Sometimes eating cheap means eating light and eating clean, even for mid-level executives working in Central. Law Fu Kee is the go-to place for Hong Kong's staple comfort food – congee. There's a variety to choose from but nothing beats the hallowed plain bowl. Made with a fragrant fish broth, it's delicious, clean, soothing, healthy and all for a paltry 16 bucks? Hell yeah!
Read more
The best cheap eats in Wan Chai & Causeway Bay
In Hong Kong, Japanese food can often cost the world and leave you unfulfilled. Not so at Okonomi, though. This restaurant, with a few branches across town, offers ace Japanese dishes for diners who are on a budget. Tuck into a rice bowl topped with salmon sashimi, cucumbers, eggs and crab roe. Come hungry for this quality raw fish and rice medley.
Read more
Bacon pineapple burger at Burger Home
This homegrown burger joint serves up fresh handmade patties each day. Add fresh tomatoes, a slice of pineapple, some lettuce and bits of crispy bacon and you're in for a big, juicy delight of a meal here. This bacon pineapple burger ain't complicated but it's hard to nail perfectly and, thankfully, the guys at Burger Home do just that.
We say superbowl, you think of American football. But this superbowl is served up by Pret and packed with enough energy to fuel an American football player. The beets and feta variety is our fave. The base of quinoa and rice mix comes layered with a combination of spinach, roasted beetroot slices and sweet roasted pumpkin. If you're looking for a pick-me-up meal without trashing your wallet, touchdown in Pret this lunchtime.
Read more
Bake's baked cheese tart comes all the way from Hokkaido, Japan, to tantalise our tastebuds. The crusty dark brown dough is filled with a creamy cheese mousse that is soft and silky in texture. And the egg, wheat and milk flavours are complimented by a tinge of saltiness. Irresistible.
Read more
Hokkaido milk is famous for its rich, creamy, almost vanilla-ish taste. Symbolised by its 3.6 percent fat content, any dairy product made with this stuff is good for you. Taste the original and unadulterated milky flavour at Milk Top or get it in a plethora of varieties such as matcha, strawberry and cookies and cream.
Read more
The double-boiled milk pudding at this local favourite cha chaan teng has become iconic over the years. The smooth creamy milk arrives at an almost lip-searing temperature. It's an authentic experience. And tasty too.
Read more
Cart noodles aren't a fussy affair, but they're a tasty one. The noodles are drenched in broth with tons of goodies thrown in. At Wing Kee, there's three variations including chicken wings, pig skin and pig's blood.
Read more
Baking fresh handmade cupcakes from scratch daily, Twelve Cupcakes provides an array of choices tailor-made to suit all tastes. The cookies n cream is a delight but we love the rose lychee cupcake. The floral and fruity flavours complement each other and is a popular choice.
Read more
This concept store opened with such a buzz, it needs no introduction. There's just something so wrong, it's right when it comes to combining fresh crisps and soft serve, smothered with chocolate sauce. Calbee has created a 'typhoon shelter spicy wavy' flavour just for Hong Kong. Flavoured with just the right amount of kick, this is one guilty pleasure not to miss.
Read more
The best cheap eats in Kowloon
The best cheap eats in New Territories
Lolly waffle
Haru & P
The lolly waffle at Haru & P in Kwai Fong is big in size and big in heart with a glorious range of flavours. A range of different toppings and icings make the lollies shine, plus there are some fab seasonal toppings on offer too. Haru & P's maple-syrup waffle is a supreme winner, as is the chocolate variety.

Ice cream brownie
Fooody
This chillaxed spot is perhaps the best kept secret in the industrial area of Fo Tan. Spacious, with vintage furniture and homeware scattered around the eatery, it feels like some sort of private members-only club. Claim a sofa, buy yourself a cuppa and soak up the live music during the weekend. Oh, and don't forget to try the ice cream brownie for the perfect sugar rush! Nothing beats ice cream on a brownie, particularly at this price.

More Eggettes
Egg waffles are a Hong Kong classic and More Eggettes is where the classic becomes the iconic, providing a delicious twist on egg waffles. The eatery combines chocolate and Honey Stars into the mix. You read that right. The kid's favourite cereal is added on the surface of each 'bubble', giving the soft and gooey waffle a satisfying crunch. Perfect for those with a sweet tooth.
Read more
婆婆家餃子館 (Grandma's Dumplings)
Some say that good things come in small packages. This is definitely true for Grandma's Dumplings and, no, we don't mean any innuendo there. This fab restaurant in Tai Wai, in the New Territories, boasts small-but-hearty beauties. The dumpling wrappings are thin and tender, and the fillings are well balanced with meat and vegetables. Get them fried or boiled and served with a delicious broth.
Read more
Ping Kee Noodles
Thin noodles served with generous amounts of shrimp roe, beef balls and wontons in a full bowl of soup. Squeeze your way into the perpetually busy Tai Po Market to get a taste of this eatery's signature dish that exemplifies comfort food. The smell of dried shrimp powder stimulates the appetite. And, when you dig in, the umami flavours satisfy your palate.
Read more
Chan Hon Kee
Tai Po is a top place to go for excellent cheap eats. And you know it's a good sign when the crowds line up outside a restaurant on a daily basis just for one type of dish. At Chan Hon Kee, they queue in their droves for the claypot rice. There's a big selection to choose from but the sirloin beef and egg variety is this eatery's star. Enjoy the juicy meat alongside just the right amount of egg. Open from 6pm daily, dine and devour this sizzling neighbourhood favourite.
Read more
Smoked Tamago
Eggs don't have to be boring. And they're certainly not at Tsuen Wan's Smoked Tamago. The Japanese rolled omelette known as tamagoyaki is made with a Hong Kong twist here. Delicious fillings such as Sakura ebi – shrimp from Sakura – as well as seaweed and fish roe are rolled into the unique rectangular-shaped omelette and presented as egg rolls, bursting with flavour. You need these proteins.
Read more
Burger Deli
We know, we know. This place is best known for its burgers but the scrumptious hotdogs shouldn't be overlooked. You can't go wrong with this no-frills chilli dog. A plump sausage snuggled inside a warm, squishy bun that's smothered in mouthwatering chilli con carne is a veritable protein on protein meal. It's a messy ordeal to eat but the pairing of sauce, sausage and bun should keep you coming back for more. Simple, cheap and delicious as hell.
Read more
百寶雞 (Eight Treasure Chicken)
Many restaurants in Hong Kong serve up an unfair chicken-to-rice ratio. Basically, by the time you're done munching down the meat, you're left with a huge portion of leftover rice. But at Tai Wai's Eight Treasure Chicken, you get extremely generous portions of soy sauce-marinated and braised pieces of chook with a perfectly proportional amount of rice. A cheap eat treasure. Eight of them, in fact.
Read more
老香港大碗飯 (Old Hong Kong Rice Bowl)
Right inside the hub of a cooked food centre in Fo Tan, this down-to-earth restaurant serves amazing Qingyuan (northwestern Guangdong) cuisine, including the must-have wooden bucket chicken. You get a whole bird that's boiled in a similar way to Cantonese style but in an amazing marinade and then cut up into pieces, as well as some cucumber slices, a bowl of soup and rice. Incredible. Feed the brood or pig out on your own.
Read more
After all that, you're going to need a drink...
Boozing might not be cheap in Hong Kong, but after all those cheap eats, you'll have some change for cocktails. Check out our ultimate guide to Hong Kong's best cocktails.
Read more