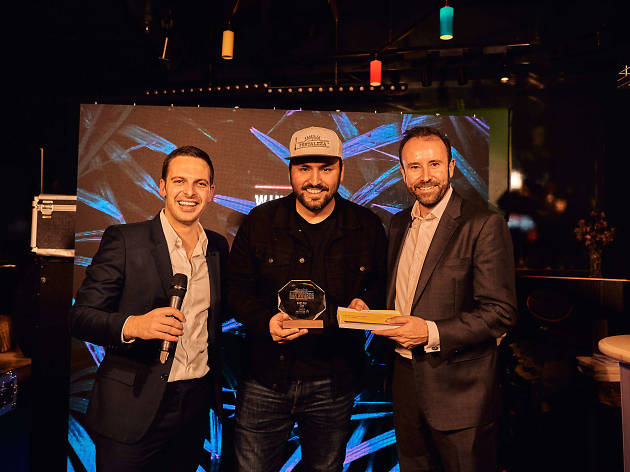 1/2
CS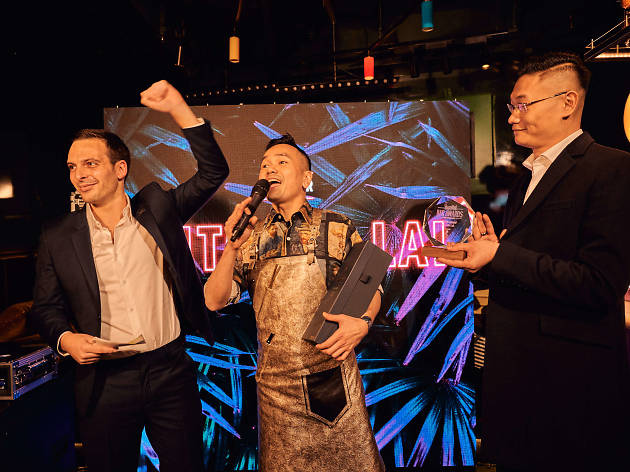 2/2
CS
Time Out Hong Kong Bar Awards 2019: Winners
We once again crown the champions of Hong Kong's bar scene
After a hugely rewarding inaugural campaign last year, we've been at it again over the past months, sipping and staggering our way through Hong Kong's finest drinking establishments on a merry mission to deliver our verdict on the best bars and bartenders our city has to offer for in 2019. We had to make some tough decisions to whittle the excellent competition down to a chosen few, but we've done what needed to be done. All the winners and runners-up have been chosen independently, so know that we're speaking from the heart here. Disagree with any of our decisions? You can always let us know at info.hk@timeout.com.
A special thanks to Cassio for hosting an incredible event, and our presenting partner Asia Miles.

RECOMMENDED: Hungry rather than thirsty? Check out our guide to the best restaurants in Hong Kong. Or if you're simply looking for new activities to try, here are our recommendations for the best things to do in Hong Kong.
And the winners are...
Last year's Best New Bar winner has continued its meteoric ascent, with Jay Khan at the helm killing it in his Mexican-inspired drinking hole. Since opening in 2018, Coa can genuinely lay claim to making mezcal and tequila converts out of hundreds of Hongkongers, an impressive feat considering that agave spirits were an anomaly to the majority of folk here just a short time ago. There have been accolades too, with the bar storming in at #12 on this year's Asia's 50 Best Bars list as the highest new entry, and even being named as among the world's top 50. With a recently revamped menu that offers more delectable cocktails to sip in atmospheric surroundings, Coa would surely rank among the best bars in any city.
Runner-up- The Old Man
It's been a great year for the famous three behind this Hemingway-themed speakeasy. Not only has their bar won numerous awards – not least in being crowned Asia's best bar back in April – but it has also seen members of its team, particularly Natalie Lau and Yiu Yvonne Chan, grow to become stars in their own right. The team, the cocktails, the atmosphere, everything about The Old Man continues to make it a must on any drinker's list when exploring the Hong Kong bar scene.
For our new Legend Award, we were looking for someone who has left an indelible mark on the industry, developing his or her own establishment(s) whilst in the process having a significant influence on Hong Kong's bar scene in general as a pioneer and visionary. One name stood out among all others this year, and it's probably no surprise to many of you that it belongs to Antonio Lai. With the opening of his first Hong Kong venture in 2012 he introduced molecular mixology to our city, and since then has opened – or had a strong hand in opening – a string of other establishments, each of which have introduced new concepts to Hongkongers and generally broadened the horizons of the drink scene here to no end. Thank you, Mr. Lai.
You've named Kakure as your favourite bar in the city this year, and we certainly see how this cosy speakeasy within Central's restaurant of the same name has found its way into your hearts. After sipping on a delectable cocktail shaken up by the knowledgeable bartenders, we recommend checking out the bar's selection of old scotches.
Last year's runner up is the man this year, thanks to his continued provision of delectable agave spirit-based cocktails paired with a seemingly boundless knowledge of his craft. His bar was inspired by drinking holes in the Oaxaca region of Mexico, and Jay does things right by continuing to educate his patrons on the country's previously little-known spirits. His passion, knowledge and execution make both him and his bar well-poised to become Hong Kong institutions in the years to come.
Runner-up- Shelley Tai (Quinary)
The past six months have been rather eventful for Antonio Lai's most talked-about protégé. Not only has Shelley been continuing to make waves – and delicious cocktails – at Quinary, but she also won the 2019 Diageo Reserve World Class Hong Kong and Macau bartending competition, and in doing so cemented herself as a dominant player in the Hong Kong scene.
One of Stockton's best attributes is its experimental streak, as demonstrated in the introduction of three entirely new cocktail menus since opening back in 2014. As of late last year, their current Evolution of the Species menu has been pleasing crowds, with the standout Sin Tax a gem of a cocktail that is refreshing on the palate yet absolutely bursting with flavour. Composed of Young Coconut, Kaffir Lime Liquor, Citric Solution and Pandan Tanqueray Gin, this is 2019's worthy winner.
Runner-up- Earl Grey Caviar Martini (Quinary)
Quinary's bestseller embodies the bar's goal to offer patrons a provocative, multi-sensory drinking experience. Combining Cointreau, Ketel One Citroen vodka and elderflower syrup under earl grey tea caviar pods creates an infinitely satisfying mix of tastes and textures, with the airy earl grey tea foam on top adding some apt flair to a concoction that is as intriguing as it is delicious.
Grungy, with stained concrete walls off which reverberates a perpetual medley of rock 'n' roll tunes, The Pontiac certainly isn't your typical Hong Kong cocktail bar, but we think Beckaly Franks – the woman in charge – likes it this way. One hell of a place to party, when the clock strikes midnight it's Coyote Ugly meets cocktail as the bartenders hop up on the counter and begin pouring spirits into the mouths of exhilarated patrons. What makes this place truly special though is the quality of cocktails, which are up there with the city's finest and really set this place apart as the most discerning dive bar in town.
Runner-up- Foxglove
Opening in 2015 with its now famous interior that resembles the inside of a 1950s luxury jet, Foxglove was obviously designed with the intention of selling patrons an experience and not just drinks. This doesn't mean that the tipples are neglected, as the cocktail menu and staff do a good job in terms of variation and delicious flavours. Add to this top-notch live music and you have among the most attractive drinking spaces in the city.
Rosewood's flagship bar DarkSide takes it this year, and deservedly so. Since opening its doors back in March, this slick saloon has served as an ode to cool, with its timeless décor under dim lighting and provision of nightly jazz performances oozing sophistication but without pretentiousness. The drinks, from rare aged spirits to cocktails – both the classics and the signatures are expertly done – illustrate Arkadiusz Rybak and the team's discerning eye and passion for what they're doing, and if it was their initial goal, they've certainly succeeded in manifesting, and perhaps even epitomising, the look and feel of 'new' Tsim Sha Tsui.
Runner-up- Tell Camellia
Helmed by award-winning bar duo Sandeep Hathiramani and Gagan Gurung, Tell Camellia has made waves since opening in the summer through its provision of tea-infused cocktails – or teatails – that see teas from around the world infused with liquor. Creating a menu that deviates from traditional cocktail styles was a bold move by the two, but it seems to be paying dividends. With a recent venture into teatail workshops, the desire to educate drinkers is clear here, as is the pair's intention to be in this for the long haul.
The Old Man was crowned the best bar in Asia earlier this year, and a significant factor in that success came in the way of Yiu Yvonne Chan. As well as a year in which she has honed her skills greatly, 2019 has seen the fledgling star promoted to the position of Head Bartender, and also place very convincingly at the La Maison Cointreau Cocktail Competition.
Runner-up- Summer Lo (Caprice)
The Caprice mixologist has had a year of highs, proving her worth in competitions including the Diageo World Class and Speed Rack Asia 2019, in which her quick hands earned her an emphatic win over stiff competition.
PDT takes it again this year, and it's not hard to tell why once you immerse you in this cosy cubby hole of a bar hidden away in a corner of the Landmark Mandarin Oriental. This year the little sister of the New York flagship has been continuing to do what it does best, with Adam Schmitt and the team serving up stellar cocktails not just limited to classics but also creative signatures specially crafted for the Hong Kong palate. With everything from hotdogs to takoyaki-flavoured tater tots, the food continues to be delicious too.
Runner-up- Room 309
Room 309 comes in just behind PDT for the second year running. It remains one of our favourites in the city, and we accordingly recommend exploring the 'invisible menu' – pretty much everything on it is good – as you get lost in a space that, although only a few levels above the busy Hong Kong streets, feels like a million miles away.
While not necessarily offering the best views in the city – don't get us wrong, the views aren't bad, with a decent gap between skyscrapers through which to gaze upon the ICC across the harbour – Popinjays still wins as the best overall rooftop drinking experience in the city. Whereas some rooftop bars here and elsewhere seem to rely on their high-altitude views, Popinjays boasts a slick atmosphere, attentive service and quality drinks to make this an establishment that would succeed even if located on street level.
Runner-up- Piqniq
A pleasant rooftop space with cracking views of the central skyline, Piqniq is perfect for those after a casual rooftop drinking experience. The music is decent, the prices are reasonable, and there's a large Yayoi Kusama Red Pumpkin opposite the bar counter for those who get bored of looking at the neighbouring buildings.
This recently revamped local favourite immediately came to mind when considering a winner for this new-for-2019 award. Sporting a new 1960s-inspired aesthetic and a bold new menu to match – we particularly like the whiskey-infused take on Hong Kong-style milk tea – this place really emanates 'real' Hong Kong better than anywhere else in the city.
Runner-up- Kong by Bread & Beast
By day an experimental sandwich shop, by night this spot that is tucked away on Wan Chai's Swatow Street comes alive to introduce a range of traditional flavours to Hong Kong's bar goers. The creative menu boasts a range of cocktails made with baijiu and Chinese spices and syrups in a way that educates to provide a rare, mind-broadening experience.
It's just about a decade since this local favourite moved from the original spot on Hollywood Road to its present Graham Street location. Despite regulars' fears that they might lose the essence of their local, it only got better, with a bigger space and an expanded food menu offering traditional pub classics and Asian-inspired snacks. These days the pub has solidified its status as the beer institution in Hong Kong through an eclectic and constantly changing selection of beers, with everything from European stalwarts to new brews from local craft breweries. This is as close as it gets in our city to pub perfection.
Runner-up- Second Draft
Standing on a quiet street corner in Tai Hang, this Young Master venture has really become a pillar of the community since opening back in 2016. With around 20 beers on tap that include Young Master concoctions alongside international offerings, this is a great spot for discerning beer drinkers wanting a pint in a spot with a real neighbourhood feel.
Still thirsty?
Best selling Time Out Offers