The best cafés and coffee shops in Sheung Wan
Sip your way through the best brews in Hong Kong's coffee hub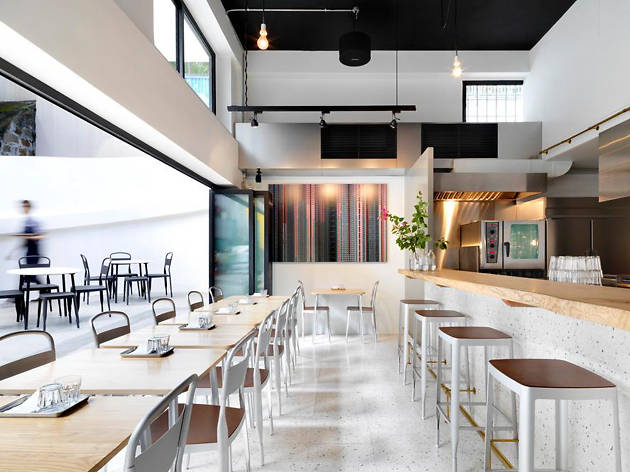 Sheung Wan is pretty much known as Hong Kong island's coffee hub thanks to its growing community of great cafés. Whether you're looking for cold brews and Melbourne-style javas to Instagram-worthy coffees, this neighbourhood has got 'em all. Follow this guide to discover all the best coffee shops in Sheung Wan and our recommendations on the best brews to order.
Sheung Wan's best cafés
A recent addition to the already stacked and packed array of coffee shops in Sheung Wan, Amber brings to town eccentric coffee creations by award-winning barista Dawn Chan, a two-time champion at the Hong Kong Barista Championship. Serving everything from pineapple juice-infused cold brews to speciality house black served in hand-painted cups, Amber also turns into a wine bar in the evening if you're looking for a nightcap or two.
Read more
Barista Jam's signature drip coffee is a must-have at this compact coffeehouse. From Japanese siphon coffee and french press to hand grinders and Aeropress, not to mention Moka pots, you can find almost every method of brewing imaginable at Barista Jam. Try their flat white and small batch roast coffee for the perfect caffeine fix.
Read more
This hole-in-the-wall offers Sheung Wan residents Melbourne-style coffee. Made from coffee beans delivered direct from Melbourne's Market Lane Coffee, you can order anything from a cappuccino to their signature 21-hour cold brew, plus a great selection of teas including prana chai and matcha with soy milk. Grab a fresh pastry to go if you're in a rush or sit down for a full breakfast. Be prepared to wait, though, as the café only seats around 10 to 15 people.
Read more
Surround yourself with the fragrant aroma of fresh flowers in Sheung Wan's secret garden café. Quaint and quiet in equal measure, Café Bauhinia doubles up as a flower and coffee shop. The walls and terrace are dripping in bloomers, creating an almost rural atmosphere while you munch on items from the tea-set-inspired menu that offers coffee alongside Hong Kong's first ever s'more buffet.
Read more
This chilled venue is one of the coolest settings in town thanks to its charming al fresco seating and open layout indoors. Coffee brews of all kinds are available here including dirty (a shot of espresso with cold milk) and iced espresso soda. Their menu is split between before 12.30pm, when they serve breakfast options, and after 12.30pm, when more hearty options are available.
Read more
The Sheung Wan branch of one of Hong Kong's leading purveyors of java, The Cupping Room is one of your best bets for a reliable pick-me-up. The perfect place to chill and enjoy brunch on a weekend, patrons keep returning for its smooth coffee and excellent eggs benedict.
Read more
Best known for serving its coffee in vintage Hong Kong porcelain cups – their takeaway paper cups also feature porcelain patterns – Halfway Coffee is a dinky joint tucked away near the antique shops on Upper Lascar Row. They serve all the classic coffee options and a wide selection of tea. We recommend trying the Okinawan black sugar milk for something a little different.
Read more
More spacious than the entrance suggests, Lof 10 is a laid back venue, quieter than many coffee shops in the neighbourhood, treating diners to a range of Java and flavoured coffee, including a rose latte. While not the most affordable café in town, the cold drink selection is great for hotter months – we recommend the iced citrus matcha tea – and an ice cream cookie sandwich is perfect for satisfying any sweet cravings.
Read more
This artisan café opened in 2015 serving smooth coffee with cute latte art and pies from Tai Tai Pie Pie. The coffee beans at Steam are a mix of South American blend and imports from Asia, and they offer dairy-free options too – coconut latte, anyone? Its relaxing atmosphere makes it a perfect spot to get away from the hustle and bustle and the friendly staff always manage to put a smile on your face.
Read more
Show more
Get your fix in other neighbourhoods
From Central to Cheung Chau, these are the best places to get your caffeine fix in Hong Kong.
Read more