Free things to do in Hong Kong
We've rounded up Hong Kong's best free activities, free gigs, free galleries and much more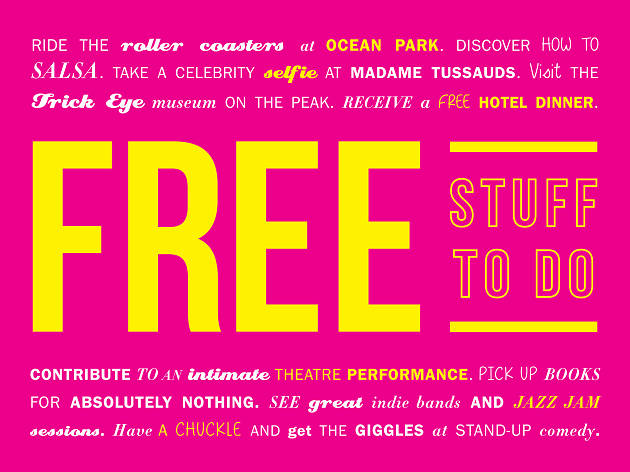 We all know that Hong Kong isn't a cheap place to live. And with exorbitant cemetery plots, the city isn't even an affordable place to be dead. But there's no need to panic when payday still seems far off and you're down to your last dollars. There's a wealth of free things to do in our SAR and we've rounded up the free gigs in Hong Kong's best music venues, free galleries, best comedy shows and much more to keep you going out every day of the week without having to spend a cent.
Free things to do in Hong Kong
It's not exactly a Broadway or West End show, but just maybe Liar's League is something more intimate and better. The international live fiction event features actors reading original stories submitted by anyone with a novelist's itch to scratch. Think the best kind of radio play but live and up close. Both writers and actors are required, so if you've got a story to tell or love impersonating the lives of others, start submitting your applications now.
Read more
Ocean Park's free birthday admission is a well-known boon in the city. Simply head down on your birthday and present your ID to skip the $385 admission charge and get yourself in for nothing. If Artic foxes and giant pandas aren't your thing, the Abyss ride drops thrill seekers 200ft faster than free-fall and the Hair Raiser roller coaster hits speeds of up to 4.0G.
Read more
And Ocean Park isn't the only attraction looking to take the edge off getting one year older. Madame Tussauds has brought back its Hong Kong residents birthday promotion until the end of the year. If your b-day has already passed, grab a friend who has one later in the year and take advantage of the 50 percent discount permitted for three friends.
Read more
Unlike the traditional museums, Trick Eye is a unique 3D immersive experience that is packed with optical illusions, inviting visitors to take pictures that play tricks with the mind. There are five themed areas inside the attraction including a secret garden, Hong Kong icons and art masterpieces. It's also free entry to any Hong Kong residents on their birthday. 
Read more
People who complain about Hong Kong's live music scene simply aren't looking hard enough. Not when there are so many decent free gig to be had. The Wanch has been open for almost 30 years and its constant stream of free shows is one big reason why. Whether it's Tatsuya Yamaguchi's regular acoustic sessions or appearances from local indie bands like Teenage Riot or Bamboo Star, there's almost always something worth seeing.
Read more
For those more inclined to jazz, Lan Kwai Fong's Peel Fresco hosts regular open jam sessions and appearances from the likes of quintet The Wong Way Down that have no cover charge. Just buy a drink or two to support these institutions and keep the music free.
Read more
The prestigious five-star hotel the Peninsula offers the celebrant a complimentary set dinner in The Lobby if dining with a group of four or more. ID must be shown, but the dinner can be booked the entire month the birthday takes place. Why not hit both the Mira and the Peninsula for a double treat?
Read more
Laughs are free too in Hong Kong. Takeout Comedy hosts a regular open mic night every Tuesday and entrance is gratis for those willing to perform ($50 otherwise).
Read more
If your budget doesn't stretch to the latest 3D movie with vibrating seat extra, there are startling movies you can see for free. The Mexican consulate's Cineclub Mexico showcases the country's cinema every last Thursday of the month at its site in Causeway Bay. There's even free popcorn and Mexican snacks on occasion. Email events@mexico.com.hk for more details.
Read more
Show more
Discover more things to do in Hong Kong
Whether you're a first-time traveller looking for the best Hong Kong hotels or a seasoned vet of Lamma Island and LKF, these are the essential things to see, do, eat and drink while you're in town. From the most picturesque hiking trails in Hong Kong to the city's best museums, here's a roundup of the very best experiences in our city.
Read more