Cafés and restaurants open on New Year's Day in Melbourne
Feeling a little foggy after the New Year's Eve celebrations? Hit these cafés and restaurants on January 1 to pep you up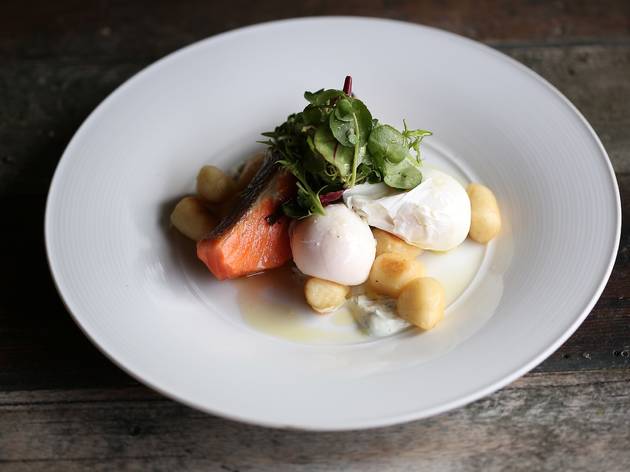 Follow the celebrations of the night before with a carb and caffeine hit. Whether you're hankering for a hearty brunch or something a little lighter (new year's resolutions and all), you'll need a good feed on New Year's Day. We've done the research so you don't have to: here is our list of Melbourne cafes open on New Year's Day.
For any other weekend, check out our tips for the best breakfasts and brunches in Melbourne.
Hours: 9am-4pm
Simply follow the smell of freshly baked cookies to find this Flinder's Lane favourite.
Read more
Hours: Noon-11pm
These barbecue legnds are opening their doors to bring you the best of their finger lickin' good menu.
Read more
Hours: 5.30pm-2.30am
This Melbourne institution is open late, meaning you won't have to worry if you're late to rise (or recover) this New Year's Day.
Read more
Hours: 5.30pm-late
Shannon Bennett's fine dining establishment is helping you start the New Year in style with a seat at the fanciest table in town.
Read more
Hours: 7.30am-4pm
Kick back along the Yarra and start the year off right either at the bar itself or aboard Arbory Afloat.
Read more
Hours: 7am-11am, noon-late

Locanda has you covered for steaks, cocktails, wine and snacks this New Year's Day. Plus, this CBD café has an impressive breakfast offering to boot.
Read more
Hours: 9am-4pm

Breakfast or bánh mì, Shannon Bennett's French-Vietnamese eatery is on call to cater to your cravings this New Year's Day.
Read more
Hours:b 9am-5pm
There's nothing like a game of croquet and a round of crumpets to bring in the New Year. Games kick off at 10am.
Read more
Opening hours: 7.30am-4pm

Local produce and Noccolo coffee from the folks behind Armadale's Coin Laundry and Port Melbourne's Station Street Trading Co.
Read more
Opening hours: 8.30am-5pm

Begin the year with a champagne breakfast or waffles with salted caramel ice cream. Or, behave yourself with a smoothie bowl or quinoa salad.
Read more
Opening hours: 7.30am-late

It's a hotel restaurant, but you wouldn't think it. Look forward to New York bagels filled with Benedict and Florentine, and Southern fried chicken. The benefits of a hotel license appears with the drinks list. Breakfast beer? Yes please.
Book now
Read more
Hours: 7am-6pm
Rise and shine with this St Kilda favourite. Grab a coffee and take a stoll through the Royal Botanic Gardens for the perfect way to start off the year.
Read more
Horus: 8am-3pm
This gem is known for having lines out the door from open til close, so what they're selling must be pretty good. Get an early start to the New Year and you might be able to beat the que.
Read more
Show more
Hours: 8am-3.30pm

US meets Russia at this Port Melbourne Cafe. Enjoy Blintzes (filled crepes) and dumplings during the day, then a barbecue for dinner.
Book now
Read more
Explore the city this summer as Melbourne comes alive with a range of events and activities for the whole family.
Read more