40 things to do indoors
Play indoor golf at Chelsea Piers The golf course at the Piers boasts four floors and 52 stalls. Come during off-peak hours (6:30am-4pm or...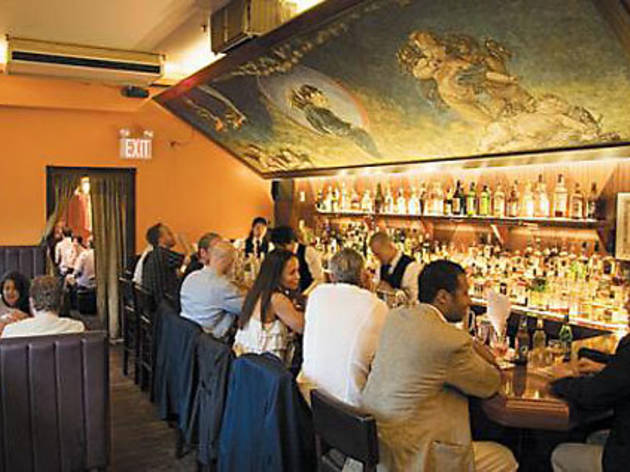 1/3
2/3
3/3
Play indoor golf at Chelsea Piers
The golf course at the Piers boasts four floors and 52 stalls. Come during off-peak hours (6:30am-4pm or 10pm-midnight) to get a better bang for your buck (147 balls for $25, as opposed to 90 during peak hours). Try virtual golfing at the simulators, where you're also allowed to bring up pizza and beer from Chelsea Brewery downstairs. Twelfth Ave at 23rd St (212-336-6666, chelseapiers.com)
Play indoor golf at Chelsea Piers
The golf course at the Piers boasts four floors and 52 stalls. Come during off-peak hours (6:30am-4pm or 10pm-midnight) to get a better bang for your buck (147 balls for $25, as opposed to 90 during peak hours). Try virtual golfing at the simulators, where you're also allowed to bring up pizza and beer from Chelsea Brewery downstairs. Twelfth Ave at 23rd St (212-336-6666, chelseapiers.com)
Video: Inside the Golf Club at Chelsea Piers
Check out the Antiques Garage Flea Market
Always a scene, bargain hunters compete with city antiques dealers for the best prices on all things antique and vintage. Offering more than 100 vendors spread across two floors of an old parking garage, this market is perhaps the best known in the city, and for good reason—while the prices aren't the best you'll find, the merchandise usually hits the mark. It has its share of curio crap, but an early morning trip through the stalls—best to get there before the post-brunch, hand-holding hordes—can be rewarding. Run by the folks responsible for the Hell's Kitchen Flea Market, a shuttle is provided between the two spots for a buck. 112 W 25th St between Sixth and Seventh Aves. Sat, Sun 6:30am-5 pm.
Take an underground tour at the Federal Reserve Bank
Here's your chance to descend 80ft below street level and commune with the planet's most precious metal. Roughly a quarter of the world's gold (more than $200 billion) is stored here in a gigantic vault that rests on the bedrock of Manhattan Island. Learn about the history of moolah and the Fed's role in maintaining interest rates, while touring the posh interior (high arches, metalwork). Don't miss the impressive coin collection and the gold bars in the basement. 33 Liberty St between Nassau and William Sts (212-720-6130). Mon--Fri 9:30, 10:30, 11:30am, 1:30, 2:30, 3:30pm. Reservations required.
Relax with mind-blowing cocktails at Angel's Share
Walk through an unmarked side door at the front of Japanese restaurant Village Yokocho, and you'll find yourself in perhaps the classiest joint in the East Village. Its speakeasy vibe and strict rule (no standing, no groups over 4) create the perfect atmosphere for a rainy afternoon drinking session. Listen to the excellent jazz and look out over the wetness of Stuyvesant Square while enjoying attentive service and excellent cocktails, including one of the city's best grasshoppers. 8 Stuyvesant St between Third Ave and E 9th St, second floor (212-777-5415)
Watch your favorite TV shows at the Paley Center for Media
This pop-culture nirvana contains an archive of more than 100,000 radio and TV programs. Just head to the fourth-floor library and search the database for your favorite episode of I Love Lucy, Seinfeld or Desperate Housewives, then tune in (and veg out) at your assigned console. 25 W 52nd St between Fifth and Sixth Aves (212-621-6600, paleycenter.org)
Settle into Art Bar's leather couches for a boozy afternoon
This West Village bar has been around for more than a decade, and it shows. Settle into the circular booths up front, or the comfy, date-friendly couches and lounge chairs in the back. A basic pub menu is available, and the digital jukebox is kept at a festive but reasonable volume, making this a suitable place to talk the day (or night) away. 52 Eighth Ave between Horatio and Jane Sts (212-727-0244)
Take a marathon breakfast at Balthazar
Not only is the iconic Balthazar still trendy, but the kitchen rarely makes a false step. At breakfast the media and fashion types come out and linger over fresh pain au chocolat ($3.75), homemade donuts, and an $18 full English breakfast. The sumptuous surroundings make the perfect antidote to dreary rain. When the lunch crowd starts rolling in, head to McNally Jackson Booksellers (52 Prince St between Lafayette and Mulberry Sts, 212-274-1160) for tea and some magazine browsing. 80 Spring St between Broadway and Crosby (212-965-1414, balthazarny.com)
Get a scalp massage at Faina
Any excuse that might have been keeping you from pampering yourself is completely shot down here: The $30 scalp massage is not expensive, not lengthy, not inconvenient—and there's no getting naked necessary. The office-size suite may be modest, but its linens are crisp and the staff serenely professional. A quarter hour of temple rubbing, hair tugging and swirly head kneading feels a lot longer, and it's mind-clearing for even the most ticklish among us. 315 W 57th St between Eighth and Ninth Aves (212-245-6557, fainaeuropeanspa.com)
NEXT
Screen movies at the Donnell Media Center Collection
Though two of the center's most requested movies are The Wizard of Oz and Fish Market, a 1955 documentary about the Fulton fishmongers, the center houses some 8,000 16mm films. And if you have an New York Public Library card, you can see double features for—gasp!—free. The DMC's expansive collection includes a very rare 16mm copy of Susan Sontag's Arab-Israeli conflict movie, Promised Land, as well as the only known print of Wonderful Construction, a now-eerie 1973 documentary about the building of the World Trade Center. New York Public Library for the Performing Arts, 40 Lincoln Center Plaza (212-870-1741, nypl.org)
Sit down to hot pot and bubble tea at Swish
Getting New Yorkers to cook for themselves isn't easy, but Swish is giving it a shot. The main offering is shabu-shabu (named for the swishing sound of meat being stirred in boiling broth); mini hot pots are provided for beginners, along with all the fixins—beef or fish, cabbage, mushrooms, noodles, and your choice of seafood, sake, or spicy broth—plus a list of confusing instructions. More advanced cooks can order ingredients la carte or share whimsically named meals for two, such as Dive into the Sea: shrimp, crab, squid, scallops, sliced fish and fish balls. Tapioca bubble-tea and fruit smoothies are free with each entre. 88 W 3rd St between Sullivan and Thompson Sts (212-777-8808)
Get lost in the NYPL map room
For all the apparent stuffiness of the ornate Beaux Arts room, you can stroll right in and get lost in almost any of the collection's 431,000 sheet maps and 16,000 atlases. There are German army maps from World War II, antiquarian cartography rolls, and 20,000-plus maps of New York. A giant 1782 British Headquarters Map used during the Revolution shows forts, hills, ponds and a small settlement below a wall at Manhattan's tip. An 1880 atlas transposes the modern Brooklyn grid onto the original topography and later farm lots, so you can see that a winding Road to Gowanus would have bisected Smith Street, and that Luquer's Mill Pond covered much of Red Hook. Geeks can even consult a directory to see who lived where—yes, there was a Bill the Butcher in Five Points. Want one to keep? They can scan and print a copy for $30. Take that, Google. Lionel Pincus and Princess Firyal Map Division of the New York Public Library, Fifth Ave at 42nd St, room 117 (212-930-0587, nypl.org).
Loiter at Chelsea Market
Food-lovers can spend hours browsing the specialty stores in Chelsea's renovated Nabisco factory. Grab a coffee at Ninth Street Espresso and take your sweet time as you get the effect of market shopping all under one roof. Check out fresh catches at The Lobster Place, browse a good range of vino at Chelsea Wine Vault (tastings on Fridays and Saturdays), and pick up Italian cooking staples at Buon Italia. If the rain lets up, you're in prime position to enjoy the High Line without the crowds. 75 9th Avenue between 15th and 16th Sts
Play video games at Chinatown Fair Arcade
At this noisy old-school game hall, joystick lovers huddle around everything from Ms. Pac-Man to hi-def games like The King of Fighters XII—it's all about the gaming, so don't expect food, drinks, or good lighting. Most games are a buck a turn; some are as low as 25 cents. Once you've had enough of jamming on Dance Dance Revolution, soothe your aching feet at one of the nabe's many back- and foot-rub centers, scattered on Mott, Bayard and Pell Streets. 8 Mott St between Mosco and Worth Sts (212-964-1542)
Play Skee-Ball at Dave & Buster's
Located smack in the middle of Forty Deuce, this 35,000-square-foot fun house happens to carry every game a grown-up kid could ever dream of, from NASCAR simulators on 60-inch screens to old standbys like Donkey Kong and Ms. Pac-Man. There's virtual-reality simulators, but we're partial to that childhood favorite: Skee-Ball. The restaurant serves Philly cheese steaks, salads and burgers. And did we mention there's booze? 234 W 42nd St between Seventh and Eighth Aves (646-495-2015)
Shop underground at THECAST
A chalkboard set next to an open metal hatch in the sidewalk in front of a nondescript hair salon is the only marker for the subterranean outpost of this idiosyncratic menswear label. Chuck Guarino and Ryan Turner launched THECAST with a collection of artful T-shirts in 2004; starting at $70, these are still central to a collection that spans well-cut jeans in premium denim from one of South Carolina's oldest mills to dapper suits and silk-lined leather biker jackets (from $700). The space is an anarchic jumble of Victorian-style wallpaper, candelabras, and such gothic knickknacks as a human skull (bought on eBay), mounted game trophies and a stuffed rattlesnake. 119 Ludlow St between Delancey and Rivington Sts (212-228-2020, thecast.com)
Grab a book at Housing Works Bookstore and Caf
The two-level Soho space—which stocks a range of literary fiction, nonfiction, rare books and collectibles—is a peaceful spot for solo relaxation or for meeting friends over coffee or wine. All proceeds from the caf go to providing support services for homeless people living with HIV/AIDS. 126 Crosby St between Houston and Prince (212-334-3324, housingworks.org)
NEXT
See a movie at the Landmark Sunshine Cinema
In addition to super-comfortable seats and unobstructed views, Sunshine offers indie cinema's latest and greatest. And if you show up and the crowds are too much to handle, you can buy a DVD at the box office window (with prices starting at $9.99) and take it home. 143 E Houston St between First and Second Aves (212-777-FILM, #687)
Browse the collections at the International Center of Photography
The library at ICP houses back issues of photography magazines and thousands of biographical and photographic files. Photojournalism is an important part of the center's program, which also includes contemporary photos and video. The two floors of exhibition space often showcase retrospectives devoted to single artists. Currently on offer: "Avedon on Fashion," "David Seidner: Paris Fashions, 1945" and "John Wood: Quiet Protest." 1133 Sixth Ave at 43rd St (212-857-9700, icp.org)
Get an acupressure massage at Broome Sky Health Center
This clean, tiny storefront's dim lights and dark walls create a Zen vibe, a surprising departure from the area's fluorescent-lit competition. Once on a table in the back room, opt for a one-hour $42 acupressure massage, which will work your lower back, shoulders and legs with the perfect amount of pressure. 120 Elizabeth St between Broome and Grand Sts (212-226-6898)
See a multimedia show at 3LD Art & Technology Center
Geeks already know that 3LD is the only theater company in the country licensed to use Musion Eyeliner, a technology that allows video projections to appear as if they're floating in space alongside actors onstage. This works with the use of a sheet of plastic, invisible with the proper lighting, against which high-definition video is projected. (Remember when Madonna cavorted with the cartoon members of the band Gorillaz onstage at the Grammys? That was thanks to Eyeliner.) 3LD tells us that Bjrk paid a visit last week for a demonstration—she's considering using it on her upcoming tour. 80 Greenwich St between Edgar and Rector Sts (212-388-7371)
Go bowling at The Gutter...
The owners of Williamsburg's Barcade have cornered the leisure-time market with this eight-lane bowling alley that looks straight out of early-1980s Milwaukee. Locals toss frames, then retreat to the lounge decorated with bowling trophies and ancient beer signs, to drown their seven-ten--split sorrows. A dozen killer microbrews on tap include spicy Allagash White poured by the pint ($6) or pitcher ($21). 200 N 14th St between Wythe Ave and Berry St, Williamsburg, Brooklyn (718-387-3585)
...or Harlem Lanes
The 24 lanes, gourmet caf and VIP lounge are great, but the best things about this joint are its theme nights: an old-school concert every Tuesday at 7pm, an open mike on Wednesdays at 8pm, college singles on Thursdays, etc. Plus, the jerk wings are killer. The service is a crapshoot—you could get fast, friendly attention or none at all. The long waits can also be trying. Sweet deals: The Family Four Pack, available Sunday--Wednesday 11am--8pm, includes one game, plus shoe rental, pizza or hot dogs, and drinks for four for $50. Unlimited Disco Bowl (Monday and Tuesday starting at 8pm) costs only $20. 2116 Adam Clayton Powell Jr. Blvd (Seventh Ave) at 126th St (212-678-2695, harlemlanes.com)
...or Leisure Time Bowling
Nestled in the heart of the Port Authority, a revamped Leisure Time is the preferred venue of the TONY media league bowling squad. It has large beer towers and DJs playing the greatest hits of never. 550 Ninth Ave (between 40th and 41st Sts (212-268-6909, leisuretimebowl.com)
Go to a free movie screening at the Brooklyn Public Library
The BPL's events calendar is dotted with free screenings so varied, something is bound to strike your fancy. 200 Eastern Pkwy at Washington Ave, Prospect Heights, Brooklyn (718-230-2100, brooklynpubliclibrary.org)
Spend the day at the Met
Occupying 13 acres of Central Park, the Metropolitan Museum of Art is the ideal rainy-day diversion. The neoclassical facade is daunting, but the museum is surprisingly easy to negotiate. In the ground floor's north wing sits the collection of Egyptian art and the glass-walled atrium housing the Temple of Dendur, overlooking a reflective pool. Two halls in the southern wing house Greek and Roman art. Turning west brings you to the Arts of Africa, Oceania and the Americas collection; the American Wing houses the recently reopened Engelhard Court. Now more a sculpture court than an interior garden, it houses large-scale 19th-century works in bronze and marble. End your travels at the Martini Bar, where drinks named for pieces included in the collection include a "Balloon Dog" (vodka, elderflower liquor, sparkling pear juice) and a "Sacred Heart" with pomegranate juice and vodka. 1000 Fifth Ave at 82nd St (212-277-8888, metmuseum.org)
Explore the Morgan Library & Museum
This Madison Avenue institution began as the private library of savvy financier J. Pierpont Morgan, and is his artistic gift to the city. Building on the collection Morgan amassed in his lifetime, the museum houses first-rate works on paper, including drawings by Michelangelo, Rembrandt and Picasso; three Gutenberg Bibles; a copy of Frankenstein annotated by Mary Shelley; manuscripts by Dickens, Poe, Twain, Steinbeck and Wilde; sheet music handwritten by Beethoven and Mozart; and an original edition of Dickens' A Christmas Carol that's displayed every yuletide. Even on a gray day the main entrance hall is flooded with natural light, making the museum's caf a nice spot for lunch or an afternoon snack. 225 Madison Ave at 36th St (212-685-0008, themorgan.org)
NEXT
Order a pot of tea
* Cha-An Tea House
You have to climb a flight of stairs and peek behind a curtain to find this tranquil teahouse, which offers a succession of deftly crafted plates accompanied by a thoughtful list of teas and sake. Each night features two special "sets" that take you from an amuse-bouche like creamy soy-milk quiche through a selection of tiny bites (pickled eggplant, marinated lotus root) to entres such as tea-smoked salmon with sliced radish, Dijon mustard and tarragon. It's a great escape from the East Village crowds. 230 E 9th St between Second and Third Aves (212-228-8030)
* The Tea Box at Takashimaya NY
Sleek banquettes and brushed-steel walls create an oasis for power shoppers and lunching ladies. Join them for afternoon tea (Mon--Sat, 3--5:30pm) and pair a pot of one of the 40 leaf varieties with the confection of your choice. We like the Earl Grey ice cream—two scoops topped with delicate green-tea shortbread. Those seeking savory sustenance can opt for the daily bento special, which may feature seared ginger-soy scallops with stewed eggplant or chicken tempura with curried cauliflower and tea-infused sticky rice. Tea service: $18, bento box: $19. 693 Fifth Ave between 54th and 55th Sts (212-350-0180)
Sweat it out in the sauna at Grace, A Room Mate Hotel
Don't be deterred by the fact that this mod boutique hotel is in Times Square. Once you've elbowed your way through the tourists, you'll be rewarded with access to a luxe steam room, sauna and indoor pool—for just $10 all day. Bask in the amber glow, order cocktails at the swim-up bar and make friends with visiting Greek aristocrats. You'll leave feeling all shiny and new. 125 W 45th St between Sixth Ave and Broadway (212-354-2323, room-matehotels.com)
Dominate the baseline at an indoor tennis court
Roosevelt Island Racquet Club (281 Main St 212-935-0250, rirctennis.com; open daily 7am--11pm, court reservation recommended at least 48 hours in advance) has ten full indoor doubles courts, one singles court, and one ball-machine court. Keeping your tennis whites dry will cost you though—fees for nonmembers run from $68--$102 per court per hour. For a cheaper option, hike out to Queens College (65-30 Kissena Blvd between Melbourne Ave and 65th Ave, Flushing, Queens; 718-997-2771, athletics.qc.cuny.edu; Mon--Fri 1:30--10pm), a no-frills facility with 12 courts that can be rented for $20--$50 per hour.
"Rally for serve" at the New York Table Tennis Federation
Head into an unassuming entrance and descend to the basement to find Chinatown's Ping-Pong mecca. For $10 a person you can use a table for an hour (paddles are included), and there are even private lessons should you want to make a gold-medal run. Some of the people who train here—yes, train—are insanely good, but the vibe is casual and the tables are open to all comers. 384 Broadway between Walker and White Sts (646-772-2922, nyttf.com)
Tour Radio City Music Hall
Inside Radio City's lushly carpeted Art Deco halls, the outdoors feels miles away. Stroll through the gorgeous interior, learn the secrets of the Great Stage and its intricate hydraulics system, and meet one of the high-kicking Rockettes. 1260 Sixth Ave at 50th St (212-247-4777, radiocity.com/tours)
Lose yourself in the archives at the Schomburg Center for Research in Black Culture
The NYPL's Harlem outpost is devoted to black culture and the African diaspora and regularly hosts jazz concerts, films, lectures and tours. Its more than five million items are meticulously organized and span traditional masks, weaponry and bronze artifacts; sheet music for ragtime, blues, jazz and gospel; photography by Bert Andrews, Walker Evans, Chester Higgins, Jr.; and video and music recordings. 515 Malcolm X Blvd (Lenox Ave) at 135th St (212-491-2200, schomburgcenter.org)
Swim with the pool sharks at Ocean's 8
Following a redesign, Park Slope's cavernous underground pool hall is now Brooklyn's upscale answer to Amsterdam Billiards. Teens, twosomes and grizzled gents take to Ping-Pong tables, bowling lanes and pool tables. Bring a friend or try to single out a weak opponent who you can challenge for a plate of spicy chicken wings or any one of the 24 draft brews (Blue Moon and Chimay make appearances). 308 Flatbush Ave at Seventh Ave, Park Slope, Brooklyn (718-857-5555)
Go to IKEA in Red Hook
Brooklyn's purveyor of minimalist Scandinavian homewares is a shopping black hole. Use the crappy weather is the perfect excuse to load up on cozy blankets, soothing candles and colorful bath towels to brighten up the gray days. Don't worry about leaving for food—Swedish meatballs and delicious cinnamon buns provide fuel for a wallet-friendly shopping spree. 1 Beard St at Otsego St, Red Hook, Brooklyn (718-246-4532, ikea.com)
NEXT
Bunker down in the stacks at Strand Bookstore
Boasting 18 miles of books, the Strand has a mammoth collection of more than 2 million discount volumes, and the store is made all the more daunting by its chaotic, towering shelves and surly staff. Reviewer discounts are in the basement, while rare volumes lurk upstairs. If you spend enough time here you can find just about anything, from that out-of-print Victorian book on manners to the kitschiest of sci-fi pulp. 828 Broadway at 12th St (212-473-1452, strandbooks.com)
Take a nap in the futuristic individual pods at Yelo
If you're tempted to nap under your desk, avoid awkward stares from coworkers and head to Yelo, a unique wellness center that offers sleep, reflexology treatments, massages and facials. Treatments include 30 minutes of reflexology and a 20-minute YeloNap (normally $95), and a 30-minute Foot Detox and 15-minute reflexology treatment (usually $90). 315 W 57th St between Eighth and Ninth Aves (212-245-8235, yelonyc.com)
Take afternoon tea at the Crosby Street Hotel
The LEED-certified Crosby Street is the brainchild of the Firmdale Group, a privately owned chain of charming London hotels. Befitting of its British lineage, it offers a spiffing afternoon tea from 2 to 5:30pm at the Crosby Bar. Drop off your umbrella, get comfortable, then take your pick from offers three packages, all priced per person: $34 gets you the standard finger sandwiches, scones, jam and clotted cream; for $46 you get the same plus a glass of champagne; and a more economical (and waist-conscious) $31 option subs fresh fruit for the pastries. 79 Crosby St between Prince and Spring Sts (212-226-6400, crosbystreethotel.com)
Geek out at the New York Hall of Science
The rain will keep you off the space-themed miniature golf course, but there are plenty of other colorful hands-on exhibits to explore, with topics such as Marvelous Molecules and The Realm of the Atom. Dodge the crazy school kids as you explore the possibility of life beyond Earth. 47-01 111th St at 48th Ave, Flushing, Queens (718-699-0005, nyscience.org)
Learn how to dance
If rainy days make you want to move your feet, head to the Theater District to hone your craft—or start from scratch. For Latin and ballroom dancing, check out Dance Times Square (156 W 44th St between Sixth and Seventh Aves, third floor; 212-994-9500, dancetimessquare.com). Group classes are available in bundles of four ($80 total), and "Latin Lunch" classes are $15 each (Tue, Thu 12:15pm). For a more varied menu, the Alvin Ailey American Dance Theater (405 W 55th St between Ninth and Tenth Aves; 212-405-9000, alvinailey.org) offers "real classes for real people" through the Ailey Extension—courses range from ballet to beginner jazz, West African and hip-hop.
Pose in bar photo booths
* Lakeside Lounge
The snapshot-lined walls of this music joint should attract exhibitionists ready for their close-ups. Eradicate any remaining modesty with mega-affordable Milwaukee's Best ($2), then unleash smiles, pouts or unprintable behavior for $4 a go—licentious pics are often posted on lakesidelounge.com, a lasting memorial to a night you might not remember. 162 Ave B between 10th and 11th Sts (212-529-8463)
* Union Pool
This WB staple is home to rockers, recent college grads and a sprawling back patio. A Bud-and-whiskey combo ($6 until 8pm, $10 afterward) will loosen you up for a $3 photo shoot in beautiful black-and-white. 484 Union Ave at Meeker Ave, Williamsburg, Brooklyn (718-609-0484)
* Bushwick Country Club
This place lives up to its luxe moniker with a backyard miniature-golf course and also offers the image-grabbing novelty. Bypass the greens for a pint of 19th Hole lager ($4) and an impromptu modeling session in the three-buck photo booth. 618 Grand St at Leonard St, Williamsburg, Brooklyn (718-388-2114)
Compiled by Alex Schechter and Chris Schonberger