The best pub trivia on Wednesdays in Sydney
Humpday can be a downer, but nothing perks you back up for the last leg of the working week like some Q&A action and a counter meal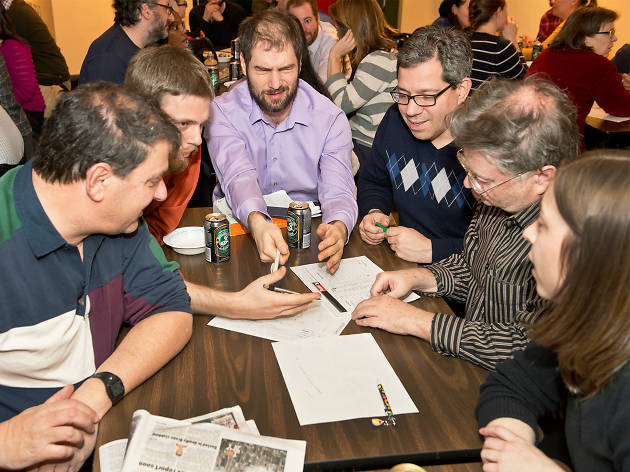 The middle of the working week is one of the most popular times to cut loose at a wild trivia night, win all the prizes and gloat at the water cooler the following day. There are at least 15 pubs that offer trivia on a Wednesday, here are our favourite five, plus additional venues if you're looking to complete the set.
Jay Katz and his partner in quiz give good chat as they blast through three rounds of ten questions that start with the politics of the day and then break down to anything they can find on the internet. No bells and whistles here – straight questions, no musical rounds and no famous faces. It's all about the Q&A.
What can you win? Prizes are usually care of the bottle shop, so winning teams could go home with a couple of bottles of wine, but they also have drink vouchers and bar tabs. If you're new, or maybe not so crash hot at the political round, they might take pity on you and ask a multiple choice question for a take-home six pack, because Reschs refreshes.
What's the crowd like? Considering you're in the very heart of Darlinghurst the crowd on a Wednesday is older and quieter than you might expect. There's a table of older chaps that annihilate the history and politics questions, and the smaller groups are people enjoying a little chat and a beer after work.
What's for dinner? Eat Art Truck is the resident snack providers so load up your table with brisket rolls and pulled pork burgers and baskets of chips with mayo.
Read more
Hunters Hill Hotel, 7.30pm
The Triple H hosts a weekly trivia in its recently revamped bistro. It's run by the guys from InnQuizitive trivia, but what makes this trivia stand out from the pack is its quick-witted host, Drew. They say a quick game's a good game and the HHH delivers with eight rounds of topical trivia and no mucking about. Also, if you register a team of six or more before 7pm, they'll throw in a free pizza.
What can you win? Winners score a $70 pub voucher for first place.
What's the crowd like? The lure of free pizza must work – on our visit there are plenty of big groups, which make for some serious hive-mind competition.
What's for dinner? The humble schnitty is a little bit fancier at the Hunters Hill Hotel – there's a panko and sage breadcrumb number and the parmy is simple but tasty. Counter meals are on the more expensive side – it's a good impetus to win a dinner voucher for your next visit.
Read more
This harbour side club boasts killer views and a very popular trivia night. The evening is hosted by InnQuizitive trivia, which you'll find at a fair few other venues across the city including the Great Northern, the Light Brigade Hotel and the Bondi Icebergs Club. Your team gets the chance to play to their strengths – across categories including potluck, geography, music and television – by nominating a round that'll score you double the points. You'll find there's a very diverse range of difficulty across each of the categories, but if you pick your bonus points round wrong, count yourself out of any chances of winning.
What can you win? Smart Alecs will score Kirribilli 'club cash' aka vouchers – $50 for top gong, and $30 and $20 for second and third place respectively – plus a podium finish also scores you five drink vouchers.
What's the crowd like? It's a mixed bag but there's always a big turnout. It skews a little older, but the questions don't necessarily cater to that age bracket.
What's for dinner? Trivia action takes place in the sports lounge, but you can still order some dinner from the Watergrill. It's a seafood affair here, and with the harbour right next door that makes sense. They are also big on share plates too, with oysters, tapas and mezze spreads.
Read more
There's a devoted following for the Marly's Wednesday night trivia, hosted by the platinum-haired, beautifully manicured Reta, who has the mysterious, glamorous air of someone who might have once worked in Vegas. She's a dab hand at this gig and is the sort of generous host who skips questions universally declared too hard, asks people what category they'd prefer for certain questions, and if you're a tiny team of two next to a packed table of eight she might just nudge you in the right direction to even the odds a little.
What can you win? First, second and third place all get a $25 bar voucher, which seems odd but it does spread the love more evenly across the crowd, so there's lots of winners. Plus if you solve the anagram first there's alcohol in it for you.
What's the crowd like? Sure, the Marly is the stomping ground of the younger co- eds at the pointy end of the week, but on a Wednesday the crowd skews a little older and less rowdy. They keep the lights low and don't pack the room too heavily.
What's for dinner? The special for Wednesdays is $14 burgers.
Read more
Show more
Want more?
Do you possess freaky accurate knowledge of the Simpsons oeuvre? Do you know your Australian cricket captains better than you know your own uncles? Use all the weird, wonderful and utterly useless facts in your arsenal at one of Sydney's best pub trivia nights.
Read more