The best Italian restaurants in Sydney
From fine dining to casual eating to classic pizzerias, it's our ultimate guide to Italian in Sydney.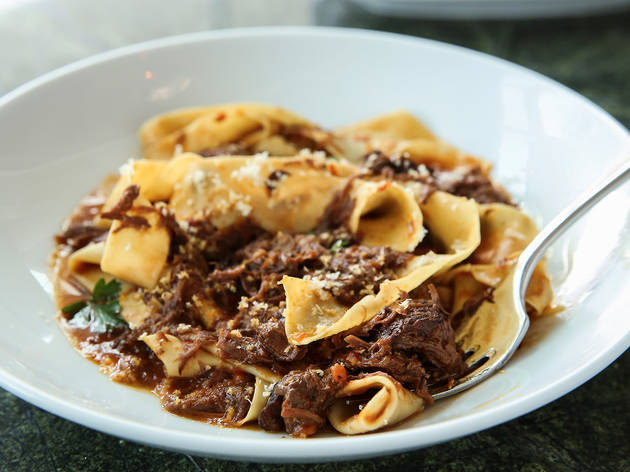 Italian food is the unofficial second cuisine of Sydney (the first being Thai). Many of the city's best fine dining and casual eateries have heavily Italian influenced menues, and while good pizzerias and dirt-cheap red sauces places are harder to find than the poshest stuff, there are still spades of options to choose from. We've picked our favourites from every style, so no matter what mood you're in, there's something here for you.
Ormeggio delivers, from service to wine to food, in a convivial setting. Plus, it's not outrageously exxy. If this doesn't sound like the perfect long lunch to you, we'll eat our hats.
Read more
The look of the place follows the same cues that made the original A Tavola such a hit. Big copper orbs light the room and marble communal tables double as workbenches for the chefs rolling out fresh pasta. It's a like a living window display.
Read more
Giovanni and Marilyn Pilu have one of the most beautiful restaurants in the area – it may have panoramic views of the beach, but you may be too distracted by the suckling pig to notice.
Read more
This waterside Italian restaurant offers one of the best vegan menus in the city. It's not cheap, we grant you, but it's worth the investment.
Read more
We wouldn't call chef Mitch Orr's food straight up Italian. He's been known to say he takes more influence from Chinatown than he does the Cinque Terre. So what the hell do you call a restaurant serving a menu of seven pastas, a baloney sandwich and cucumber spears pickled in gin? Italianese? Chitalian? It probably doesn't matter. The more important message here is that it's fun and good.
Read more
If the recent upheaval in bars and restaurants has taught us anything, it's that the lines can be, will be and are very often happily blurred. And 10 William, the two-level wine bar and restaurant just off Oxford Street, is no exception.
Read more
This tiny neighbourhood Italian restaurant is pitched perfectly for local and wandering food fans alike, offering big bang for relatively little buck. The wine list is exciting, the pastas will haunt your dreams and if they have the fregola with chargrilled king it's essential that you order it.
Read more
It's big trade at Buffalo, day in, day out and you can't book for anything smaller than a table for ten. Such is the love for the place, the wait can be as long as three hours. Get a drink at nearby Eau de Vie while you wait.
Read more
Enmore Road just kicked it up a notch with this brand new neighbourhood restaurant serving the best Italian-inspired food the neighbourhood has to offer, where the music's on vinyl and the crowd is loud and local. It's a good time.
Read more
They said it couldn't be done, but Chiosco proved them all wrong. It's a casual, delicious Italian restaurant that does BYO by the water. It'll work for date night, meeting the parents, and overdue catch-ups and it won't require all your worldly goods to pay for it.
Read more
No matter how many winning new enoteche chef-owner Andrew Cibej opens (see 121 BC and Berta) the demand for seats here never dwindles. The original recipe remains unchanged: a daily menu of imaginative, contemporary Italian fare scrawled on the walls, packing them in for lunch and overflowing on to waitlists in the evening.
Read more
Rosso Pomodoro have turned their venue just around the corner into a specialist risotto restaurant. The tiny room only has around 35 seats which book out faster than you can say Bolognese. You'll want to get in quick with this one.
Read more
Show more
The best of Sydney...
What could be more romantic than a picnic packed for two and sweeping harbour views? Where else could you organise a long, lazy lunch for a big group of friends? Or, an impromptu dinner date alfresco? Cancel your restaurant booking and head to one of these top places to enjoy a picnic. We've called ahead to find out if there's parking, toilets and barbecues too. You can thank us later.
Read more