The best restaurants in Newtown
A dining guide for this rainbow patch of the Inner West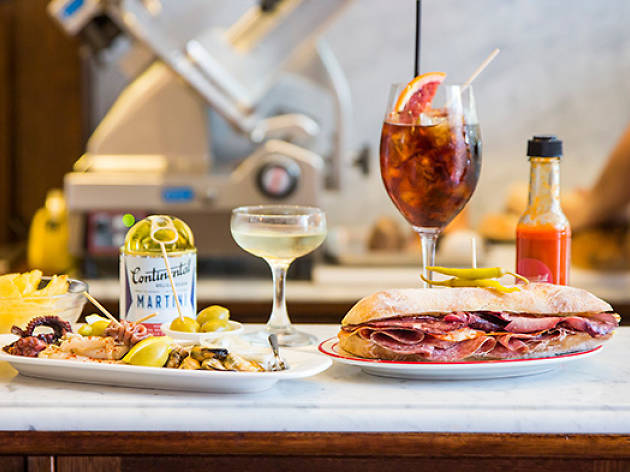 The best Newtown restaurants
1
Opened by two of the greatest restaurateurs Sydney has seen in recent times, Elvis Abrahanowicz and Joe Valore of Porteño, Gardel's Bar and Bodega (which they co-own with Ben Milgate), and LP's Quality Meats (which they co-own with Luke Powell), this is more than just a restaurant. At Continental in Newtown a downstairs deli opens at 11am and becomes a casual bar/restaurant as the later hours creep in, while upstairs there's a bistro for those fancier nights out.
Read more
2
Everyone knows the rock-star fine dining restaurants in Sydney: Quay, Sepia, Momofuku Seiōbo and Bennelong. But there are a couple of neighbourhood fine diners you need to pop on your bucket list, too. Sixpenny in Stanmore is one. And so is Oscillate Wildly, Newtown's teeny-tiny restaurant that sits just next to Black Star Pastry and down the road from the Courthouse. Wandering into Oscillate across the road, it feels like a friendly neighbourhood restaurant. And that's what it is, except it's actually a bit posh.
Read more
3
It's entirely likely that Mary's is more famous as a burger place than as a bar. People queue for up to an hour just to get in the front door of this slightly scuzzy boozer with a penchant for Slaytanic font. Of course only the uninitiated don't know that there's often a secondary queue up the stairs for a table on the mezzanine. People really love Mary's burgers. Those five star American-style burgers turned Sydney's bar scene on its head – now you can't lob a brick without hitting someone melting cheese over beef patties and packing them in sweet, soft buns – people still devote their evenings to locking down rounds of cheeseburgers, baskets of fried chicken and super silky mash with gravy.
Read more
4
The larder is very well stocked here and it needs to be, given the fanfare that has followed their opening. They source their 'nduja, smoked pancetta and salamis from up near Byron Bay; their smoked wagyu and ham from the Barossa; and they make their own rich, crumbly black pudding in house. But it's the cheeses that are responsible for the queues of turophiles pressing their noses against the glass here. It's $20 for two, $29 for three or $36 for four cheeses and you get to choose each and every one.
Read more
5
Don't expect a fine diner here – it's not that kind of place. Instead, you'll find a neighbourhood restaurant bashing out share plates like salty, savoury Provencal-style pancakes covered thickly in Persian fetta and toasted pumpkin seeds. There's plenty of veggo gear here, including lightly pickled mushrooms with broad beans and golden, super crunchy polenta chips with a gutsy gorgonzola dipping sauce – a mainstay on the menu since they swung open in 2010.
Read more
6
This Italian eatery may be sleek and shiny, what with the polished concrete floors, big glass windows onto Enmore Road and open kitchen, but the menu is old school. There's usually two pastas on the menu – a gnocchi and a fettuccini with meatballs – but their main love is piping hot pizze that they fling into the wood-fired oven on big, decorative peels (like a shovel, or a giant spatula). The Margherita is a straight shooter with a puffy blistered crust and a soft centre draped in fior di latte cheese, tomato and basil. If you like truffle the tartufo is for you, but we are all about the Cicoria, that puts the metallic salty tang of anchovies and black olives with chards of bitter chicory leaves and cheese.
Read more
7
Turns out pizza without cheese is still bloody excellent. Sure, there were a lot of naysayers on the internet when Gigi on South King Street changed to a plant-based menu, but they were wrong, because a chewy, wood-fired pizza base covered in a layer of sweet golden tomato puree and tender ribbons of capsicum gets all the umami depth it needs from a liberal dose of olive tapenade, capers, chilli, oregano and olive oil. The salty, savoury and spice trifecta hits all the right flavour zones on your tongue – we swear you won't even miss the mozzarella.
Read more
8
Despite being located on one of the Inner West's most hectic main drags, inside the vibe transports you to a world far removed from the noise outside. The team, led by former Bistro Moncur executive chef Darrien Potaka (a Kiwi himself), is killing it. Order the mushroom papardelle that you stir a just-set egg through for a DIY sauce situation. It;s a cracker. That's the thing about Bach: this is seriously sophisticated cooking, prepared in an environment that allows you to relax.
Read more
9
Look for the neon yellow sign that marks the doorway to Luyu and Yum Yum. Head up the stairs and you emerge into an elegant dining room that has a sexy birdcage vibe thanks to all the black lattice panels that divide up the room. In case the wall of wine wasn't tipoff enough, this isn't a hurried-service BYO kind of place. And the prices reflect that. The 'Kiss Me' soup dumplings have tiny red lips on top, but check the temperature before puckering up – the soup inside these fragrant and gingery dumplings is deceptively hot.
Read more
10
You might find that a jaunt down Enmore Road has smelt a little different of late. Has somebody lit a bonfire? Nope, but the guys at Bovine and Swine Barbecue Company are smoking meats low and slow all day long, and that smoky, caramelly scent is all part of the service, baby. It's a super casual sort of joint, with two long share tables and an order at the till, find yourself a seat sort of vibe. There's brisket, pork rib and beef short rib, as well as chopped pork or lamb, but we lose it for the jalapeno and cheese link sausage. Go for the 'plate for one' and you can choose two meats, plus a side.
Read more
11
Hartsyard is the baby of husband and wife team chef Gregory Llewellyn and hostess, Naomi Hart. It's a gorgeous room with a real Inner West sensibility – lots of upcycled timber, black painted metal and a cute feathered fake duck at the counter. If the room is Inner West, the menu is most certainly pegged in the deep south. The American deep south, that is. You'll want to go for the crunchy, golden fried chicken, all juicy on the inside and served with buttery, melt-in-your-mouth biscuits – those buttery American-style scones they serve all through the south – and sausage gravy.
Read more
12
You'll find one of the city's juiciest burgers at Jack's. And some darn long queues to get your hands on one. The patty is super-tender and gently seasoned, and it isn't too small for the bun (which is shockingly rare). It's topped with smoky bacon and generously portioned, melted American cheese. The sauce is hot and punchy with mustard and they use coral lettuce rather than the usual iceberg (it doesn't have the same crunch but brings freshness), along with slices of fresh tomato.
Read more
13
South King Street is earning itself a reputation as Sydney vegan's home turf, and one of its prized players is Golden Lotus, a Vietnamese eatery. This is the place to soothe your hangry with a massive laksa. The creamy soup has a thin, bright chilli heat to it, and in place of prawns or chicken there's no less than four kinds of soy-based proteins: some twisty like a cheese straw, others fried crisp like a biscuit, and one lone cube of standard tofu.
Read more
How about dinner in Enmore?
Russo and Russo offer street Italian flavours with indie sensibilities. They're doing some of the best Italian-inspired food the neighbourhood has to offer, the music's on vinyl and the crowd is loud and local. It's a good time.
Read more
Faheem is one of Sydney's best curry joints. Fast, fun and incredibly cheap, FFF gets an AAA for value but don't come for the décor, the service or flattering lighting - this isn't the place for a hot date (unless you're both stumbling home drunk post-gig up Enmore Road).
Read more
Explore Newtown
This Sydney suburb that has inspired more songs than any other, and it's worthy of those Arias. We love Newtown for the pubs: the Courty, the Towny, the Bank and the rest. We love Newtown for the music - the Enmore Theatre and the Vanguard which owns Sydney jazz. We love it for the food - Bloodwood and Gelatomassi. And we love it for the Dendy. We even love it for the students: those hordes from Sydney Uni, after all, are a big part of the whole sharehouse appeal of this very cool suburb.
Read more