The best bars in Wan Chai and Admiralty
No longer a hive of scum and villainy, Wan Chai is now home to some seriously good bars. Admiralty has a couple too. Here are the best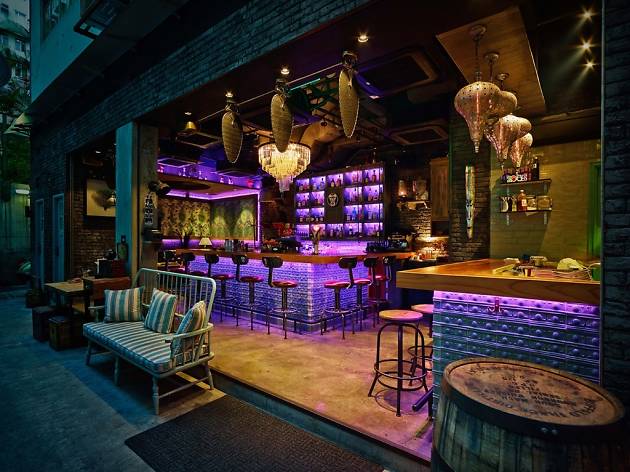 Once infamous for being the seedy heart of Hong Kong Island, Wan Chai has shed much of its sleazy reputation. Sure, it's still not entirely wholesome – there remains a good number of bars on Lockhart Road that don't count as 'family friendly' – but the neighbourhood has come a long way and is now home to an increasing number of top-tier bars complete with brilliant cocktails and amazing rooftop views. Not to mention some awesome cheap eats too. Admiralty next door is no slouch either when it comes to offering good places to drink.

Join us as we count down the top 20 bars in Wan Chai and Admiralty and guarantee no solicitation, just celebrations.
Best bars in Wan Chai and Admiralty
19
True, The Wanch is much more famous as a live music venue than a quality drinking den. Nonetheless, it's a local institution for good reason. And if it's a reasonably priced drop of booze you're after in an unpretentious setting that comes with live music, you can't do much better than here.
18
Tucked away at the end of Moon Street, Ted's is the ideal place for a quiet drink away from Wan Chai's almost inescapable hustle and bustle. Focusing on Prohibition Era, South American-inspired cocktails, the bar offers solid libations but even better bar food.
17
With Ryan Nightingale decamping to sister establishment Aberdeen Street Social, the cocktail menu at Back Bar has been completely revamped. The old movie-themed favourites like Ron Burgundy and Reservoir Grogs are no more. The more Chinese-themed tipples that have replaced them aren't as good but the intimate surrounds of Back Bar still make this an option worth considering.
15
WTF, standing for 'Worth The Fuss', is a surprisingly cosy neighbourhood bar with regular live music and DJ nights. The menu has a decent range of whiskies, and the signature and classic cocktails aren't bad either.
14
The Canny Man is often overlooked when it comes to getting a decent drink in Wan Chai – its location in the basement of the Wharney Guang Dong Hotel certainly does it few favours – but it's a quality establishment all the same. If the selection of over 80 Scottish single malts doesn't win you over, maybe the haggis, neeps and tatties, and lamb stovies will.
12
'Tai lung fung', in modern-day slang, refers to the showy and ostentatious. It's an ironic name for this laid-back establishment that serves reasonable cocktails, beer, wine and food. Our suggestion is to gather your friends, order a round, grab the Cards Against Humanity box from the back of the bar and settle in for a while.
10
The famous $1 happy hour may be no more but Stone Nullah Tavern is still worth checking out even when the drinks are full price. The USP these days is the wide variety of bourbons available, the bar being home to one of the largest selections in all Hong Kong.
8
A neat little spot tucked down an unassuming back-alley on Landale Street, Djiboutii is one of Wan Chai's hidden gems (though its fame has grown since its unassuming opening in 2015). The drinks lean towards the tiki, so expect a lot of juice with your spirits. Don't think they lack a punch, though.
7
Le Quinze Vins offers patrons a long list of French labels as well as traditional cheese and cold cut platters and other wine-enhanced nibbles. A cosy space, LQV is an authentic slice of Paris come to Wan Chai.
6
Despite the city's plethora of high-end Japanese restaurants, a good saké bar is hard to find. Saké Beya Masu is one of the best and certainly one of the most welcoming. The location is like something straight outta Kyoto and both the range of saké and small bites are top notch.
5
Better known for its pretty fab Italian food, Pirata also serves up a mean series of cocktails. The drinks menu is small but focused and nearly everything on it is a winner, whether it's the the fruity Dolce & Banana or the fiesty Germano Mexicano made with mezcal and fresh ginger. Did we mention there's a dedicated vermouth bar too?
4
The Pawn is another venue often considered more for food than drinks (the shadow cast by culinary director Tom Aikens). However, bar manager Tunny Grattidge's recent revamp of the The Pawn's drinks menu has deservedly won wide acclaim and made the heritage building a go-to spot not just for lunch or dinner.
3
Long established as one of the best bars in Hong Kong – Lobster Bar has been a fixture on Asia's 50 Best Bars list since it started – the cocktails here are measured perfectly and the beers come in frosted pewter mugs to add an exceptionally classy touch.
2
Headed by award-winning 'bartender-in-chief' Masahiko Endo, Mizunara is a Japanese-style bar hidden away on the fourth floor of a random commercial building on Lockhart Road. Yes, the atmosphere is often restrained, so this is no place to go large, but if it's exquisite cocktails, an extensive whisky list and attentive service you're after, you can't do much better.
Looking for drinks in Central?
The only trouble with all the bars in Central is knowing where to start. Let us solve that problem for you with our guide to the very best in the neighbourhood.