The best steakhouses in Hong Kong
From American dry-aged to Argentine grass-fed, there's a cut for every carnivore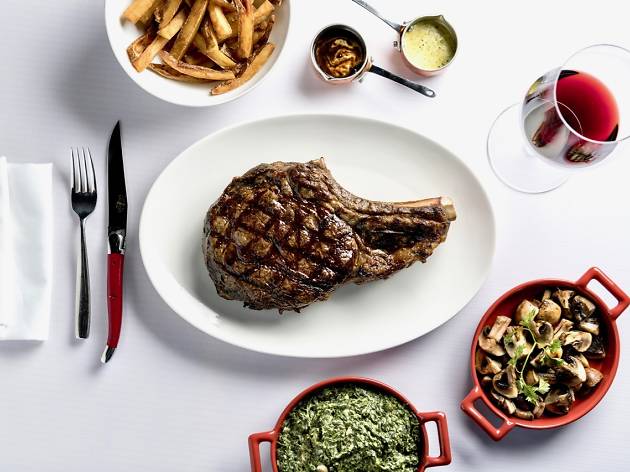 Meat lovers, you're in the right place. Hong Kong is home to a number of top steakhouses, serving all sorts of different cuts for all sorts of budgets. Want your steak with a side of killer harbour views? There's Wooloomooloo Prime. Looking for something more down-to-earth? La Vache and Feather and Bone have you covered. Whether you've got a hankering for a porterhouse, a sirloin or a ribeye, start salivating and get your steak knife and fork ready as we share our pick of the best steak restaurants in Hong Kong.
RECOMMENDED: Got a date night coming up? Here are some great romantic date ideas aside from a candlelit dinner.
Hong Kong's best steakhouses
This New York steakhouse boasts an impressive 17 branches all over the world. And though its one-page menu is rather simple and unsurprising, everything on it is done to perfection. Signature dishes include the lobster bisque, crab cakes and beef tartare, but let's be honest, people come here for the steaks and Wolfgang does not disappoint. Take the 28-day dry-aged porterhouse for example. It comes served with two cuts – one is a sirloin and the other tenderloin. It's ideal for couples and indecisive duos to try the best of both worlds (or textures).
Taking up the top floor space at The One shopping mall, this steakhouse offers not only top-notch meats but a killer view of Victoria Harbour too – great for wooing romantic dates. Since its reopening last year, Wooloomooloo has expanded its steak selection to include the likes of the 45-day dry-aged Aberdeen Angus beef from Rhug Estate farm in northern Wales, a farm which many Michelin-starred restaurants sources their meats from. Other new additions include Barnsley lamb chop and tomahawk steaks.
Hungry for more meat?